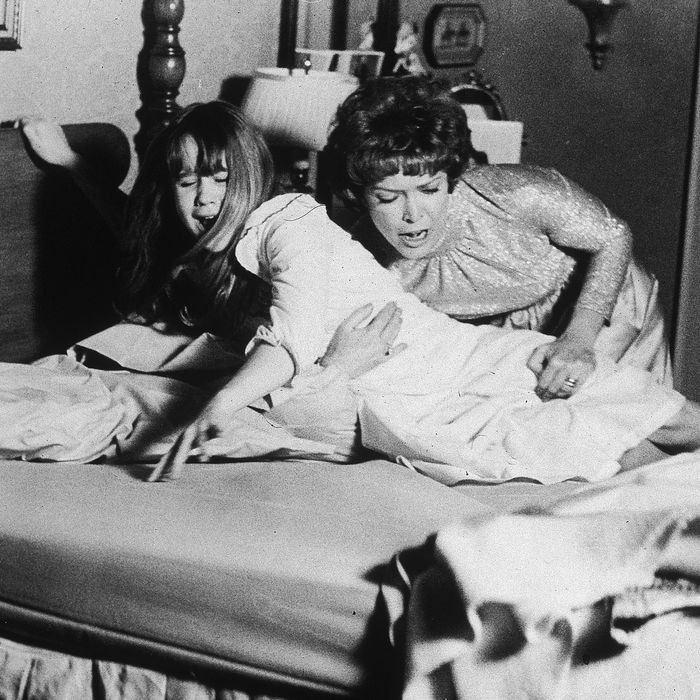 Photo: Warner Bros./Getty Images
When we went into lockdown last spring, my four kids spent most days bouncing off the walls, occasionally slamming their laptops shut in protest when I'd log them into "Zoom school." (Meanwhile, I was trying to record my podcast Moms Don't Have Time to Read Books.) Bedtime couldn't come soon enough — except then it did come and it was awful because no matter how long we all spent jumping on the trampoline during the day, the kids could sense the uncertainty and fear in the air and were suddenly too scared to sleep.
But hey, when your children range in age from 6 to 13 like mine — and two of them are twins — you tend to have some bedtime survival tools that you can call upon in moments like this. Of the products that follow, some of them, like the SmartyPants mineral formula, have been standbys in our evening routine for years and have proved effective on multiple kids. (The root of "bad sleep," as a decade-plus of tireless research has taught me, is often anxiety, so much of this list speaks directly to that issue.) Others, like the Casper Weighted blanket and Claire's kitty sleep mask, are newer solutions that I discovered out of desperation during the pandemic; on top of the podcast, I was putting together a book called Moms Don't Have Time To: A Quarantine Anthology, which is out this week. I dedicated it to my kids.
Whatever the super-stretchy, durable mesh layers in these pillows are, they feel so soft and squishy that they actually make the kids want to put their heads down. Which means the construction is genius, as far as I'm concerned. My husband and I have been devotees of the pillows and mattresses from the startup Purple since mid-pandemic, and the kids kept stealing my husband's pillow. The company more recently came out with a kids' version so we got them their own. They're so much happier to get in bed now.
This darling story incorporates breathing and mindfulness in such a subtle way that the kids don't even realize it. As the main character, Buddy, gets ready for bed, he turns into a robot. His mom has to press different buttons while they say goodnight to each part of his body. The text gets smaller and smaller so that as a reader, you end up whispering, slower and slower. It's a lullaby of words with a sense of humor and effectively calms down even the most hyperactive wannabe robot.
My 13-year-old daughter may be too old for the Hatch Rest light that I use for my 6- and 7-year olds (see below), but her bedside lamp has one of these magic Hue bulbs. Right after we finish reading books, we turn off all the other "regular" lights and control this one using an app. Hers is set to a rotating color option where every couple seconds the bulb shifts to a different hue. All shades we pick are calm, sleep-inducing shades, like pale blue, which signal to her it's time to set her dreams to the disco lights.
A therapist once told me that magnesium had been anecdotally shown to help kids sleep. That was good enough evidence for me. I flipped open my laptop and went to my favorite kids' vitamin brand, SmartyPants. (I've been giving the kids their multi-vitamin for years and even recently graduated to the girl and boy teen vitamins for my 13-year-old twins.) Fortunately, they had another vitamin option with magnesium–and apparently it's a formula that also won the Clean Label Purity Award. I give these to the kids before they brush their teeth at night. Who knows if it's the magnesium working or just a placebo effect, but adding one more step to the bedtime rituals serves to calm down the kids and get them mentally ready for sleep — if nothing biological.
At 8:00 p.m. every night in my 6-year-old and 7-year-old's rooms, Hatch nightlights automatically turn on to their favorite color that week (right now, it's blue for both of them) and start playing an instrumental lullaby. The sound is set to continue until 9:00 p.m. when, hopefully, they're both asleep. (Yes, it sometimes takes that long.) You can make the lights cycle through many colors or just stay white. In the morning, at 6:00 a.m., the light turns green letting the kids know it's okay to wake up. The kids may not listen to me about staying in bed until morning, but for some reason, when the lights and music turn on at bedtime, they definitely stay under the covers from the time I kiss them good night until they find their way into my bed in the middle of the night. (I'm still working on keeping them in their rooms until the morning wake-up. To be honest, the most effective thing for that these days is bribing the kids with Robux for their Roblox iPad games.)
This sound machine is as much for parents as for kids; the simplicity of it makes even the most fatigued, technology-deficient parent seem like a whiz. And it's a classic: no phone, no app, no settings required to work it. You just plug it into a wall and choose from one of two speeds, and it makes an ever-whirring sound. We scatter these everywhere in my house. Recently my 7-year-old daughter was like, "I hate that sound!" But then she fell asleep.
I'm not a brand loyalist when it comes to the mattress startups; I prefer Purple for the pillows and Casper for the weighted blankets. I bought one such weighted blanket for my 13-year-old daughter when she told me all the YouTubers she followed were using them and that they might help her sleep through the night, too. They come in 10, 15, and 20 pound weights. The 10-pounder is just right for her, but definitely makes it a workout to make her bed. (Side benefit: toned biceps!) As we well know, weighted blankets are purported to calm anxiety. What I know for sure is that the blanket keeps the rest of her sheets trapped underneath, which reduces her anxiety about having a messy bed.
My little kids and I discovered the coziest blanket at TJ Maxx! They were jealous of their older sister's weighted blanket and very cool newly redone room, so I let them each get one of these. The shopping outing started because my kids wanted to pick out things for their rooms to make them less scary for the nighttime. We got the cheapest stuff possible (not that they knew that) and they were in heaven! I recommend this for any parent whose child is struggling with nighttime anxiety; the shopping exercise will make them know that you really heard them, and that alone can help calm their nerves.
After a playful time in the bath (keep them in as long as humanly possible), they slather themselves in Calming Baby Lotion from Babo Botanicals. The combination of French Lavender and Chamomile purports to "relax, soothe and facilitate a more restful sleep." And it really does! Even Babo's Lavender Dream Plant Based Hand Soap makes me want to nod right off. A family friend of mine launched the startup years ago; she no longer owns the business, but I'm still hooked. (I actually started using the Oatmilk & Calendula shampoo and conditioner for myself.)
Not every kid will agree to wear a sleep mask to sleep. But lots of kids do like to play dress-up — so if you can find a mask like I did that conjures a favorite animal or character, it could be another tool in your nighttime chest. My 7-year-old daughter loves effectively becoming one of her many stuffed animals by affixing this super-comfortable mask over her tired eyes. It calms her down. Sometimes she only wears it for a few minutes before she completely nods off.
Hear me out for a second. You know how some adults say that they sleep better if they have a "bed" for their phone — that when their phone is safely tucked away it settles their nerves? It might be a similar thing with my daughter and her dolls. She'll take the LOL Surprise doll she's been playing with all day, lay it on an overturned Kleenex box, and place a fresh tissue on top as a bedsheet. I suggest you give it a try.
I must admit: This ball pit came with our house when we bought it fully furnished. In fact, it's why my kids even wanted this particular house. When the kids are all keyed up, I ask (read: beg) them to run down to the basement and play in the ball pit for a while before bed. Sometimes they stage elaborate dramas. Other times they set up obstacle courses nearby or do funny jumps as if they're leaping into the pool. There's always a lot of laughter, some tears, and effective energy expenditure.
The Strategist is designed to surface the most useful, expert recommendations for things to buy across the vast e-commerce landscape. Some of our latest conquests include the best acne treatments, rolling luggage, pillows for side sleepers, natural anxiety remedies, and bath towels. We update links when possible, but note that deals can expire and all prices are subject to change.