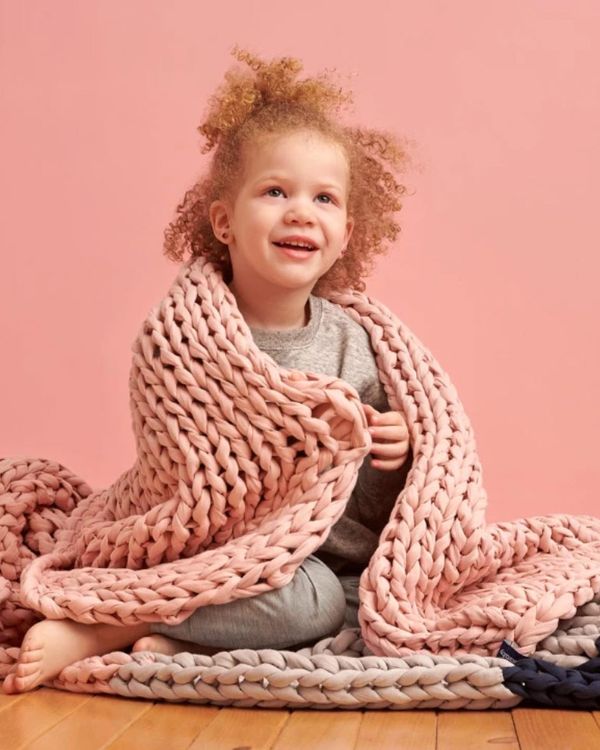 Photo: Courtesy of the retailer
Long before weighted blankets became one of the most in-demand gifts for adults with insomnia and anxiety, they were used primarily in therapeutic settings for children suffering from sensory-processing disorder, autism spectrum disorder, sleep problems, and issues of self-regulation. "I have been an occupational therapist working with kids for 20 years, and we've been using weighted blankets since I got out of college," says Keri Wilmot, who explains that these blankets offer deep pressure, which, like a massage, creates "a feel-good reaction of comfort and a sense of calm" for most people. They're often used to help children calm down when they're overstimulated or to help them fall — and stay — asleep.
When it comes to the science, though, there isn't much research to back the claims of these blankets' benefits. Dr. Jennifer Poon, a developmental pediatrician and associate professor of pediatrics at the Medical University of South Carolina, explains that only one randomized, placebo-controlled study has been done on weighted blankets and children, and the results aren't definitive. The study looked at children with autism spectrum disorder and measured how well they slept under weighted or non-weighted blankets, using a wrist-based activity monitor. "They didn't find any difference in total sleep time," Poon says. "The only thing they found is the parents and children favored it." With this lack of scientific evidence, Poon says, these preferences may be just a placebo effect.
In a review of the research on weighted blankets in adults, Kathryn Eron, a research project coordinator at Denver Health, and her team found only eight studies and reached a similar conclusion: "Weighted blankets may be an appropriate therapeutic tool in reducing anxiety, but there is not enough evidence to suggest they are helpful to impact insomnia," she says.
Before trying out a weighted blanket for sleep, Poon suggests parents consult with their pediatrician about basic healthy sleep habits, e.g., cutting out caffeine, having a bedtime routine, and minimizing screen time prior to bedtime. Then if parents feel their child would be comfortable with a weighted blanket, it's fine to try one — safely. "There's no evidence that suggests that [it works]," Poon says, "but certainly people like items of comfort, so some people might find it very comfortable." Of course, not all children will respond positively to deep pressure, so it may be worth covering your child in several layers of blankets at home first before investing in a weighted one.
When it comes time to choose a weighted blanket for kids, the most critical concern is to make sure it's a safe weight and size. "You do need to check in with your OT about how heavy the blanket should be and what size might be appropriate for the size of your child," says Teresa May-Benson, an occupational therapist and executive director of the Spiral Foundation, who advises using a blanket that weighs no more than 10 percent of your child's body weight and is small enough that the kid won't get tangled up in it. "They need to really be able to move easily under it, be able to toss it off of them without any problems," she says. According to Poon, "infants and toddlers certainly aren't good candidates, purely because of the risk of suffocation." While the therapists we spoke with acknowledge that it's helpful that such blankets are easier to find right now, the plethora of choices can mean it's more difficult to find one that's the ideal size and shape for small children. The blankets below, favorites of parents and therapists, are good options as long as you choose the right weight — but always check with a doctor or therapist beforehand if you're at all unsure.
"When my son was little, he always asked us to pile as many blankets and pillows and stuffed animals on and around him in bed as possible," says Penny Williams, an author, a parenting adviser, and the mother of a son with ADHD. "When I read about weighted blankets offering a heaviness on the body while sleeping, it instantly clicked that my son was trying to achieve that exact feeling." This inspired her to try the Mosaic weighted blanket and, she says, "once he started sleeping under a weighted blanket, he didn't need all the extra stuff in his bed and he stayed asleep as long as he stayed under the blanket. He was finally getting quality, restful sleep." At five pounds, this is the company's smallest option for little kids.
Williams says she's also "loving the Harkla weighted blankets, because they make them in the supersoft 'minky' fabrics and they have a removable cover for much easier washing." Even with a blanket as light as five pounds, it's much easier to throw a cover into the washing machine instead of the entire blanket.
While fleecy-feeling blankets like the Harkla are fine for smaller children, Williams realized that as her son got older and needed a heavier blanket, flannel or fleece would be too hot to sleep under. Now 16 years old, he uses a cotton blanket like this one, which is available in a wider range of weights (from 5 to 20 pounds) and stays relatively cool at night.
Bearaby makes one of our favorite adult weighted blankets to give as a gift, and the smaller, eight-pound kids' version has a lot of the same features we love. The blanket gets all its weight from woven layers of organic cotton, so there aren't any beads inside that can shift during the night and possibly leave the blanket feeling unbalanced when kids toss and turn. It's also just a nice-looking comfortable blanket that adds texture to a kid's bed.
The Gravity weighted blanket is another one of our top picks for grown-ups — and arguably the one that started the craze. The company's ten-pound kids' blanket features a machine-washable duvet cover for easy cleaning and comes with a three-pound weighted stuffed-dog toy that kids can cuddle up with.
With over 6,700 five-star reviews on Amazon, the Luna weighted blanket is a tried-and-true option that comes in weights from five to 25 pounds and in kid-friendly patterns like this nautical style or this colorful dinosaur print. One satisfied parent writes, "My daughter tried this blanket and said it felt like wearing a hug."
At just six pounds, this plush blanket is a good choice for younger kids, and it comes with a two-pound matching stuffed elephant for even more snuggly comfort.
Co-founded by a practicing occupational therapist, Sommerfly is one of the brands May-Benson trusts for weighted blankets, and this quilted model (available in a 5-to-25-pound range) ensures that the pellet weights stay equally distributed throughout the night.
Abilitations, another brand May-Benson recommends, makes products exclusively for children with special needs and is a popular choice at schools, therapists, and rehabilitation centers. Abilitations also sells unweighted blankets that you can custom-fill (the weights are sold separately).
Also a May-Benson favorite, Southpaw specializes in products that help kids with sensory-processing disorder. Its weighted blankets come in three- and four-pound sizes for very small users.
The Strategist is designed to surface the most useful expert recommendations for things to buy across the vast e-commerce landscape. Some of our latest conquests include the best acne treatments, rolling luggage, pillows for side sleepers, natural anxiety remedies, and bath towels. We update links when possible, but note that deals can expire and all prices are subject to change.