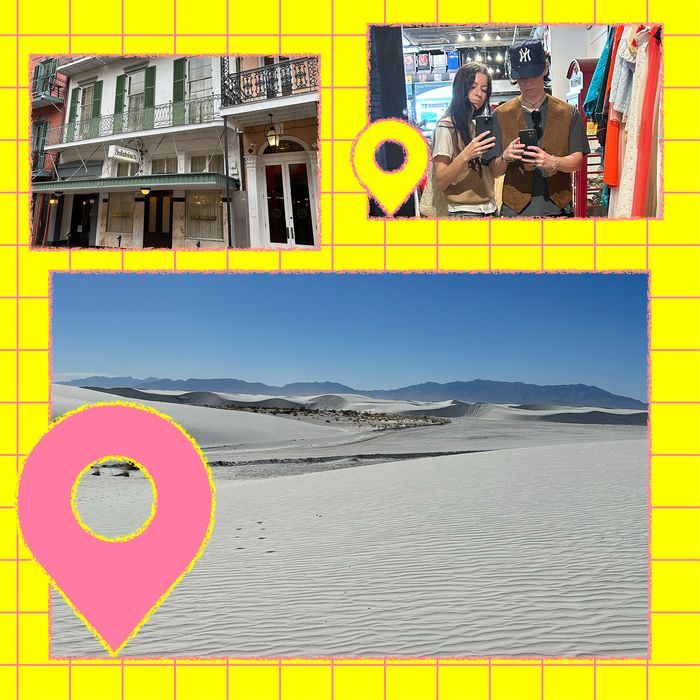 Photo-Illustration: The Strategist; Photos: Fran Miller
Everyone knows that person who spends weeks sniffing around travel blogs, going deep into Tripadvisor rabbit holes, collecting Google docs from friends of friends, and creating A Beautiful Mind–style spreadsheets to come up with the best vacations and itineraries possible. In this recurring series, we find those people who've done all the work for you and have them walk us through a particularly wonderful, especially well-thought-out vacation they took that you can actually steal.
Toronto is cold in the winter. Fran Miller, founder of the skin-care line F. Miller, and her partner Jackie McKeown, endure freezing temperatures, gray skies, and falling snow every year — and dream of anything but. So this time around, they finally decided to leave. The pair planned a 23-day road trip from Canada to sunny Los Angeles, where they set up shop for five weeks before finally heading back home.
"We basically just started telling people we were doing it, and then figured if we said it enough, it would actually happen," Miller says. Indeed, it was a fairly last-minute venture: They nailed down the final destination (based on where they had friends and could work remotely) about a month before they left and planned the rest of their itinerary after that. A few places were simply pit stops to grab a bite or sleep for the night, but they stayed in most for at least a couple of days, with a full reset week in Austin, where some of McKeown's family lives.
On January 9, they packed up their car and their dog, Bagel, and hit the road. Here, Miller shares a few highlights from every city they stopped in along the way.
Toronto → Cincinnati
494.1 miles (8 hours and 19 minutes)
One-night stay
We left late, as we often do, so we stopped in Detroit — almost exactly halfway to Cincinnati — to have dinner, since we knew there'd be nowhere to eat by the time we got to our final destination. We literally pulled off the highway and then we hilariously drove past Eminem's restaurant, Mom's Spaghetti (2131 Woodward Ave.), and we were like, "Well, that seems appropriate." We ate dinner there — literally bowls of spaghetti and a Caesar salad — and then continued the drive. The next day, we had smoothies from BanaSun Smoothie Bar and bagels with lox from OTR Bagel Bar for breakfast at Findlay Market (1801 Race St.) and got back on the road.
Cincinnati → Nashville
273.1 miles (4 hours and 13 minutes)
Two-night stay
We arrived at our hotel, Urban Cowboy in East Nashville (1603 Woodland St.), in the late afternoon. We stayed in "The Captain" room, a super cozy attic suite with dim lighting but skylights and a porthole window above the bed, reclaimed wood throughout, and a claw-foot tub as the room's centerpiece. It's great for a short trip, as it's a bit of a one-stop shop. Every night, they do live music in the lobby. They have a Roberta's pizza truck that's connected to the outside, and an entire backyard area where there are fire pits. You can grab drinks at the outside bar and just hang out all around the property. We just stayed there that night because we were pretty exhausted from that initial ride — listened to a couple of jazz trios, had a couple drinks, had pizza and Caesar salad.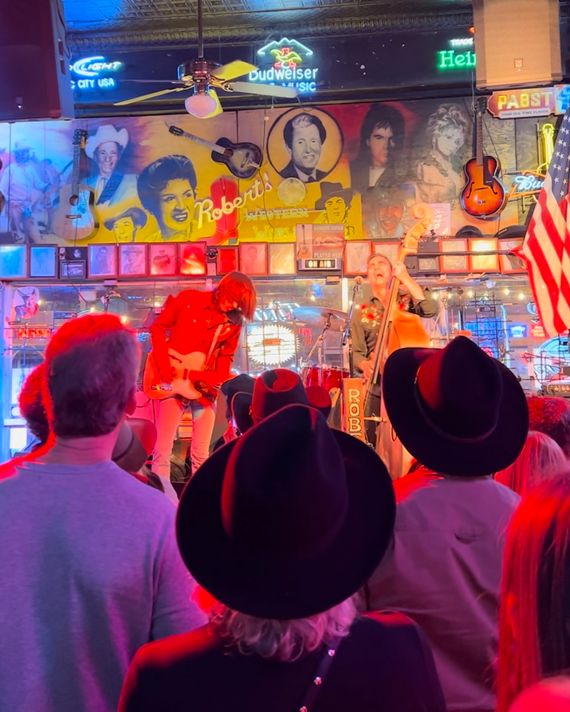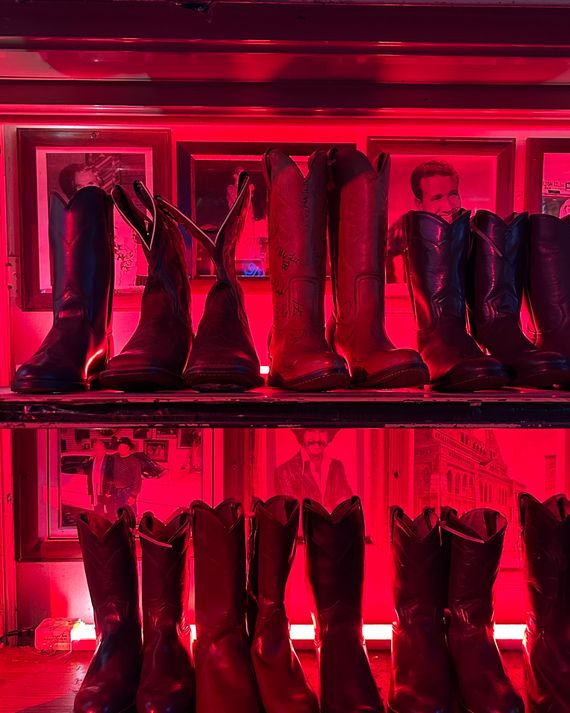 The next night we went to Robert's Western World (416 Broadway #B), a honky-tonk bar in the historic Lower Broadway district with a whole wall of cowboy boots. It was packed, full of definitely some tourists but also a lot of locals. It just seems like that's the place where people go every night for actually good live music. We sat at a high-top table off to the side and listened to this young, wild guy sing rockabilly. The drinks are very strong; once we crossed the border, we were reminded that U.S. drinks have a heavier pour than in Canada.
Nashville → Memphis
212 miles (3 hours and 10 minutes)
Two-night stay
The drive to Memphis was pretty quick. We checked into the Peabody (149 Union Ave.), which felt so classic, like an old-timey, luxury hotel. The Traditional Queen room was small but elegant, charming, and bright. It had super-high, comfortable beds. Should you expect to be mind blown by the room? No. Is the overall ambience of the hotel absolutely darling? Yes. Plus, Bagel got a little welcome bag of stuff: food bowls, a little place mat for the food bowls, a leash, and a stuffed toy duck.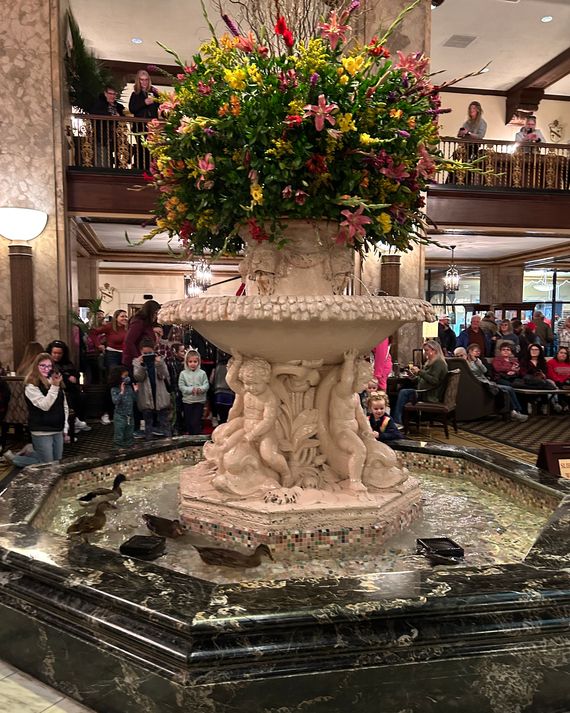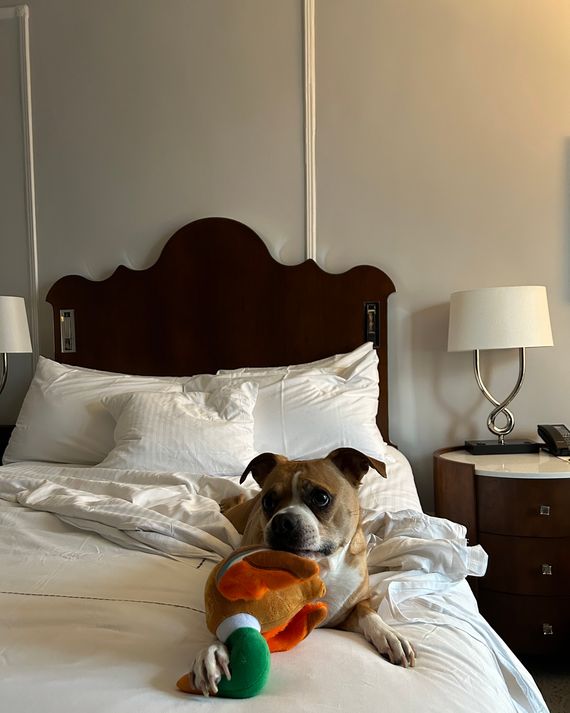 We arrived right before the Duck March, which is a thing they do twice a day, every day. At 11 a.m. there's a duck master, a man dressed in a full head-to-toe circus-ringleader ensemble, and he leads a bunch of ducks that live on the roof down the elevator. They roll out a red carpet to the fountain that's in the middle of the lobby. The ducks march out of the elevator and into the fountain and everyone cheers. They spend the entire day swimming in the fountain and then at 5 p.m., they do the reverse.
After that, we had a drink in the lobby. There was an elderly man playing the grand piano, and every drink has a floating rubber duck in it. The Peabody is world famous for the ducks, but it should also be world-famous for its delicious martinis.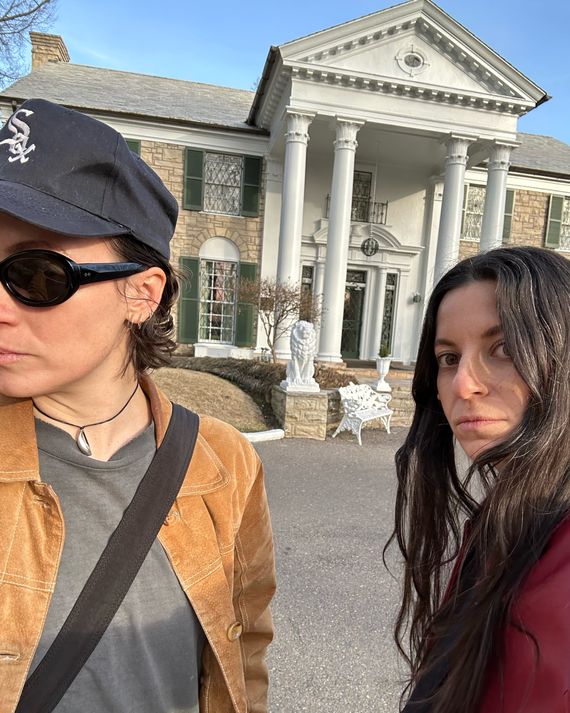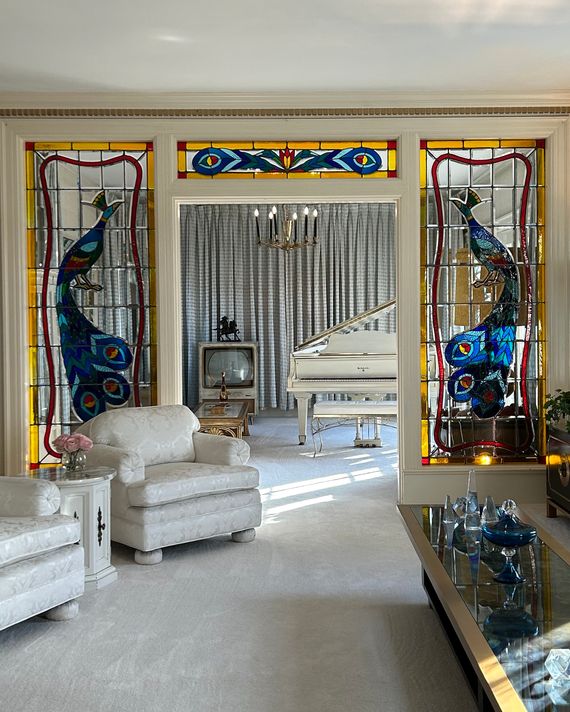 Jackie and I are both Elvis fans, so the next day we drove to Graceland and did a self-guided tour. You wear headphones and listen to an audiotape as you walk through. The house is definitely something to see if you're into interiors, and there's a whole museum hall of memorabilia, too. You can see all of their receipts and invoices for the furniture that they bought. After the tour, we stopped at the iconic Charlie Vergos' Rendezvous (52 S. 2nd St.), at which we recommend the sausage over everything else.
Memphis → New Orleans
395 miles (5 hours and 44 minutes)
Two-night stay
We stayed at the Ace Hotel in New Orleans (600 Carondelet St.). It was one of the nicer ones we've been to, with spacious rooms and a pool.
New Orleans was definitely food-focused. We just kind of wandered around and ate. The first day we were there, we walked past the main location of Cafe Du Monde (800 Decatur St.), which was super busy. For the true, livelier experience (but long lines and crowds), go there. But instead, the next day I walked to a different location (500 Port of New Orleans Place), and there was nobody there. I ordered beignets and a coffee to go and sat on a bench on the boardwalk, directly on the Mississippi River, with just this stunning view.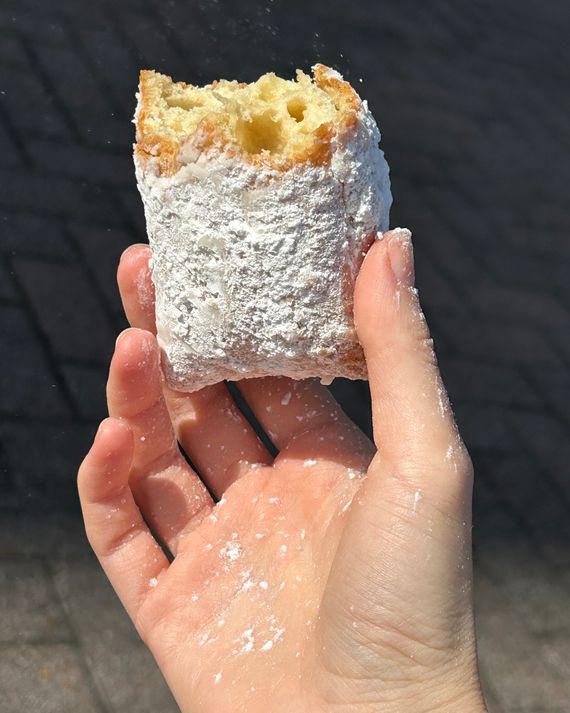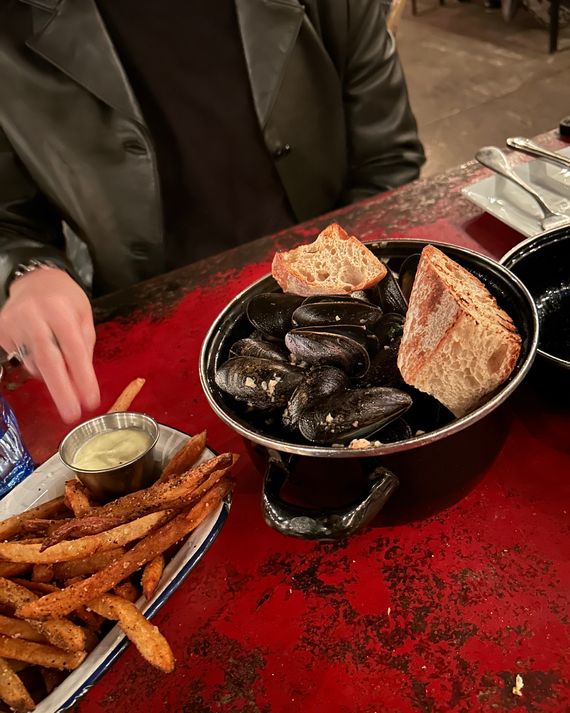 For dinner that night, we went to N7 (1117 Montegut St.). You can't really see it from the street; it's hidden behind a wall of greenery. But it's so lovely. The restaurant itself is very small, but the outside, where most of the tables are, looks like you're in someone's giant backyard with twinkling lights. We had the moules-frites and crème brûlée, and both were delicious. Later, we had drinks at Bar Marilou (544 Carondelet St.), located in a former City Hall library behind a secret bookcase in the hotel Maison de la Luz. If you were to walk into the hotel from the main lobby, you would enter through a bookcase, but you can also go in through a door in an alley. You might miss it if you didn't know it was there. We drank more martinis and snacked on olives.
New Orleans → Houston
395 miles (5 hours and 44 minutes)
One-night stay
We were very much in and out of Houston. We stayed in the gallery district and filled our one afternoon with art. It's all kind of in that same walkable area. We went to the Cy Twombly Gallery (1501 Branard St.), a permanent single-artist installation. Being able to see such a variety of his work in one dedicated space was very impactful, and the tremendous scale of some of the paintings (I never realized how big they were) was truly incredible. Then we stopped by the Rothko Chapel (3900 Yupon St.). Rothko was commissioned to design this nondenominational spiritual space for everyone, an octagonal room with his paintings on each wall. It's a place of complete beauty, simplicity, and stillness that brings art, contemplation, and spirituality together in a very moving way. Finally, we went to the Menil Collection (1533 Sul Ross St.), a mix of permanent and rotating collections in an airy glass-filled space. It has a lovely mix of contemporary, ancient, and medieval, African, Surrealist, and more. There was a Walter De Maria exhibit showing at the time, called "Boxes for Meaningless Work," a very playful, perceptive look at the artist's work over his entire career.
On our way out, we grabbed delicious fish and shrimp tacos at Tacos A Go Go to eat in the car.
Houston → Austin
165 miles (3 hours and 20 minutes)
Eight-night stay
Jackie has family in Austin and we've been so many times, it just kind of feels like home — though we opted not to overwhelm them with our presence for a week and stayed at the Carpenter Hotel (400 Josephine St.), close to Barton Springs (Barton Springs Rd.) and Zilker Park (2207 Lou Neff Rd.) for morning walks. It's not a city where we're rushing around to see all the things; we go to the places we know and like.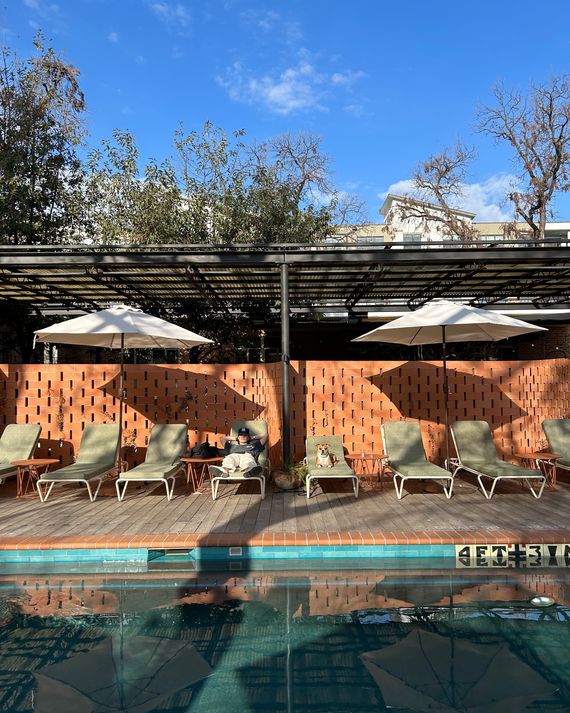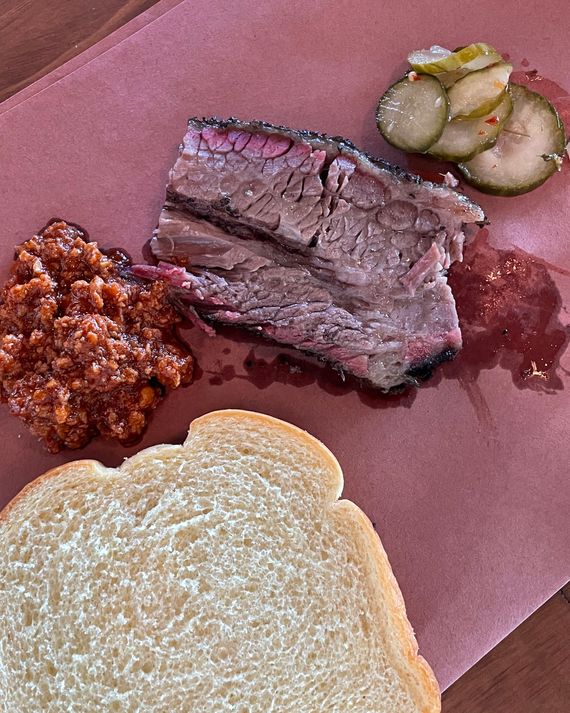 You can't really go wrong with barbecue in Austin, but we went to La Barbecue (2401 E. Cesar Chavez St.) one day and it's really, really good — the brisket especially. And the sausage. And the mac and cheese. We're not ones to wait in line for a Franklin Barbecue. For food, we also love Uchiko (4200 N. Lamar Blvd.), which has an omakase-style menu. The fish is so fresh. Standouts were Sakana Mushi, a delicate steamed white fish and mushrooms in a spicy tom yum–esque broth; Kinoko Nigiri, a deceptively simple trumpet mushroom, seared in brown butter and topped with sea salt; and Nama Hotate, a perfect melty scallop bite with yuzu kosho. Better Half (406 Walsh St.) was our go-to for morning coffee and breakfast or lunch. They have a huge outdoor space so you can order your food and go sit out there. It's dog friendly.
And it wouldn't be an Austin trip without a night at the White Horse (500 Comal St.) with friends. It's one of their old honky-tonk bars. It's dive-y, for sure. We're drinking beer, and I did have a White Claw. There's a full dance floor and live music. The first time we went there, it was me, Jackie, and her mom, and I got swept onto the dance floor by an 80-year-old man who was a foot shorter than me wearing a giant cowboy hat. And then a very attractive, tall, younger guy picked Jackie out of the crowd. We were forced to dance while Jackie's mom stood there watching us, crying of laughter. It's just a really fun place.
Austin → Marfa
429.1 miles (6 hours and 53 minutes)
Two-night stay
In Marfa, we normally stay at El Cosmico (802 S. Highland Ave.), which is basically a giant campground with teepees, yurts, converted Airstreams, and trailers. But this time around, we decided to try Thunderbird (601 W. San Antonio St.), a minimally and modernly converted motel, because of the temperature and so that if we wanted to go out for a stretch of time, we could leave Bagel in the room, which was super simple but spacious and well appointed. There were concrete floors, a comfy bed with low built-in side tables, and a leather butterfly chair in the corner. And they have convenient pour-over kits for strong morning coffee.
We also were particular to time Marfa with the days of the week, knowing from past experience that if you get there on a Monday through Wednesday, most things will be closed in terms of food. So we arrived on a Friday.
Each morning, we walked to Big Sandy (317 W. San Antonio St.) for more coffee. For dinner, we like Margaret's (103 Highland St.). The vibe is just like your neighborhood wine bar and restaurant. We ate delightfully brine-y deviled eggs topped with chives, a creamy baby gem salad, charred baby carrots with goat cheese and roasted garlic, and crispy rainbow trout with brown butter, pickled cauliflower, and roasted potato. And I can't forget the key lime pie, which was a picture-perfect slice that tasted just as good as it looked.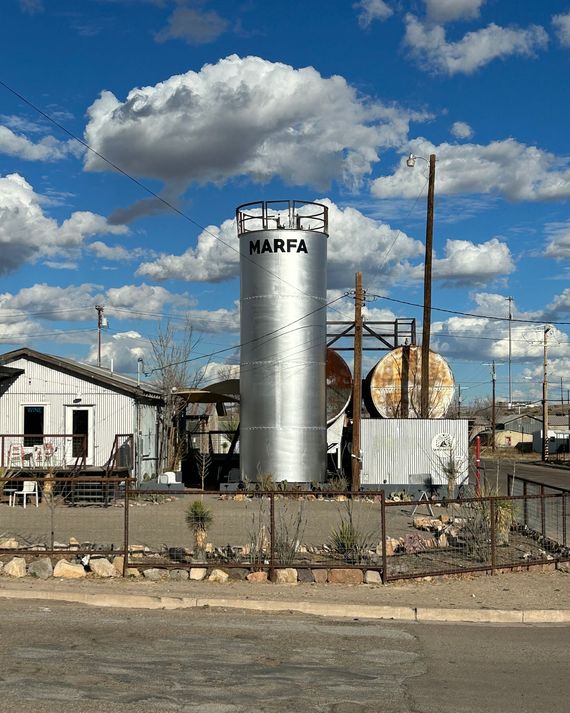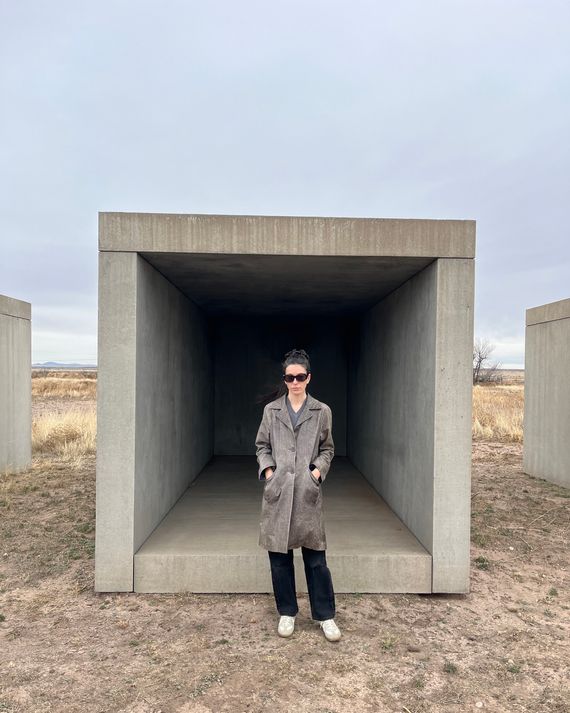 And then obviously, we went to the Judd Foundation (104 S. Highland Ave.); Donald Judd kind of put Marfa on the map. But we had actually never done the studio and apartment tour — just the Chinati Foundation (1 Cavalry Row). It's a few different buildings they take you to see. There's the apartments and offices upstairs, the Art Studio, Whyte Building, and Cobb House — all containing Judd's furniture, his early paintings, and other prominent furniture and artwork he collected. The spaces quite literally take your breath away. There is something so magical about Marfa: the light, the energy, the remoteness. It's very easy to see why Judd chose it and never left. To be able to experience his work in the context that it was intended for is emotional, almost holy.
Marfa → Las Cruces
239.6 miles (3 hours and 40 minutes)
One-night stay
Same as Houston, we were in and out of Las Cruces. We wanted to see White Sands National Park, so that felt like the best kind of pit stop in order to sleep somewhere and be close. We got in late, so we just ordered food to our hotel and then went the next morning and hung out on the dunes for a few hours.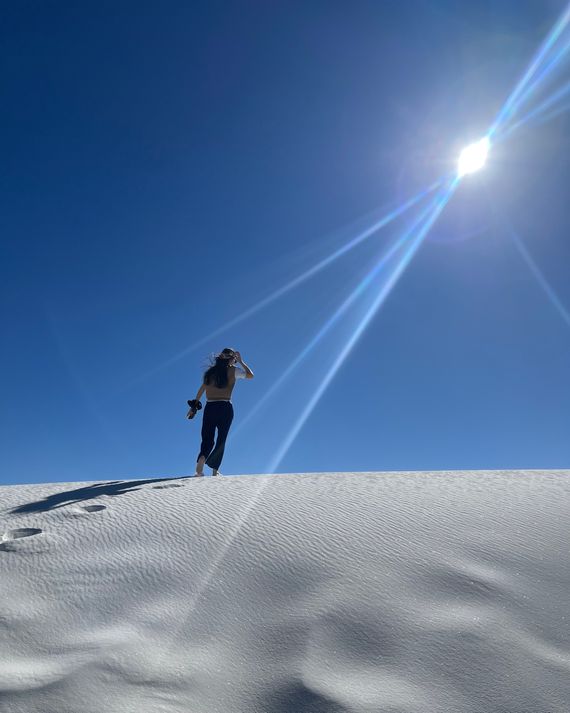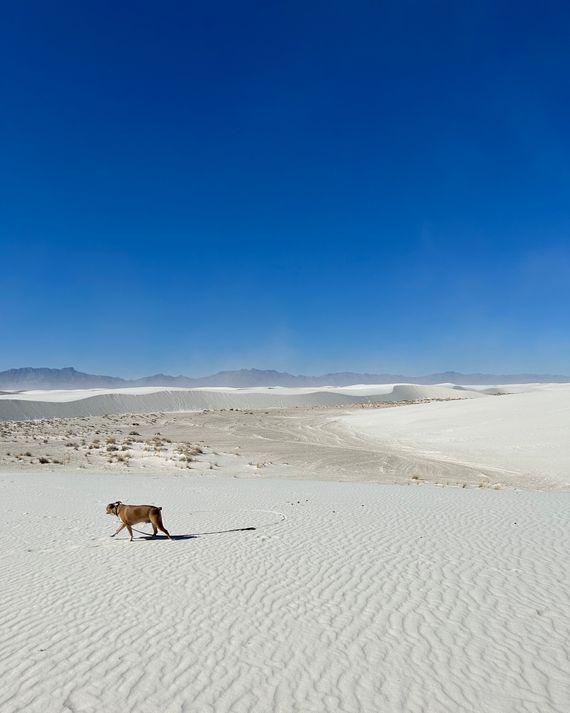 It's very cool — hard to translate in photos. It's just one of those things that when you're there, you're like, "Holy shit, this is so crazy." It was a super-beautiful sunny day with no clouds in the sky, and windy. It's not real sand, it's gypsum, literally blowing at you, which is why you wear a headscarf. You drive in and you could, if you wanted, drive the whole loop in like 15 minutes and then exit. But you can also pull over to the side at different points and get out and explore. You're just pulling your car up to the bottom of a dune and trudging through up the mountain. Bagel loved it.
Las Cruces → Tucson
278.4 miles (4 hours and 11 minutes)
Two-night stay
In Tucson, we stayed at Hotel McCoy (720 W. Silverlake Rd. #302), which is just this little roadside motel that they've converted. It's really no-frills — literally a clean, slightly modernized motel room with a kitschy outdoor pool area. The night we got in, we went to Time Market (444 E. University Blvd.) and had a really nice meal. Most places in Tucson close by 9 p.m., but this was open later. You're basically sitting in a little grocery store with some tables and a bar area. We had a huge satisfying slice of thin-crust pizza with red sauce, mozzarella, and slices of pistachio-studded mortadella, as well as a grilled chicken tamale plate. It was vibrant and comforting, the perfect light late-night dinner upon arrival.
Weirdly, we were there during the annual Gem Show, which is like a big trade show that takes place all over the city. So we didn't do too, too much — but we did stop into Desert Vintage (403 N 6th Ave #119). They recently opened up a New York location, and that store was designed by Green River Project, and it's beautiful, but Tucson is its original location — one of the nicest vintage shops in Tucson, I would say. They sell just really beautifully curated special pieces. The prices aren't low, so we didn't buy anything from there. But we did go across the street to this huge army-surplus store called Miller's Surplus (406 N. 6th Ave.), where we just bought some classic tees and Jackie bought a hat.
Tucson was pretty mellow, and honestly, the best thing was probably the landscape. It's stunning. You get mountain views and these cartoonishly large cactuses everywhere; it makes you feel like you're on a Looney Tunes set. Jackie ran the paved loop around Sentinel Peak Park (1001 S. Sentinel Peak Rd.) each morning, where you can see the mountains and the city. And we did a sunset drive around the foothills, where you're just surrounded by succulents. A pack of coyotes that ran past us. It was a nice ending.
Tucson → Los Angeles
484.1 miles (7 hours and 47 minutes)
Five-week stay
We arrived in L.A. on February 1, 23 days after we set out. Our time here has been working, seeing a lot of great art, eating a lot of great food, seeing friends. We leave next week, taking a similar route back, and by the time we get home to Toronto, spring weather should be creeping in. We're already looking forward to round two next winter.
Fran's Cross-Country Packing List
We packed in two huge suitcases, mostly the stuff we would need for L.A., and left those in the car most of the time. Then we had two duffels and this Rimowa that we would transfer clothes in and out of and bring into the hotels. It's very light and basically indestructible, and the hardshell slides into the car easily. We kept shoes on one side and clean basics like tank tops, socks, and underwear on the other. It just fits everything nicely.
I think collectively, we had five or six sets of these pajamas with us. They're the ideal material:a crisp cotton that works when it's hot, but is also still cozy and warm when it's chillier. We have all long-sleeved shirts and then some shorts and some pants, so we switch it up depending on the temperature. And then we strategically buy different prints and colors so we can mix and match.
Incense for us is a big part of our daily life, and this is the stuff we burn at home every morning in the living room. So when you're traveling, switching up locations every couple of days, it's just nice to have some form of comforting, grounding aromatherapy. They're smokeless, as well, and include a tiny holder.
With travel, there was of course the fear that we would get COVID at some point — or just getting sick is not ideal. You're eating out, there's time changes. It's tiring. So there were a few things I took just to boost our immune systems. This is a supplement that has vitamin C, mushrooms, and zinc.
We have a lot of different kits, but this one covers all the skin-care basics: face oil, body oil, cleansing oil, toning mist, and lip balm. It comes in a little pouch, so it's easy for packing. The reality is, I also had to bring some full-size products because we were gone for so long, but this sort of represents everything we really needed. Especially when we were in the desert, it was so dry, and these are all super hydrating.
The Strategist is designed to surface the most useful, expert recommendations for things to buy across the vast e-commerce landscape. Some of our latest conquests include the best acne treatments, rolling luggage, pillows for side sleepers, natural anxiety remedies, and bath towels. We update links when possible, but note that deals can expire and all prices are subject to change.