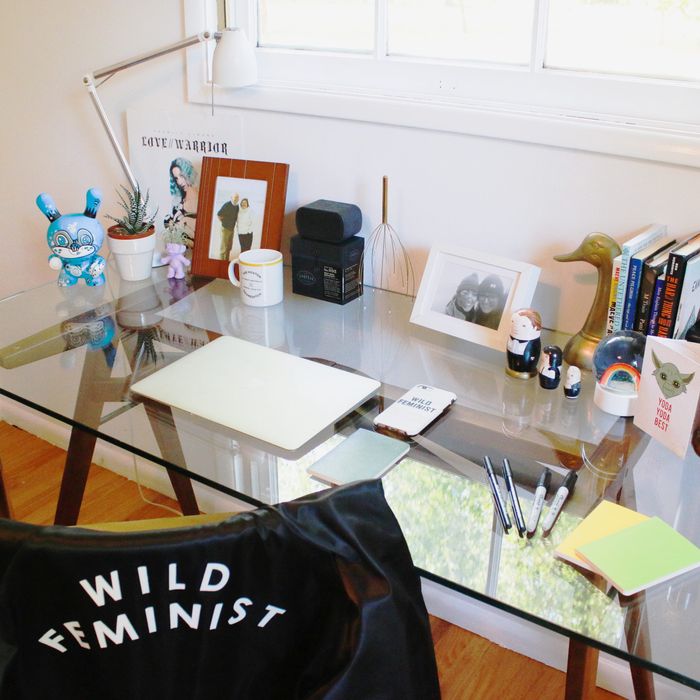 Photo: Courtesy Emma Mcilroy
How someone organizes their desk can tell you a lot about how they get work done. That's why we're stepping into the offices of enviably creative (and productive) people to look at what's on their desks — pens and notebooks and gadgets, but also décor and tchotchkes. Today, we've asked Emma Mcilroy, CEO of Portland-based feminist clothing and lifestyle company Wildfang, to show and tell.
I have four S'wells, but that's my favorite. I think they're the most beautiful in that category. It's so beautifully and simply designed. I tend to be really drawn to something that's very minimal and very aesthetically pleasing, and I like that one in particular because of the unexpectedness. I love that you expect it to be metal, and then it's got the wood finish, which I think is just super cool and way warmer in its tones. I kind of just always want to grab it, and as a person who does not drink enough water, a water bottle that I always want to grab is a good thing.
I drink a lot of Irish breakfast tea, all the time. The tea that's on my desk is a collaboration that I did with Smith Tea, here in town: an Irish breakfast tea because I'm from Belfast, Ireland. It was inspired by notes of whiskey, and they did this beautiful job of bringing vanilla and some of the tones of sugar and malt though. [But day to day], I'm probably drinking one of the other Smith Teas. My favorite from them is Brahmin, which is an English breakfast, but it's got strong notes of Assam, which is the strongest, caffeinated, and robust of all the black teas, and it's more characteristic to an Irish breakfast. So, long story short, their English breakfast is Brahmin, and I drink way too much of it.
I suffer from migraines, and they come at periods of really high stress. So that little guy is one of the ways I de-stress. I'm sure you've seen them all over, online. It's basically a way I can hopefully avoid a headache or migraine, so that is always on my desk. I use that guy daily, always at the end of the day. It's always after I wrap up; it's kind of the last thing I do.
The notebooks are Moleskines. Sorry to be horribly predictable. I'm a huge list-taker. I don't always get to the things of my list, but I pretty much have a list every day, all day, all the time. I'm very accountable, so I like to be able to score things off and make sure they happen. And I also prefer the smaller format because sometimes I'll tuck it in my pocket or I'll put it in my blazer; it doesn't always go in a bag. The little notebooks tend to come everywhere with me, and I just love the funky colors. Sometimes I take my notes as a list, and sometimes, I draw things. I'm holding one as we speak, and on some of the pages, it's got graphs or diagrams that I've scribbled. On other pages, it's got lists. So I like the unlined format because I have a lot more control over how I capture my notes.
Sharpies, I love, because I like to be very deliberate, and I like to feel like I'm making a mark. And like I said, sometimes I capture things in written form, and sometimes I doodle or I create little sketches, so I use Sharpies probably more than the average person.