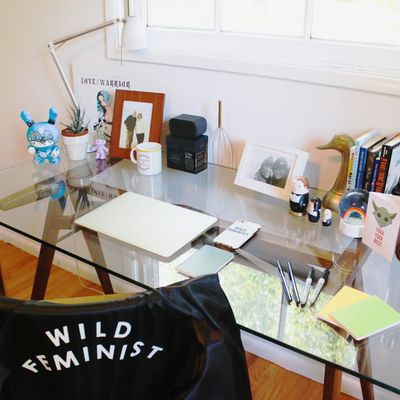 Photo: Courtesy Emma Mcilroy
How someone organizes their desk can tell you a lot about how they get work done. That's why we're stepping into the offices of enviably creative (and productive) people to look at what's on their desks — pens and notebooks and gadgets, but also décor and tchotchkes. Today, we've asked Emma Mcilroy, CEO of Portland-based feminist clothing and lifestyle company Wildfang, to show and tell.
I have four S'wells, but that's my favorite. I think they're the most beautiful in that category. It's so beautifully and simply designed. I tend to be really drawn to something that's very minimal and very aesthetically pleasing, and I like that one in particular because of the unexpectedness. I love that you expect it to be metal, and then it's got the wood finish, which I think is just super cool and way warmer in its tones. I kind of just always want to grab it, and as a person who does not drink enough water, a water bottle that I always want to grab is a good thing.
I drink a lot of Irish breakfast tea, all the time. The tea that's on my desk is a collaboration that I did with Smith Tea, here in town: an Irish breakfast tea because I'm from Belfast, Ireland. It was inspired by notes of whiskey, and they did this beautiful job of bringing vanilla and some of the tones of sugar and malt though. [But day to day], I'm probably drinking one of the other Smith Teas. My favorite from them is Brahmin, which is an English breakfast, but it's got strong notes of Assam, which is the strongest, caffeinated, and robust of all the black teas, and it's more characteristic to an Irish breakfast. So, long story short, their English breakfast is Brahmin, and I drink way too much of it.
I suffer from migraines, and they come at periods of really high stress. So that little guy is one of the ways I de-stress. I'm sure you've seen them all over, online. It's basically a way I can hopefully avoid a headache or migraine, so that is always on my desk. I use that guy daily, always at the end of the day. It's always after I wrap up; it's kind of the last thing I do.
The notebooks are Moleskines. Sorry to be horribly predictable. I'm a huge list-taker. I don't always get to the things of my list, but I pretty much have a list every day, all day, all the time. I'm very accountable, so I like to be able to score things off and make sure they happen. And I also prefer the smaller format because sometimes I'll tuck it in my pocket or I'll put it in my blazer; it doesn't always go in a bag. The little notebooks tend to come everywhere with me, and I just love the funky colors. Sometimes I take my notes as a list, and sometimes, I draw things. I'm holding one as we speak, and on some of the pages, it's got graphs or diagrams that I've scribbled. On other pages, it's got lists. So I like the unlined format because I have a lot more control over how I capture my notes.
Sharpies, I love, because I like to be very deliberate, and I like to feel like I'm making a mark. And like I said, sometimes I capture things in written form, and sometimes I doodle or I create little sketches, so I use Sharpies probably more than the average person.
That desk is where I spend a lot of time. It's at my house. Being in a start-up means, unfortunately, you don't work 9 to 5. I actually get the best work done at home in the nights and weekends, when I have a little bit of peace. The desk is from West Elm; it's kind of mid-century-inspired because I'm really into that era. I actually just bought a mid-century ranch, and I'm in the process of renovating it. The desk, to me, was a really cool, modern take on a mid-century design.
My favorite start-up book is The Hard Thing About Hard Things. It's the most perfectly written version of my world. It's got so many great learnings in it. I don't read a ton of start-up books because I find there's a lot that aren't accurate or helpful, and that book is both super accurate and super helpful.
I'm completely obsessed with Patti Smith. Just Kids was just so good; it was a real revelation for me. I obviously knew her as a musician, I didn't know her much for being a writer, and that book kind of opened my eyes to the beauty of her writing, and so I had to get M Train. Actually, I got M Train and stayed around to meet her in person to get her to autograph it, so that copy's autographed, which is really cool. I love her writing; I love her music. She's a huge icon and inspiration for me. Her authenticity, her creativity. The second reference for her, I don't know if you can see it, but there are three little babushka dolls. They were made by this really rad artist in Australia, and they're individually hand-painted. The larger one is Patti Smith, and then the next two are Tilda Swinton and Gwen Stefani.
I always have one of two things on my desk. I either have a portable speaker or I have my Beats wireless headphones because I love listening to music at work. My music really affects my mood, so depending on whether I need to focus or whether I need to be passionate and excited and inspirational, like maybe I'm writing a speech or something, I'll put on music that matches that mood. The little speaker that you see is a Bose travel speaker. The other thing that I'm wearing right now is my Beats wireless headphones, so I'll have one of the two working at any time.
Editor's note: This is not the exact Bose speaker pictured on Emma's desk, but it'll certainly get the job done.
Wild Feminist is one of the coolest things we've ever done at Wildfang. The current administration has been difficult for most women, and many of our human rights have been challenged, whether that's as a woman of color or women's health care or a queer woman. So we wanted to make a statement about who we were, what we stood for, what our values were, and more importantly, we wanted to create a way that people could recognize each other and people could find community, and that's definitely what that shirt's done. … The iPhone case is really important to me because I carry it with me everywhere, so it's a constant reminder. And people notice it all the time. I was at New Seasons last week, which is a big supermarket chain where we are, and I was checking out, and the lady goes, "Why is it 'wild' feminist? Is that because you grew up in the countryside?" I said, "Actually, I did — but that's not why. It's because we feel so strongly and passionately about women's rights, we think if you're going to be a feminist, you have to be a wild one. You have to be really outspoken and loud about your values." And she whispered to me, "I'm not supposed to talk about politics, but I'm a wild feminist, too."
The Strategist is designed to surface the most useful, expert recommendations for things to buy across the vast e-commerce landscape. Some of our latest conquests include the best women's jeans, rolling luggage, pillows for side sleepers, ultra-flattering pants, and bath towels. We update links when possible, but note that deals can expire and all prices are subject to change.
Every editorial product is independently selected. If you buy something through our links, New York may earn an affiliate commission.