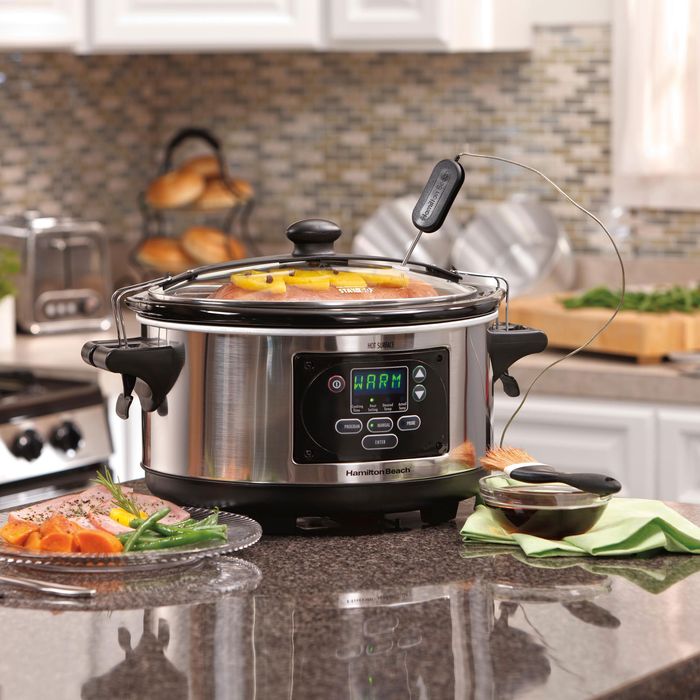 Photo: Courtesy of Amazon
Here at the Strategist, we like to think of ourselves as crazy (in the good way) about the stuff we buy, but as much as we'd like to, we can't try everything. Which is why we have People's Choice, in which we find the best-reviewed products and single out the most convincing ones. (You can learn more about our rating system and how we pick each item here.)
And while we've covered many kinds of cooking appliances before — including Dutch ovens, cookware sets, frying pans and skillets, and the favorite favorite pots and pans of professional chefs — here we've rounded up some of the best slow cookers, as praised by the most enthusiastic reviewers on Amazon.
Best-rated slow cooker
The people's favorite slow cooker on Amazon is not just a slow cooker: It's also a pressure cooker, rice cooker, yogurt maker, steamer, and warmer, as well as a pot for sautéing and browning. According to over 32,000 reviewers — nearly 26,300 of which give it five stars — the Instant Pot's seven different cooking systems can actually improve the slow-cooking function. "The sauté feature is a huge bonus," one enthusiastic reviewer noted. "A lot of slow-cooker recipes require that you brown the meat first. I simply use the sauté feature to brown whatever I need, then turn it off, switch to slow-cook mode, cover, and walk away. It's the best feeling to get home from work in the evening and have a home-cooked meal ready to go!" Other reviewers love how reliable the Instant Pot's cooking features are. For instance, as another reviewer writes, "I can simmer soup using the slow cooker without fear of burning! The temperature control is accurate, as is the timer, and [the] 'keep warm' feature."
Best-rated (less expensive) slow cooker
Reviewers love this Crock-Pot for its nonstick stoneware liner and its programmable features, which, as one review describes, "can set the cooking temperature to low or high in 30-minute increments all the way up to 20 hours." Several others reviewers gush over the locking lid: "We have a lot of potlucks at work, and the locking lid is great for transporting food from the house to work. Between the removable bowl from the actual Crock-Pot, the locking lid feature, and the timer, you can't go wrong." Another reviewer summed up the appeal of this affordable slow-cooker: "There are other brands with a higher price tag … but it is hard to beat old reliable!"
And now for some micro-picks for every type of slow cooker you might be looking for.
Best manual slow cooker
With just two cooking settings (high and low), many reviewers on Amazon commended the simplicity of this three-quart manual slow cooker from Crock-Pot. "No, it's not programable, and no, it doesn't play music and shoot jets of smoke into the air when your meal is cooked," one reviewer notes. "What it does is cook up an excellent meal at a very reasonable price. Of course it is very simple to use and has a very attractive look. Buy it — you'll love it." As another added, "No bells or whistles on this machine, and that is really just fine and great."
Best programmable slow cooker
"The programmable feature on this slow cooker is great for busy people! I can set the timer to eight hours and not have to worry about the slow cooker shutting off after the eight hours are up," says one reviewer. These flexible programming options and the easy-to-read display are among the top reasons many reviewers pick this slow cooker. As another reviewer explains, "Corresponding lights show at which stage of the cooking process the cooker is in. For example, a glowing '4' shows it's in the fourth hour of cooking, etc. … You can change the cooking temperature and cooking time independently at any time." The slow cooker will also automatically switch to its "warm" setting when finished cooking, meaning, as another reviewer adds, "your food is still hot after a long day of work."
Best slow cooker to bring to a potluck
"The fact that we can seal the lid tight is a great feature when you are cooking, but also when you are traveling so your food doesn't spill in your car!" says one reviewer, and that travel-friendly feature is a big selling point for many reviewers. "I use this everyday to bring to work," says one satisfied customer. "It is very easy to travel with, I have never had it leak. I spend a few minutes loading it before I head to work, and the whole office has lunch around noon." Another reviewer adds that "the best feature, aside from the very nice six-quart black stoneware insert and securely locking lid, is the addition of folding handles … that conveniently fold out of the way to help free up valuable cupboard space and maximize room on the table when the cooker is used as a serving dish."