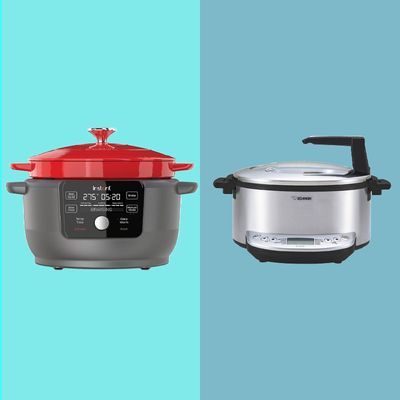 Photo-Illustration: Courtesy of Amazon
Slow cookers may be best known as a weeknight cooking solution — with a little foresight, anyone can come home to a hearty chili after work — but they're also a great tool for entertaining. While a show-stopping roast or another main dish simmers away, your stovetop is free for extra touches like frying shallots or making a pot of rice. And once the guests arrive, a slow cooker can keep large batches of food (or drinks) hot and ready to serve.
As the name suggests, slow cookers work by supplying low, even heat for an extended amount of time. They typically include an electric base, an insert, and a lid. When powered on, the base heats up and gradually cooks the contents, typically over the course of four to six hours. This "low and slow" technique is especially well-suited to large cuts of meat, stews, and stocks.
To help you find the very best slow cooker for your kitchen and culinary needs, we interviewed eight chefs, recipe developers, and cookbook authors, and put five popular models to the test ourselves.
Best overall slow cooker
Functionality: 4 cooking modes | Timer: 4 presets and manual | Insert: Cast-iron Dutch oven | Capacity: 6 quarts
Most slow cookers include ceramic or stoneware inserts, but the Instant Dutch Oven Slow Cooker's is made of cast iron, a material that Kathy Hester, author of The Vegan Slow Cooker, refers to as the gold standard of even heating. Combined with an electric slow-cooker base, the Dutch-oven insert means you're less likely to develop hot spots as the whole machine slowly and evenly cooks what's inside.
When I tested it out, I used the Dutch-oven insert to brown chicken thighs on the stovetop before transferring the entire pot to the slow-cooker base using the included silicone hot pads (which fit snugly on the handles). Searing meat before slow-cooking adds caramelized flavors, and the thick-bottomed insert achieves browning just as well as your favorite Le Creuset. In my other experiments, the Instant yielded noticeably thicker and richer stocks and stews than the other appliances I tested. While several models offer stovetop- or oven-safe inserts, this is the only one I could see using as a cooking vessel on its own.
This machine's menu is also easy to read and can be programmed with just a few buttons to slow-cook, sear, and braise. Along with the aforementioned hot pads, the Instant comes with a silicone trivet.
Best less expensive slow cooker
Functionality: 3 heat settings | Timer: Manual, program, and probe | Insert: Glazed stoneware | Capacity: 6 quarts
Writer and recipe developer Sarah DiGregorio says she loves her Hamilton Beach slow cooker because the temperature settings are so reliable — it never overheats or burns. Stephanie O'Dea, author of A Year of Slow Cooking, also praises this model for its even cooking as well the lid, which has a rubber gasket for an extra-tight fit that she says keeps steam locked inside to create a moist final dish.
The Hamilton Beach slow cooker includes a thick-bottomed ceramic insert and an intuitive menu with high, low, and warm heating presets, as well as a manual mode. Although it doesn't include presets for specific dishes, it does come with a thermometer and can be programmed to turn off when the contents reach a specific temperature.
Best slow cooker with pressure cooking
Functionality: 7 functions | Timer: 7 presets | Insert: Stainless steel | Capacity: 6 quarts
Matijevich says he uses his Instant Pot so much that he's gotten rid of several other pieces of cookware — which makes sense, given that this is a big, heavy machine with a never-ending list of functions. In addition to slow cooking, it works as a pressure cooker, rice cooker, yogurt maker, steamer, sauté pan, and food warmer. It may be slightly complicated for beginners, but Matijevich says its many capabilities help justify its large footprint. He also says that the slow-cooking function makes excellent stock and that the stainless-steel insert is removable and easy to clean — he occasionally uses the insert as a standalone pot. Krissoff is another fan and says she loves the multi-tasking power of the Instant Pot Pro. She uses its built-in sear function to brown foods before slow cooking, she says, and relies on the pressure-cooking function to prepare quick batches of dried beans.
For slow cooking, the base includes preset buttons to simplify timing for chili, poultry, stews, and braises as well as a manual timing option.
Best simple slow cooker
Functionality: 4 temperature settings | Timer: 9 presets | Insert: Stainless steel | Capacity: 6 quarts
While the Zojirushi Multicooker's functions are more limited than the Instant Pot, it balances simplicity with user-friendly design elements. Matijevich says the brand "just thinks about how people will actually use it" and praises its construction and quality, calling it "a really well-engineered product that will last a long time." The entire device is made from durable materials, including a stainless-steel body and a tempered-glass lid that won't shatter. The upward-facing LCD screen is easy to read when the appliance is flat on the counter, and the heat-resistant resin handles remain cool enough to handle without oven mitts if you need to stabilize the pot while stirring or transfer the insert.
Although the Zojirushi has a straightforward digital menu, it still offers eight slow-cooking presets — Matijevich says he particularly loves the ease of the single-touch yogurt setting.
Best small slow cooker
Photo: retailer
Functionality: 4 temperature settings | Timer: Manual and programmable | Insert: Glazed stoneware | Capacity: 3.5 quarts
This Cuisinart 3.5-quart slow cooker includes all the main functions of a larger model but takes up half the space, which makes it a smart choice for apartment dwellers or households of one. In fact, if you're preparing smaller batches of food, Matijevich says that a full-size slow cooker may not work as well because the dish won't heat evenly if it doesn't cover the entire bottom of the pan. And if you have limited counter real estate, Matijevich says he loves that the Cuisinart is lighter and easier to move. Hester, meanwhile, says that of all her slow cookers, this one has lasted the longest — over six years — without breaking, even with heavy use. This model includes a nonstick ceramic insert and a pared-down digital menu with basic temperature settings like high, low, simmer, and warm.
Best slow cooker with baking
Functionality: 8 functions | Timer: Manual and programmable | Insert: Nonstick | Capacity: 8.5 quarts
O'Dea loves Ninja slow cookers so much that she once appeared in a Ninja infomercial (although she is no longer paid by the brand). This particular Ninja model includes a bake function, which O'Dea says she likes to use when she's hosting or preparing multicourse meals. Instead of squeezing finished dishes into the oven to keep warm, you can transfer them to this slow cooker and use the bake setting until everything is ready to serve. And unlike a standard oven, this model will switch to warm once the baking is done, meaning that it doesn't need supervision. The Ninja also includes an oven-safe nonstick insert O'Dea says she uses for recipes that need extra browning, like candied sweet potatoes; after making the sweet-potato base in the slow cooker, she tops it with marshmallows and transfers the entire insert to go under the broiler.
Best portable slow cooker
Functionality: Two heat settings | Timer: Manual and programmable | Insert: Stoneware | Capacity: 4 quarts
A portable slow cooker is an efficient way of warming soups or dips if there's no kitchen access at your destination. But to prevent an unfortunate chili spill mid-transit like Hester says she once experienced, the main consideration here should be a locking lid. While several of our top picks do have locking lids, the Crock-Pot Cook & Carry is the only model that includes two locks and a built-in handle that makes it easier to transport even if the contents are still hot.
Krissoff says she uses her four-quart Crock-Pot to prepare meals at home then take them out on the town. She loves the medium-size capacity, which she says still "holds plenty of food for my family of three — plus a reasonable volume of leftovers." And during cooking, the ceramic insert maintains low, even heat, which Krissoff says reduces the risk of burning or overcooking. This slow cooker includes two heat presets and a manual mode.
Best slow cooker with sous-vide
Functionality: 3 functions and 3 temperature settings | Timer: manual and programmable| Insert: Glazed stoneware | Capacity: 7 quarts
For those interested in cooking their food in a highly temperature-controlled water bath, this slow cooker's sous-vide function opens up a whole new world of possibilities, recipe developer Sarah Copeland says. When cooking meats like chicken, Copeland says she uses the temperature-probe setting to automate the device — after inserting the included thermometer, you can program the machine to turn off once the interior reaches a certain temperature. (Copeland also notes that the thermometer can be used in conjunction with the sous-vide setting.) This model comes with three slow-cooking temperature presets as well.
Some
more
slow
cookers
we've
written
about
• Sarah Copeland, author of Instant Family Recipes
• Sarah DiGregorio, author of Adventures in Slow Cooking: 120 Slow-Cooker Recipes for People Who Love Food
• Amanda Frederickson, restaurant owner and author of Simple Beautiful Food
• Kathy Hester, author of The Vegan Slow Cooker 
• Liana Krissoff, author of Slow Cook Modern and In Praise of Home Cooking: Reasons and Recipes
• Shawn Matijevich, instructor at the Institute of Culinary Education
• Stephanie O'Dea, author of A Year of Slow Cooking
• Emily Peterson, executive chef and director of talent development at Compass Hospitality
The Strategist is designed to surface the most useful, expert recommendations for things to buy across the vast e-commerce landscape. Some of our latest conquests include the best acne treatments, rolling luggage, pillows for side sleepers, natural anxiety remedies, and bath towels. We update links when possible, but note that deals can expire and all prices are subject to change.
Every editorial product is independently selected. If you buy something through our links, New York may earn an affiliate commission.