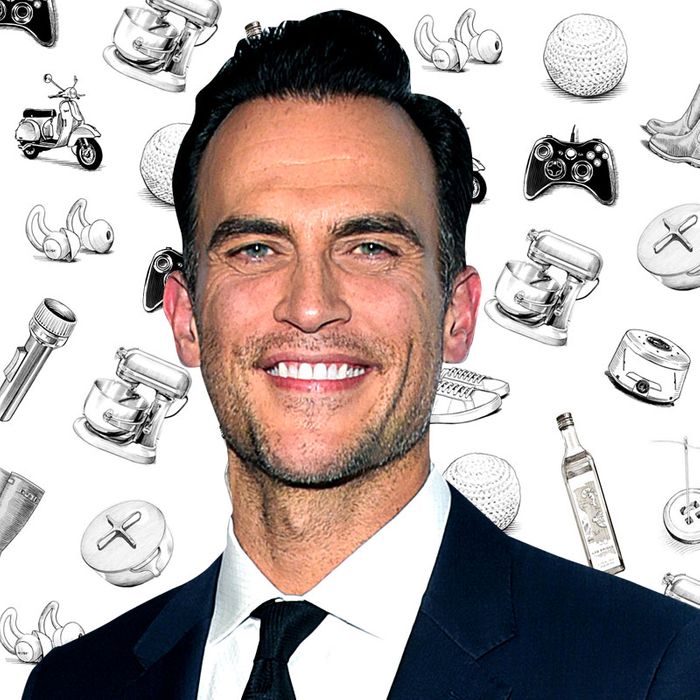 Photo-Illustration: Michael Tullberg/Getty Images
If you're like us, you've probably wondered what famous people add to their carts. Not the JAR brooch and Louis XV chair but the hairspray and the electric toothbrush. We asked actor Cheyenne Jackson — whose new show, Call Me Kat, premiered on Fox this week — about the blanket, moisturizer, and water bottle he can't live without.
I've had a few hair transplant surgeries. I started balding in my 20s and my hair is still thinning. I finally started talking about it maybe six months ago on Instagram because I was tired of hiding it and having shame about it. Everybody has their stuff; mine just happens to be thinning hair, but I'm not embarrassed about it anymore. On TV sets and photo shoots, they would do little cover-ups with this stuff to make my hair look thicker and better and cover up any bald spots. I eventually bought some for myself so I could spray it on when I want to feel cute. It looks natural, like my hair, just a little bit fuller. I love the results.
Two people actually told me about these shirts within the same week. One is a friend who is also my sometime stylist, and then my other friend Jesse Tyler Ferguson said they are his favorite T-shirt. I'm a dad and I'm running around a lot, so I live in T-shirts. I like something that isn't too schlumpy, isn't too tight, and has some weight to it. I'm a bigger guy up top and I love how these fit me in the shoulder; they fit my frame well and I feel good wearing them. I own maybe 20? All different colors. I'm not too keen on shopping — I love to feel good and look good, but spending all day picking out clothes and trying stuff on is not my thing. So once I find something I like, I get a bunch.
This is the absolute comfiest blanket known to man. It's made from the softest material ever. I own them in every color — I'm not kidding. There are about 20 different colors and I own all of them. Every time I'm on the couch, I grab one. And I take my favorite red one when I go to bed. Apparently these were one of Oprah's favorite things years ago; that's how my husband found out about them, I believe. We've become friends with the company's owner, Mary, over the years. She continues to create new colors, so I'm sure we'll buy even more blankets. I buy them for all my friends as gifts, too, because who doesn't want the most comfortable blanket ever? I just got one for my co-star Mayim Bialik because she didn't have a good blanket for napping on the couch. I thought she deserved one.
My husband owns a company called Slant; it does branding and marketing for movie and television studios. They create gift bags and stuff like that to give to the producers or whomever. He had a rendering of a version of this canteen that he was thinking of using for a potential gift. It looked really cool. Then he brought one of the canteens home and I tried it out. It keeps things either very cold or very hot. I don't like to use plastic, and glass is a little cumbersome, so this is a great alternative. I put my shake in it every single morning and have another one for my coffee, too. I can pour a drink into it, close it, set it on my counter, and three hours later, it's still warm or cold. It's a really impressive product.