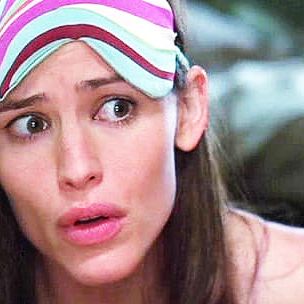 Photo: courtesy of Thirteen Productions
In your 30s, your skin begins to reflect the complications of adult life. "People are working hard, or trying to get pregnant, or maybe they're starting to have irregular periods," says Dr. Anne Chapas, a dermatologist at Union Square Laser Dermatology. And all of this can lead to tired-looking complexions, as well as acne breakouts. Plus, the 30s are when we start to see signs of environmental and genetic aging: That means fine lines, uneven pigment, and maybe some volume loss, caused by the gradual diminishment of supportive tissue (fat and bone) in the face.
All of that's to say, now is the time to start fine-tuning your routine — or, if you've been slacking up to this point, establishing a routine, one that includes at least three products, with hydrating ingredients like glycerine and hyaluronic acid, along with excellent sun protection. Once you have that down, you might want to add in options like an antioxidant serum that can address the free-radical damage involved in premature aging; or, if you're among the highest achievers in our age group, you can also go for a retinoid treatment and a neck cream.
Whatever your level of skin-care ambition — beginner, intermediate, or advanced — we've got the following suggestions from top New York dermatologists (and one anti-aging-focused aesthetician). Line up these products in your arsenal and get a ritual in place. You'll thank us in the decades ahead.
I

f

Y

o

u

r

L

e

v

e

l

I

s

…

B

e

g

i

n

n

e

r
The less-is-more approach might very well be more than enough, especially if you don't get breakouts, your skin isn't prone to irritation or dark spots, and you're not seeing (or interested in treating) fine lines. "A simple routine is all you need, but you should still be thinking about prevention strategies in this situation," says Dr. Chapas. The following three products should set you up with all the right moisture and protection.
You'll need: a gentle cleanser
Your face wash should cleanse effectively without stripping your skin of its natural lipids, notes New York dermatologist Dr. Marnie Nussbaum. That's why this very mild Neutrogena option — its second ingredient is glycerin, which will will draw moisture into your skin — is ideal. Remember that if your skin feels tight after washing, your cleanser is probably too aggressive.
A workhorse moisturizer
Dr. Nussbaum's pick, CeraVe PM Moisturizing Lotion, is recommended for all ages, but especially as we get into a phase of life where skin tends toward dehydration. You've got three powerhouse ingredients working for you here: the ceramides are lipids that fortify your skin barrier, the outermost protective layer; the hyaluronic acid draws in moisture; and niacinamide is an antioxidant that calms the skin and reduces sun damage. And if you're among those who see breakouts come on in their 30s, as Chapas mentioned above, you don't have to worry about this light formula clogging your pores.
A mineral sunscreen
At this stage of life, your cell turnover (the rate at which you see new, radiant skin) slows down. Sun exposure also hinders cell turnover, so if you haven't yet used a daily sunscreen, definitely don't wait any longer. A mineral sunscreen, where you have natural active ingredients forming a barrier between you and the sun, as opposed to the nonnatural ingredients in chemical sunscreens that work by absorbing UV rays in a chemical reaction, is preferable. This 100 percent mineral Supergoop! Zincscreen — containing zinc oxide and the antioxidants winter cherry and blueberry — protects against not only UV damage, says Nussbaum, but also against pollution and blue light from your devices. Plus, it has a high SPF, and, as we know, the higher the SPF, the more rays you're going to block out. (Keep in mind that dermatologists recommend going up to at least 30.)
I

f

Y

o

u

r

L

e

v

e

l

I

s

…

I

n

t

e

r

m

e

d

i

a

t

e
You're ready to go beyond basic maintenance of your skin health and introduce products that address specific issues — which, in our 30s, typically include acne, rosacea, and fine lines. Perhaps you also want to slow the signs of aging or desire a little extra "pop" — like more brightness and dewiness — in your complexion. Start with our "beginner" staples above and add products from this list based on your needs and desired commitment.
You'll need: an oil cleanser
Now that you're set with your everyday cleanser, you can consider prefacing that step with an oil cleanser to first thoroughly remove your makeup (this is also referred to as "the double cleanse"). And for those of us looking for added benefits for our 30s skin, oil cleansers are more than just effective makeup dissolvers, says Jeannel Astarita, an aesthetician and owner of Just Ageless, a body sculpting and skin-care studio in New York. For example, the seabuckthorn oil in this one by Living Libations is anti-inflammatory and has been shown to improve skin elasticity over time. Because it's so gentle, it also works as a primary face wash, especially if your skin is sensitive and dry. As Astarita reiterates, "The No. 1 mistake I find people make in their 30s is using a cleanser that's too harsh and strips their skin."
An alcohol-free toner
Toner is a key product for beyond-the-basics skin care, says New York dermatologist Dr. Michele Green. As the second step in your routine, immediately after cleansing, it removes any lingering residue and dirt (again, think of our increased acne proneness at this age). But it doesn't have to be overdrying, like those stinging, alcohol-based toners we used as teens. The best ones now are alcohol free and can suffuse a just-washed face with ingredients like exfoliating acids, antioxidants, and anti-inflammatories. As for this Kiehl's choice, it contains a soothing extract from the petals of the calendula flower, as well as the moisturizing wonder-herb burdock root.
An acne wipe
If you have acne-prone skin, Dr. Nussbaum recommends a salicylic wipe in the morning — right after you cleanse — to kill acne-causing bacteria and gently exfoliate. Beyond the salicylic acid, these First Aid Beauty pads also contain clay to absorb excess oil.
An antioxidant serum
Add in an antioxidant serum like this one to up your environmental protection beyond sunscreen, applying just before your moisturizer, as serums tend to absorb quickly. Dr. Green recommends InstaNatural Vitamin C Serum because, thanks to the vitamin C, it works to neutralize free radicals that damage skin cells (eventually causing premature aging). It is also formulated to correct uneven skin tone and reduce fine lines, and has hyaluronic acid for hydration to boot.
I

f

Y

o

u

r

L

e

v

e

l

I

s

…

A

d

v

a

n

c

e

d
At the highest echelon of skin care for this age, you get target-area specific — that is, using products that hone in on, say, the skin around your eyes or on your neck. Once you've established a great regimen of basics from the beginner and intermediate tiers, you can start to layer in some of the following options. We know that you're busy — "The key constraint is time, particularly in your 30s," Dr. Chapas notes — but these add-ons really only take a matter of minutes. (And many of them, though on the pricey end, will have a long life; just a little product goes a long way.) In terms of preventing some of the damage that happens in your 30s, like uneven tone, texture changes, and wrinkles, says Chapas, they really will make a difference.
You'll need: an exfoliating lotion
A few times a week, Astarita likes to add in P50 (the famously stinky hybrid toner-exfoliator) because it works for a variety of 30s-specific concerns — excess pigment, wrinkles, sensitive skin. You can pour a few drops onto a cotton pad and dab all over your face post-cleanser: "While it exfoliates," Astarita says, "lipids hydrate your skin, which leaves you with an amazing glow." Just keep in mind, as with any exfoliating product, according to Astarita: If it leaves you red, it's too harsh.
An eye cream
Eye creams deliver the same active ingredients as moisturizers, but at a gentler strength for thinner skin around the eye. Dr. Nussbaum is a fan of InterFuse because of its vitamin C–humectants combo, which she says protects fragile eye skin while treating fine lines and dark circles.