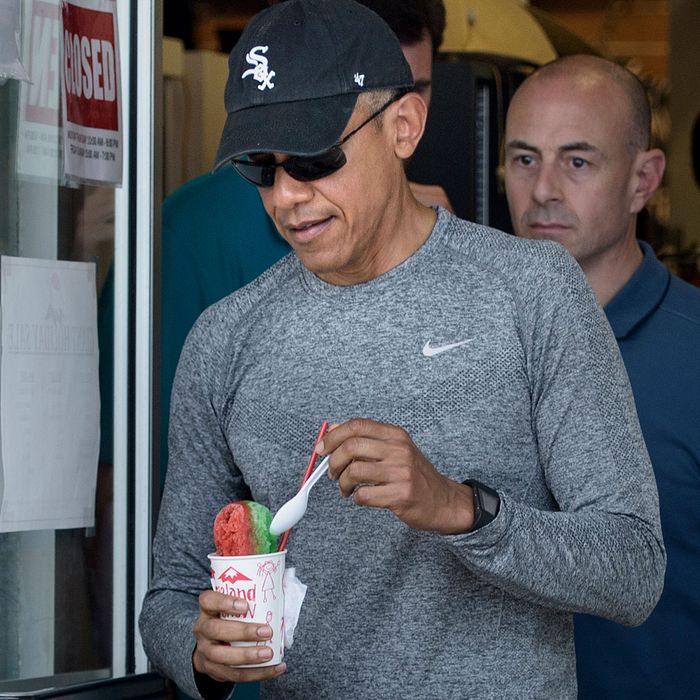 Photo: Brendan Smialowski
Here at the Strategist, we like to think of ourselves as crazy (in the good way) about the stuff we buy, but as much as we'd like to, we can't try everything. Which is why we have People's Choice in which we find the best-reviewed products and single out the most convincing ones. (You can learn more about our rating system and how we pick each item here.)
And while we've written about lots of fun kitchen appliances— including the best ice-cream makers and the best blenders — here we've rounded up the best snow-cone machines, as praised by the most enthusiastic reviewers on Amazon.
Best-rated snow-cone machine
With more than 1,000 five-star reviews, this snow-cone machine gets top marks for being easy to use and assemble. "It is so easy to use and take care of plus it does an excellent job at shaving the ice to the perfect snow-cone consistency," one writes. Others call out this machine's speed and durability. One user says they "served 150 kids 4 days a week very quickly" with this gadget. Another attests they "had about 25 kids wanting Sno-Cones and no one had an unreasonable wait." Users also appreciate that this machine doesn't require a special ice, just regular ice cubes. "It's great that it can take any ice and no need for special ice blocks or waiting around for the freezer to create more ice, you can simply throw in more ice cubes or buy a bag of ice to use with this." As one reviewer concludes, this snow-cone maker creates "lots of fluffy ice in no time at all."
Best-rated (less expensive) snow-cone machine
Despite its manual operation, this snow-cone machine gets lots of praise for making it "easy" to crank out shaved ice. "I expected to have to use a lot of force, but it requires very little elbow grease," one reviewer explains. Users also appreciate that it comes with ice molds to make the process even more simple. "If you use the molds that are made specifically for this machine (which are sold with the machine), you will have no trouble getting perfectly snow-like shaved ice," one writes. And with the ice this machine churns out, reviewers have made everything from snow cones to margaritas to homemade Frappuccinos, and many appreciate the nostalgia this machine also whips up. "I grew up with on just like this for making halo halo (a Filipino summer dessert) and was craving some when the weather here hit the 90s," one writes.
And now for some micro-picks for every type of snow-cone machine you might be looking for.
Best electric snow-cone machine
Over 1,000 reviewers give this snow-cone machine five stars, a surprising number of which come from pleased pregnant people. One reviewer — in a post titled "Would recommend to all pregnant people living in hot climates" — said this was "heavenly" for "eating bowls of plain shaved ice." One supportive spouse bought this for his pregnant wife who he thought would "break a tooth trying to bite into a big chunk of ice" during her pregnancy. "She absolutely loved it. She used it every day." Beyond pregnancy, one user says you'll get continued use out of this machine. "I bought it because I was 9 months pregnant and had no air conditioning. The next summer my son used it to make literally THOUSANDS of snow cones to raise money for our local police department's K-9 unit. It handled all of it without even slowing down, and two years later we still use it all summer long." The electric operation is also easy to use. As one reviewer notes, "I so should have thought about buying one of these sooner, it's the perfect treat on a hot day. Super easy to assemble, compact which is awesome for [apartment] living and very easy to use."
Best snow-cone machine with syrup
"Remember the days of the Snoopy Sno-cone machine," asks one reviwer, concluding, "You don't have to do that anymore!" Many say the trick to getting " fluffy shave ice," is using the right amount of pressure. One explains, "The trick is to use just enough pressure for the ice to shave. It does not take much and you do not need to be Hercules. Let the machine do the work." This snow-cone machine also comes with ice molds and flavor syrups which users really appreciate. "The syrups that come with the party package are twice the size of the bottles you get at the nearby Bed and Bath store. The kids say the flavor was 'way better,' too." Another calls out "the squirting tops for the bottles are included, which was a nice surprise," and the bottles last a long time. "Each 16-ounce bottle yielded way more servings than I expected," one user writes, adding "I had 12 kids at a party and each had 2, some had 3 and some of the adults had some too … Yet I still had almost a full bottle of the grape, about quarter bottle of the blue and about half of the cherry left over."
Best snow-cone machine for kids
Reviewers seem to agree with this snow-cone machine's kid-friendly name. "Great for kids — when they wish to do things themselves — since the blade is somehow out of reach of little hands," one writes. Another says, "My 6-year-old son operates this with ease without supervision. It's safe and straightforward." Kids, however, aren't the only ones enjoying this. "Equally great for kids and adults," one reviewer attests, explaining that they've used this machine to make "shrimp cocktail on a bed of ice, [the] best margaritas ever, and flavored ice for the kids." Reviewers also appreciate relatively compact footprint of this machine, like one who says it's "easier to store compared to some of the larger snow-cone makers out there." Its compact design also makes it ideal for travel. "Believe it or not, the thing actually travels okay, too. That said, the folks in the hotel room next you might wonder what you're doing because the machine is not exactly quiet (it's cutting ICE for Pete's sake!)."