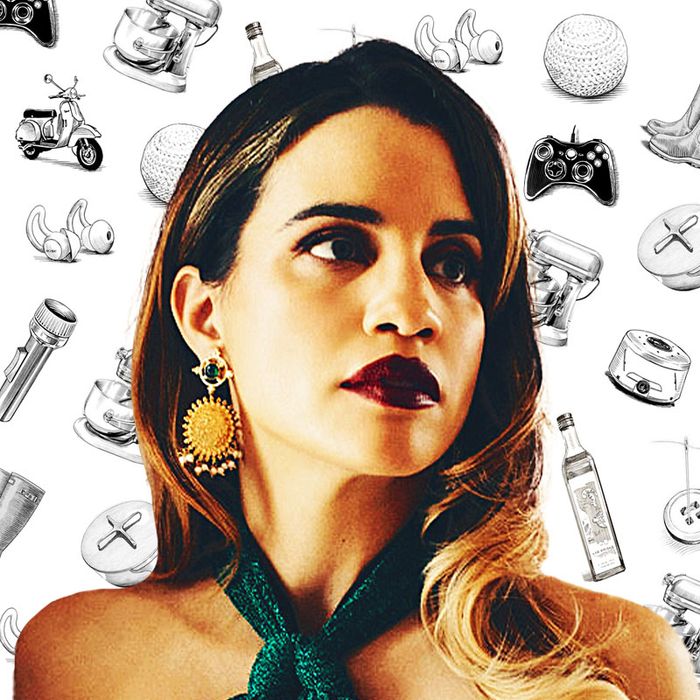 Photo-Illustration: The Strategist; Photo: Catie Laffoon
If you're like us, you've probably wondered what famous people add to their carts. Not the JAR brooch and Louis XV chair but the hair spray and the electric toothbrush. We asked actor and director Natalie Morales, who stars in the film No Hard Feelings, about the vegan jerky she keeps in her bag, the CBD balm she uses for intense period cramps, and the face pillow that's become her "binky."
I'm Cuban and, contrary to a lot of people's beliefs, we don't eat spicy food. Our food is spiced, as in it's flavorful, but it's never spicy. However, living in California, Cholula has become a constant in my life. My favorite flavor, when I can find it, is the chili-garlic one, but I'll settle for the normal one too. It's very rich in flavor. I don't like hot sauces that are too vinegary and this is not too vinegary. It's more tomato. It's more flavorful than it is spicy. It adds a tiny, tiny, tiny bit of kick, which you can augment by adding more Cholula. It adds a richness of flavor to everything as opposed to just hard-core vinegary spice. I would consider talking to the people at Cholula to do free ads for them in exchange for Cholula.
I think this might have been a recommendation I found on the Strategist at some point. It is just the nicest, earthy lavender, not-overwhelming smell. My house always smells like it. I stick them in the soil of plants or in an incense holder, and I do them all over my house.
The backpacker guitar is just the best and when I'm traveling I can take it with me. I can carry it on the plane. It's so lightweight. I can just put it in the upper compartment and it's fine. And it's a full guitar with great sound, so I can play guitar when I'm staying at hotels or when I'm traveling for work. It's a good way to bring a portable guitar with me, and I love the sound of it. I mostly play Third Eye Blind covers, at least these days, but I play my own stuff as well. Mostly it's just me in my Airbnb or hotel room playing and trying not to annoy the other guests.
My friend and sometimes hairstylist Sarah Tess created this balm because she had intense period pain. It's a really really strong CBD balm and it works. I use it not only when I get cramps, but on any kind of pain. Sometimes I throw my neck out and I'll use it there. I'm very proud of her for doing that. She created a product that is so wonderful. When I have my period, I take like three Advils every six hours. It's intense. But I can skip the Advil with this balm.
I am obsessed with this company. I met the founders at the Green Awards and they gave this speech and talked about their company. Then I was like, "Let me look up their clothes." And they are so cool. All of their clothes are plastic-free and biodegradable. I'm wearing these joggers right now. I have not taken them off. They're well-made and they're so comfortable and they're just the coolest company. I wish they got more attention because they're doing amazing things. I have their shirts and I have their joggers and they're so sturdy but comfortable — do you know what I mean? They feel just really well made. Their whole company is plastic-free and the founders are so nice.
I have trouble sleeping if there is any kind of light. But I don't like the pressure most sleep masks put on my face or how when I turn to the side, they move. Not only is this made of the softest material, but also it has the appropriate amount of pressure so it doesn't feel too heavy but it also won't move off if you turn your head. It just immediately lulls me to sleep. I got it when I was directing my movie Plan B, we were doing a lot of overnights and that meant I had to sleep during the day. I was throwing out my shoulder because I would sleep with my elbow over my eyes all the time.
I bought this just to try it and I have not slept a single night without it since. It's become my binky. I recommend it to everyone I know. I'm also really sensitive to sound but not with this; it creates like a Savasana situation. Now I have two of them. I use the traveler one on my face and I hug the regular-sized one. And it's the most comforting sleep. I'm also paranoid, and I always think if an intruder came in and I was wearing a regular eye mask, I would have to go through that extra step of pulling off the elastic band to see who's there. But this is just resting on you, so it's very easy to look around at something. It's just like having another blanket, like a perfect blanket right over your eyes and ears.
[Editor's note: The Sleep Crown Traveler is currently out of stock, but they'll be back in stock by July 11, according to the website.]
There are not a lot of vegan protein snacks that I can get while I'm in airports or on the road that isn't just like a whole pizza. But if I have this in my bag, I can always get a little bit of protein throughout the day. When I still ate meat, I discovered Turkey Jerky at Trader Joe's. Then when I stopped eating meat, I was like I want something to chew on. Then I found these at Whole Foods and they're delicious. They have many different flavors, but the Carolina Barbecue is my favorite.
It is so delightful on my skin. I remember the woman at the shop saying, "This one's a little heavier of an oil and not everybody can wear it," but it's so great on my skin and it has made my skin so — I hate to use the word supple, but I will. It's just really moisturizing in all kinds of weather. And I can wear it under my makeup or before bed. It's multiuse in that way and I just love it. I love all Aesop products, but they're expensive so to have the whole line is very hard. But this is the one I will really splurge for. It smells like roses and has a sort of botanical smell that at least tricks my brain into thinking it's doing things, but it actually does feel like it's doing things for my skin.
I recommend all their bags. I have four or five different Matt & Nat purses. I do not buy any new leather. Sometimes I'll buy vintage leather, but rarely, or I'll borrow or rent something that's leather, but I don't own anything or buy anything that's new leather. So when I'm looking at bags that are good quality, it's limited to Stella McCartney, which I absolutely love, but is extremely expensive. Or Matt & Nat which are well made and cool and more affordable. So I have a lot of them. This is the last one I got. I use it all the time. I love animals. So I'm like, "If I'm not eating it, why am I wearing it?" In addition to being conscious about not buying animal products, I'm also trying not to contribute to major waste in the environment by using materials that are not sustainable. These are made of recycled water bottles so they're more sustainable than most vegan leather.
Sustainable, humanely raised meat is important to me because, as I said, I don't eat meat. But my dog, Taco, does eat meat because he's a carnivore. So I look for products that are humanely made. He is going to be 13 years old and is a little weirdo mutt but also the angel of my life. He's such a picky eater and this is the one food that has remained a constant in his diet throughout the years. He eats the freeze-dried chicken.
The Strategist is designed to surface the most useful, expert recommendations for things to buy across the vast e-commerce landscape. Some of our latest conquests include the best acne treatments, rolling luggage, pillows for side sleepers, natural anxiety remedies, and bath towels. We update links when possible, but note that deals can expire and all prices are subject to change.