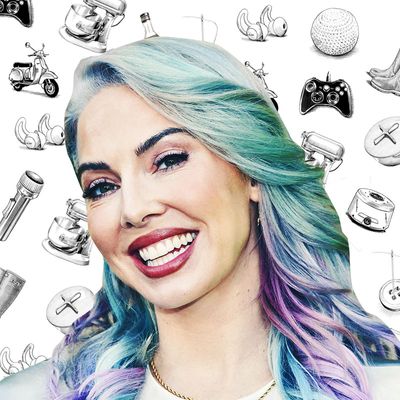 Photo-Illustration: The Strategist; Photo: Hetty
If you're like us, you've probably wondered what famous people add to their carts. Not the JAR brooch and Louis XV chair but the hair spray and the electric toothbrush. Comedian and podcaster Whitney Cummings chats with us about the moisturizer she says is better than La Mer, the face lifting supplements she takes daily, and the hard kombucha she created in collaboration with JuneShine.
I like my skin to be dewy at all times. I was on Accutane twice when I was younger, so I basically have no oil glands. I've been using the same face stuff since I was 21, and it's very rare for me to use new products. But makeup artist Jamie Greenberg sent this balm to me, and it's now part of my routine. I put it on my skin before I go to bed, and when I wake up, my skin is still moist without being oily or greasy. I use it on planes, and my skin doesn't feel like an abandoned warehouse wall or like dry stucco when I land. I don't really know what it's made out of, but I have it on me at all times for everything. I put it on my lips, eyelids, under eyes, cuticles, even my toes. It's just a wonder product. To me, it's better than La Mer.
David Sinclair, who wrote Lifespan, came on my podcast, and his whole point was that aging is a disease, it doesn't have to happen to you, and you just have to eat different things. So, resveratrol, which is found in grape skin, has been proven to basically help feed the cells. He explained it very elegantly in my podcast. He takes it every morning and looks 20 years old, even though he's, like, 50. I started taking it six months ago, after he came on the podcast, and people are asking me if I got a face-lift. It's wild. I also have so much more energy. There's so much data that resveratrol has incredible anti-aging properties and feeds the mitochondria in your cells. This is the brand that I take, and I take it religiously. I break it up, put in a smoothie, and just take it on the road. I have it with me at all times, and I will not miss it.
I discovered this about eight years ago. Chelsea Handler's makeup artist used it while I was sitting close by and I was like, What is that smell? It was the most amazing, clean, fresh smell. Now, I can't get enough of it. I've never done cocaine, but if you've seen someone sniffing cocaine, that's me with this stuff. I'm obsessed with it. I keep it in my fridge and have one by my bed. I use it at least three times a day. I refresh my face with it over makeup, spray it around my neck, spray a little under my chest. I don't really wear deodorant, so I'll use it under my armpits. It's just like heaven on earth. If I wake up in the middle of the night and go to the bathroom or go to the fridge, I'll use it. It instantly just makes me go, Everything's okay.
On my podcast, I'm always talking about how I have really bad insomnia. I'd be up all night and then I would get migraines. It was ruining my relationships. I couldn't sleep in the same bed as the people I was dating. I used to take sleeping pills. I was sent this by the company, and it has changed my life. It's a pillow, an eye mask, and earmuffs, all in one. I put one behind my neck and one over my head, and they hug my face. It completely blacks out and is kind of cold, since the fabric is a T-shirt material. I can take a nap and fall asleep in five minutes. I have one with me at all times — one in my check luggage and one in my backpack that I carry on the plane. I also give it to everybody that does my podcast in a gift bag, because most of my guests are comedians and I know they're always touring and doing stand-up. I feel like it's morally wrong to know about it and not give it to people.
For the longest time, all sex products or all lubes looked like they were from a gas station. The packaging was just so embarrassing and immature. Like, I don't want to put strawberry syrup on my private area. I'm not going to put some neon lemon-meringue-pie lube on my body. It's like, What are these ingredients? I think it's only recently that there's women, female companies, making female-pleasure products. This one comes in beautiful packaging, and looks like it's for adults. You can put it on your bedside table, and if someone sees it, they're not going to think, You're having orgies. It just looks like an oil. It matches all my other pretty products. I don't have time to hide pleasure products every time somebody comes over. It also has a little bit of CBD in it, so it's for the woman's pleasure, too. I think Gwenyth Paltrow has made female pleasure very normalized, and more people should talk about it like it's not a big deal. I just found out about it about a year ago, and it's something that I always have with me or have by my bed.
Toothbrushes are so gross, especially when you're traveling. You just put them in a cosmetic bag and then in your mouth. Also, I'm so lazy that whenI was brushing my teeth manually, I'd never get the back of my teeth. My gums were also receding a little bit because I would brush too hard. My dentist told me I had to use a softer toothbrush that I could use longer. I would hear about Quip on Tim Dillon's podcast and the podcast TigerBelly, and finally I just ordered it. This vibrates when you push it, and you just have to hold it. It tells you when to move and stop — it does all the work for you. And when you're done, you just twist it into a case that's very elegant. It's a beautiful, plastic terrarium-like case, so it doesn't get disgusting when you travel with it. And you can leave it out and it doesn't ruin your whole countertop.
I've gotten really bad migraines. My whole life has been a nightmare. I took a class for attachment strategy with the meditation teacher George Haas, and he told me about this product. You put it on your forehead when you get a headache because what's happening is inflammation. Your blood vessels are inflamed and need to contract to make the pain go away. Now I put it anywhere that I'm feeling pain. Because I'm on planes all the time, I put it on my lower back and wear a T-shirt that I don't mind getting gel on, and my lower back doesn't hurt. When I have cramps, I put it on my tummy. After I wear high heels for four hours, I'll put it on my feet and put socks on before I go to bed. I put it on the back of my neck or just all over my body before taking a shower. Because of this, I've stopped taking aspirin and Advil, which is good for my liver. It's just unbelievable. You know how everyone's doing ice baths and cryotherapy now? It's like a mini-version of that.
I also found this from a podcast. Tim Dillon was at my house during quarantine and was shooting an ad for it, so he brought a bunch of it over, and we were doing this dumb thing where we poured it in my pool. But then I tasted it. I'm a cereal junkie. I will eat cereal breakfast, lunch, and dinner, if I can. And now that I'm getting older, it's just not a good look. Cereal's usually just sugar, high-fructose corn syrup, and gluten. I can't do it the way I used to. Also, when I eat cereal, I'm eating three bowls. There's no one bowl of cereal for me. This is sweetened with monk fruit, and it's low in carbs — no sugars. You can eat three bowls and not feel like a trash person because it's healthy. The one that I liked the most tastes like Fruit Loops, and it's a dream. Every month, I get six boxes delivered. It's light, so I can eat it after dinner. If I want more of a full meal, I'll mix it with Bran Flakes. I take it on the road with me. I'll put it in a cup on the plane, so I don't eat trash at the airport. I never feel ashamed like I just ate a bag of sugar.
I always want my skin to be very oily. That's my thing. People think I'm nuts or, like, a lizard. I just discovered this at a Bluemercury in Boston with the comedian Rosebud Baker. They have another primer oil that I also love, but this one's tinted. Normally, any type of self-tanner breaks me out and dries out my skin. And they always look too dark on my face — it looks crazy. I just got this on a whim, thinking, I don't know if I'll ever use it. But it does not break me out. I put it under my makeup, and it is amazing. It makes you look like you make good choices in life.
I've used this my entire life. When I was growing up, my mom would put it under her nose every night before bed. It was always by her bed, in drawers, in cabinets, in the car. There was a little tub of Vicks everywhere. When she kissed me goodnight, I would smell Vicks. Now I'll be walking through a grocery store and be like, Is that Vicks? Are you wearing that? I carry it with me and do what she did. It just puts me to sleep. It makes me calm. It was the smell of my childhood. I understand why it's kind of gross. It's a very pungent smell, but it's the most comforting feeling. I put a little bit right above my lip before I go to bed every night. I travel with it if I'm on the road. If I don't have it, I have to get it. It's in my rider backstage. Boyfriends are like, Oh, do you always have to smell like this? But it's a miracle. It's like eggnog for me, a warm, cozy feeling.
As soon as I turned 30, I could not drink any hard liquor. For three days, I would be in a daze. And I was getting ulcers. I started taking probiotics and drinking kombucha all the time, and it would make my tummy feel better. Then I discovered JuneShine, which is a hard kombucha.They have a bunch of different flavors, the cans are gorgeous, and it's all healthy ingredients. They're 4 to 6 percent alcohol, and it's the only thing that I can drink and not get a headache. I don't get a hangover. You don't get a big sugar dehydration rush, and the next day you take the shit of your life. It's also the perfect buzz. It doesn't get me all riled up. It'll relax you and chill you out, but you won't go on Twitter and start arguing about politics. It checked every box. JuneShine came to me about doing my own flavor and can, so this is actually one that I custom-made. It's a little spicier. I really wanted to do a southwestern theme because I think it's very trendy right now to be negative toward middle America. I really wanted to do a southwestern theme that's neither masculine or feminine. It's for everyone. The flavor is a very mature, spicy taste. It's my favorite drink on the planet, and I've never felt healthier. I've never slept better, too. I'll just have a can, and it takes away all my anxiety. I can't say enough about how it changed my life.
The Strategist is designed to surface the most useful, expert recommendations for things to buy across the vast e-commerce landscape. Some of our latest conquests include the best acne treatments, rolling luggage, pillows for side sleepers, natural anxiety remedies, and bath towels. We update links when possible, but note that deals can expire and all prices are subject to change.