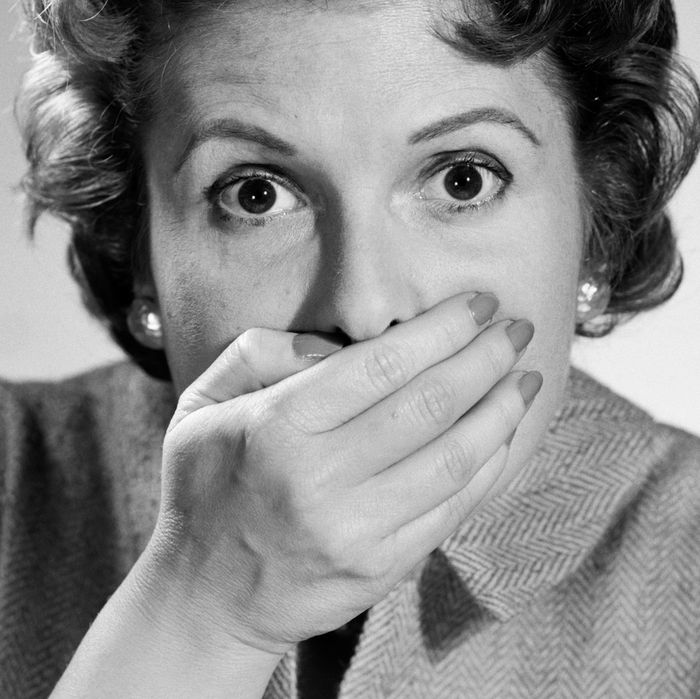 It doesn't have to be this way.
Photo: Debrocke/ClassicStock/Getty Images
For the 40 percent of U.S. adults that get cold sores, the painful skin bumps that flare up when the immune system's compromised (most often but not strictly around the mouth and nose) are likely a recurring problem. Caused by the herpes-simplex virus, cold sores are spread from one person to another upon contact. They like to make an entrance in times of "concurrent illness — hence the name — or when you're stressed, fatigued, or sleep deprived," according to dermatologist Hadley King, a clinical instructor of dermatology at the Weill Medical College at Cornell University, who adds that sun exposure and injury to the area are potential triggers too. She and the five other dermatologists we spoke to all suggest seeing a doctor who can prescribe topical or oral Valtrex to minimize symptoms, but there are things to buy without a prescription too. Below, our experts share their recommendations on the best over-the-counter products to prevent and get rid of cold sores fast.
Best products to prevent a cold sore


Taking steps to prevent a cold sore is always better than waiting for the thing to rear its head and then doing damage control. Because cold sores are a viral infection, you may be able to prevent it the same way you would an incoming cold. "Small studies have shown that taking oral zinc supplements daily may help prevent outbreaks and reduce duration of symptoms," says King, which is why she recommends adding zinc (you can take one tablet per day with a meal) to your diet to boost your immune system.
Because the herpes-simplex virus needs a steady supply of arginine to replicate, there's also been some speculation about arginine-fighting amino-acid lysine as a preventative measure. King says it's a safe and affordable option but that its efficacy has been inconclusive in trials.
Because sun exposure and sunburns can cause a flare-up, keeping your lips (and face) properly protected is essential, says Dr. Hooman Khorasani, Mount Sinai Health System's chief of the Division of Dermatologic and Cosmetic Surgery. He suggests using a combination of Coola Lip Balm Sunscreen and EltaMD UV Clear Tinted Sunscreen to cover all your bases. The Coola lip balm is SPF 30 and infused with antioxidant-rich ingredients like red-raspberry-seed oil, linseed-oil extract, buriti oil, and cocoa-seed extract to keep lips moisturized. And the EltaMD sunscreen's lightweight formula contains zinc oxide and niacinamide to nourish and protect the skin.
If you would rather have one do-it-all product, Khorasani also loves the Supergoop! Glow Stick, which can be used on both the lips and face and goes on "super clear." The glow stick also contains moisturizing buriti oil, pracaxi oil, and tamanu oil.
Best products to treat a cold sore


If you're caught off guard and need something to stop a cold sore in its tracks, topical cream Abreva is a good place to start. It could be classified as a preventative measure (if you happen to catch your cold sore right at its inception), though it's officially designed to help decrease the duration of a breakout. It works best when used at the first telltale tingling or swelling and can be applied up to five times a day. Its active ingredient, docosanol, is an antiviral medication that King says "inhibits the herpes virus from being able to enter skin cells, where it carries out its viral actions and also replicates to form more viral particles." And it's effective. "Clinical trials show that, on average, cold sores treated with docosanol healed 18 hours faster than cold sores treated with a placebo," she adds.
To boost the healing effects of the Abreva, you could also mix in some hydrocortisone cream to reduce inflammation. If you don't have Xerese (a prescription-strength cortisone cream for cold sores that's antiviral), an over-the-counter hydrocortisone can be effective too. King recommends using "Abreva five times a day and an over-the-counter hydrocortisone cream twice per day."
For particularly painful cold sores, you may want to apply an analgesic as needed, on top of consistently using the Abreva. "Orajel, and other similar creams or gels with numbing ingredients like tetracaine or benzocaine, can be used to treat pain or discomfort," too, says Noelani González, the director of cosmetic dermatology at Mount Sinai West.
To speed up the healing process, you can get some zinc oxide (a natural sunscreen ingredient you may recognize in the EltaMD sunscreen recommended above) to dab on a sore. King says zinc-oxide cream is often used to heal epidermal wounds and that there's even a clinical trial showing that zinc oxide can shorten the healing time for a cold sore. Khorasani likes this lip balm, which contains both zinc and l-lysine "to soothe cold sore discomfort," like inflammation and blistering. Like the above ointments, Lysine+ should be applied in addition to Abreva.