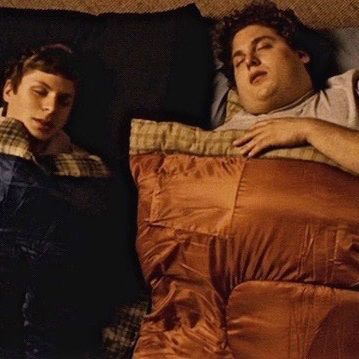 Photo: Courtesy Columbia Pictures
A good sleeping bag can make all the difference on a camping trip or sleepover. But with so many options out there, it can be hard to know where to start. So to help find the best pick for you — from big-and-tall sleeping bags to ones that seal you up like a mummy — we've rounded up the best of the best, according to Amazon reviewers. And if you're looking for more camping gear, we also have a beginner's guide to camping and roundups on the best outdoor chairs and even tick repellent, too.
Related Articles: A Wearable Sleeping Bag | A Sleeping Bag for Side Sleepers | Beginner's Guide to Camping
Best-rated sleeping bag
With over 12,00 five-star reviews, this queen-size double sleeping bag is beloved by couples and individual campers looking for some extra space. "There was certainly enough room for both my husband and I to sleep comfortably," one reviewer writes. "The sleeping bag itself has zippers on either side so if you need to exit, you can do so without bothering your partner," writes another considerate reviewer. It's also surprisingly versatile: "We own a queen-size air mattress cot and got the sleeping bag to use on top of it. I love that the sleeping bag is multipurpose. It can be used as one two-person bag, two single-person bags, and separated as a base layer with a blanket." But most reviewers love being able to sleep with their partner. "The bag was so great, so much better than sleeping in two separate bags," another writes. "A sleeping bag for two meant we could enjoy the benefit of cuddle body heat."
Best-rated (less expensive) sleeping bag
This less-expensive cozy bag also ranks high on the warmth factor. "When I woke up, there was a layer of ice on the sleeping bag, but I was still warm!" one satisfied camper writes. Overall, reviewers say it's a great bag for the price: "It is made with great material," writes another. "I have washed it three times and the colors haven't faded nor has the inner filling become loose or compacted. After lying in the dirt with it, the outer shell still feels soft." And a third, who bought it for their husband just to use on the couch, says it's so soft that they've "been tempted to use this bag in my bed at home." Reviewers do warn, however, that this sleeping bag is on the bulkier side, meaning it may be more suitable for situations where packing space is not an issue. "The sleeping bag is simply too bulky and is really difficult to roll or fit it back in the cover," said one, who recommended the bag for situations like slumber parties or "if you have a lot of overnight guests or just love sleepovers and don't have to carry the sleeping bag for miles."
Best big-and-tall sleeping bag
This generously proportioned Coleman sleeping bag measures out at six feet, eight inches long, and dozens of five-star reviewers also describe it as "roomy." One camper, who says it kept them warm on a 45-degree night, writes, "This lives up to the name of 'big and tall' … I am 6'5," 210 lbs, and have very broad shoulders. This sleeping bag STILL felt roomy." Another tall reviewer had similar praise, adding that "the material inside is soft and feels good. I should have bought one of these years ago instead of toughing it out in a mummy-style bag." And a third over-six-foot-tall reviewer was "so impressed and pleased with the price, quality, and comfort" of the sleeping bag that they purchased three more. "It is the largest, most comfortable sleeping bag I have ever slept in," they write. "Lots of room to turn over, and nice to be able to pull it up over my head if I want."
Best sleeping bag for active sleepers
The Celsius XXL sleeping bag is described by multiple reviewers as "very roomy." It's perfect for active sleepers, one reviewer said: "I'm kind of a wiggle worm at night and mummy bags feel too claustrophobic to me … This felt perfect." A self-described side-sleeper wrote, "I don't get tangled when wiggling around inside it, and it stays lofty." Another self-proclaimed "big guy" and "active sleeper" said, "This sleeping bag gives me room to move around." On top of that, reviewers found that it's very comfortable. "The night I bought it, I decided to 'try it out' in my house by setting it up on a sleeping pad in my living room," one cozy reviewer wrote. "I turned on the TV, and the next thing I knew it was dawn and my wife was kicking me and asking why I didn't come to bed." Another gushed, "This is the best sleeping bag I have ever owned! I've been camping for over 50 years and have never been as warm, snug, and comfortable as I have since buying this sleeping bag."
Best lightweight sleeping bag
"For the price you pay, this is a great bargain, and has held up much better than I thought it would," one reviewer writes of this sleeping bag that's designed for camping in warmer temperatures. Many others noted its durability, too: The parent of a tween with a social calendar stacked with sleepovers says, "Anything that can survive the destructive force of my son and his friends is impressive." While reviewers with dry skin say the polyester lining occasionally catches, overall, they say the lightweight warm-weather bag works great. "I've used this sleeping bag with temperatures varying from mid 30s up to mid 70s and never woke up too cold or too hot once," another writes. "My kids use the same one, in the same conditions and have never complained."
Best mummy sleeping bag
Many reviewers who have hiked and backpacked around the world recommend this mummy sleeping bag, even when compared to more expensive options. "We are doing the Kilimanjaro trek next year and need a lightweight bag that stuffs small and will keep you comfortable at 20 degrees. This bag meets all those criteria," wrote one reviewer, adding, "Although a little heavier than the 800-fill bags available, this one is $100 cheaper." And as far as mummy sleeping bags are concerned, this one is fairly roomy: "I really like the size, especially around the chest and shoulders; for me, this mummy bag is not as constricting as I expected. The boxy foot area is a bonus." Another reviewer, who'd been using this bag for a year, wrote, "It's been really reliable, handy, and most importantly it doesn't take up much space in my pack. The compression bag included is fantastic and allows me to fit in a lot more stuff. The mummy style is nice and keeps your body tight and warm. There is also a little zipper pocket in the mummy costume, which I use to store my phone."
Best long mummy sleeping bag
According to one 6'2" purchaser, this Coleman Big Basin sleeping bag "has plenty of room without skimping on quality. The material is great, and it's warm as all hell zipped up with the mummy hood and flannel foot liner." Hundreds of other reviewers also describe it as "warm" and "comfortable," including a 325-pound, 6'5" reviewer who brought it camping in Prince William Forest in Virginia. Fifteen minutes after getting into their Coleman, they were "not only comfortable, but I could feel my skin getting warm to the touch. Thirty minutes after climbing in, I felt like I was at home sleeping in my own bed. I was THAT warm." Some reviewers point out that the sleeping bag is bulky, especially when compared to those made for smaller bodies, but that this isn't a big deal. One such reviewer says despite its bulkiness, it's still "the best sleeping bag I have ever owned" because it's "very durable and toasty warm even in below-freezing temperatures."
Best sleeping bag with stash pocket
This sleeping bag boasts inner pockets to keep personal items like glasses and wristwatches close while you sleep. "COOL having an inner pocket to keep your keys/wallet/cellphone inside with you. I'm just one of those paranoid people," one reviewer wrote. Another appreciated the small improvements in form: "It also has a convenient Velcro cover for the top of the zipper which keeps it from abrading against you, and provides some protection against zipper creep." Another sang the bag's praises for coziness: "This bag is virtually a down-comforter-gone-sleeping-bag. I can sleep in this thing anywhere."
Best sleeping bag for sleepovers
This affordable choice is a popular pick for gifting to younger family members due to its "fun colors," wrote one reviewer. One busy parent reviewer who purchased two of these sleeping bags said, "They have been great for sleepovers and to take to soccer games to keep us cozy and warm. Several other parents have followed our example and there are a lot fewer spectators shivering under skimpy fleece blankets cheering on the team." While others say the compression storage bag can be tricky, another promises that you can "just make your life easy and stuff it in."
Best three-season sleeping bag
This versatile sleeping bag has a hood that, as one reviewer explained, "helped to keep our pillows from sliding out during the night." The zipper setup also allows for foot venting or quick retrieval missions. As one hammock camper wrote, "It can be a pain to get in and out of a regular sleeping bag. With this I can poke my feet out grab what I need and fall back in to my hammock with ease." Another reviewer raved about this bag's suitability for a wide range of temperatures: "I used this when it was hot. It was great. The next night it was cold. Still it was awesome!"
Best sleeping bag for emergencies
While they admit it isn't as comfortable as others, reviewers say that this sleeping bag is durable, ultra-lightweight, and warm — extremely impressive given that it rolls up into stuff sack that you can hold in your fist. One purchaser says the bag came in handy during a chilly fall night when they got lost in Yosemite. "I hunkered down by a big Redwood tree and pulled the bag over my body and head and piled pine needles over myself," they write. "The bag was sufficiently long and strong and didn't puncture in any significant way. I lived through the night without getting too cold." Another reviewer was happy to have theirs packed when they broke their pelvis in an ATV accident and couldn't walk back to their wife to get help. "This worked very well… Overall, 10 hours on the ground, I was very glad to have the ability to stay warm." Others call it a "must have," including a reviewer who frequently gets power outages in the winter. "This could be a lifesaver in the home if one is not able to get out of the house to the emergency shelter," they write. "I keep two in my car and two in my house and plan to get some for all my elderly friends who live alone."
The Strategist is designed to surface the most useful, expert recommendations for things to buy across the vast e-commerce landscape. Some of our latest conquests include the best acne treatments, rolling luggage, pillows for side sleepers, natural anxiety remedies, and bath towels. We update links when possible, but note that deals can expire and all prices are subject to change.
Every editorial product is independently selected. If you buy something through our links, New York may earn an affiliate commission.