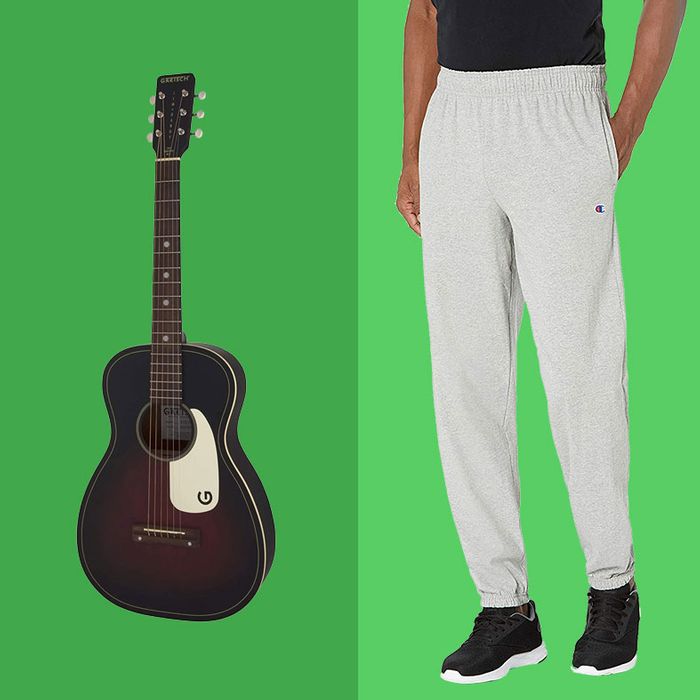 Photo-Illustration: Courtesy of Amazon
Many couples may be skipping their usual restaurant reservation this year, but it would be a big mistake to assume the man in your life wouldn't love to receive a Valentine's Day gift. An even bigger mistake? Assuming that all gifts work for all men. Certain guys may be yearning for a new Bluetooth speaker, others may fancy nothing more than a sharp chef's knife, and some may want a candle to help them take the edge off after the year we've been through. (And of course there are the guys who actually just want chocolate.) To help find the right Valentine's Day gift for the man in your life, we rounded up a bunch of Strategist-approved stuff that would make thoughtful presents for basically any type of guy you may be shopping for. Most of the things on this list are available on Amazon, but we've found some of them elsewhere, too, for those who like to shop around. While almost everything (at time of publication) will ship and arrive on or before the big day, there are a handful of things that might show up a couple days late. We've noted them and how late they may arrive because we're of the mind-set that the right gift is one worth waiting for.
For the man with a plan for the year ahead
We talked to a bunch of professional organizers and productivity experts about the best planners for getting your life in order, and this quarterly journal from BestSelf Co. came recommended by two of them.
For the man with no plans for the year ahead
If all the time he's spending at home simply has him craving more time at home, few things are better to lounge around in than some new (and timeless) Champion sweats.
For the man who likes to sing in the shower
Photo: retailer
This waterproof, shockproof Bluetooth speaker that three of our writers take everywhere (including the bathroom) should be able to handle anything — including his too-loud, off-key voice.
For the man who likes to read in the tub
The latest Kindle Paperwhite is lighter and thinner than earlier models. It's also waterproof.
For the man who listens to Phoebe Bridgers
While the songstress didn't reveal her actual guitar when we asked her about the stuff she can't live without, other experts (as in guitar-store owners) say this Gretsch guitar is a great (budget-friendly) choice for both beginner and amateur players: "The small body makes it easy to hold, and the quality is outstanding, especially considering the price," says one guitar seller we spoke to. Taylor Hollingsworth, Bridgers's frequent collaborator, told us he's also a fan of this guitar.
For the man who cried on Inauguration Day
If watching 46 take the oath of office moved your man to tears, the first volume of 44's memoir will likely be just as inspirational to him. (The price shown is for the Kindle edition, but the hardcover version is on sale too.)
For the man you sleep next to
Photo: retailer
Experts say one of the best and simplest ways to spice things up in the bedroom is with this designed-for-couples vibrating penis sleeve from Hot Octopuss. As Sex With Emily podcast host Dr. Emily Morse explains, the toy's vibrations can be felt inside and out of the sleeve, allowing partners to get just as much stimulation as the wearer. It also has a remote control that you — or a partner — can use to switch up the vibrations. It's for these reasons that we've said the toy is great for both foreplay and nonpenetrative sex.
For the man who binged The Queen's Gambit with you
Does your relationship thrive on competition? When we asked chess players about the best chess-related gifts, several said nothing beats an affordable, portable, roll-up chess set. Grandmaster Susan Polgar, a three-time chess world champion, likes this one, praising it as an "an inexpensive but durable set that's perfect for casual or tournament play."
For the man you convinced to take up hiking
Photo: retailer
If you got him into your favorite hobby, now would be a nice time to get him into some boots made for it. Merrell's footwear has long been a Strategist favorite for its hard-wearing, comfort-driven design and these Moab 2 Mid hiking boots are no exception. Suitable for both urban and backcountry terrain, your man is sure to get more than a few nods from fellow hikers (and fewer blisters) wearing them.
For the man you convince to hike to the bodega
If the only hiking you're getting him to do is for more milk, Birkenstock's classic Boston clog may be more appropriate. According to one trend forecaster we spoke to, the house-shoe trend "all started with" Birkenstock and the toe-protecting Boston style remains "first in that category."
For the man who likes a Balvenie before bed
Mountaintops float just below the surface of his glass of whiskey in these rather sculptural glasses.
For the man who likes a cocktail before dinner
Gin and tonics are all well and good, but bartenders say your man will need a shaker, strainer, and muddler if he really wants his at-home cocktails to look (and taste) more like those from that hotel bar you miss going to. Thankfully, this expert-recommended (and relatively affordable) set has them all — plus a jigger for easy measuring.
For the man who won't drink (wine) from the bottle
In our roundup of the best-reviewed wine decanters on Amazon, this one took the title of the best glass wine decanter. According to one reviewer, it's made of "very well crafted, crystal-clear, evenly blown glass" that's not so thin as to feel breakable but not so thick that it's heavy to use.
For the man who misses his hometown