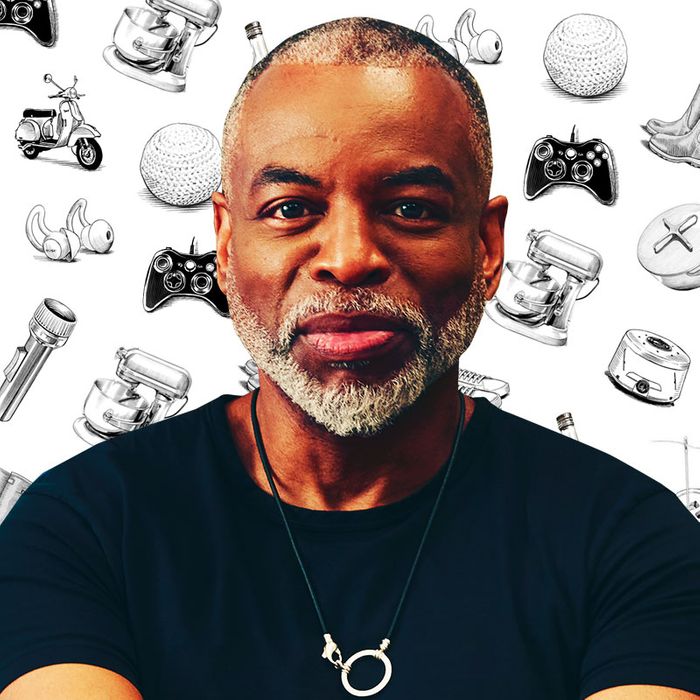 Photo-Illustration: Courtesy of Toniebox
If you're like us, you've probably wondered what famous people add to their carts. Not the JAR brooch and Louis XV chair but the hair spray and the electric toothbrush. We asked LeVar Burton — who has partnered with tonies on a new toy that reads his children's book, The Rhino Who Swallowed a Storm — about the T-shirts, body oil, and hot sauce he can't live without.
Southern California, where I live, is a desert. The environment wreaks havoc on my skin as a person of color. From the crib, Black people learn how important moisturizing and hydrating and things like lotion and emollients are. Every Black person I know is on a lifelong search to find the right combination of things that work. I know this doesn't happen only in the Black community, but I'm speaking from my personal experience. This oil — it has magic in it. It's not greasy or thick, and it absorbs. I went through a bottle in no time and said to my wife, "We have to get more." Then I found out how much it is and I felt guilty. So I'm being more responsible now.
The Creme de Corps is another part of my hydration game. It has this luscious viscosity — you can tell by the thickness that it's a superior product. I use it by itself and sometimes in conjunction with the Osea body oil to spread it out. Because both are expensive, I will use the Osea on the top of my body and the Creme de Corps on the bottom.
It's my EDC — my everyday carrier. I know where everything is because there's a place for everything. It has two exterior pockets, one main cavern with another interior compartment, and tons of zippers and stuff. I'm on my third — I've had the same one for several years now, but I get the latest model every so often. These things are pretty sturdy. Tumi put thought into it: Because of the placement of the pockets, you're distributing weight more evenly. Matt, my brand manager, has the same backpack.
I lost several of these until I came across somebody who had their name printed on theirs. I knew that was the solution to my problem. Now that I have one with my name on it, I haven't lost it. I can walk away, and my personalized Yeti will still be there. Ice melts very, very slowly inside. I can load it up at night and I'll still have ice in the water in the morning.
Editor's note: Only certain colors of the bottle, like the Harvest Red shown, can be customized.
Mineral water is great, and this is the best mineral water on the planet. I'm not a water sommelier — I know that's an actual job title because I've met one. But in my opinion, this has the right amount of bubbles, which is a lot. It has a lot of bubbles and a high mineral content, and it tastes great. Plus I love the name, Badoit.
I wear a black T-shirt every day. It's a part of my uniform. These are not cheap, but they have the right amount of stretch and just get better and better when you wash them. The quality is superb. I'm all about spending that extra dollar for something of quality. I was raised by a woman who was a Depression-era baby, so saving a little bit longer to buy the thing that's a little higher quality, that will last, is important. When I find something I like, I tend to stick with it because it works. I get people who only wear one thing — it's simple and stress free.
I like my food spicy, as does Stephanie, my wife. This is the most elegant hot sauce I've ever eaten — it has truffles in it. But it's also elegant because the flavor it delivers, in conjunction with the heat, has a great balance. Not every brand does that well. A lot of people like hot sauce just for the heat factor. I also like the sensation of heat, but I like to taste the flavor of my food, too.