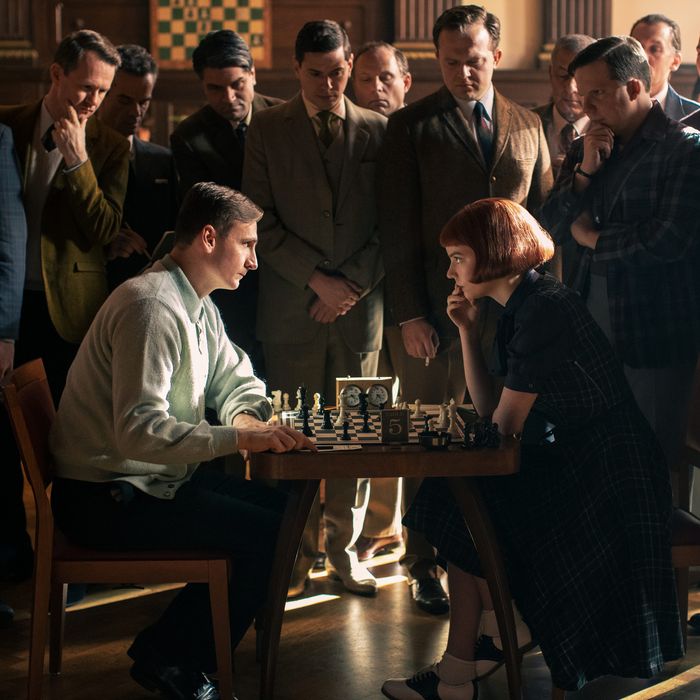 Photo: netflix/Phil Bray/Netflix
Thanks to the popularity of Netflix's The Queen's Gambit, the game of chess is having a cultural moment not seen since IBM's Deep Blue computer beat chess world champion Garry Kasparov back in 1997. Chess stores and academies all over New York City are reporting an uptick in interest, with some shop owners finding it difficult to keep sets and other gear in stock. Whether you're shopping for a veteran player or for someone who only just learned the meaning of rook, the holidays — and all the game-playing-around-the-fire time they present — are a great chance to treat the chess fan in your life to a gift that will help them enjoy their preferred pastime even more. To help find the best gifts for chess players, we asked a bunch of experts — from players to coaches to grand masters — about their favorite things to give to folks like themselves. From chess sets and books to clocks and other accessories, their 18 recommendations below include something for pretty much every player regardless of skill level.
When it comes to sets, if you're shopping for a true beginner who doesn't have one of their own, several of our experts say there's nothing better than an affordable tournament-style set that comes with a roll-up vinyl mat, plastic pieces, a board, and a case. (The sets get their names from how easy it is to pack them up and carry them to tournaments, the pros explain.) Grandmaster Susan Polgar, the women's chess world champion from 1996 to 1999, recommends this tournament set from U.S. Chess. "It is an inexpensive but durable standard plastic set that's perfect for casual or tournament play," she says. Imad Khachan, the owner of Chess Forum in Greenwich Village, also says tournament sets like this are great for true beginners, especially kids, because they're "very simple to use for anyone who is serious about the game." Michael Propper, the owner of chess academy Chess NYC, adds that child players should quickly take to a set like this because it's likely they've played with something similar at school. "It's a nice gift to give," he promises.
This would be another good starter set to give, according to Irina Krush, the only American woman to hold the title of grandmaster. It comes with the same stuff as the set above — pieces, board, a storage bag — but it also includes a chess clock, an accessory required in tournament settings (where each player has a set amount of time to make their moves), hence its higher price. "This gives someone everything they need to start playing chess," promises Krush, who told us that "fancier wooden pieces are used more at prestigious events, like national championships, but this equipment can be played with at home, on the beach, or in a U.S. Chess Federation–rated tournament." (If a fancier set is what you fancy, though, just keep scrolling.)
Photo: retailer
To those looking to gift a more statement-making set, grandmaster Maurice Ashley, the first Black person to attain that title, says to "first and foremost consider a beautiful wooden chess set." Krush agrees, telling us that "wooden boards and pieces are admittedly a lot more pleasant to play with." When it comes to choosing a wooden set, grandmaster Max Dlugy, the owner of Manhattan's Chess Max Academy and author of Grandmaster Insides, says those in the Staunton style "have become the benchmark for good chess sets." (The style takes its name from the English chess master Howard Staunton, who was considered one of the best players in the world in the 19th century.) Mark Kurtzman, the president of Tri-State Chess and the Chess Exchange, also told us that "a chess enthusiast will want a really fine Staunton chess set." Krush's favorite spot to get one is the House of Staunton, which she calls "the place to go for the nice chess sets." Given the general demand for chess gifts this year, a lot of the retailer's less-expensive wooden sets are sold out, but this Championship Series set is still available (on sale). It includes a storage box, all the pieces, and a board (the pieces are made of red-gilded and natural boxwood, while the board is made from rosewood and maple). House of Staunton also sells chess pieces, boards, and storage boxes individually, so you can make your own set, too. And for the most obsessive fans of The Queen's Gambit, you can even preorder a chess set inspired by the show.
If you're looking to splurge on a chess set that's more artwork than board game, Propper and Khachan recommend the Bauhaus set that German sculptor Josef Hartwig designed in 1923 (the original can be found in the Museum of Modern Art). "It's a very modern set," says Propper. "Chess is desperate to modernize, and this is a cool, cool, cool set." Khachan, who sells the sets at his store, agrees that they would make a most extraordinary gift. "They come from Switzerland, and they're precision cut," he explains. "Each piece is shaped the way it moves, because in Bauhaus, form follows function."
As we've noted, chess clocks are a must-have for any serious player, so if you're shopping for a hobbyist who doesn't have one and wants to become more of a professional player, a clock would make a thoughtful addition to their kit. Several of our experts recommend the DGT North American chess clock, which is included in the brand's deluxe chess set that Krush recommends above. Dlugy uses this chess clock at his academy, calling it "one of the least expensive on the market" but "sturdy and able to take a lot of beatings from my students." It's also easy to set because it's digital, not analog, he notes. Jack Vorhies, the director of operations at the board-game shop and café Brooklyn Strategist, adds that the "elegant and simple-to-use" design makes it great for younger players, too.
Kurtzman told us these higher-end digital clocks are "very popular" at his store, adding that "they're great for the park or playing blitz chess," which he defines as "a fast-paced chess game that generally allows five minutes per player." To that end, each clock comes with four preset blitz times and eight tournament controls.
Photo: retailer
Dlugy says that "if you want a clock for when you're just playing with the family and want to set the game for ten, 15, or 30 minutes on each side," he recommends this one, which he calls his favorite. "It's not very noisy, and I like the feel of it when you press the button," he explains.
Photo: retailer
"Chess players need books to get better," says Krush. Her favorites for young children and true novices come from Polgar's series of chess books called, appropriately, Learn Chess the Right Way. Each of the series' five volumes (which are also available to download) contains 500 puzzles. Solving them, Krush explains, is "one of the primary ways of training in chess, from very beginner levels to grandmasters." Although the books are written for children, Krush says adult beginners and even experienced players of any age can still learn from them (especially the later volumes). Dlugy seconds this recommendation, telling us, "It's a great way to start learning the game."
Photo: retailer
Jeff Coakley's book for younger beginners comes recommended by Kurtzman, who says it has "a little of everything in it, as opposed to a book that only has puzzles." It contains text and pictures as well as puzzles, creating a "fully comprehensive, interesting guide that's really well laid out and great for kids."
Photo: retailer
Dlugy and Propper both told us that books by grandmaster Lev Alburt would make great gifts, and Propper adds that the Comprehensive Chess Course series also "teaches you how to teach chess." He says this focus makes its first volume "great for a parent with kids who play chess, because you're learning how to teach it as you read it."
Photo: retailer
"Once you've covered the basics and you start playing and become curious about the game, this is a great book," says Khachan. Polgar agrees: "It explains the ideas and thoughts behind each and every move in easy-to-comprehend language." But Khachan cautions that it's not a book "you read on the beach or in bed." Rather, he says, "it's for those who are seriously interested in chess, because you really need to spend a year or two reading it with your board and pieces in front of you."
Photo: retailer
For adults and more advanced players, My System is another must-read, according to Kurtzman and Khachan. "We call it the bible of chess books," says Khachan, and Kurtzman adds, "It's the most famous of the chess books from back in the day."
Photo: retailer
László Polgár's puzzles-only book for advanced players comes recommended by Propper. "It's a small paperback, but it's like a brick," he says of its puzzle-packed pages. "There's nothing better than puzzles to train in chess, nothing."
More gifts for chess players
Photo: retailer
"If you're playing in a tournament, you need a scorebook," says Dlugy, "so that players can just write down their moves." Krush told us about these nice-looking hardcover scorebooks that come in a rainbow of colors. Each can be used for up to 100 games, with space to record up to 80 moves per game.
Photo: retailer
Polgar says those who are shopping on a budget can gift this basic, spiral-bound scorebook and know that it's just as functional as any fancier version. The spiral binding, in fact, makes it easier for this scorebook to lie flat, a small detail your recipient may appreciate. It can fit up to 50 games, with space to record up to 100 moves and one diagram per game.
Photo: retailer
For chess players who have all the gear they need, Dlugy says that "another great gift is a membership in the U.S. Chess Federation." The organization offers nine annual membership levels; its least expensive, for kids 12 and under, costs $17 a year, while its most expensive, a so-called premium membership for adults, costs $49 a year. (You can get a small discount on those fees if you spring for a two-year membership.) Dlugy calls the annual fees "modest" for everything the membership offers, which includes a subscription to Chess Life magazine and the ability to play in the federation's tournaments, a perk that allows the organization to rate you against fellow members. Knowing your rating, Dlugy explains, can be a great encouragement, especially for those just starting out: "When I came to the United States, I was 10 when I played my first tournament and got a rating. I was like, Wow, I get a number next to my name! To know that I could actually increase that number as I got better was a great feeling."
Photo: retailer
Avid players, according to Ashley and Krush, may also appreciate a membership in the online community Chess.com. "It would be a good start for anybody," says Krush, who explains that you can join for free but that the site's premium memberships provide access to more resources. "The thing with chess is that the appropriate gift depends a lot on the player's level," she adds. Chess.com's premium memberships come in three tiers (gold, platinum, and diamond) with gold being the most affordable: An annual subscription fee of $29 (paid in monthly installments of a little more than $2 a month) gets users access to 25 puzzles a day, three lessons a week, and more.
The Strategist is designed to surface the most useful, expert recommendations for things to buy across the vast e-commerce landscape. Some of our latest conquests include the best acne treatments, rolling luggage, pillows for side sleepers, natural anxiety remedies, and bath towels. We update links when possible, but note that deals can expire and all prices are subject to change.