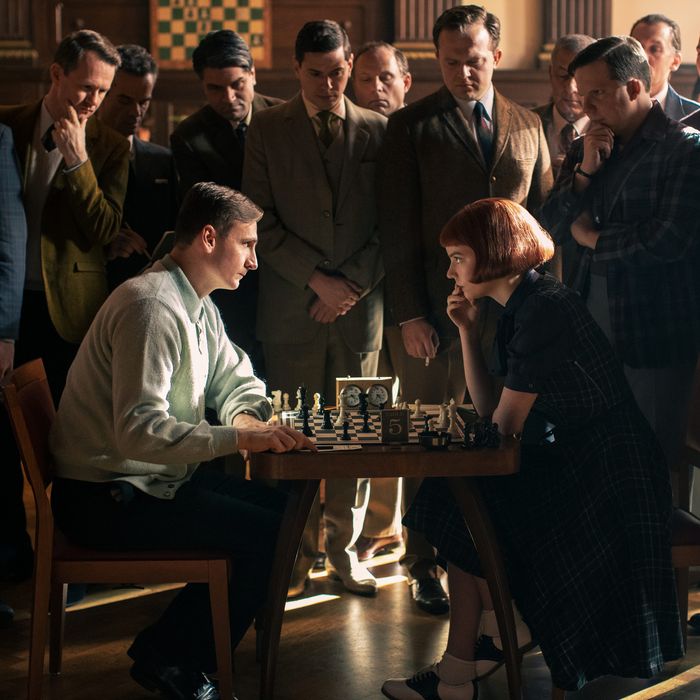 Photo: netflix/Phil Bray/Netflix
Thanks to the popularity of Netflix's The Queen's Gambit, the game of chess is having a cultural moment not seen since IBM's Deep Blue computer beat chess world champion Garry Kasparov back in 1997. Chess stores and academies all over New York City are reporting an uptick in interest, with some shop owners finding it difficult to keep sets and other gear in stock. Whether you're shopping for a veteran player or for someone who only just learned the meaning of rook, the holidays — and all the game-playing-around-the-fire time they present — are a great chance to treat the chess fan in your life to a gift that will help them enjoy their preferred pastime even more. To help find the best gifts for chess players, we asked a bunch of experts — from players to coaches to grand masters — about their favorite things to give to folks like themselves. From chess sets and books to clocks and other accessories, their 18 recommendations below include something for pretty much every player regardless of skill level.
Best chess sets
When it comes to sets, if you're shopping for a true beginner who doesn't have one of their own, several of our experts say there's nothing better than an affordable tournament-style set that comes with a roll-up vinyl mat, plastic pieces, a board, and a case. (The sets get their names from how easy it is to pack them up and carry them to tournaments, the pros explain.) Grandmaster Susan Polgar, the women's chess world champion from 1996 to 1999, recommends this tournament set from U.S. Chess. "It is an inexpensive but durable standard plastic set that's perfect for casual or tournament play," she says. Imad Khachan, the owner of Chess Forum in Greenwich Village, also says tournament sets like this are great for true beginners, especially kids, because they're "very simple to use for anyone who is serious about the game." Michael Propper, the owner of chess academy Chess NYC, adds that child players should quickly take to a set like this because it's likely they've played with something similar at school. "It's a nice gift to give," he promises.
This would be another good starter set to give, according to Irina Krush, the only American woman to hold the title of grandmaster. It comes with the same stuff as the set above — pieces, board, a storage bag — but it also includes a chess clock, an accessory required in tournament settings (where each player has a set amount of time to make their moves), hence its higher price. "This gives someone everything they need to start playing chess," promises Krush, who told us that "fancier wooden pieces are used more at prestigious events, like national championships, but this equipment can be played with at home, on the beach, or in a U.S. Chess Federation–rated tournament." (If a fancier set is what you fancy, though, just keep scrolling.)
Photo: retailer
To those looking to gift a more statement-making set, grandmaster Maurice Ashley, the first Black person to attain that title, says to "first and foremost consider a beautiful wooden chess set." Krush agrees, telling us that "wooden boards and pieces are admittedly a lot more pleasant to play with." When it comes to choosing a wooden set, grandmaster Max Dlugy, the owner of Manhattan's Chess Max Academy and author of Grandmaster Insides, says those in the Staunton style "have become the benchmark for good chess sets." (The style takes its name from the English chess master Howard Staunton, who was considered one of the best pl