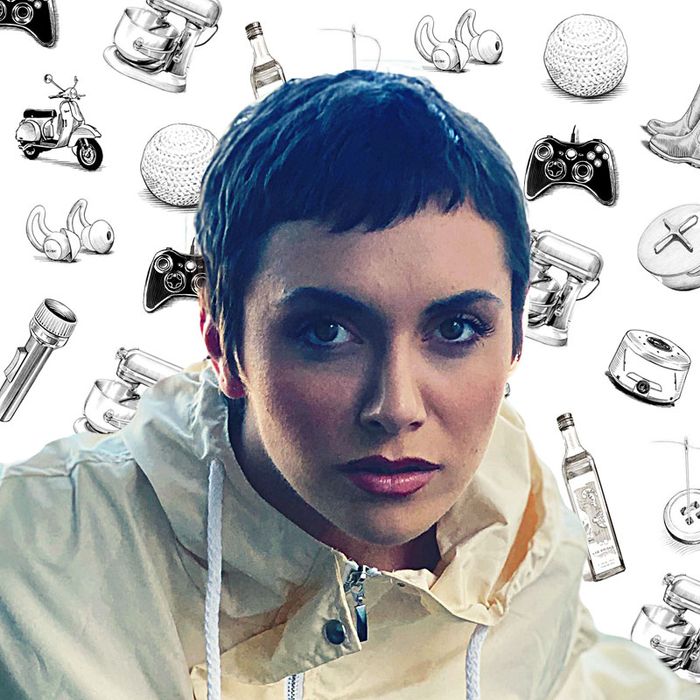 Photo-Illustration: The Strategist; Photo: Alyson Stoner
If you're like us, you've probably wondered what famous people add to their carts. Not the JAR brooch and Louis XV chair but the hair spray and the electric toothbrush. We asked actor Alyson Stoner — whose digital wellness company, Movement Genius, recently partnered with Loftie to release a curated guided-movement playlist — about the travel adapter that has become their everyday charger, the gender-inclusive underwear they love, and the life-changing book that found them at just the right time.
A friend who's been using Kind Laundry detergent sheets for a while knows I've been trying to make wiser purchases with the companies I support, so she gave them to me as a gift. I thought they were brilliant. The packaging is biodegradable, they use more natural ingredients with no additives, and I appreciated having an unscented option. I found they're just as effective as the other liquid detergents — my soft sweaters are still just as soft, and my cozy sweats are still just as cozy. I have really sensitive skin, and I tend to break out with any other kind of detergent so this has been a win-win for me. Also it's so much faster to be able to toss a sheet into the load and press "start" as opposed to Unscrew this, pour in that, agitate it first. It just removed so many steps and made doing laundry more efficient — which, anything that can help me complete laundry as quickly as possible, I'm open to trying.
I struggle to get water down every day. It's one of the hardest things for me. I try to set myself up for success: I'll look at the water, tell myself I'm about to drink it, and then six hours will go by and I haven't had a single glass. I used to avoid hydration packets because they're typically very high in sugar and salt. However, I live in the desert now and found I was starting to have migraines and feel dizzy every time I stood up. For some reason, I wasn't getting the nutrients I needed through my diet so my friend introduced me to Liquid IV. I know there's plenty of sugar in there, I can't deny that, but one a day in the context of the rest of my diet, which is pretty clean and natural at this point, has been a tremendous asset. I find that my energy is steadier and my mood is better because I'm not as dehydrated. The first thing I do when I wake up now is I'll use about half a packet in the morning and make sure I complete it throughout the day. I don't drink coffee or tea, I don't have any energy drinks, so this is my substitute. When I'm properly hydrated, that takes care of a lot of the energy and fatigue issues I think a lot of us choose to caffeinate to get through.
The Harper Wilde lounge scoop bra is my go-to, ultimate comfy everyday underwear. I'm wearing it right now. I love how they really design with all kinds of bodies in mind. The way their underwear fits, it just feels like it was made by women, for women to feel comfortable and supported. I'm also a big fan of their mission and company culture, which seems to be very socially proactive. They're size inclusive, which is really important, and they're inclusive of multiple gender identities and expressions. The lounge scoop, for example, would fit folks who are nonbinary or gender nonconforming or who identify as a man but prefer expressing themselves in these crop tops. I find that people of all identities feel empowered wearing them.
I live outside the city in a very peaceful, quiet place, and I found that listening to certain binaural beat songs, jazz instrumentals, or classical pieces can boost my writing efficiency. So listening to Spotify has become a bit of a work aid for me. I used to listen to sleep-hypnosis tracks and let them play all through the night. It genuinely helped promote deeper rest and relaxation but also helped rewire some of my beliefs about myself. So that has been quite an important tool, especially as I shift roles from full-time entertainer to full-time founder. There's a lot of identity work and learning how to trust that I can build the skill set necessary to be a competent leader. These playlists help me access that headspace.
This book found me at just the right time. As we're all coming out of the pandemic, we're reexamining what a work-life-relationship balance could be, we're questioning systems and institutions, we're reflecting on our values and how they might need to shift and transform, and we're reengaging with the planet and confronting environmental crises. All of these things are top of mind, and this book offers a bit of an antidote or a countercultural approach to designing communities and systems. It talks about how the concept of greatness via achievement, success, notoriety, wealth, and power has really established these intense competitive hierarchies for people to fall into. Not only does that add an immense burden on everyone, but as we're seeing, it really creates inequity between who does rise to the top and the rest of the people who are now trying to make ends meet with far less access, less power, and less social status. So it's got this philosophical, semi-political, pro-social, contemplative approach to designing a new way forward.
I got this charger because I needed it before going to Japan. Its functionality allows you to travel practically anywhere in the world, and it has the adapter built in. It's been a game changer because oftentimes when traveling, I forget until I'm there that the voltage and the outlets are configured differently and then you end up setting the place on fire by plugging in your hair dryer. I've taken it to Europe and South America and Australia and then I just realized it was much easier to keep with me everywhere I go, so it's become my everyday charger. It's a little clunkier, it's not particularly pretty, but there's also something nostalgic about it, knowing that when I see all of the places it could function in, it inspires me to get out and see more of the world.
Teleprompter has saved me so many hours. A lot of us, whether we're a professional content creator or a small-business owner, need to film promotional videos, and it can be really intimidating to script something out, try to memorize it, fumble through 12 takes, and then have to edit. Teleprompter allows you to just input the script directly into the app. You can tailor the speed or flip and invert it depending on how you're standing and how your camera's positioned. You press "record" and it'll give you a countdown and then you can just read through what you wrote as opposed to memorizing. I've found that's the absolute fastest way for me to bulk-film up to 30 videos in a day. It can also be something to use just to leave a nice note to someone you love, and some people I know use it to practice public speaking. If you get a little nervous or shy on-camera, it gives you a direction and a way to pace yourself. It's a public-speaking tool, and I believe there's a free version. I'm all for free tools.
Loftie's alarm clocks help people reduce the amount of distracting devices in their room, which supports better sleep and overall mental health. I can leave my phone out of arm's reach because I can see the time if I need to, so it reduces my overall screen time when I'm in the bedroom. In the morning, they have this pattern of sounds that wake you up over a period of time — instead of one loud, blaring alarm rattling you awake, it gently nudges you with a few sounds and then waits a few minutes and then nudges you again. I found that to be so much more peaceful. They also have a whole bunch of soothing programming to help you wind down or ease into the day, and my company, Movement Genius, has provided five bedtime and early-morning routines. For those who had a stressful day, we have one that helps you release the stress before crawling into bed. For those who feel a little tired in the morning, we have some gentle movements to help stretch and energize your body. The other day, I used one of the routines; it was a series of grounding techniques, and by the end, it guides you to crawl into bed and get comfortable. I was simultaneously relaxed and proud.
The Strategist is designed to surface the most useful, expert recommendations for things to buy across the vast e-commerce landscape. Some of our latest conquests include the best acne treatments, rolling luggage, pillows for side sleepers, natural anxiety remedies, and bath towels. We update links when possible, but note that deals can expire and all prices are subject to change.