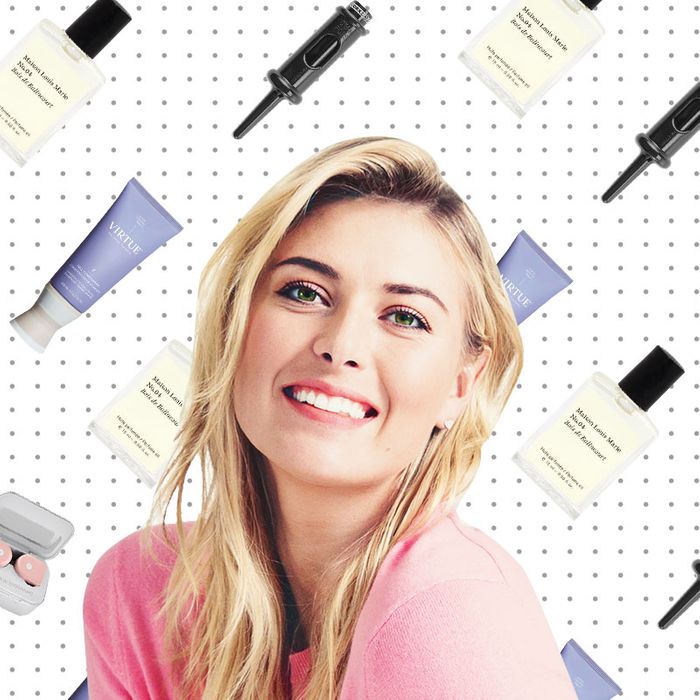 Photo: Courtesy Sugarpova and Retailers
If you're like us, you've probably wondered what famous people add to their carts. Not the JAR brooch and Louis XV chair, but the hand sanitizer and the electric toothbrush. We asked Maria Sharapova, Grand Slam–winning tennis player and founder and CEO of Sugarpova, about the wine opener, shampoo, and slippers she can't live without.
My friend gifted that to me for Christmas this year. I usually am a creature of habit, and I usually tend to use very similar things all the time. If I like something, I stick to it, but I love the size of this. It's also a roll-on, so you apply it a little bit differently than a spray. And it almost smells like something that you would create with your own essential oils. It doesn't feel like it came produced. It just feels very natural to wear, "Oh, I just saw this at home and put a few essential oils together, and this is what I came up with." Except they didn't. It's on the woodier side, I think it's a little cedar. I'd say you're walking through a forest, and that's kind of the experience I have when I put it on.
I randomly ran into this product many years ago at a Lake Arrowhead trip with a few friends of mine at a kitchen-appliance store and picked it up. It was one of those things where you think it looks cool and will probably never work, and I've used it to open every single bottle of wine ever since, because I don't know how to use anything else. Everyone that sees it most of the time has never seen anything like it, and I've probably sold like 500 of these things by using it. It's just really quick, it's fun, and it seemed like an appropriate something to add to the list. It looks like a really thick needle, so you insert that into the cork, all the way, and then you press the button on top and it just comes out. I just keep thinking what a French sommelier will tell me when I pull that one out. Probably not great things.
I think that their product, generally, has the best sound and I listen to music all the time when I work out. These wireless ones just came out, maybe a year — maybe even less — ago, and I love them because the sound is just so much better than so many other brands that I've tried, so I just kind of stuck with them. I have these that I use when I'm training and I just can't have my phone in my hand, but other times, I actually also use one that has the cord, but it's the same brand, looks the same, but it's not wireless. I strictly use it because of the sound and I love the touch of pink because they usually don't get lost in my bag. My music choices are kind of all over the map. Usually when a 2Pac song comes on, I'm like, "Okay, this is good."