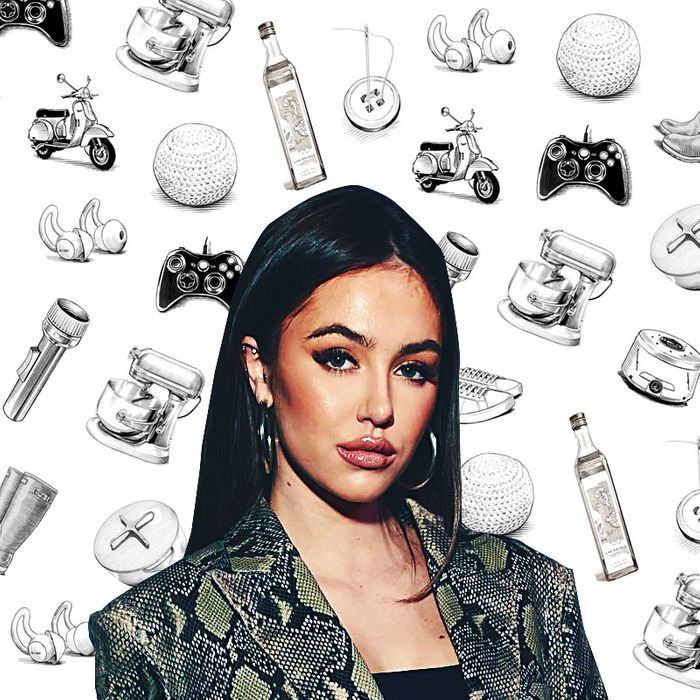 Photo: Michael Kovac/Getty Images for Motorola
If you're like us, you've probably wondered what famous people add to their carts. Not the JAR brooch and Louis XV chair, but the hand sanitizer and the electric toothbrush. We asked model Delilah Belle Hamlin — who partnered with Motorola for the launch of its new Razr phone — about the lip mask, self-help books, and white sneakers she can't live without.
You can basically pair Air Force 1's with anything — with a dress, with jeans. I have six pairs. They give me a bit of height, which is incredible. I used to think it was cool when they'd get really dirty, I liked that vibe. Now I like to keep them super clean. I get a new pair whenever they start to get dirty.
My agent actually told me about this mask. I travel a lot, was breaking out a ton, and he said, "You should try this, everyone's been talking about it." It's very purifying. My skin is more hydrated, and more glow-y and awake. I have less breakouts. When I'm traveling, I'll use it after I get off the plane, when I get to the hotel or apartment.
This mask I actually use on the plane. It's basically a hydrating mask. I was flying to London a lot on an 11-hour flight, and I didn't want my skin getting too dry and dirty, so I just popped this mask on. Sometimes I fall asleep with it on. It's great for planes because it's a sheet mask, so you don't have to rub anything in and you don't have to touch your face.
It's just so comfortable. I normally pack a little bag for the plane, and it includes this and the pillow from my bed. Barefoot Dreams is my favorite, I have a robe from them, and I have their socks. My mom bought me the shawl for Christmas one year. And then my dad got me the robe for another Christmas. The shawl is my mom's favorite gift to give. I'm like, "Mom, I really need one this year, please. It's all I want for Christmas."
My mom gave me The Secret when I was younger. It's definitely one of my favorites, but I also love The Power of Positive Thinking. My dad gave me that one. I still struggle with anxiety and depression, but growing up, I felt a little bit lost and hopeless. There wasn't anything that would help me, because it was just too overpowering. But reading these books helped me realize that people had gone through similar things and thought similar thoughts, while also giving me strategies to cope with anxiety and depression. I do think it takes more than just strategies to cope with all the feelings, but the books still helped me. They taught me how to think and what to do when I'm in a certain situation, or feeling a certain way.
I keep buying this because I use it almost every day. If I feel any dryness in my hair, I'll put it on to hydrate. And if I want to put my hair in a low bun and make it sleek, this makes it super easy. Honestly, sometimes in the summer, I'll tan with it on, too. It smells like a yummy rose. Like a really yummy rose.
For every occasion — my birthday, or any time I might get a gift — I just want Diptyque candles. I'm obsessed with so many of them, but Tuberose is my absolute favorite. We go through these pretty quick in my house. It's really hard to describe the scent. It's just … good. It smells homey.
I saw it in my sister's bedroom and I stole it. But I don't just wear it to bed, I use it any time of day. My mom doesn't know about it, but maybe she'll start using it, and then I can steal a new one from her.