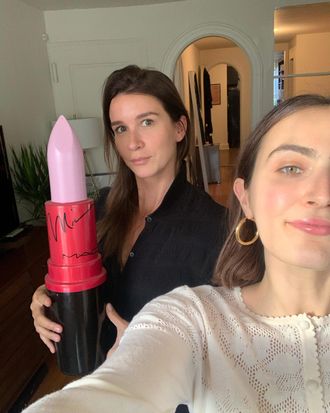 Alexis Page has worked in the beauty industry for nearly 15 years. She started off as a product developer at M.A.C.; helped launch Glossier (out of Emily Weiss's apartment); worked alongside the matriarch of runway makeup, Pat McGrath; and, most recently, developed Ohii, Urban Outfitter's affordable in-house skin-care and makeup line. Every single person in the beauty industry knows Alexis: She's just that good. And I'm not just saying that because she's my friend.
It probably won't surprise you to hear that Alexis also happens to have the world's best beauty recommendations. She knows the ins and outs of beauty production — from what it takes to make a good SPF to how to create a longwear lipstick — like the back of her hand. So when she says a formula is special, I trust her implicitly.
Last week, we sat on the floor of her East Village apartment, poking around boxes filled with old product testers and Pat McGrath lipstick archives as we chatted about her favorite French pharmacy finds, why she loves a natural retinol, and her affection for taupe-colored eye shadows.
First of all, what's your skin type? And what's important to you in a skin-care product?
I used to have really severe acne in college, and went on Accutane, which really worked. I don't really break out now, but in my mind, I still have terrible skin. I have some residual acne scarring, which can get kind of red and ruddy — so making sure my skin is calm and my texture is consistent are the two most important things to me. I'm really into vitamin C for brightening up my complexion and making sure my skin tone is even. I especially love the Paula's Choice vitamin C serum — it's 15 percent vitamin C.
Any other brightening products you're into?
I actually am obsessed with the Ohii vitamin C Mask. I put it on dry skin, wait for five minutes, then get in the shower and wash it off. It's my favorite pre-event or pre-going-out mask because it makes my face look glowy right away.
I see you have some Summer Fridays in your cupboard. What are some of your other favorite masks?
I use the Summer Fridays Jet Lag Mask as a sleeping mask if my skin feels sad, or I've used too many acids, or if I've happened to spend too much time in the sun, it's very reparative. I also like the Cosrx's Honey Sleep Mask — it feels kind of sticky but it's deeply hydrating. Also, this is crazy because this brand kind of came and went — but I love the original GlamGlow Supermud mask. [Editor's note: Buzz Bissinger is also a superfan of the Supermud mask.] I don't like any of their other products, but this one is what I reach for when I want to look in the mirror and literally watch dirt or gunk come out of my nose pores and chin.
Do you have a cleanser you like?
I'm a serious product junkie, and I'll sometimes try a different cleanser every day. But I do find myself coming back to a couple of classics. The Biologique VIP O2 is one of my favorites — it just feels great on my skin. People sometimes say it's the same as Cetaphil, which I hate — they're wrong. It's much, much better.
I know you're a big-time drugstore skin-care person. Any good cleanser finds there?
When I was little, I spent a lot of time with my grandma and she was obsessed with beauty. We'd watch a beauty pageant every time we were together. And we used to go to this place that's kind of in between a CVS and a Target and she'd buy me beauty products that I'd bring home and put on my shelf, just to look at. So yes, I'm a drugstore person and I have some drugstore favorites: Aveeno's Positively Radiant Micellar Gel Cleanser, and the La Roche Posay Physiological Cleansing Milk. Both are such great, lightweight, hydrating, neutral formulas and they're amazing for removing makeup.
Note: This product has been discontinued but it's still available at a Canadian La Roche-Posay site
So what about toners and exfoliants for evening out textural issues? I notice you have the Ordinary's AHA/BHA peel. Do you like that?
I like it fine. I think the Ordinary is great for people who want to try out new types of products — everything is so cheap, so it's a good way to figure out what ingredients work well for you without breaking the bank. But I find their packaging is incredibly confusing, and their products are all such high concentration, which I think is a little dangerous — if you're a product rookie, you could easily overdo it with their vitamin C, for instance, and really irritate your skin. Personally, I use the Dr. Dennis Gross Peel Pads for keeping my skin smooth — they're incredibly convenient, and quite strong. I use them every other day, which my sensitive skin handles fine.
Oh yeah, I love those for traveling. What about creams? You mentioned your skin is super dry these days. What do you use to make sure you don't wake up with cracked, flaky skin?
Another drugstore love, actually: L'Oreal's Cica Cream. It has a really nice low-level retinol in it which helps with fine lines and wrinkles and makes sure my skin tone looks nice and even.
I'm seeing it also has Centella in it, which is one of my favorite K-beauty ingredients for calming the skin. 
Yeah, on top of the retinol magic, it's also really calming and soothing. While we're on the topic of retinol, I love, love Ole Henriksen's retinol cream. In the past six months, this has probably been my number one product find. It has bachuki oil, a natural retinol alternative, that I've found has worked really great for plumping and evening out my skin. And since it's a natural retinol, rather than a synthetic one, you can use it every day and it won't make your skin flake or peel like a regular retinol. Also, it has a major brightening effect.
Surely with all this retinol you must have a really solid SPF in your skin-care routine. 
Yes. My everyday sunscreen is actually from Solid and Striped; I helped them develop it. It's insanely lightweight — it has a serum-y texture to it. It's also vegan, reef-safe, and leaves no white cast.
Wait, I actually adore this sunscreen. I have a go-to K-beauty sunscreen (my Purito Centella), but when it runs out, my backup is the S&S one. Another thing the world needs to know about you is that you're a deodorant aficionado. 
Correct. Basically every post I wrote for Into the Gloss was about deodorant. I want my deodorants to ensure I'm not stinky, but I also really hate when they're overwhelmingly fragranced. If I have an important meeting or event I use Biotherm Deodorant, because it's an antiperspirant, so it helps me stop sweating. But on the day-to-day I wear Ohii's deodorant— it's not going to stop you from sweating, but you'll never smell with it on, either.
Anything for the body that you love?
My favorite body product right now is this Necessaire exfoliant. It's super-gentle on the skin, and totally scentless and nonsticky. Plus, I can put it on before bed and it doesn't cling to my sheets. One of my number one products of all time, though, is this French cream called Biafine Emulsion — it's truly one of the best things that has ever happened to me. Basically, while I was still at M.A.C. one hundred years ago, I had a terrible sunburn and my colleague told me I needed to order it, which I did, and it immediately transformed my scathing, hot, red burn into a golden tan. Now I use it on scars, scrapes, bug bites — anything and everything, really, it's like a weird magical potion. It's something a lot of French people keep in their first-aid kits.
Is there a product out there you love so much you wish you'd created it?
The Beautyblender. It's so genius. I've tried every single Beautyblender dupe, and in my opinion they're never half as good as the original.
Agreed! Let's get into makeup. What are your go-tos?
My favorite brow gel of all time is this one from Milani, which I think is being discontinued so stock up on it while you can. The brush size is just right, and it keeps my brows in place all day long. Another brow thing I'm obsessed with is this NYX brow pencil. It's exactly the same as the Tom Ford in texture and effect but it's insanely cheap, under $10.
Do you have a blush or bronzer that you love?
I'm completely and totally obsessed with the D-Bronzi bronzer from Drunk Elephant. It's the best. It's super sheer and blendable and looks just like a natural tan. I use my fingers and tap it onto the hollows of my cheeks and then basically all over. And for blush, I really like this Josie Maran blush oil — it's so buildable.
Your skin always looks perfect. What are you using for foundation and concealer?
I weirdly love Kim's KKW Beauty Concealer. I like how full coverage yet blendable it is; it stays put all day and doesn't crease or move around. I'm also very obsessed with the M.A.C.'s Face and Body foundation which creates this beautiful light-coverage wash of color. The formula is really similar to Glossier's Skin Tint, but the M.A.C. one has this polymer that kind of molds to your face and lifts it up. Some products feel kind of granular, almost cakey, on your skin — this doesn't.
Do you have a go-to lip?
I love all of Pat's lipsticks, but I'm very into mauve-y shades lately, so I've been wearing her shade Lavish. The color is so special and the packaging is, as always with her, amazing. Speaking of lipsticks, I also weirdly love this MUJI lipstick I got in Japan a while ago. It's super-moisturizing and it's a very pretty rose color.
Eye stuff?
The best eye shadow of all time is this single eye shadow from Pat in the shade Statuesque. It's this gorgeous, natural taupe color, with these very subtle blue-lavender-y undertones that just add face-changing dimension to your eyes.
Last question: How do you store all of this? 
There are no dishes in my kitchen cabinets. Seriously. It's just all beauty products.
The Strategist is designed to surface the most useful, expert recommendations for things to buy across the vast e-commerce landscape. Some of our latest conquests include the best acne treatments, rolling luggage, pillows for side sleepers, natural anxiety remedies, and bath towels. We update links when possible, but note that deals can expire and all prices are subject to change.