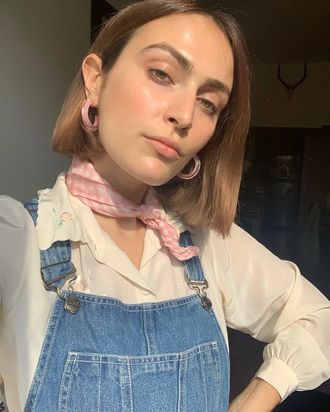 My eyebrows have a mind of their own. If I don't regularly tweeze (I use Tweezermans), comb (usually with the back of my Anastasia Brow Wiz), and trim them, they end up looking real messy, real fast — and not in a chic, Lily Collins kind of way. Product-wise, my arsenal is pretty small: When I want a more dramatic look, I'll apply Anastasia's Brow Wiz in the sparse parts of my brow; it's ultrawaxy and smooth and very easy to use. But day-to-day, I just use a clear gel to cap off my makeup routine to ensure my brows stay clean and tidy looking.
I have three nonnegotiable requirements when it comes to picking a brow gel: It has to have a medium-to-large-size spoolie that can properly comb and tame my brows (Glossier Boy Brow's spoolie, for instance, is too small — it tends to make my brows look a little bit too disheveled). It also has to leave no flaky bits behind in my eyebrow after use (this requirement eliminates Make Beauty brow gel, which can flake a tad when it dries). And last but not least, the gel has to work like hairspray — if it doesn't keep my tiny hairs in place all day and night, it is not the brow gel for me.
For many years, my holy grail was Anastasia's Clear Brow Gel — I loved the way it made my brows look, it never flaked, and it kept my brows in place. But there were two problems: First, the stuff is $20, and I was blowing through a tube every two months. And second, it tended to give my brows a bit of a crunchy texture. So a couple of months ago, I began my search for an Anastasia Brow Gel dupe — something cheaper that ticked all of my ultraspecific boxes and left my brows feeling slightly more natural.
I picked up Pixi by Petra Clear Brow Gel, I suppose, because I've liked a few of the brand's products in the past (its Glow Tonic exfoliant, which has developed a real cult following, and its gentle, non-drying Milky Cleanser). Plus, the spoolie size looked to be my preferred size, and it was half the price of my Anastasia.
I applied the stuff the next morning and loved the way it made my brows look: big and bushy, but not messy or untamed. And when I got home that evening, after a long day of work plus late drinks with friends, I found my brows were perfectly in place with no flaky bits to be found. When I touched them, I was even more delighted — they were not crispy at all.  
Other Strat-Approved Eyebrow Gels
For going-out looks, Rio loves this Charlotte Tilbury Legendary Brows gel. "This gives me the most amazing, messy, feathered brow — making them look super-dramatic."
Rio first tried Boy Brow, she says, after watching a YouTube segment called "The Boy Beat," spearheaded by Beyoncé's makeup artist Sir John. "Sir John believes that extenuating your most natural features, such as messy brows and dark under eyes, can create a natural, effortless-but-elegant look," she says. "Boy Brow, according to him (and now according to me) does a great job creating a dramatic but not over-the-top messy brow."
For an all-natural eyebrow solution, Rio suggests — bear with us here — rubbing a spoolie (like this one, by Kelley Baker) in some soap, then running it through your brows. "It's a trick I learned on YouTube from Desi Perkins," she says. "And it works. It'll keep your brows in place all day long in the most beautiful and effortless way. If it sounds insane to you, just watch the video. You'll be convinced."