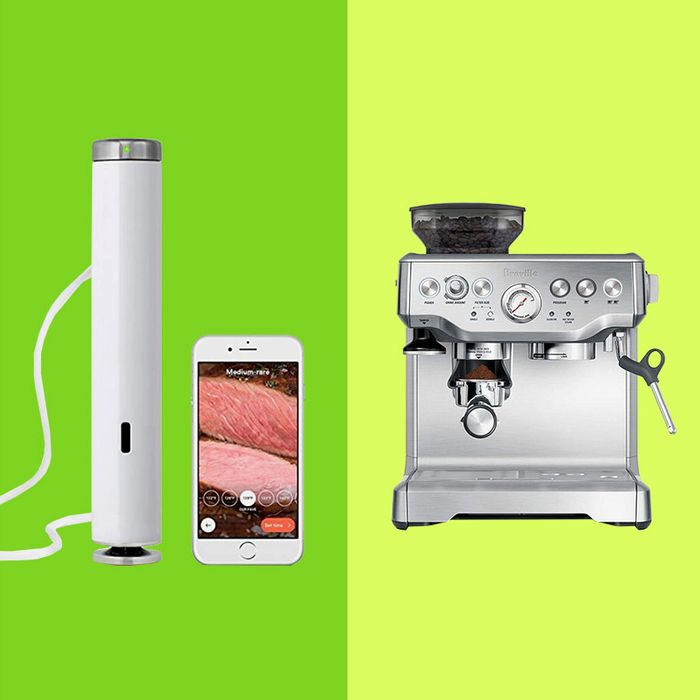 Anyone who has shopped at a bigger-box store knows it can be hard to figure out where to begin. There are dozens upon dozens of options that all seem as worthy as the next, but the reality is that products from any given brand are not all created equal. When you shop as regularly as we do, you learn that many brands just do some things better than they do other things. Breville, we've found, is one of those brands. The 88-year-old Sydney-based company makes some of our favorite kitchen appliances, from coffee grinders and espresso machines to toaster ovens and juicers. Here, we've corralled every single appliance from Breville that our writers and editors — as well as restaurant owners, chefs, executives, and tens of thousands of Amazon reviewers — have recommended on the Strategist. 
Food writer Ashley Mason first put us on the Breville Smart Grinder Pro back in 2017, writing that it "lets me adjust the fineness based on popular brew methods like French press, espresso, stove-top percolator, and drip." And because it's a conical burr grinder — favored by baristas everywhere — it also gives you a uniform grind every single time. Another fan of the gadget is Mike Jones, formerly director of retail at Variety Coffee Roasters, who told us, "It's easy to use, easy to clean, and is a worthwhile investment if you want to dramatically improve the quality of your coffee at home. Just get a simple pour-over (Chemex, V60, whatever), use filtered water, buy this grinder, and some high-quality beans, and you'll already be making better coffee than the majority of coffee shops out there. No joke."
Breville's line of espresso machines are consistently rated as the best for at-home coffee-making. New York City chef Missy Robbins calls the company's Barista Pro "the perfect balance of automation and manual abilities" for beginners like herself while Amazon reviewers rank the Barista Express and the Infuser as the best all-around espresso machine and the best espresso machine with a pressure gauge, respectively. And if you really want to spend some serious cash, there's the $2,000 Oracle, which Lyft VP Taggart Matthiesen calls "just phenomenal" and the closest he's ever gotten to making professional-level espresso at home.
If you're a pod loyalist, you'll be happy to know that since 2016 Breville has had an incredibly fruitful partnership with Nespresso that's resulted in the Creatista Plus, the best customizable single-serve pod espresso machine, according to Amazon reviewers. It's "wonderfully easy to use" with step-by-step instructions built in and also has an easy-to-clean steam wand if you like foam on your coffee. The Vertuo, meanwhile, is a perennial favorite with nearly 3,600 four- and five-star reviews on Amazon, and it's about a third of the price. "It brews such delicious cups of coffee and espresso in seconds," writes one reviewer. "Not only is this machine super easy to set up and operate, but it takes up less room on my counter than my Keurig machine."
Say you've already got your coffee-making situation figured out and you're not about to buy a new machine. Why not treat yourself to Breville's top-rated milk frother? Amazon reviewers rank it as the best multifunctional milk frother, giving users the ability to set temperatures and featuring discs specifically for lattes (smooth and silky) and cappuccinos (thick and creamy). "I truly had no idea what I had been missing out on with my other milk frother just on temperature alone," one reviewer writes. It's also excellent for other things, including making hot chocolate and warming breast milk.
And if you're not a coffee drinker, Breville also makes an excellent tea-maker, according to Strategist contributor David Schwartz. Rather than invest in an electric kettle, which, as Schwartz says, "don't do much else besides boil water better," he invested in Breville's all-in-one tea-maker. "Breville's Tea Maker is perhaps the most artificially intelligent machine a tea enthusiast can buy to brew at home, a conclusion I reached after researching top-of-the-line models for weeks," he writes. "It brews automatically, at any time of day, without you having to do anything but pour in the tea." But the pièce de résistance? A metal-mesh basket that automatically steeps and removes loose tea leaves. "Shockingly, this is groundbreaking — I've yet to see a product take over this manual step," Schwartz says. "You neither have to be present nor sentient for tea to happen."