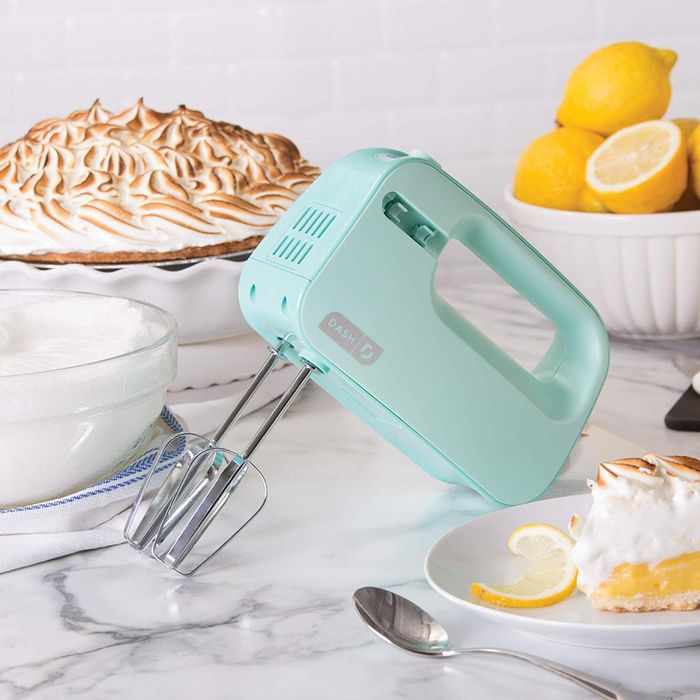 Photo: Courtesy of the Retailer
Here at the Strategist, we like to think of ourselves as crazy (in the good way) about the stuff we buy, but as much as we'd like to, we can't try everything. Which is why we have People's Choice, in which we find the best-reviewed products and single out the most convincing ones. (You can learn more about our rating system and how we pick each item here.)
And while we've covered a whole cabinet's worth of kitchen appliances, including a life-changing immersion blender, the tiny stand mixer that could, and highly approved juicers and blenders on Amazon, here, we've rounded up the best hand mixers, as praised by the most enthusiastic reviewers at Amazon.
Best-rated hand mixer
"Do not let the slow speed fool you," warns one reviewer. "This thing gets the job done. I've whipped cream, eggs, creamed cold butter to make chocolate chip cookies, and whipped up mashed potatoes and it did it all without being super loud. My old mixer sounded like a 747 taking flight." Another happy customer mentions the ability to move through various recipes with ease and power, saying the whisks offer "versatility and thorough performance." Nearly 400 five-star reviewers specifically call out the selection of bright, cute, and vibrant colors, but this hand mixer is still a workhorse with well-constructed beaters. "The rounded wire blade construction prevents food buildup, and they come out of the dishwasher sparkling," writes one reviewer, adding, "When picking up the beaters, I realized there was an additional benefit: Less metal is used in this superior design, which means less natural resources are used. Considering that there must be a gazillion mixers, even a quarter ounce less metal in each set saves tons of metal. Good work, KitchenAid!"
Best-rated (less expensive) hand mixer
About 10 percent of five-star reviewers use the words "light" or "lightweight" to describe this hand mixer. "For a lil fella, this thing works great," one attests, adding, "If you're looking for a simple hand mixer, this one does that job of any $$$ mixer and saves you space." Another customer says, "The lightweight really makes a difference. I usually only use my stand-mixer, and I remember hating hand-mixers because my arms would get so tired, but sometimes you need an extra mixer. This mixer is so light that my arms never get sore and the power-fullness surprised me, given its weight." And one reviewer with arthritis in their hands explains, "Lifting, holding, and working a mixer is difficult for me — this hand mixer has made it easy for me to continue making cookies, cakes, etc. and my hands do not hurt or tire." And if you're the kind of person who would spend three or four hours trying to make whipped cream with chopsticks, like this reviewer, the appliance is a worthy change of pace: "Now it only took me 5 minutes to whip cream and egg whites. Save energy and time. Definitely a necessity for baking."
And now for some micro-picks of every type of hand mixer you might be looking for.
Best compact hand mixer
"Love this little cutie! She tucks in nicely among my other kitchen utensils in this semi-crumb-free drawer," writes one reviewer of this Dash hand mixer — and "cute" is a word that comes up in lots of reviews. "The color is cute and fun plus the storage on the sides is great. I no longer have to rummage around looking for all the pieces," says another customer. Available in a few bright colors, this lightweight hand mixer is also recommended by many for use by young children in the kitchen: "One feature I really like is the ability for my son to help use this mixer; it is light enough for him to hold as he learns how to navigate the kitchen as my sous chef," one parent attests.
Best hand mixer with slow start
"Slowest speed is actually slow, comes with all the attachments, mixes really well," explains one reviewer of this KitchenAid nine-speed hand mixer, adding, "Used it yesterday to make pizza dough and the dough hooks combined with the power of the mixer at slow speed completely eliminated having to hand knead the dough." Another writes, "I love the attachments: beaters, whisk, dough mixers and milkshake maker, but mostly I love the slow-start. Really prevents making a mess. And the buttons on top are intuitive and easy to use." That slow start, also referred to as a "soft" start, is a highlight for dozens of reviewers, including one who concludes, "I love this because it has very slow speed that is better than most mixer low speeds. I hate spattering batter when trying to start slowly. It comes with a cloth pouch for the attachments, a classy and handy addition. If the federal government was run as well as KitchenAid, we'd be much better off."
Best hand mixer with storage case
The reviews for this hand mixer offer countless thorough accounts of its ability to mix at various speeds and be contained neatly. "My everyday mixer starts at helicopter speed and then higher. This Cuisinart is perfect," one writes, before calling out some of their favorite features. " Low speed is low, and a touch of the button gets you where you want to be. The mixer sits squarely and firmly on the counter, and the cord is long enough and not in the way … The storage container is a neat feature." That attachable storage container is another highlight for many reviewers, including one who writes, "The storage area is nice. I like being able to store the cord and attachments all in one place." Another reviewer concludes that it's "the Cadillac of hand mixers." Though one reviewer does note that maybe the beaters are a little too easy to clean: "The only negative: no cake batter left on them for kids to lick off!"
Best hand mixer with attachments and storage case
This hand mixer gets plenty of rave reviews for its affordable price, especially considering how many attachments are included. One customer, who bought the appliance for his wife and loves the "beautiful case," says, "The many attachments are a bonus and a real advantage. She never had so many beaters before." Plus, he notes that while the mixer may not last forever, neither will he: "Now WE won't get 40 years out of this hand mixer; we're pretty certain that neither of US will be around in 40 years. But it looks to be made very well and every function works perfectly." Another customer, with less thoughts on life and death, adds, "It is so nice that it has a durable storage case which allows for safe storage as well as a special compartment so not only can you store the attachments with it, but it allows you to keep everything together which is convenient as there are quite a few attachments." Another thoughtful user mentions, "It's so nice not trying to store the weird shape of the mixer and finding the attachments for it in the very unorganized cooking utensils drawer. The shape of the standard mixer attachment is the easiest I've ever cleaned, food doesn't seem to get stuck around the bottom or top like most of a similar shape."
Best hand mixer with storage case and bowl rest
"I am the most un-homemaker, un-baker kind of woman — but I LOVE this little mixer. It hits on all cylinders," writes one un-homemaker, who also finds the storage container is one of those perks. She writes, "I am in love with how the beaters go into this plastic case, then simply snap the main mixer part on top. Done. Not searching for something to put this in or awkwardly setting it loose on a shelf." The bowl rest also gets rave reviews, like from this reviewer who explains, "I love the storage below the mixer and especially like that when I need to step away from my 'concoction' for a moment that I can rest this mixer on the counter or butcher block without having it on it's side." The hand mixer comes with various attachments depending on the type of mixing you're going for, and "they all fit inside the compartment that clicks onto the mixer's bottom for storage — the cord even fits in there too," writes another reviewer.