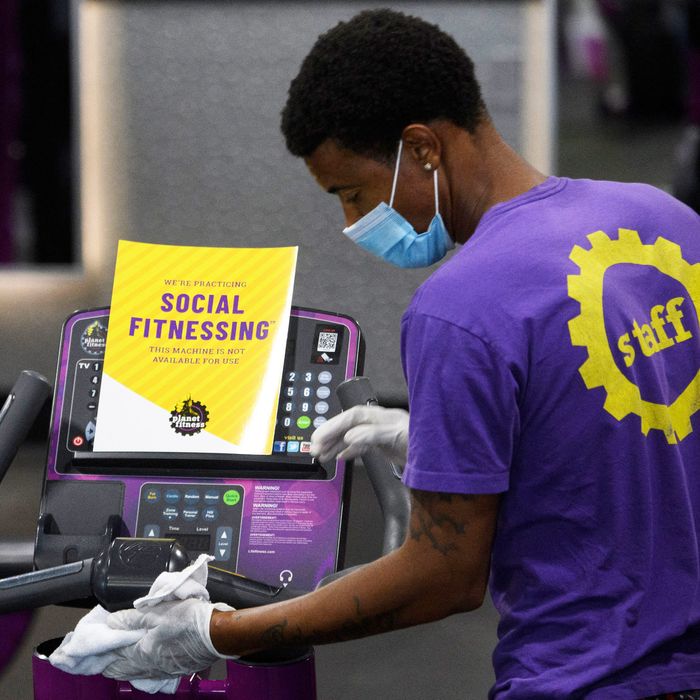 Photo: Patrick T. Fallon/AFP via Getty Images
With COVID cases dropping and vaccination rates rising, gyms have finally been allowed to reopen, allowing us to feel safe returning to Pilates, spin class, or HIIT sessions. Studios have gone to great lengths to make their classes safer, like installing advanced air-filtration systems and instituting new requirements like temperature checks and hands-off adjustments during class. And although the coronavirus doesn't primarily spread through surfaces, lots of gyms have cut back on shared equipment and amenities. That means if you typically grabbed a mat or towel before heading into class, you'll now have to come prepared with your own. Fortunately, we've spoken to lots of fitness pros over the years about their favorite equipment — especially during lockdown, when people were stocking up their home gyms — so we have plenty of recommendations for everything from Pilates-specific mats to towels that'll cover your spin bike's handlebars. You may even find you like your new gear better than the heavily used communal options you were grabbing pre-COVID.
Mats
To cut down on items that have to be cleaned and sanitized between classes, some yoga and Pilates studios are no longer renting out mats. Core Power Yoga and And Yoga, for example, are currently advising members to bring their own mats. If you want to invest in a yoga mat, check out the Manduka PROlite which comes recommended by more than a dozen yogis. Instructor Kyle Miller calls it "indulgent — it's grippy, soft, and breaks in very well," and Kristen Nichols, a former instructor at Y7 Studio, adds that it's "great for carrying around." It's not the cheapest mat, but those $5 rentals add up, so if you go to a lot of classes, you'll save money in the long run.
For sweaty hot yoga classes, experts prefer mats with a bit more "stickiness" to keep you from slipping and sliding around. Bethany Lyons, founder of Lyons Den Power Yoga, loves this mat from Gaiam. It's coated with a quick-drying top layer that wicks away moisture.
Compared to a yoga mat, a mat meant for Pilates is thicker with more cushioning. Balanced Body mats are a favorite of instructors like Marina Kaydanova, founder of BK Pilates, who says "the extra padding feels better on your back [when] you roll up and down, giving each vertebrae a chance to touch the mat."
Towels
Towels are another frequently borrowed item that some studios, like Physique 57 and SLT, aren't currently handing out. When we spoke to spin instructors about their favorite towels, they recommended microfiber ones that are quick-drying (unlike cotton), so they're good for wicking away sweat, and don't get soggy. If you're working out on a bike, you should also look for a towel that's going to be large enough to cover the handlebars. Nicole Murray, a cycling instructor with Moxie, likes these generously sized towels that make it easier for her to grip the handlebars when things get sweaty.
You'll probably also want a towel if you're doing hot yoga (like at Yoga Spark, which isn't loaning out towels right now) or any other mat-based exercise when you're likely to work up a sweat. Hot-yoga instructor Nicole Katz and Tom Salshutz, co-founder of New York Yoga, are both fans of this towel that has silicone nubs to grip your mat and keep it in place. It's also the nonslip towel of choice at Y7 Studio.
Yoga props
Props like blocks and stretching straps make it easier to do certain yoga poses and support your body in different positions. If you usually rely on blocks during class, you may want to buy your own set, as some studios, like Y7 and Modo Yoga, are not currently providing them. "I use blocks under my hands as a way to bring the floor up to me," says Sky Ting yoga co-founder Chloe Kernaghan. "They're great for standing forward folds, for support in triangle and side angle poses, and, if my shoulders are tight, I love using them under my hands in down dog." She and fellow Sky Ting co-founder Krissy Jones both recommend these cork blocks from Manduka.
Kernaghan tells us that "straps can act like arm extenders when you're doing poses where you're trying to connect hands to feet," like seated forward folds. The instructors we spoke with like this adjustable strap that allows you to easily change the length as needed for different postures.
Water bottles
Hydrating during your workout is always a good idea, but don't count on being able to take a quick sip from a water fountain at your studio. At Soul Cycle and P.volve, for example, water fountains are now for "emergency use only." For an insulated bottle that'll keep your water cold, Katz and Donna Rubin, co-founder of hot yoga studio Bodē NYC, both recommend Hydro Flask. Plus, the powdered-coated exterior makes it easy to grip the bottle and open the bottle even if your hands are sweaty.
If you're going to an indoor cycling class, Keegan Draper, personal trainer and fitness specialist at Mindbody, recommends this squeezable CamelBak bottle. Because it's designed to fit in the water-bottle cage of a road bike, it should be compatible with the bottle holders on most spin bikes.