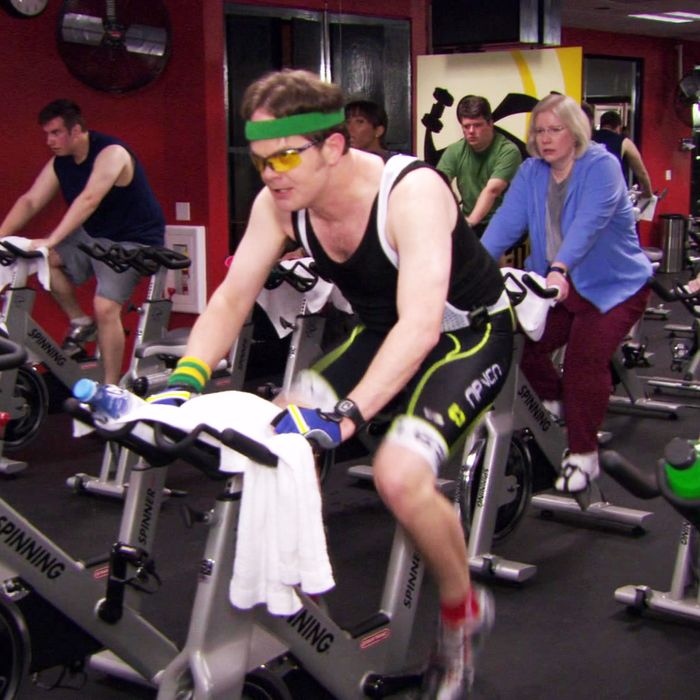 At-home workouts were already growing in popularity before the coronavirus pandemic — Peloton's customer base first surpassed SoulCycle's back in 2018 — but quarantine and lockdown orders have accelerated the trend. If you're one of the many people to have bought a stationary bike in the last year (and there were certainly many, as it was nearly impossible to find one in stock this past spring and summer), you'll likely need additional accessories to maximize your workout. To find out which cycling shoes, weights, and water bottles pair best with your new spin bike — whether it's a high-tech Peloton or a more budget-friendly Schwinn — we asked seven cycling instructors and enthusiasts to share their favorites.
Bike shoes
While some spin bikes have cage-style pedals that let you ride with regular sneakers, others, like Peloton, require cycling shoes that clip into the pedals. Even if your bike gives you the option, Keegan Draper, personal trainer and fitness specialist at Mindbody, recommends buying cycling shoes to "enhance" your ride. "The secure lock in the pedals keeps your foot in contact with the pedal without slipping, so you can really push through those hard climbs," he says. For men, he's a fan of these Venzo shoes that can be used on both indoor and outdoor bikes.
Three experts we spoke with recommended the Tiem Slipstream, a hybrid cycling shoe and sneaker. "Unlike regular spin shoes, the hardware is tucked inside the base of the sneaker, which means you can walk around in them without teeter-tottering," says Well+Good beauty and fitness editor Zoe Weiner. "They're just as great for walking around on the streets as they are for clipping into the bike." Tammeca Rochester, owner and founder of Harlem Cycle, agrees and says "you don't have to do the crazy walk once you get off the bike and risk hurting yourself." Nicole Murray, a cycling instructor with Moxie, says the shoes are "a major time saver when working on and off the bike," like if you're alternating between sprints in the saddle and weights on the mat.