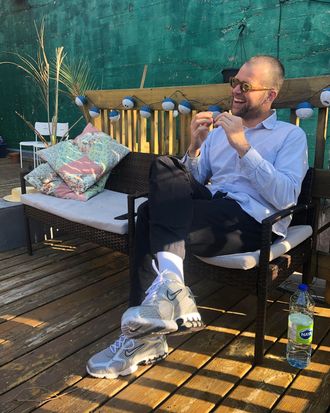 If you're looking for the most powerful hair dryer or the handiest chef's knife, those things can be easy enough to find. Other objects of desire are a little more taste-based. What's the next status water bottle or hand wash, for instance? If you have a burning question about the next fanny pack or Noah rugby shirt, Chris Black is here to answer it in a regular column.
My dad, like your dad, is a simple man. I'd like to get him a utilitarian, but not basic, gift for Father's Day. What do you suggest?
Utilitarian Father's Day gifts can go beyond ice cubes for whiskey and craft-beer subscriptions. But if giving things seems off for anyone right now, I feel you. Instead, you could always make a donation on dad's behalf to a charity that is doing good work. Black Lives Matter, the National Police Accountability Project, and the Loveland Foundation are all places I recommend (though there are lots of others, too). But for a few things he can actually unwrap, read on.
If pops likes to run, hike, or spend any time outdoors, the new Nike Pegasus Trail 2 would be a great gift that's both useful and cooler than whatever he's wearing to do those things now. Versatile and durable, they come in a more understated black-and-gray colorway if you don't think he'd be a fan of this louder yellow-and-green pair.
Staying loose as you age is tough. Even if he's still stuck at home, your dad probably spends a lot of time sitting at a desk, which can be torture on the body. This miniature version of the athlete-adored Theragun massager could be tucked away in that desk (or, when he starts going out again, his briefcase). It has three different speeds and is so compact, he could even use it to keep his quads limber during long conference calls.
My dad, Gary, is one of those freaks who wears shorts year-round, and many of those shorts can use an upgrade. If that sounds like your dad, this 100 percent organic cotton corduroy pair from Entireworld would be a perfect gift. They will remind him of his headier years — specifically the '70s, when golf wasn't the first priority. I like them in blue, but the white pair isn't a bad choice either.
Most dads like to enjoy a cold one from time to time. These handblown pint glasses from Tom Dixon are far more sophisticated than whatever bottle, can, tap, or faucet his cold one of choice may come from. While I can't promise they'll make his drink of choice taste better, I can promise he'll think of you every time he sips it from one of these.
Your dad might be a "boat guy" — you know the type. Visor, Oakley sunglasses, canned American beer stored in a Yeti cooler. As his child with taste, it's your responsibility to help elevate the look. One way to do that would be to give him a shirt that's just as wearable as his Tommy Bahamas, but slightly more elevated, like this