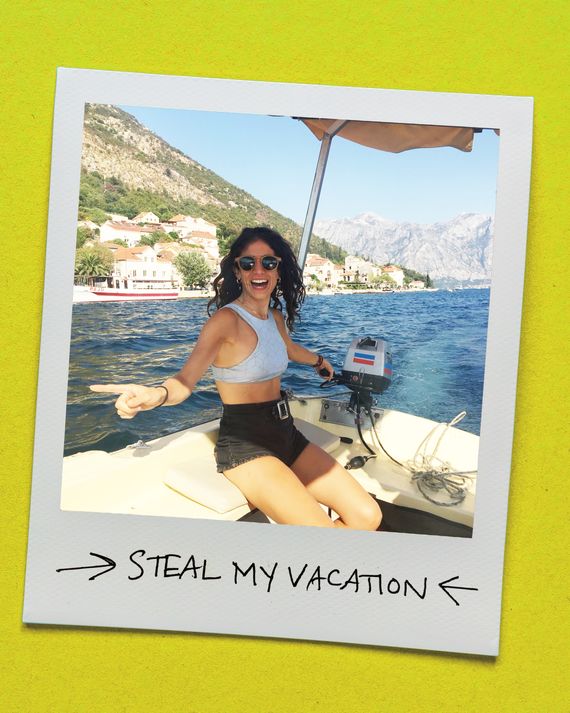 Photo-Illustration: Kate Branch
Everyone knows that person who spends weeks sniffing around travel blogs, going deep down into TripAdvisor rabbit holes, collecting Google Docs from friends of friends, and creating A Beautiful Mind–style spreadsheets to come up with the best vacations and itineraries possible. In this recurring series, we find those people who've done all the work for you, and have them walk us through a particularly wonderful, especially well-thought-out vacation they took, that you can actually steal.
Inspired by a story about the Pink Panthers, a gang of jewelry thieves based in Montenegro, writer Kate Branch and her husband decided to head to the tiny republic in the Balkans for the first leg of their honeymoon. The fact that it was an exciting alternative to neighboring Croatia, which can feel overrun with Game of Thrones–style tourism, was also appealing. Afterward, they spent a week in Puglia, just a ferry ride across the Adriatic Sea, but this week was all about hikes to mountain-top fortresses and motorboat rides out to hidden islands in the middle of the ocean. Since they were on the move, checking into a new spot every few days, they kept luggage light with oversize backpacks. Here, Branch shares the religious shrines you shouldn't miss, the beaches worth spending multiple days at, and the crinkle-stretch bikini that kept her cool in the heat.
3 p.m.: Grab a Montenegrin beer in town
Coming from New York, take the overnight flight on United to Vienna. Once there, it's an hour-and-a-half-long connecting flight to Podgorica, the capital of Montenegro. You'll land around late afternoon and should schedule a taxi to take you into town (we like Alo Taxi, though there are plenty of local companies to choose from in the airport parking lot; just make sure it's metered and you have at least ten euros on you — and haggle before getting in). Less than 20 minutes later, you'll be in downtown Podgorica, where you can grab a Niksicko Pivo beer and some appetizers like Montenegrin cheeses, bruschetti, and a hummus plate, at Restobar Strudla (8-24 Bokeška), a cafe and events space which is right off Njegošev Park.
4 p.m.: Walk to a cliffside monastery
Have the restaurant call Alo to take you north through the mountains to the lower part of Ostrog Monastery, a Serbian Orthodox Church built within a cliff in 1665 (the scenic ride will be under an hour, and you should ask the driver to meet you at the top and wait to bring you to your next destination — plan on 50 euros). The shrine stands 900 meters above ground in Ostroška Greda, and to get to the top, you'll have to hike 45 minutes — you'll see plenty of religious pilgrims do it barefoot, so you should have no problem in hiking shoes and your backpack). The walk will be worth it: It's one of the most stunning sites of worship, with dozens of religious mosaics and sweeping views of the lush Zeta valley below. It's a great first stop to situate yourself in the tiny country's majestic geography and ancient history. Make sure to arrange for the driver to meet you at the upper part of the shrine, as you won't want to walk back down after the sun sets, and ask to take you straight to Kotor — a seaport town surrounded by mountains about an hour and 45 minutes away along the Adriatic Sea.
7 p.m.: Head to your Airbnb in a fortified village
Book an Airbnb with a small kitchen and terrace for under $50 a night in the heart of Old Town Kotor, a fortress that was built between the 12th and 14th centuries. The taxi will drop you off just outside the wall of the medieval town known as Stari Grad, which is pedestrian only. Drop off your bags at the apartment, which is a three minute walk from Theater Gate, located on the south side of town, and wander around the narrow cobblestone paths and dip into the clothing boutiques, art galleries and coffee and sandwich shops. Eat and get a drink at the place where you hear the best live music, and order the grilled whole fish — the patio at Bastion (Stari grad 517) is a great option.
8 a.m.: Hike the Ladder of Kotor
Wake up, drink coffee, and enjoy the cheese and cured meat you picked up at Kotor Coffee and Sandwich shop (Stari Grad 284) on your terrace that overlooks the sea and surrounding terracotta rooftops. Behind you are the mountains and a centuries-old fortress accessible through a walking path 50 meters from the apartment; it turns into a zigzagging trail with 70 switchbacks called the Ladder of Kotor. It's a rigorous 8-mile hike that can take 5 hours, and it's best to go in the morning to beat the midday heat. The view from the top (940 meters above sea level) is unbelievable — the bay, the city, the mountains, the ships all look out of a painting — but you will get tired and hot, so after you climb down (take the trail towards the Castle of San Giovanni and walk the fortress walls until you hit Old Town; check out the little church, the Chapel of St. Ivan, too) go through the city's main gate and cross the street to take a dip in the Bay of Kotor, a clear blue but frigid body of water. After, grab a börek from a bakery along the bay; it's a local delicacy filled with meat and cheese that's delicious and filling.
3 p.m.: Buy fresh figs out of the back of a truck
Then, call a taxi to take you to the next spot: the historic town of Perast. Only 12 euros and 15 minutes up the coast, the quaint town feels centuries away from modern civilization. For lunch, try Konoba Skolji (Lake Front, Perast). You'll want to arrive mid-afternoon, that way the outdoor barbeque will be hot enough to order their slow-cooked "lamb under the bell," a large dish filled with meat that's roasted for hours and vegetables and feeds four. Skip dessert and buy a kilo of figs for one and a half euros out of the back of someone's truck (there are a bunch) and bring it to the water's edge, a stone strip where motor boats dock.
5 p.m.: Hire a motorboat to visit Our Lady of the Rocks