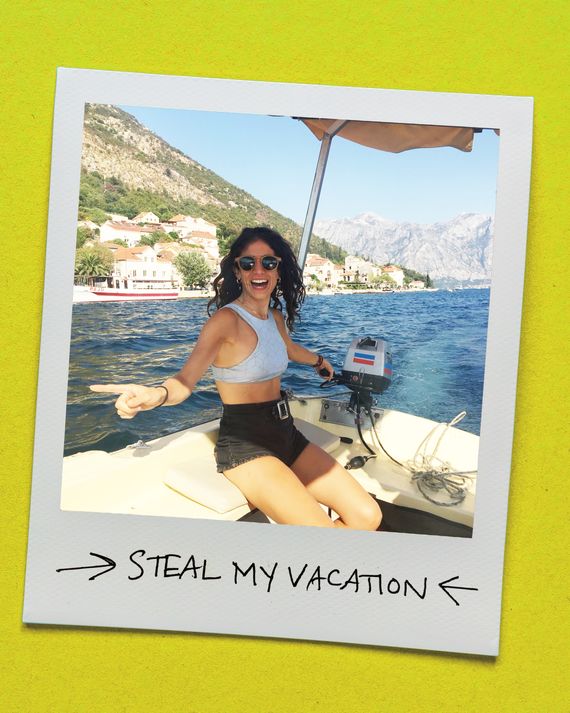 Photo-Illustration: Kate Branch
Everyone knows that person who spends weeks sniffing around travel blogs, going deep down into TripAdvisor rabbit holes, collecting Google Docs from friends of friends, and creating A Beautiful Mind–style spreadsheets to come up with the best vacations and itineraries possible. In this recurring series, we find those people who've done all the work for you, and have them walk us through a particularly wonderful, especially well-thought-out vacation they took, that you can actually steal.
Inspired by a story about the Pink Panthers, a gang of jewelry thieves based in Montenegro, writer Kate Branch and her husband decided to head to the tiny republic in the Balkans for the first leg of their honeymoon. The fact that it was an exciting alternative to neighboring Croatia, which can feel overrun with Game of Thrones–style tourism, was also appealing. Afterward, they spent a week in Puglia, just a ferry ride across the Adriatic Sea, but this week was all about hikes to mountain-top fortresses and motorboat rides out to hidden islands in the middle of the ocean. Since they were on the move, checking into a new spot every few days, they kept luggage light with oversize backpacks. Here, Branch shares the religious shrines you shouldn't miss, the beaches worth spending multiple days at, and the crinkle-stretch bikini that kept her cool in the heat.
3 p.m.: Grab a Montenegrin beer in town
Coming from New York, take the overnight flight on United to Vienna. Once there, it's an hour-and-a-half-long connecting flight to Podgorica, the capital of Montenegro. You'll land around late afternoon and should schedule a taxi to take you into town (we like Alo Taxi, though there are plenty of local companies to choose from in the airport parking lot; just make sure it's metered and you have at least ten euros on you — and haggle before getting in). Less than 20 minutes later, you'll be in downtown Podgorica, where you can grab a Niksicko Pivo beer and some appetizers like Montenegrin cheeses, bruschetti, and a hummus plate, at Restobar Strudla (8-24 Bokeška), a cafe and events space which is right off Njegošev Park.
4 p.m.: Walk to a cliffside monastery
Have the restaurant call Alo to take you north through the mountains to the lower part of Ostrog Monastery, a Serbian Orthodox Church built within a cliff in 1665 (the scenic ride will be under an hour, and you should ask the driver to meet you at the top and wait to bring you to your next destination — plan on 50 euros). The shrine stands 900 meters above ground in Ostroška Greda, and to get to the top, you'll have to hike 45 minutes — you'll see plenty of religious pilgrims do it barefoot, so you should have no problem in hiking shoes and your backpack). The walk will be worth it: It's one of the most stunning sites of worship, with dozens of religious mosaics and sweeping views of the lush Zeta valley below. It's a great first stop to situate yourself in the tiny country's majestic geography and ancient history. Make sure to arrange for the driver to meet you at the upper part of the shrine, as you won't want to walk back down after the sun sets, and ask to take you straight to Kotor — a seaport town surrounded by mountains about an hour and 45 minutes away along the Adriatic Sea.
7 p.m.: Head to your Airbnb in a fortified village
Book an Airbnb with a small kitchen and terrace for under $50 a night in the heart of Old Town Kotor, a fortress that was built between the 12th and 14th centuries. The taxi will drop you off just outside the wall of the medieval town known as Stari Grad, which is pedestrian only. Drop off your bags at the apartment, which is a three minute walk from Theater Gate, located on the south side of town, and wander around the narrow cobblestone paths and dip into the clothing boutiques, art galleries and coffee and sandwich shops. Eat and get a drink at the place where you hear the best live music, and order the grilled whole fish — the patio at Bastion (Stari grad 517) is a great option.
8 a.m.: Hike the Ladder of Kotor
Wake up, drink coffee, and enjoy the cheese and cured meat you picked up at Kotor Coffee and Sandwich shop (Stari Grad 284) on your terrace that overlooks the sea and surrounding terracotta rooftops. Behind you are the mountains and a centuries-old fortress accessible through a walking path 50 meters from the apartment; it turns into a zigzagging trail with 70 switchbacks called the Ladder of Kotor. It's a rigorous 8-mile hike that can take 5 hours, and it's best to go in the morning to beat the midday heat. The view from the top (940 meters above sea level) is unbelievable — the bay, the city, the mountains, the ships all look out of a painting — but you will get tired and hot, so after you climb down (take the trail towards the Castle of San Giovanni and walk the fortress walls until you hit Old Town; check out the little church, the Chapel of St. Ivan, too) go through the city's main gate and cross the street to take a dip in the Bay of Kotor, a clear blue but frigid body of water. After, grab a börek from a bakery along the bay; it's a local delicacy filled with meat and cheese that's delicious and filling.
3 p.m.: Buy fresh figs out of the back of a truck
Then, call a taxi to take you to the next spot: the historic town of Perast. Only 12 euros and 15 minutes up the coast, the quaint town feels centuries away from modern civilization. For lunch, try Konoba Skolji (Lake Front, Perast). You'll want to arrive mid-afternoon, that way the outdoor barbeque will be hot enough to order their slow-cooked "lamb under the bell," a large dish filled with meat that's roasted for hours and vegetables and feeds four. Skip dessert and buy a kilo of figs for one and a half euros out of the back of someone's truck (there are a bunch) and bring it to the water's edge, a stone strip where motor boats dock.
5 p.m.: Hire a motorboat to visit Our Lady of the Rocks
Ask for a fisherman named Igor to take you to the tiny islet called Our Lady of the Rocks. On it, there is a baroque-style Catholic church called The Church of the Lady of the Rocks that is filled with local art and frescoes. That said, the ride into the middle of the bay — you're surrounded by mountains, and the small motor boat is private and easy to drive, a smiling captain like Igor will let you take the wheel — is almost better. Just remember to bring a top and bottom; if you're only in your swimsuit you will not be permitted indoors.
12 p.m.: Make a day trip to Portonovi Village
Eat a light breakfast at home, an omelet filled with Montenegrin cheeses and spinach, because you'll want to head to Portonovi Village, a new resort community filled with Venetian-style mansions, luxury shops and art galleries located at the mouth of the bay (about a half hour drive from Perast along the coast). With a lunch reservation at Sabia, which is led by the Michelin-starred chef Giorgio Locatelli and located inside the newly opened One&Only hotel, you get access to perhaps the most beautiful view of Boka Bay. To start, order from the raw bar. They have a sea bass carpaccio that's topped with pomegranate and lime dressing and locally sourced crudo vegetables. For your main, get the homemade twisted pasta with pesto or char-grilled langoustines. The whole jet-setting vibe — literally, the village marina can fit over 200 yachts — sits in contrast to its nearby, modest coastal towns like Perast and Herceg Novi, the latter of which is a 15-minute drive up the coast and has four fortresses such as Forte Mare (Sea Fortress). It dates back to the 1300s and has panoramic views of the city and the sea on the top floor.
2 p.m.: Check into your next Airbnb in Budva
Head to Budva, which is about thirty minutes by taxi. Check into your Airbnb — there are nice luxury hotel options like Duckley Hotel or Slavija Budva Hotel and boutique spots like Hotel Budva, but a bright and central studio apartment with a garden that's right outside of Old Town and a short walk from shops, supermarkets and the beach goes for under $50 a night. Then, eat at Caffe Bar Hemingway (Slovenska obala, 11 Promenade) in the Hotel Majestic for lunch (get the caesar salad and a gin cocktail a la Ernest).
4 p.m.: Watch the cliff divers on Sveti Nikola
Walk along the promenade, and catch a taxi boat to Sveti Nikola Island (they dock at every beach in Budva), also known as Hawaii (named for the water around it, which is crystal clear blue). For three euros, you'll arrive at the most stunning stretch of land which has three beaches, a bar and restaurant, a forest (with plenty of wildlife on it, like deer and rabbits) and cliffs that jut out from the Adriatic — perfect for diving (or for watching locals dive!). It's popular and busy, much like the rest of Budva, but if you walk and swim the perimeter of the island, you will find a little cove to call your own. It truly looks like Never Never Land.
8 p.m.: Stroll the Old Town 
Back on the promenade, dine at Porto (Ul. Stanka Dragojevica br. 40), a plant-filled Mediterranean restaurant on the water. Get the seafood platter, which features locally caught fresh fish. The waiter brings an assortment of different white fish, and you get to pick your own. It's tourist-y, yes, but it works — mainly because it's delicious. Wander over to one of the clubs blasting EDM along the strip, and stay for one drink. Walk around Old Town and end the night with a chocolate and vanilla ice cream sundae at The Prince (Stari grad Vranjak 8), a tucked-away pub with a stone courtyard filled with pink flowers and grape vines.
9 a.m.: Spend all day at Galija Beach
Make breakfast at home and jump in a taxi for six or seven euros to Crvena Glavica, which is just south of Sveti Stefan Isle, a fortified fishing village dating back to the 15th century that's in the middle of the Adriatic Sea. (Aman Resorts is located on the private peninsula, and though it's currently closed, the luxury hotel offered one-of-a-kind stays in their stone homes overlooking the ocean.) Ask the taxi to stop along the coast so you can get a glimpse of the medieval town. Once back on the winding road, continue until you pass a camp full of RVs — that's when you know you're getting close — and walk down a steep and narrow pathway to a rocky, wild beach called Galija. Fifty euros buys you a sunbed and a bottle of prosecco, and you'll get free reign to perhaps the most beautiful stretch of water in Montenegro. Stay all day, there is a restaurant for dining (seafood makes up most of the menu, like grilled prawns tossed in a fresh salad with a side of fruit) and call the same taxi to pick you up just before the sun goes down. Write down the driver's number, because you're going to want to return the very next day.
9 p.m.: Board the overnight ferry to Bari, Italy
As the story goes, Montenegro has a rich history of banditry and smuggling. Criminals were known to smuggle goods via speedboat from the Montenegrin port of Bar to Bari, Italy, across the Adriatic Sea. After a second day in Sveti Stefan, primarily spent at Galija, call a taxi to bring you 30 minutes south to the ferry landing in Bar, and take an overnight boat to Bari. Call or email the travel company Viamare, which will help you rent a private cabin with two beds and a full bathroom on Jadrolinija for under $300 (you can also book directly from Jadrolinija's site). Otherwise, you're bunking with the rest of the ship's passengers, most of whom eat, sleep and drink on benches or on the floor. Eleven hours later, you'll wake up in Italy.
Kate's
Montenegro
Packing
List
Hike-Like-a-Pro Gear
There are too many breathtaking views of the water and mountains not to be hiking all around Montenegro. Come prepared to seriously trek. This backpacking bag is lightweight with antigravity suspension yet spacious; it features a lower compartment for your sleeping bag (or dry bathing suit and sundress) and a detachable dopp kit for freshening up on the go. These Lowa Hiking Boots made the multi-mile hikes to fortresses and stone castles worth it, too.
Rocky-Beach-Ready Footwear