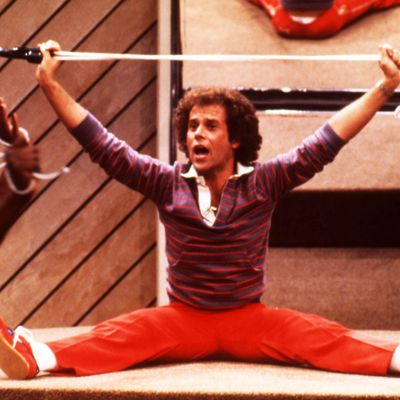 Photo: Michael Ochs Archives/Getty/Getty Images
Since the start of social distancing, we've been covering different ways of getting fit at home, including the best home gym equipment. It's no secret, though, that some workouts are easier to duplicate in your living room than others. Yoga? Roll out your mat and press play on a Sky Ting TV video. If your normal workout involves swimming laps at the Y or doing heavy cleans in a CrossFit gym, however, adapting it for home is not that simple. While there aren't any at-home alternatives that'll work your muscles in the exact same way as your favorite sport or gym class, trainers and coaches say it's possible to maintain your fitness in these areas by doing the right kind of home-based workouts. We asked seven experts from a variety of disciplines what they recommend for not losing your gains while you're stuck at home.
CrossFit
With squat racks, barbells, pull-up bars, and gymnastics equipment, CrossFit gyms are playgrounds for those looking to work on the fundamentals of strength, speed, and agility. You probably don't have a space at home to turn into a full-fledged "box" (as gyms are known in the CrossFit world) but a few affordable pieces of equipment can go a long way. "Try not to spend your time worrying about losing your strength gains," says Samantha Orme, owner and lead coach of CrossFit Virtuosity. "The weights will feel heavy when you get back to the gym, but you won't be starting from scratch and you should get back to where you were relatively quickly." Even though you won't set a new deadlift personal record at home, Orme says using lighter weights is "a golden opportunity to really refine your movement and mobility, drill good movement patterns, and set yourself up to reach new heights when you return to the gym. Focus on good form for every movement relentlessly and work on your tight areas with daily mobility."
If your gym is offering live video classes, join in to get feedback on your form. Hari Singh, owner and general manager of CrossFit NYC, tells us that because CrossFit covers several modalities of fitness, his instructors are using virtual classes during this time to focus more on the bodyweight exercises that normally only make up 10-20% of an in-person class.
For specific exercises, Orme says "you can never go wrong with burpees. They build upper-body strength as well as being a potent conditioning tool." She also likes kettlebell swings and goblet squats, where the weight is held at the center of your chest. You can do both movements with any heavy item at home, and both work your lower body while engaging your core muscles. "Basically any weightlifting movement can be replicated with a dumbbell," says Orme, who recommends getting two pairs — one lighter and one heavier to "set you up for a ton of workout variety." Additionally, she says you can use resistance bands for "both strength work and for mobility drills." And if you want something for at-home cardio, she says, "a jump rope is an excellent conditioning tool as well as for training agility and coordination."
Swimming
With beaches, public pools, and gyms shuttered, swimmers have been forced to take their workouts to dry land. Maurya Couvares, an All-American triathlete and coach of the women's triathlon team at Wagner College, says using stretch cords (which can be looped around a door jamb or bedpost) is the best way to activate the same muscles you use in the water. While they look like the resistance bands used in strength training, StretchCordz have more give. "They should be pretty easy to move," says Couvares. "That will allow for kind of the same turnover you would use while you're swimming." Practice pulling back and recovering forward to imitate the feeling of a swimming stroke. Earl Walton, head coach and owner of triathlon training studio Tailwind Endurance, agrees that stretch cords are "a great way to work on your form and technique, because you're only focused on how your body creates that strength and that motion versus also trying to figure out how to hold your breath and stay afloat."
According to Couvares, swimmers should also be doing a fair share of core work during this time. Maintaining a flat, neutral position in the water helps swimmers move more quickly, and that requires a strong core. She recommends doing planks and other more challenging variations to keep those muscles in shape. Add in some cardio, like running or cycling, and a bit of lower-body work, like squats, for maintaining your power in flip turns and dives, and Couvares says you'll be all set when you do get back in the pool.
Rowing
Regulars at studios like CityRow, Row House, or East End Row that are dedicated to full-body, low-impact workouts on the rowing machine might not be able to hop on the Concept2 anytime soon, but that's no reason their 1,000-meter time has to suffer. "The majority of our clients do not have rowers at home," says Annie Mulgrew, a founding instructor at CityRow. Her studio is currently offering on-demand classes on its app that are designed to hit the muscle groups used most in rowing. "We focus on lower-body exercises like squats and Romanian (straight-leg) deadlifts; exercises like bridges that engage the hamstrings and the glutes; and upper-body and core exercises like walkouts, planks, and push-ups," says Mulgrew. Most of these moves only require a set of dumbbells or your own bodyweight. To keep your cardio fitness up, Mulgrew recommends AMRAP ("as many rounds as possible") workouts which involve doing a series of exercises in a set amount of time. "Put anywhere from five to ten minutes on your clock and see how many times you can run through a circuit of squats, lunges, and push-ups," she says.
Indoor cycling
If you're a front-row regular at SoulCycle, Flywheel, or another indoor cycling studio, you're likely missing the motivation of your favorite instructor and the camaraderie of pedaling to the beat with your fellow riders. Since many flock to popular classes because they love the instructors, Stacey Griffith, a founding master instructor at SoulCycle, says, "the trick to staying in shape is really going to depend on your connection to the Instagram feed that inspires you the most, the workouts you remember from when you trained with your trainer at the gym, and — the most important one here — your desire and will to actually do them on your own." With many trainers taking their classes to Instagram Live and Zoom, you'll likely find one of your favorites offering an at-home workout that has the same energy minus the bike.
While you can't get the exact same experience at home, a smart workout routine will keep you in shape for when it's time to get back on the bike. "Cycling is sometimes described as only a cardio workout when in fact, a well-programmed ride involves building muscular strength in your lower body as well," says Brian McCollum, a personal trainer and instructor at the cycling studio Swerve. Therefore, he recommends doing a mix of strength, endurance cardio, and high-intensity interval training throughout the week. For strength training, some of his favorite exercises include reverse lunges, Romanian deadlifts, hamstring curls, lateral lunges, and speed-skater lunges (which will also crank up your heart rate). While they could be done without weights, a set of dumbbells or resistance bands will make for more of a challenge. For hamstring curls, he says adding slider discs under your feet makes the exercise perfect prep for cycling. "Think fast and quick feet while lying on your back," he says. "Training like this helps when riding at a higher cadence."
Outdoor cycling
If you live in an area where it's not possible to ride outside while maintaining proper social distancing, Walton suggests connecting your bike to an indoor trainer for at-home workouts. That way, you'll stay familiar with the feel of your own bike while remaining safely indoors. He says the Technogym trainer is "top of the line" but also confidently recommends the less expensive Wahoo Kickr. "You can set them up in your apartment and they actually look nice," he says. To keep your motivation up, Walton recommends checking out the Ironman Virtual Club for virtual races and events or downloading an app like Zwift or Rouvy that'll add a gaming element to your rides, track your progress, and give you access to workouts and training plans.
The Strategist is designed to surface the most useful, expert recommendations for things to buy across the vast e-commerce landscape. Some of our latest conquests include the best acne treatments, rolling luggage, pillows for side sleepers, natural anxiety remedies, and bath towels. We update links when possible, but note that deals can expire and all prices are subject to change.