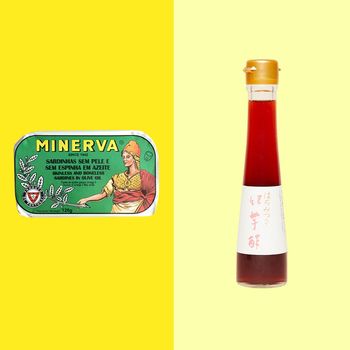 Photo: Courtesy Retailers
This post originally appeared on Eater.
You've stocked your pantry with some basics, but now you can't stop thinking about vegetable dum biryani, chorizo tacos, or nasi lemak. Maybe you can't bring yourself to do anything but refresh Twitter, and snacks count as meals now, and you're dreaming about salami and cornichons but you can't really justify stepping out for such luxuries. (I'm not speaking from experience. Not at all.)
There is a wide world of pantry items from global regional food cultures that you can use to add acidic brightness (think sumac), heat (a dab of yuzu kosho), and umami (a dash of fish sauce) to your dishes — just like your favorite restaurants do. Sometimes it just takes adding a couple of items to your pantry.
It's always worth starting with your local specialty markets, bakeries, butchers, wine shops, restaurants, and coffee shops that you'd normally frequent, which may be doing local delivery or contact-less pickup. Check their social-media feeds — you may find that they're getting creative. In certain locations, wholesalers and CSAs that normally serve restaurants have opened business to home cooks and can deliver locally. Don't forget to tip extra.
Meanwhile, many online retailers are overwhelmed, and shipping may take longer than usual. As things develop, some may stop taking new orders or restrict their delivery zones (alas, Sahadi's in Brooklyn). The list below includes stores that are still shipping nationwide as of this writing.
Many cooking traditions share ingredients, and our eating — both at restaurants and at home — increasingly crosses borders. With that in mind, I've organized this pantry shopping list by flavor profile and ingredient type. It's by no means comprehensive. Let's get shopping:
Unfortunately, there are entire culinary regions that have been omitted from this list. Please let us know of any hot tips.
Central America
• igourmet
East Asia
• H Mart
• Yamibuy
Europe
• Despaña
• Gustiamo
Middle East
• igourmet
• Shatila (sweets)
South Asian
• igourmet
Southeast Asian
• iourmet
• Yamibuy
Europe & North America
• Arrowine, Cowgirl Creamery, Despaña, La Tienda, Murray's Cheese, and Zingerman's offer a variety of cheeses from across Europe and North America. A few of these also offer subscriptions.
• If you're splitting orders with friends or neighbors, you might also be interested in a big order from Zabar's.
Middle East & South Asia
• Murray's Cheese sells feta. You can also try Persian Basket and igourmet for feta in olive oil and halloumi.
• igourmet is one of the few online retailers selling paneer.
Asia
• Soy sauce: Nijiya and H Mart for cooking, the Japanese Pantry for high-quality, small-batch soy sauce that you'll want to use to finish dishes.
• Sriracha and sambal oelek: Yamibuy
• Yuzu kosho: The Milk Street Store, H Mart, and igourmet.
Middle East
• Dukkah: New York Shuk
• Preserved lemons: Chelsea Market Baskets, Milk Street, New York Shuk (or make your own)
• Za'atar: Seed + Mill and New York Shuk
Mediterranean Europe
• Anchovies: igourmet, La Tienda, Murray's Cheese
• Cured meat: Whether you're looking for speck, prosciutto, salami, chorizo, or 'nduja for snacking or dressing up a humble pot of beans, try La Tienda, Murray's Cheese, and Olympia Provisions.
• Tinned fish: Portugalia specializes in Portuguese tinned fish, including sardines and cod. You'll find excellent, if pricey, Spanish canned seafood from Despaña's online store and from La Tienda. Food52 usually sells canned sardines from BELA and may restock soon. Murray's Cheese and Real Good Food sell a small selection of sardines and PNW-sourced tinned seafood, like smoked oysters.
Multiple Regions
• Extra virgin olive oil: Pineapple Collaborative and Real Good Food have good "everyday" options.
• Other styles — at varying price points — are available at Brightland, Real Good Food, Milk Street or Italian and Spanish specialty stores like Gustiamo.
East Asia
• Rice vinegar: the Japanese Pantry (artisanal) or Nijiya (larger production)
• Purple sweet potato vinegar: East Fork (shipping delays)
• Toasted sesame oil: the Japanese Pantry sells a range of artisan toasted sesame oils, and a little goes a long way. H Mart is a good bet for supermarket versions.
Europe and North America
• Apple cider vinegar: For extra-delicious if spendy apple cider vinegar, try "The Apple Cider Vinegar" from Pineapple Collaborative or Katz Gravenstein Apple Cider Vinegar (also available through Real Good Food).
• Wine vinegar: There are many options for good salad and finishing wine vinegars, including Katz and Real Good Food. This is likely also an item you can order locally.
Caribbean
• The Spice House sells Jamaican allspice, jerk and cajun seasoning blends, and tamarind paste.
East Asia
• Chili garlic paste: Yamibuy sells a few options.
• Dashi: For ingredients to make dashi (kombu, bonito flakes, and dried shiitake) as well as instant dashi, try H Mart, Nihon Ichiban, or Rakuten. The Japanese Pantry, Kayanoya, and Milk Street are also good for artisanal or small batch versions of these essentials.
• Dried fish: Try the Japanese and Korean markets listed above. Real Good Food sells dried shrimp sourced from Louisiana.
• Dried gochugaru and sansho peppers: Milk Street or igourmet
• Fermented black bean: The Mala Market and Yamibuy
• Fish sauce: Order from Red Boat directly, or try Son from Real Good Food.
• Gochujang: Yamibuy and H Mart for supermarket brands. Gotham Grove specializes in gourmet Korean ingredients, with a few pricier, artisanal options for gochujang and ssamjang.
• Miso and doenjang: Try the Japanese and Korean markets mentioned above or Milk Street. Gotham Grove also sells a small batch doenjang that is aged for three years.
• Oyster sauce: Yamibuy
• Sichuan pepper: The Mala Market specializes in Sichuan spices, including Sichuan peppercorns and other aromatic spices like star anise. Milk Street also sells Sichuan peppercorns.
• Yuzu kosho: Milk Street, H Mart, and igourmet
Mediterranean Europe, Middle East, North Africa
• Burlap & Barrel is an excellent source for single origin spices and seasonings, including sumac, Urfa chili, saffron, and smoked paprika.
• igourmet, it should come as no surprise by now, is also a good source if you can't find something. They carry Calabrian chilies.
• The Milk Street Store and The Spice House are also good bets for Middle Eastern, African, and Asian flavors.
• New York Shuk sells a variety of Middle Eastern and Sephardic seasonings and spices, including dukkah, harissa, ras el hanout, and hawaij.
Central America and South America
• Burlap & Barrel is also good here for things like cumin and various types of chili.
• The Spice House has a Latin American spice section, including aji amarillo ground chile, ancho chile, guajillo, and chile de arbol.
• For whole dried chipotle and chipotle in adobo, also try MexGrocer, Zocalo Foods, igourmet, or Melissa's.
• For tamarind, try The Spice House.
South and Southeast Asia
• Burlap & Barrel, Diaspora Co., and Rumi Spice are all stand-outs for ethically sourced single origin spices commonly used in South Asian and Southeast Asian cooking, including turmeric, cardamom, cinnamon, and cumin. Milk Street and The Reluctant Trading Experiment are also worth checking. I Shop Indian and igourmet, once again, will fill any holes.
• The Mala Market focuses on Sichuan spices, but many of the aromatic spices like star anise are also used in South Asian and Southeast Asian cooking.
• The Spice House sells a variety of spices and harder-to-find ingredients like tamarind paste.
• If you're looking for shortcuts: For Indian cooking, Brooklyn Delhi sells its sauces direct. Chilicali sells various bumbu for Indonesian flavors, including galangal and sambal.
Multiple Regions
• Dried fruit: Bellaviva produces organic dried fruit from California's Central Valley. New York City's Russ & Daughters sells excellent dried fruit (the strawberries will ruin you forever).
Central America
• Dried hibiscus: Burlap & Barrel, The Spice House, Alma Semillera
East Asia
• Black sesame paste: The Japanese Pantry
Europe and North America
• Capers and olives: Despaña, Gustiamo, La Tienda, Mercado Little Spain, Murray's Cheese, igourmet, Real Good Food
• Seasonal Jams: Ayako & Family (Seattle) and Sqirl (Los Angeles)
Middle East and North Africa
• Dates: Joolie's ships its fresh Medjool dates nationwide.
• Date Syrup: Just Date Syrup
• Preserved lemons: Chelsea Market Baskets, Milk Street, New York Shuk
• Pomegranate molasses: Milk Street or Just Date Syrup
• Tahini: You can order direct from Seed + Mill or Soom (which is currently only selling in 6-jar cases, but no complaints there).
With all purpose and run-of-the-mill (literally!) bread flour becoming harder and harder to come by, you may want to branch out into heritage flours.
• Anson Mills freshly mills its cornmeal, grits, buckwheat, rye, oats, semolina, gluten free, and other specialty baking flours.
• Central Milling, Hayden Flour Mills, and Maine Grains are excellent sources for pastry flours, bread flours, spelt, buckwheat, rye, and other grains. Availability varies from day to day, but they seem to be updating their websites frequently.
• Geechie Boy Mill is great for grits, corn flour, and other southern American staples.
• If you're looking for masa to make your own tortillas, Masienda and Alma Semillera both specialize in heirloom corn varieties.
The Strategist is designed to surface the most useful, expert recommendations for things to buy across the vast e-commerce landscape. Some of our latest conquests include the best acne treatments, rolling luggage, pillows for side sleepers, natural anxiety remedies, and bath towels. We update links when possible, but note that deals can expire and all prices are subject to change.