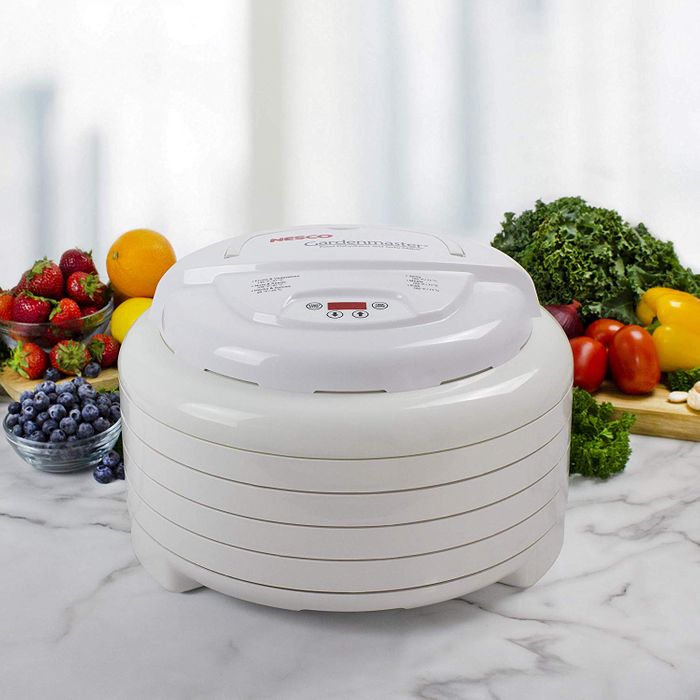 Here at the Strategist, we like to think of ourselves as crazy (in the good way) about the stuff we buy, but as much as we'd like to, we can't try everything. Which is why we have People's Choice, in which we find the best-reviewed products and single out the most convincing ones. (You can learn more about our rating system and how we pick each item here.)
And while we've tackled many types of kitchen gear — including microwaves, deep fryers, and juicers — here we've delved into the world of food dehydrators, as praised by the most enthusiastic reviewers on Amazon.
Best-rated food dehydrator
With nearly 3,000 five-star reviews, the Nesco Snackmaster Pro is praised time and time again for its cost effectiveness, from a backcountry guide who makes trail-ready chili — "My coworkers love me because of this," they write — to the many pet owners who turn lean cuts of meat into premium dog treats. "I was frustrated spending upwards of $15 per pound on quality freeze-dried liver and beef treats for my dog," explains one happy customer. "This dehydrator was the answer! So far I've only used it to dehydrate ground beef, ground turkey, and liver strips but it works perfectly." A proud terrier parent also prefers knowing exactly what their two dogs are eating, saying that in their treats, there's "nothing added, just pure meat. They LOVE IT to say the least."
Hundreds of reviewers use this food dehydrator to make jerky for humans, as well as plenty of other foods. "It was really easy for me to use and has brought so much happiness to our kitchen," writes one satisfied customer, who continues, "My favorite things to dehydrate are banana chips, strawberries, apples and other fruits. I love making fruit leather but it is a bit tricky. We have made jerky with great success, and my family was super excited to receive that as a gift … If you are looking for a great beginner dehydrator, please try this one."
Best-rated (less expensive) food dehydrator
Many reviewers note that Nesco's budget-minded dehydrator model is a little noisy; recurring comparisons include an exhaust fan, blowdryer, and vacuum. But most people don't seem to mind. "It is easily ignored if you put it in a laundry room or a spare bedroom to process," explains one reviewer. "The great thing about it is it is FAST. Some dryers take days to dry items. This one is done in a few hours." Ease of use — "flip a button that's it," says one person — also earns this food dehydrator high marks among reviewers, along with the considerable amount of money you can save with it. As one reviewer puts it, "4-POUNDS of cube steak made a full 3-pounds of jerky. Cost me $12 dollars from Walmart. Compare that to $12-dollars for 1-OUNCE of jerky from ANYWHERE else."
And now for some micro-picks of every type of food dehydrator you might be looking for.
Best electric food dehydrator with preset temperature
When a reviewer's local weather report warned of an early deep freeze, they turned to Presto's entry-level machine to save their fall produce. "In the last month," they explain, "I've done several kinds of peppers, zucchini, tons of apples, tomatoes, beans, and a few other things … This may not be a commercial dehydrator, but it sure does the trick for me. Best purchase I've made in a while." Other reviewers found its price point reasonable and worth the plunge even if you've never dehydrated anything before. "This dehydrator is simple and easy to use," explains one immediate fan. "You lay the meat, put on lid, and plug it in. There is no power switch or temp control. It is already set for the perfect temp. I will say this, be wary of HOW much time you use this because I got carried away in December making jerky as gifts and my electric bill shot up $70 for that month.
Best expandable food dehydrator
"I've had this for a few days and it hasn't stopped operating since it arrived," writes one reviewer of Nesco's malleable Gardenmaster model, who continues, "Being able to expand this to 20 trays makes this a much better value than any of the more expensive brands." Another notes, "It is a good size and the expand-ability makes it even better. You can do so much more at one time. We have already done apples, bananas, peaches, and jerky and have only had it like 2 weeks. Make sure to pick up some extra trays and roll-up sheets."
Several electronic features also make this a must-buy for many reviewers.  As one person explains, "It has a built-in timer and temp control so you no longer have to dehydrate everything at the same temperature and plan your day for when you will start and stop your dehydrator or risk ruining it." A power user calls it a "reliable workhorse," too, saying, "I ordered this in 2016 and have run it for as many as 25 days straight during mushroom season. We have dehydrated well over 250 pounds of wild mushrooms and depending on the mushroom species and thickness, it can dehydrate them cracker-dry in as little at 12 hours (8 trays) at 95 degrees."
Best food dehydrator with jerky gun
Serious gardeners love the Snackmaster Express's ability to make the most of their major fruit and vegetable hauls. A reviewer who dehydrated chili peppers, squash, green beans, apples, sweet potatoes, eggplants, and several kinds of herbs and tomatoes says, "Owning this dehydrator is like making a slower, less exciting (but certainly more fruitful) episode of 'Will It Blend?' You will root through your produce wondering to yourself, 'Can I dehydrate this?' The answer is yes. The answer is always yes." A more experimental reviewer agrees, saying they've toyed with everything from seedless watermelons — "It's like candy!" — to dried cabbage leaves that are well on their way to becoming the next kale chips, admitting, "I'm really surprised that this is my fav."
As for the kit's included jerky gun, a frequent user explains, "I thought it was a very silly thing until I read another reviewer's comment about how it really worked, so I tried it. And it does work! I was amazed. I put in the seasoned ground beef, squeezed it out onto the trays, and in a few hours I had beef sticks!"
Best food dehydrator for beginners
Many first-timers find Hamilton Beach's five-tray, 500-watt model easy to clean and use, with one reviewer writing, "Maybe I'm being generous with the stars, but it does everything I want it to do and more than likely stuff I have no idea how to do (fruit leather…whaaaat?). Banana chips, kiwi, and strawberries turned out fantastic." Another beaming reviewer adds, "Umm, I'm gonna need some more stars to check off! This thing is basically my new natural fruit candy making BFF beast!!! Ok, it's my first dehydrator so I can't make any comparisons, but even so, I am 100 percent satisfied." A jerky fanatic also had no trouble figuring it out, saying, "I have made a few batches and can't wait to make fruit roll ups next. You really can't mess it up."
Best compact food dehydrator
A reviewer who lives in a studio apartment with limited counter space deems the NutriChef a "great buy for the price" and a good solution for anyone worried about waking their neighbors. "The number one priority for me was noise," they explain. "This thing is whisper quiet! I can run it while watching TV or on the phone and you can't hear it." Its diminutive size doesn't get in the way of the NutriChef's productivity, either. "This item is a little smaller than I expected," admits one reviewer, making sure to add, "I've done apple chips, blueberries, and red chili peppers so far. Everything came out perfectly even when doing them all together. Love this product!"
Best square food dehydrator
More than 80 percent of reviewers give Chefman's multi-tiered machine five stars for its streamlined design, which holds more pieces of food per rack than many of its circular counterparts. However, despite that interior capacity, one reviewer says it has a "pretty small footprint, easily fitting on any countertop," and adds "it's so quiet we had to look at the fan to see that it was working." Another person declares, "My mother in law LOVES this machine [and its] more efficient use of space compared to the round ones." As for its actual capabilities in the kitchen, a self-appointed food-dehydrator expert insists "I've been making beef jerky forever, and WOW, this thing nails it. The square trays are so much easier than a round design."
Best large-capacity food dehydrator
"I'm glad I went with the nine-tray Excalibur rather than a smaller version," writes one reviewer, adding, "Nine trays fills up fast and sometimes I wish I had more!" And other reviewers comment on the large capacity of this machine, like one who writes, "This dehydrator fits on my kitchen counter under the cabinets just fine and it has enough capacity to do a five pound bag of sliced potatoes plus several trays of other produce at the same time. My other dehydrator could manage about 3 pounds of sliced potatoes at best, so I love having more capacity."
Several customers also agree that the Excalibur is a nice upgrade from cheaper, round models. "I'm absolutely blown away," says one. "It's like driving a perfectly fine base-model car, then upgrading to a luxury model. The quality of my tried-and-true recipes has increased significantly simply by using a better machine … If I had it to do over again, I would have ordered the Excalibur from the start." Other reviewers consider it a worthwhile investment for being a "piece of cake to clean and use" and capable of dehydrating countless fruit, vegetable, and meat items evenly. A longtime fan actually had an older model for 35 years and says "If this new one lives as long as the old one, it will likely outlive me. ([I] wonder who I should leave them to in my will?)"
The Strategist is designed to surface the most useful, expert recommendations for things to buy across the vast e-commerce landscape. Some of our latest conquests include the best acne treatments, rolling luggage, pillows for side sleepers, natural anxiety remedies, and bath towels. We update links when possible, but note that deals can expire and all prices are subject to change.