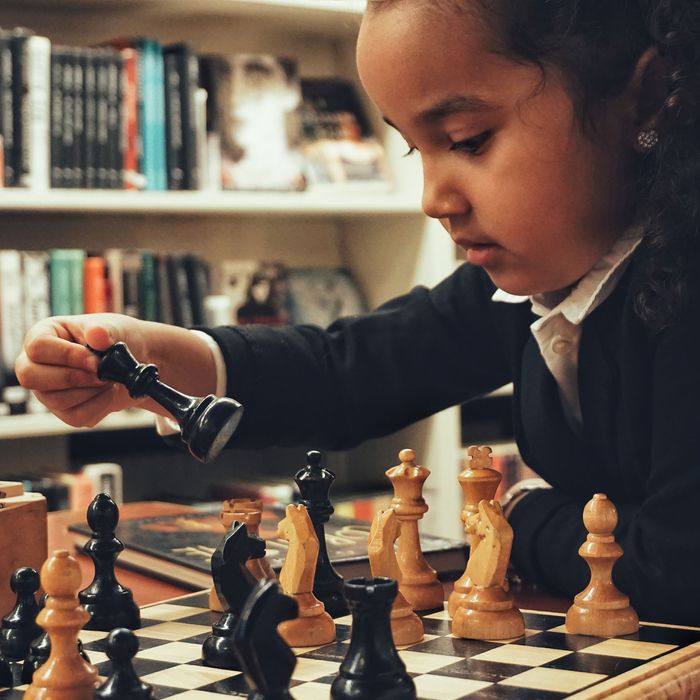 Photo: Niklas Storm/EyeEm/Getty Images
Families quarantining together have nearly endless options for isolated fun, including four-player board games, and couples have two-player board games, but those of us who are going it alone right now might be starting to run out of ideas. If you've done enough puzzling for a lifetime (or maybe even just want to take a break from your pod), there are plenty of board games that you can have a lot of fun playing all by yourself. Liz Davidson, who has been reviewing solo games on her site Beyond Solitaire and on Dice Tower since 2016, says that one-player games are actually a very popular gaming category. "The one-player guild on Board Game Geek is actually one of the largest with more than 13,000 members, and the Solo Board Gamers Facebook group, which is a very friendly place to go if you want to talk solo board games, has more than 20,000 members as of right now," she says. In recent years Davidson has also noticed more and more game publishers introducing solo modes to games so they can be played by yourself or in a group. She adds, "It's something that was already a growing trend, and it's actually just gotten bigger in quarantine."
So to find out how to play multiple characters or how to just try to beat your own score, we talked to Davidson and two other gamers about the best solo games, from crime solving, to escape rooms, to city-building games. (We've even noted some that can be played over Zoom if you do get a little lonely.)
One-Player
Games
for
Beginners
If you are looking for a quick and super-easy game, Davidson says, Orchard is fast and can take as little as ten minutes to play. "It's just a really cute little card game where you overlap different types of fruit trees and try to overlap enough that you get high scores," she explains. And even though you can get through it quickly, you can play over and over again. In fact, you can play twice after dealing just once: "It's actually an 18-card game where you have one deck of nine cards you play, and then you can immediately pick up the other half of the cards and play a second time."
Friday is what's called "a deck building game where you start with a certain deck of cards and you add and subtract cards as you go to get rid of cards that are less powerful, and gain cards that are more powerful," Davidson explains. In this specific deck-building game you're trying to build a collection of cards to make Robinson strong enough to defeat the pirates on your island, but some of the cards in the deck will set you back on that goal. "You have to really cull your deck to get that bad cards out of it," Davidson says. "And it can be really, really challenging because you have to take hits to your own health in the game," but in a fun way apparently that keeps you coming back for more since she says "a lot of people will play over and over and over trying to crack that system."
Onirim is part of the Oniverse series, which comes recommended by Davidson and the American Tabletop Awards committee. Davidson describes the series as a bunch of little games that are "all set in the same world, and they all work a little differently, but they're all relatively simple, affordable games that are for one or two people." This one specifically is "a really meditative card game that is about being trapped in a labyrinth of dreams. You're trying to find the doors to get out, but some cards are nightmare cards that force you to give things up that you found and you're trying to reach your goals before you run out of cards," she says. And while Davidson warns that the app version of some board games are disappointing, Onirim's phone equivalent is not only good but sometimes free.
Eric Yurko, an American Tabletop Awards committee member and game reviewer for his own site, What's Eric Playing?, calls this one of his all-time favorite games, and Davidson recommends it too. "This 18-card game may not seem like much, but it's an excellent execution of a simple concept," says Yurko. You are trying to build a city with the goal of getting the highest score. "On the front of each card is a two-by-two-inch grid of districts with some roads, and on the back of each card is a scoring condition," Yurko says. "You reveal three scoring cards and use the remaining 15 to build up a city. With other players, you're passing the cards you don't use once your turn ends; by yourself, you're just trying to beat the target score and win." What makes it particularly interesting for solo gaming is your score target will be different every time you play, so it won't get repetitive. Davidson also finds that "for a tiny game, it is incredibly frustrating and puzzle-y, but that's what makes it fun." (Plus it can be played by up to four players, when you can spend time with friends and family again.)
While Yurko recommends the entire Exit series, he thinks The Forgotten Island is a good title for beginners. "They essentially encapsulate the escape-room experience and make it playable at home with only a pair of scissors and some paper and pens for notes," he says. In this one, you will have to solve riddles to escape and island. The only caveat this series of games comes with is that you will run out of games to play: "Each one can only be played once, and lasts about two hours, but there are currently 15 plus available Stateside," Yurko says.
Most phone games are solo games, but if you prefer digital gaming, Davidson recommends this one because it's relatively affordable, especially when some solo-gaming apps can near $50 apiece. It's also really fun. "Basically, you are trying to get the tokens in your bag to be the right configuration to brew a really good cup of coffee," which sounds simple, but Davidson still calls it "weirdly addictive." As she explains, "You're trying not to let your beans burn, but you're also trying to get bad stuff out of the bag. If you roast for too long, smoke ends up in there and you have to make a decision about 'When do I perform a cup test so I'm not gonna pull all the bad tokens that I have accrued throughout the game?'" On top of that, it has a helpful tutorial and is easy to learn.
One game that is kind of a bridge between solo gaming and the digital world is Railroad Ink. It can be played solo, but if you are quarantined alone, or just have a long-distance friend, Yurko says, it works well over video chat. "This fantastic little train game has you rolling dice to add roads and rails to your board to build up a train and highway network," he explains. Playing solo, you are just trying to see how high of a score you can get, and it is also easy to take on the road and is quick to play, so there's no getting bored. If you do play virtually, the other person just needs to print a copy of the boards, and "one player rolls the dice, and the other players record them. Highest score wins."
Something at the more challenging end of beginner games is Welcome To, where players act as '50s suburban planners trying to build three neighborhoods. "To do so, you'll number houses every round to try and have them in increasing order, left to right," Yurko says. "The complex part is deciding what other features of your neighborhood should be added. Where do you build fences? Should you put in pools? What about a park? Balancing all this to try and get the highest-scoring neighborhood is very challenging." If you want to share in the struggle, you can play this over Zoom. In fact, Yurko says, "I've been in games of this with over a hundred people before, so I can say for certain that it can handle that." This was also recommended by George Georgeadis of Oniro Games as a good Zoom game; one person must own the game to display the cards, and everyone else just needs a pencil and a score sheet, which they can download and print for free here or download a free app onto their phones for a digital version.
"If you're playing with kids, a really good game that can be played solo or cooperatively with pretty much anyone is Castle Panic," says Davidson. "You are in a castle, and there are monsters coming through the woods, and they're trying to overthrow your castle, so you have cards you can play to try to knock them out before they come and knock your stuff over." What makes it easy for kids is that you can help them play, as it's also a cooperative game. "People can trade cards, look at each other's hands, try to come up with a plan for how to succeed." Davidson describes the game art as cartoony and points out that the rule book is very simple and easy to read.
If you're looking for a one-player game to keep your kid occupied, you can try Cat Rescue, which is recommended for kids ages 8 and up and has nothing to do with Carol Baskin (but it's no less interesting). Yurko describes it as a "cute game," explaining, "In Cat Rescue, you play as shelter workers trying to help cats find their forever homes by moving around between foster homes and the shelter," he says. "It's very cute and has fantastic art, a