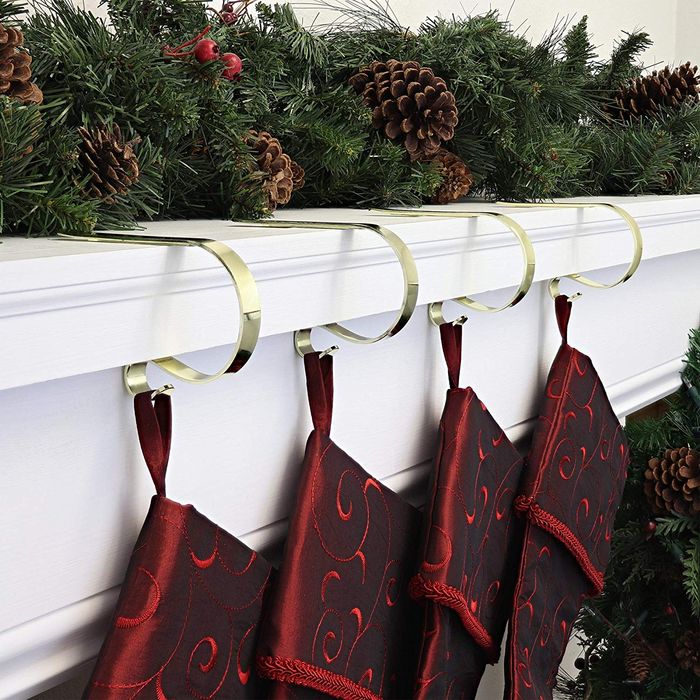 Hung by the chimney with care.
Photo: Courtesy of Retailer
Here at the Strategist, we like to think of ourselves as crazy (in the good way) about the stuff we buy, but as much as we'd like to, we can't try everything. Which is why we have People's Choice, in which we find the best-reviewed products and single out the most convincing ones. (You can learn more about our rating system and how we pick each item here.)
And while we've written about lots of Christmas decorations before — including Christmas stockings, artificial Christmas trees, and Christmas⁠–tree lights — here, we've rounded up the best stocking holders, as praised by the most enthusiastic reviewers on Amazon.
Best-rated stocking holder
Parents appreciate that these stocking holders are sturdy. One mom had different stocking hooks that made her nervous: "With little kids, the hooks (with giant metal figurines on them) scared me so much because with a good tug they'd come falling down (with the potential to literally kill the kids)." However, with these holders, she has no fears. "These are worth EVERY PENNY and I didn't have to adjust them at all to fit my mantel and the kids can pull on them and they don't budge." Another reviewer originally "had doubts about how sturdy" they would be "despite the many rave reviews," but after testing them, she agrees, "They truly are super-sturdy and would not easily be pulled down." A third reviewer reports that "these hooks were able to hold a fully loaded L.L. Bean stocking and not fall off the edge." But the best part for her is that there's "a thin, rubberized strip on the underside of the top piece that protects your mantel from being scratched."
Best-rated (less expensive) stocking holder
One reviewer has "used these holders for years" and describes them as "lightweight, unobtrusive, and works really well." He reports that they "will even hold a heavy fully loaded Christmas stocking on a mantel or cabinet edge without slipping." And many more reviewers were pleasantly surprised how sturdy these are, even though they're made of plastic. One customer "got these in case the cats pulled the stockings down." She "didn't want something fragile that would break upon hitting the fireplace stone, but didn't want something so strong it would instead break the stone tiles (or give the kitties a concussion)," so she chose these plastic ones and calls them, "perfect. Wouldn't break, and wouldn't break other things." A few complain that they're not attractive, but as one reviewer writes, "the only Christmas stocking hanger that actually works due to counterbalance. These may not be pretty, but they hold a totally filled stocking up on the mantel unlike the pretty brass weighted holders that I've tried over the years." And one more says if you "have a white fireplace (white brick, white mantel), these don't stand out."
And now for some micro-picks for every type of stocking holder you might be looking for.
Best plastic stocking hanger
Most people bought these because of the price. One reviewer says they're a "very good value for what you get," and they're still "lightweight but strong." Another writes that he can "hang stockings with confidence that they won't just slide off." He adds that the hangers "should support stockings when filled on Christmas morning." He even thinks they'll "do a better job of holding up your stockings" compared to the metal weighted ones he's seen before. A third appreciates that they're plastic, so if one of the younger kids in his family pulls them down, "nothing will break and no one will get hurt." A few wondered how they'd look on the mantel, so one reviewer steps in to report: "They are not invisible. Depending on the light, it will look like clear plastic, silver, or invisible." While that may not be some people's cup of tea, he writes, "I'm happy that they are light, do not take up space on our mantel shelf, and hold the stockings well."
Best embossed stocking hanger
The embossed design of these stocking hangers appealed to reviewers looking for something a bit more elegant than clear plastic. "I couldn't have designed a more perfect stocking hanger. I've been on the lookout for something just like this, and was so happy to find it at a great price," writes one reviewer who describes them as "beautifully, tastefully decorated antique brass." One more thinks these are "good if you don't want to have something taking up a lot of space, but want it to look nice too." She also appreciates that the hangers feature a "rubber cover over the flat surface of the clip to keep the mantel from getting scratched." A third reviewer picked these up in lieu of "drilling holes in custom cherry cabinetry for Christmas–stocking hooks," and writes, "Our stockings are pretty big and heavy, but the clips held them up just fine. The holly-embossed design was icing on the cake."
Best stocking holder for heavy stockings
"These stocking holders are low profile and unobtrusive, but are able to hold a heavy stocking easily," writes one reviewer. And many five-star reviewers agree that for how slim they are, they actually hold a well-stuffed stocking. One says it "holds the fairly big stockings and garland great." Her mantel is "a little thinner," but all she "had to do was adjust the clip a little" and she had no trouble. Another tested the clips out by "tugging on them" and reports, "They hold every time. Also, after my first tug, I immediately worried I would damage the mantel, but it was fine." Lots more reviewers also appreciate the slim, attractive style. "You notice the stockings not the hooks, which is why I bought them," writes one reviewer. But a highlight for them is that she doesn't "have to worry about a heavy stocking holder falling on my kid's head" because they are "very sturdy."
Best novelty stocking holder