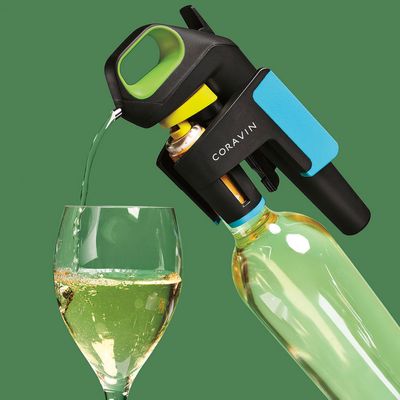 A glass of wine without opening the bottle.
Photo: courtesy of the Retailer
I first heard about the Coravin while interviewing sommeliers and beverage directors about their favorite wine stoppers, most of which are meant to be inserted into an already-uncorked bottle to extend its freshness for a few days. But then there's the Coravin. As Eric Tschudi, sommelier and beverage director at Shuko, explained it, this wine saver "lets you get what you need out of the bottle without actually opening it."
In case that sentence also blew your mind: With the Coravin, you can pour a single glass of wine without actually removing the cork. It's like a magic trick that violates the tenets of physics. What it isn't is super-intuitive, especially on first use. The Coravin Model One — which I finally had a chance to test over the last two weeks — resembles a standard, lever-style wine opener, like the Rabbit or the Le Creuset Lever, with a thin, hollow needle where the corkscrew should be. The whole thing is powered with an argon gas canister, which has to be screwed into the bottom. Once that's done, you clamp the device around the neck of the bottle, plunge the needle into the cork, and tip the bottle, Coravin and all, over a glass. Then, you press a little button which lets out an intimidating hiss, presumably from the argon, which creates a vacuum and pulls the wine up from the bottle through that hollow straw.
Each time I've used the Coravin, it's taken a couple of tries to get going, with brief spurts of wine as the liquid travels up the straw, but eventually, the wine pours smoothly. Be warned: The pour doesn't stop automatically. You have to turn the bottle upright to do that, something I did not understand the first couple of times I used it. But once you've got your appropriately sized pour, however much that might be, you gingerly pull the needle out of the cork, which is left amazingly intact, except for a small pinprick through the foil.
Magicking wine out of the bottle with the Coravin impressed my boyfriend, but there's a real practicality to using it, one that's even been acknowledged by those in the "serious" wine community, like writer Jancis Robinson, who wrote back in 2013, "Nothing I know of preserves wine in an opened or 'accessed' bottle for years as the Coravin system does." An open bottle of wine doesn't last much longer than a week or so, depending on what you're drinking and how you store it. After that, the wine can take on a vinegary taste or oxidize.
To test whether a Coravin-ed bottle of wine would start to oxidize, I poured a glass of Beaujolais from a natural grower using the gadget on Thursday night, then left for a long weekend trip. Typically, this kind of behavior — leaving a bottle of natural wine on an unrefrigerated bar cart that's in the sun for four days — would leave me with a sour red that's barely good for cooking. But when I came back on Monday evening and opened the bottle with a corkscrew, the wine tasted basically as good as the first glass. I also examined the cork for any damage the Coravin had done. There was virtually none. If I looked closely, maybe that was a pinprick? But it seemed like the cork had regenerated and sealed up as soon as the Coravin pulled out.
There are some practical downsides to the Coravin Model One. The first is that the signature wine needle is tricky to clean, and I can only imagine the frustration if your initial pour of a white wine was tinged with the red wine from last week. (I only drank red wine during this two-week period and didn't experience any issues, but I am almost positive I did not clean it properly, either.) Plus, the argon-filled capsules that you need to run the device are fairly expensive: $18 for a pack of two, each of which will pour about 15 glasses of wine. For the math-inclined, that's about 60 cents a glass.
Having said that, the Model One is still the least-expensive device on Coravin's roster and, as such, it's more approachable for a casual wine drinker. Just look at the cheerful, neon colorway they recently released with Neiman Marcus.
And though the Model One isn't something every wine drinker needs, there are some drinkers for whom the Coravin would be a great gift, like my dad, who has more wine in his cellar than he can reasonably drink on his own, yet hesitates to open a new bottle for fear of letting it go bad before he can finish it. My mom, who's down for the count after a single glass, would also enjoy this gadget. It'd be a great gift for someone who just bought their first wine atlas and is trying to taste and learn about wine on their own, or a friend who has a single glass of red with dinner one night and then likes to switch to white the next.
Tschudi explained the appeal of the Coravin quite simply, all those months ago: The Coravin is great "for home drinkers (or for the husbands of pregnant wives who can't drink) who want to enjoy a nice bottle of wine but don't want to commit to drinking a whole bottle." And for $200, it's an excellent gift for the wine lover who drinks in moderation.
The Strategist is designed to surface the most useful, expert recommendations for things to buy across the vast e-commerce landscape. Some of our latest conquests include the best acne treatments, rolling luggage, pillows for side sleepers, natural anxiety remedies, and bath towels. We update links when possible, but note that deals can expire and all prices are subject to change.
Every editorial product is independently selected. If you buy something through our links, New York may earn an affiliate commission.