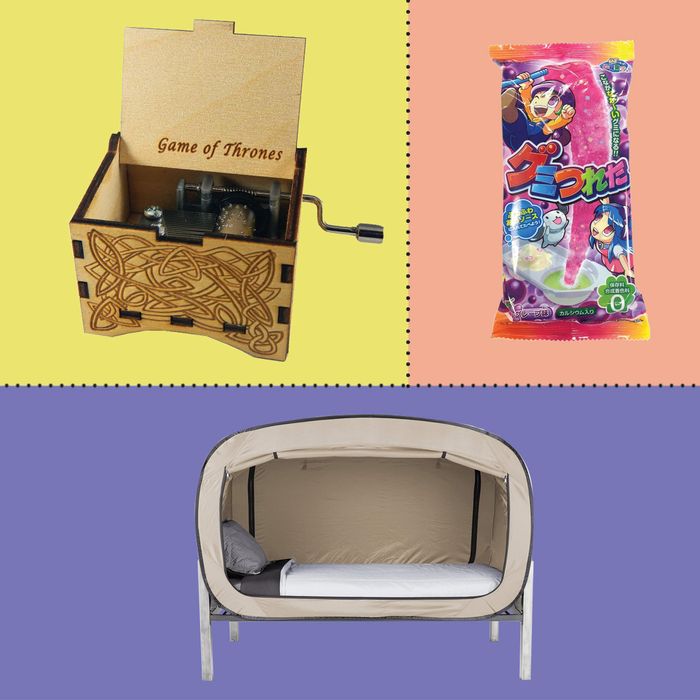 "I Neeeed It" was one of the most popular new subreddit communities of 2017, a place where redditors convene to chat novelty products that they really don't need at all (but are kind of wackily useful). Because it's Reddit, the stuff runs from the super geeky to the plain weird: Japanese toilet-seat stickers that unclog your toilet, a Death Star fire pit, and a John Deere Roomba. And while some of them are only good ideas in theory, and others not shoppable at all, we did manage to find a bunch of them on Amazon that were worth the hype. Below, some of the best products we've learned about thanks to the people of the internet.
A table lamp with a built-in gravity sensor that resembles an "On/Off" switch, and toggles on and off accordingly as you press it.
If only you could play Super Mario on this: a whiteboard and magnet set that will make your fridge resemble one of the original Game Boys.
For the superfan who knows the Game of Thrones theme song by heart, a teeny laser-cut music box that you can wind up over and over again.
When you're living in a shoe-box apartment with more people than you can handle, this zip-up sleeping pod will at least give you the illusion of your own space.
The kitchen tool that will save you time and sticky fingers at summer picnics: Watch this Reddit video for the full effect.
So you never have to aim and swat with a newspaper again, or get too close to their thousand eyes, a handy spider catcher that scoops them up at long range and keeps them in place with a glue trap until you're ready to release them.
Japanese candy that transforms from powder to an edible gummy, with a sour foam component, too — for the person who's hooked on slime videos.
For the indoor cat who wishes he were an outdoor cat, a suction-cup hammock that will let him survey his many winged enemies at close range.
A tailgating tool that will chill any beer within 60 seconds — it beats lugging around a cooler filled with ice.
This moon lamp appears to float in midair thanks to magnets, and can switch between brighter and dimmer modes. It would make a great gift for a kid's bedroom.