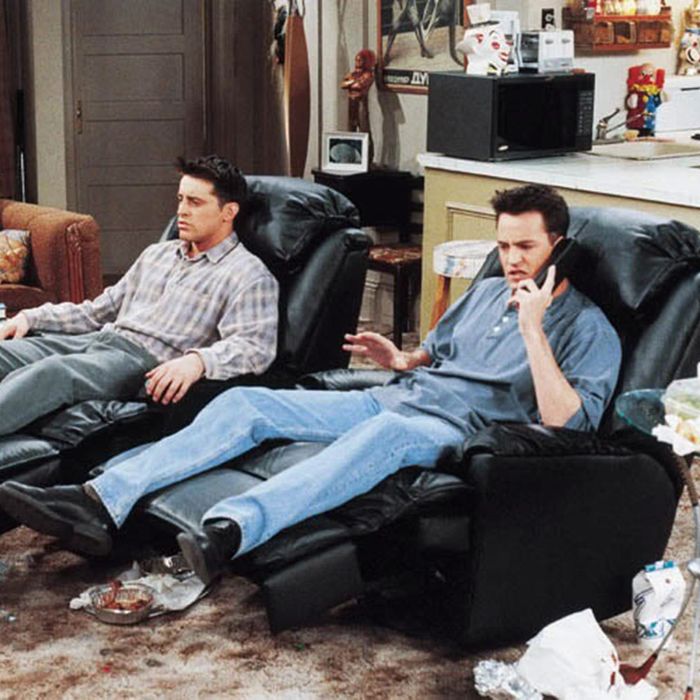 Here at the Strategist, we know that finding the "best" product really depends on exactly whom you ask — which is why we've devoted this series to squeezing in as many informed, trustworthy opinions as possible. And we've come up with dozens of ways to do this, among them: surfacing reader reviews from across the internet, taking quick polls of our most insane friends and fellow shopping-obsessed Strategist editors and partaking in some advanced internet snooping.
With that, we're rounding up the best massage chairs that you can buy online. And though it seems like a vast landscape, there are really only two types to know. Perhaps most common are the massage chairs that look like oversize recliners and have centralized massagers that tend to focus on a few parts of the body, like the lower back. The other type is a zero-gravity chair that allows the user to fully recline, like they're floating in space, and receive a head-to-toe massage; these are thoroughly relaxing, but they also tend to be much more expensive and take up a lot more space.
Here, we've found a mix of the best-loved massage chairs on the market, ranging from an unassuming vibrating chair that's adored by Amazon reviewers to a celebrity-approved option that costs close to ten grand to a massage gaming chair that one Polygon writer can't get their husband out of.
People's Choice: Best-rated massage chair on Wayfair
Most massage chairs on Wayfair don't get more than ten reviews, if they're reviewed at all, but this reclining, heated massage chair from Latitude Run has more than 500 — and an average rating of 4.5 stars out of five. The Zero Gravity design allows you to fully recline and experience the waist-heating massage therapy, which one reviewer says is well worth the price. "There's so many massage options, it has compression air pockets," they say. "Nothing else on the market comes close." There are eight fixed rollers with forward and reverse motions, along with airbags that rhythmically inflate and deflate over shoulders, arms, butt, legs, and feet to help ease muscle fatigue. A nurse who works 12-hour shifts and says her feet tend to hurt after work reports that, "coming home to get a massage especially the feet and calf function really makes the long day worth it!" If there is a complaint about this chair, it's that the shoulder compressors may not reach shorter users. According to one 5'4" reviewer, "This chair is definitely built for taller people, the shoulder compressors don't reach me at all and the neck massager works great as a head massage." The chair is shipped in three boxes, which was intimidating to some reviewers, but they report that it's actually quite easy to put together.
Expert-Recommended: Best massage chair, according to the Stretch*d co-founder
Photo: retailer
Vanessa Chu, the co-founder and COO of stretching studio Stretch*d, is a fan of many of the Adako products, and this massage chair combines them all into one complete package. It features an L-shaped massage roller that travels from the neck, down the back, to the butt, which Chu says is "great for neck, shoulder, and back pain," and there are even more massagers in the feet. "These are common areas of tightness, especially for those who sit at a desk all day, are tight from a workout, or even just from doing more of the everyday household chores." Plus, the massage rollers built into the chair will help to stretch you by turning your muscles and twisting your waist so you feel really loose. Chu recommends using this daily if possible, but she warns, "It is possible to overstimulate your muscles," so you should limit your use to a few hours a day.
Polygon Editor's Choice: Best gaming massage chair
According to Polygon staffer Cass Marshall, this is "a dang good gaming chair in terms of comfort and price." And unlike some of the bulkier massage chairs, this one looks like a regular gaming chair — except for the built-in massager, which is USB-charged and, therefore, doesn't need to be positioned next to an outlet. The massage pillow attached to this chair only hits at the lower back — this is one of those less expensive but centralized massagers mentioned above — but if your goal is to be as comfortable as possible during a long game of Call of Duty, the pillow plus the footrest will do the trick. But, as Cass writes, "when I walk by my husband's desk, I often hear it whirring away. It's loud, but it does a good job."
Strategist Reader's Choice: The fanciest massage chair ever bought through us
Photo: retailer
In 2018, this AIR Float massage chair was the most expensive item purchased from our site, even though it didn't technically qualify for inclusion in our post on the best-reviewed massage chairs, because it didn't have enough reviews — and nearly two years later, it still only has just one (very enthusiastic!) review on Amazon, likely because we're talking about a $7,000 chair. But according to the description, this reclining massage chair has five different massage settings and even connects to Bluetooth so you can listen to music while you relax.
Snooping: Celebrity-approved massage chair
Angela Bassett, Anthony Anderson, and Jonathan Cheban are all fans of this massage chair from Kahuna, a United States-based company that has been making massage chairs since 1997. It is the most expensive chair on our list, but it also provides the most tailored experience, because it automatically scans the body to deliver a custom massage (at least according to the product description). That scanning means this chair can memorize a user's favorite settings — like heating, zero-gravity angle, spine roller speed, foot roller speed, and air intensity — to make the experience even more enjoyable. And looking at the photos of celebrities reclining in their chairs, it's not hard to believe. "My long days turn into peaceful nights thanks to you," says Anderson, the actor who stars in Blackish, while Bassett posted about having separation anxiety from hers, writing, "Working hard over here in Europe right now and really missing my @kahunachair. Best zero-gravity relaxing massage ever!"
People's Choice: Best-rated massage chair on Amazon
Photo: retailer
Even though this is shipped and sold from a third-party seller, this recliner massage chair passed the test for more than 7,000 Amazon reviewers, and nearly 60 percent of them give it five stars. The fact that it looks more like a regular armchair than a high-tech spaceship is one thing that makes it stand out — but reviews say it's just as powerful as more souped-up-looking options. "The remote has eight different vibration settings" as well as "a 15 min and 30 min timer," one reviewer says. "Although there are only two massage points, it feels great to me where they are positioned for your back." Another says, "Very impressed with the comfort and the heated massage considering how little they cost."
Quick Pick: Best massage chair after a Strategist writer's hour of research
Photo: retailer
After searching through hundreds of massage chairs online, writer Jenna Milliner-Waddell found this not-too-expensive option at Wayfair. Part of the appeal is that this Human Touch massage chair looks like a regular recliner that will fit right in with living room décor. But it's actually a full zero-gravity massage chair, which means it goes back far enough to where you feel weightless — the best of both worlds. Plus, it has massagers through the neck, back, and calves. As far as price goes, this is on the cheaper end when compared to other zero-gravity massagers, and it has a 4.8 rating on Wayfair. According to one reviewer, it "has helped three family members ease tension and loosen sore tight muscles." Another says "Even when the massagers are not on, it is a very comfy chair to relax in."
People's Choice: Best-rated massage chair at Best Buy
Quite a few of this 4.6-star chair's 222 reviews attest to how well it removes knots. "It was painful at first, which tells me my muscles were in bad shape. The first two times I could barely get in and out of it," says one reviewer. "Now it's easy and I can't believe the trouble I had at first. Needless to say, it works well and helps with that lower back stiffness!" The chair uses a body scan to create an adjustable massage experience based on the person's height and weight. One five-foot-three reviewer says the chair was able to fully adjust to their body and also the body of their six-foot cousin. According to another person, the body scan takes about five seconds; the airbags inflate and mold to your body before it begins. A six-foot-one, 225-pound customer says, "The track of the rollers and mechanism works my shoulders all the way down to my glutes. I find the 6 basic 20 minute programs are pretty much all I need." Plus, another reviewer says, "It has rollers and airbags for massaging the feet that are as good or better than any other chair I've tried."
People's Choice: Best-rated massage chair at Sharper Image
Only a handful of customers have reviewed this chair, but all of them give it four or five stars. It provides a full body massage, and it reclines all the way to the zero-gravity position. Plus, it can be dialed in to the users' preferences. "This product has three levels of intensity and I am very glad that I got that feature," one such reviewer writes, noting that the lowest intensity is particularly relaxing. It's "the perfect chair in looks and comfort," she adds.
Expert-Approved: Best massage chair for chronic back pain
This is far from a traditional massage chair, but it's the massager that chiropractor David Perna of Back & Body Medical once recommended to us for dads with chronic back pain — and it's just $200 on Amazon, making it a not-too-expensive way to get your fix. Not only does it provide heat and massage to knead out any kinks, but it is also an inversion table, which Perna says is particularly helpful for relieving pain. "Inversion tables tip back and hang you upside-down," he told us. "When hanging your body weight will gently stretch in a lengthening direction. This will take pressure off the joints of the low back and discs."
People's Choice: Best-rated massage chair cushion on Amazon
If you don't have room for another piece of furniture in your living room, you can adapt one of your existing chairs into a massage chair with a massage cushion. This one was featured in our roundup of the best back massagers, with more 1,800 reviews on Amazon, 70 percent of which are five-star reviews. It's "the next best thing to a real massage or owning the chair," writes one user, because "it hits most major areas of the neck and back with just the right amount of pressure." Reviewers especially love that because it is portable, they can get relief almost anywhere, and they report using it on the sofa, couch, recliner, office chair, dining chair — even in the car.
The Strategist is designed to surface the most useful, expert recommendations for things to buy across the vast e-commerce landscape. Some of our latest conquests include the best acne treatments, rolling luggage, pillows for side sleepers, natural anxiety remedies, and bath towels. We update links when possible, but note that deals can expire and all prices are subject to change.
Every editorial product is independently selected. If you buy something through our links, New York may earn an affiliate commission.