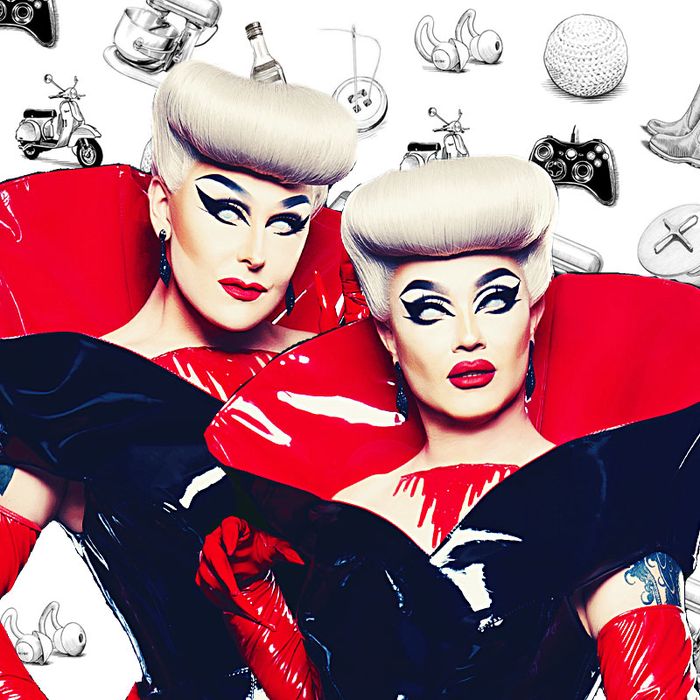 Photo-Illustration: The Strategist; Photo: Scott Kirby
If you're like us, you've probably wondered what famous people add to their carts. Not the JAR brooch and Louis XV chair but the hair spray and the electric toothbrush. We asked drag performers Dracmorda Boulet and Swanthula Boulet — whose Halfway to Halloween variety show will premiere on AMC+ and Shudder on April 25 — about the horror magazine they've been reading since grade school, the cathedral-shaped candle they keep in their cabinet of curiosities, and their never-before-revealed red lipstick of choice.
Dracmorda: Fangoria is something that we both were separately huge fans of as we were growing up in grade school. It always had these great behind-the-scenes pictures from your favorite horror movies, and it was just really exciting. Obviously this was before the internet. Fangoria was the only way to see those kinds of things, especially in the 1980s, when horror wasn't taken very seriously in the industry, so you would never see it in mainstream media.
Swanthula: And it just looks really cool on a coffee table too.
Dracmorda: We both used to work in publishing, and I'm a huge typography nerd.
Swanthula: He is truly obsessed with the fonts. With anything we work on, nothing gets finalized until it passes Drac's font test. And the whole team knows it.
Dracmorda: I've still never been completely happy with the final choices. You can tell if a movie is low budget when the title card comes up and the font is bad — you will know immediately if you should just get up and leave.
Swanthula: It's that little touch of chicory. It transports you back to New Orleans.
Dracmorda: We love New Orleans, and if you brew this in the house, it feels very New Orleans. You just get transported back there. We love the city, and as we travel more, we realize that some cities are just like all the other cities. But New Orleans is so unique in the culture, the food, the music, the geography of it. There's also so much history, and we both love history.
Dracmorda: Typically with candles that have shapes, they're usually more gimmicky or decorative. This one feels very special, including the way they package it. Sometimes when you order something in the mail, you can tell you have something very special, and that's what it's like to order from Graveyard Wonders. We have our cabinet of curiosities at home, and this candle is in our cabinet of curiosities. It emits this wonderful scent, so anytime you open the cabinet you're met with this haunting smell.
Swanthula: You've got to say olfactory, because it's rare that you get to use that word.
Dracmorda: That's right, olfactory.
Swanthula: It's saturation that makes it good. There's nothing worse than when a black lipstick dries and you can kind of see through it. That's why this one really stands out — the coverage is exceptional, and it dries so consistently. When it's black, it's black as in the-darkest-places-in-the-universe black. It's really satisfying.
Dracmorda: We've been using it for about four years now. I think it's perfect. The coverage is excellent, you don't need multiple applications, and it lasts all day and stays put. Once we find something like that, it's a mainstay forever.
Swanthula: You could literally step into the shower with this on and let the water hit your face for several minutes. Step out, look in the mirror, and you will look exactly the same.
Dracmorda: And it doesn't put a film over your face, either. We found this out during a live performance; we had to make it rain on a performer, and so we put all these garden hoses on the ceiling, cranked them on, and it was a rainstorm, darling. We used the PPI on her makeup, and afterward she was like, "Oh my God, I look exactly the same after all that rain." So it's our favorite sealer.
Dracmorda: So this started out as a Kat Von D lipstick, but that company has been sold a few times. The base of it is the same, even though the formula changes a little every time the company changes hands or they rebrand it. Red lipstick is part of our look, and people always ask which one it is that we wear — we've never actually revealed it before. So we're telling you for the first time that it's this one.
Swanthula: Every time we go to Sephora to look for this, it's choose-your-own-adventure. Is the packaging going to be different? Where in the store will it be? And this last time we couldn't even find it, and the salesperson couldn't help us. So we're a little worried, but, to be continued.
Swanthula: It's for healing and recuperating. After wearing full face prosthetics and drag makeup, when this slides on, your eyes are thanking you. Your skin is thanking you. It's very nourishing. We've been using it for two or three years.
Dracmorda: Actually we went into a Kiehl's store in Nottingham on tour, and one of the workers recognized our voices, and she blessed us with this whole pile of products, the eye cream being one of them. On tour your face gets so beat up, you're wearing makeup for eight hours a day, and you're not sleeping. And that cream was like a lifesaver; it definitely took a nice couple of years off.
Dracmorda: This is a miracle, all-purpose oil that we use regularly as a nighttime moisturizer. It's nothing special, there's nothing added to it, and I don't know why, but it seems to be a miracle tonic. It never reacts poorly, it never overwets you. I use it every night before bed, but you can really use it at anytime for anything.
Swanthula: It's a great carrier oil, too, if you want to make your own scents, which both Drac and I do from time to time.
Dracmorda: At the moment, we just do it for gifts, friends' birthdays, and holidays. We'll make a batch; it's just essential oils and we mix them up. And we try to customize it to their personality. No one has been offended — yet.
Swanthula: We make all the packaging too. It's very personal and a little witchy.
The Strategist is designed to surface the most useful, expert recommendations for things to buy across the vast e-commerce landscape. Some of our latest conquests include the best acne treatments, rolling luggage, pillows for side sleepers, natural anxiety remedies, and bath towels. We update links when possible, but note that deals can expire and all prices are subject to change.