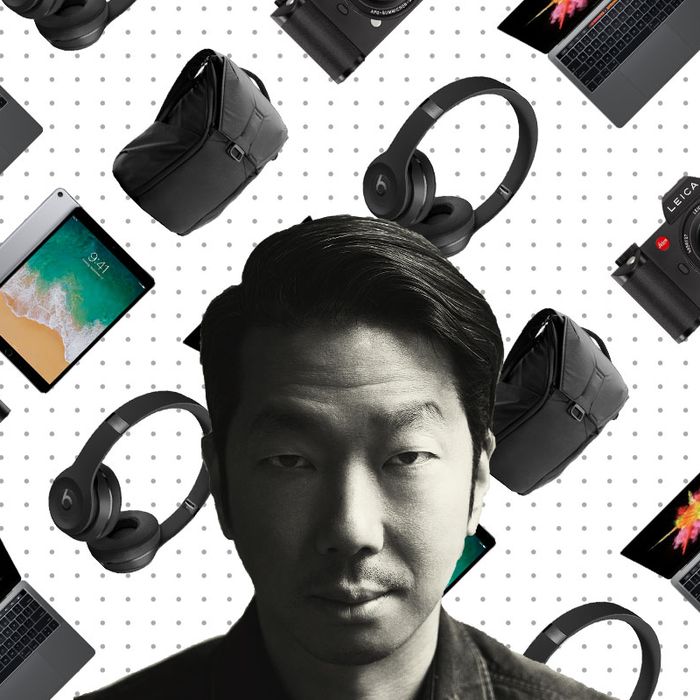 Overwhelmed by the many options one has for headphones and speakers and streaming devices and laptops, we decided to drill people who work in technology about what they use in their own lives — their gadget diets, if you will. Today, we're asking about the gizmos of David Lee, chief creative officer at Squarespace and serious photography enthusiast.
I pretty much bring my camera and hard drives anywhere. I have them at work with me right now. I use this bag from Peak Design that's a specific camera bag, so it can hold multiple cameras, lenses, your iPad, and your actual laptop, and it's really compartmentalized, in a streamlined way, to get every inch of use out of it. The zippers open up on both sides, so you can get easy access to a camera or a lens. A lot of photographers have multiple lenses, so all the pockets and zipper ways are made with a photographer in mid. Camera bags in general are not known to have the best aesthetics. A lot of them are like, "You're a camera guy." This one is a little more low-key.
In my slightly older age, I feel like I'm getting forgetful. This thing is flat and stays in my wallet and turns it into a GPS. And I have one on my key chain because my wife was going crazy over how many keys I lose. If I forget something, I can pull it up on an app and buzz it, and it makes a sound.
My baby, the gadget I love and use the most. The Leica isn't the cheapest camera out there, but it's the third love of my life right now after my wife and daughter. The best way I can explain it is, it's the SUV of cameras. It has a solid feel, it's completely weatherproof, and you can even drench it in water. It's a very rock-solid camera, and it's like my go-to if I'm doing street photography and taking portraits. The price tag will make people do a double take; it's definitely a guilty pleasure, but it'll last a lifetime.
It's kind of like my spy camera: It basically has the optics of the best point-and-shoots out there, but it's in this little incognito shell. I went to see a comedian at Radio City Music Hall, and you weren't allowed to bring cameras or phones in. This doesn't look like a camera, it looks like a harmless toy. I kept this in my pocket and got to fire off a few shots. They were actually pretty good shots. It's much better than an iPhone camera.
When you take a lot of these full-frame photos, you're basically using a lot of raw photos, and they can be 50 megs right out of the camera. I have a bunch of these and bring at least one of these with me at all times.
I'm a big fan of the [Apple] AirPods because they democratized wire