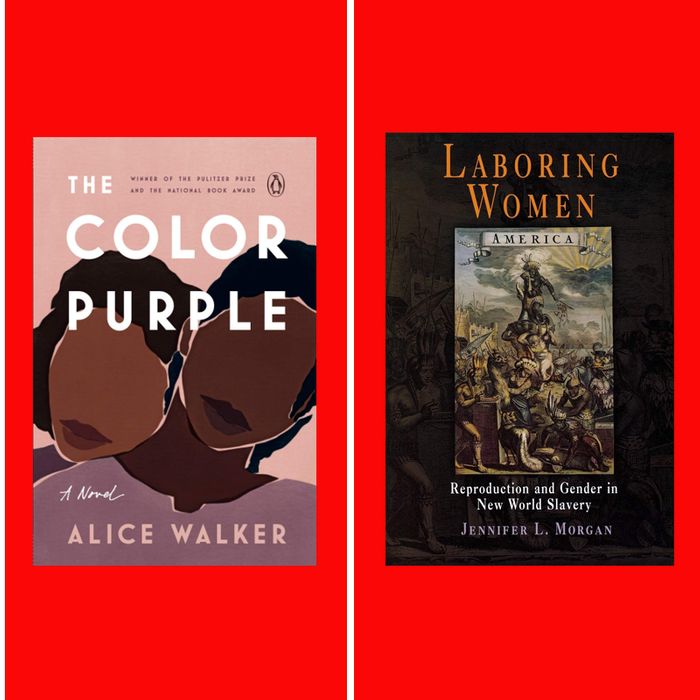 Photo-Illustration: The Strategist; Photos: Retailers
When I read a book, I find myself wondering what books the author read while they were writing it. I've long imagined, for instance, that Alice Walker thought fondly of Zora Neale Hurston while writing The Color Purple or Nicole Dennis-Benn called on Toni Morrison while crafting Here Comes the Sun. Those ruminations led to this series, In Context, in which I actually ask the authors of recently released novels, biographies, and nonfiction what books they read while they wrote and what books they feel their book is in conversation with.
The Love Songs of W.E.B. Du Bois took Honorée Fanonne Jeffers 12 years to write. Initially, she thought she was writing a book of linked short stories. Then, a beach read. If you've seen the book — which clocks in at 816 pages — or read it, then you know it is anything but. Love Songs of W.E.B. Du Bois is a tome. It takes up space. Lots of it. And somehow the story within feels even more expansive than the page count. I still find myself thinking about Ailey's sister, Lydia, as if she's a cousin. Like at any moment, my grandmother is going to call me with an update about our down South kin. I wouldn't be surprised if other people felt the same way because of how real the characters felt. I think this is because, at least partly, of how intimate a portrait we get of a family and their lineage.
Love Songs follows a single family, starting with a Scottish man named Micco and his Creek wife and winding down many generations to Ailey, a young woman coming of age in a family with a litany of secrets. It leans into the uncomfortable and tackles everything from assault to addiction to trauma. The novel jumps back and forth in time between precolonial America and present-ish day until it's braided together at the end in a breathtaking twist. It has the time-traveling energy of Yaa Gyasi's Homecoming married with the closeness of Jacqueline Woodson's Red at the Bone — though neither book came to mind when Jeffers mentioned what she read while writing.
Below, the books she did read — including a slave narrative she calls a quintessential Black feminist text and a children's book that details the adventures of Brer Rabbit and Brer Wolf.
The first book Jeffers mentioned was the canonical "slave narrative," Narrative of the Life of Frederick Douglass, which she first encountered in undergraduate school at Talladega College. "There was something about the tenderness and pain that he experienced along with the way he identified with Black women that really touched me and stayed with me as I was writing," says Jeffers. The book follows Douglass from childhood to his escape from chattel slavery. Jeffers pointed to the opening of the book when we spoke, saying, "What's noteworthy about Douglass is that he starts his narrative with Black women. It opens with the first memory of his mother." This was significant to Jeffers because Love Songs centers Black women — their stories and legacy.
The next book she mentioned was W.E.B. Du Bois's The Souls of Black Folk, which The Love Songs of W.E.B. Du Bois clearly draws inspiration from. In addition to the title, the book is also quoted in the novel's epigraph, which reads: "They that walked in darkness sang songs in the olden days. They came out of the South unknown to me, one by one, and yet at once I knew them as of me and of mine." Souls of Black Folk is arguably Du Bois's best-known work and what many consider to be the most approachable of his texts. It's where Du Bois first introduced the concept of double consciousness and the color line, concepts that have long made their way from the ivory tower to dinner tables and Twitter feeds. Jeffers said she returned to the book many times while writing Love Songs. "Du Bois was a youngish man when he wrote Souls of Black Folk. He was still hopeful and full of fire. That spirit hovered over me as I was writing Love Songs."
"These are traditional African American folktales crossed with Cherokee and Creek folktales," says Jeffers of The Complete Tales of Uncle Remus — a compilation of children's stories that detail the adventures of characters like Brer Rabbit and Brer Wolf. The author, Joel Chandler Harris, preserved the traditional folkloric tales and characters but also added characters of his own. "Even though he has his issues, I'm grateful for him because he collected these folk tales and wrote them down," she says. I was initially surprised to find this book on Jeffers's list because it calls up memories of childhood, but upon closer examination, it makes sense. Love Songs has its own folklore running throughout the narrative and captures some of the same magical realism.
Love Songs is set in both an unnamed big city and a fictional town in Georgia called Chicasetta, which Jeffers says is "basically a fictionalized Eatonton." Its past chapters that are set in Chicasetta focus heavily on stolen land and the politics of property ownership. This book helped Jeffers ensure that despite the fictionalization of the Georgia town, the people it originally belonged to were factually correct. "It gives you essential history about how Georgia came to be," she says. "It teaches you who was there at the time of the Georgia land lottery and about the federal road that was forced through Creek and Cherokee land."
Jeffers calls Incidents in the Life of a Slave Girl "a quintessential Black feminist book," though it was written long before the terminology came about. The autobiography, penned by Harriet Jacobs, details her life in captivity and also addresses Northern white women and their indifference to slavery. Jeffers also notes that it's the first narrative to deal with the sexual violence and abuse many Black women and children experienced at the time. "In many instances, these were not young women, they were children," she says. Love Songs deals heavily with sexual assault — and gives an often heart-wrenching look into the effects of that abuse over time. Jeffers said the book was also helpful when it came to writing. "The tone of Incidents and the way the language is framed, I tried to mimic that high language they use in the songs in Love Songs."
As the title suggests, House on Diamond Hill tells the story of Native American plantation slavery and how it functioned in the years leading up to the Cherokee removal. It focuses on James Vann, a Cherokee chief who had the most well-known plantation in the southeastern Cherokee nation. She used Vann as the inspiration for Samuel Pinchard, a very cruel slave master in the book. "It's full of great details," Jeffers says.
Jeffers also name-checked this book by NYU professor Jennifer L. Morgan, which discusses how gender was formed differently for Black women and examines it through the lens of labor and reproduction. The book also deals with the legal framing of womanhood in the 17th and 18th centuries, noting that Black women were considered property and thus couldn't bring lawsuits against the people who assaulted or harmed them. This awareness is present in Love Songs almost implicitly, informing the way we understand the Black women in the past narrative and the helplessness of their circumstances.
Toni Morrison has been mentioned in nearly every installment of In Context, and for good reason. Her impact on Black female writers — and writers more generally — has been immense. "I don't think that any writer after 1987 can write about African American chattel slavery and not be informed by Beloved," says Jeffers. "There's a tradition, and she altered the tradition in a monumental fashion." Beloved tells the fictionalized story of Margaret Garner, an enslaved woman who kills her child after realizing she's going to be dragged back to the plantation. The story deals with the imagined aftermath of that trauma and focuses on Sethe and Denver — a mother and daughter living in a house called 124. Then there's Beloved, who is perhaps the ghost of the baby Sethe killed. The book masterfully depicts the ways trauma can haunt a person, particularly a trauma as immense and totalizing as chattel slavery. "I didn't know you could write about ancestry in that sort of personal, non-reverent way until I read Beloved. It's still loving and respectful, but she's looking at the ancestors as real people." In Love Songs, all of the characters are haunted in some way, though not always by the same ghosts. Similar to Beloved, you can feel the fingerprints of trauma all over Love Songs, and the book spends much of its time trying to deal with its effect.
Finally, Jeffers mentioned The Color Purple — which she considers an essential part of this book's ecosystem. It's also personal. Her mother taught Alice Walker, and they're from the same place — Eatonton, Georgia. "When I read the book, there was a familiarity to everything that I saw," says Jeffers. "It touched me in a place that I hadn't known existed. This book and Beloved formed me. The Color Purple taught me that Black women were real people and not superheroes."
The Strategist is designed to surface the most useful, expert recommendations for things to buy across the vast e-commerce landscape. Some of our latest conquests include the best acne treatments, rolling luggage, pillows for side sleepers, natural anxiety remedies, and bath towels. We update links when possible, but note that deals can expire and all prices are subject to change.