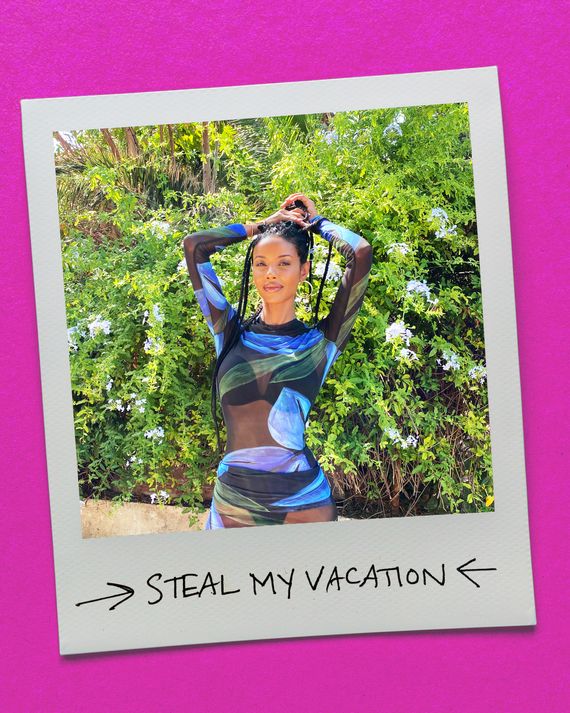 Photo-Illustration: Courtesy
Everyone knows that person who spends weeks sniffing around travel blogs, going deep down into TripAdvisor rabbit holes, collecting Google docs from friends of friends, and creating A Beautiful Mind–style spreadsheets to come up with the best vacations and itineraries possible. In this recurring series, we find those people who've done all the work for you, and have them walk us through a particularly wonderful, especially well-thought-out vacation they took, that you can actually steal.
Fanny Bourdette-Donon's family has a home in Hyères — a quiet seaport town on a peninsula between Marseille and Saint-Tropez. Since she can remember, the Paris-based Dior Beauty international PR and special-projects manager has taken every chance available to sneak down to the French Riviera. In the past, this has meant heading south in the spring as soon as it's warm enough to swim in the Mediterranean, but the pandemic provided the rare opportunity to camp out in her family's home for most of last year. Hyères has been her long-standing favorite destination for its rustic charm and natural beauty, both seemingly unchanged by international travel in a way that makes it feel like a real escape. Here, she shares the hotel she sometimes opts for over her own house, the app she uses to rent sailboats, and the rare flower market where she snacks on chickpea pastries.
6 p.m.: Pick up your convertible
Hyères is not as touristy as other places on the coast. It remains authentic, and because it hosts the International Festival of Fashion, Photography, and Fashion Accessories every year, it's also very cultural. The flight to Hyères from Paris is an hour and a half. EasyJet has flights fairly regularly from Charles de Gaulle, and they're usually around $45–$75 one way. Or take a high-speed train, which is five hours from Gare de Lyon. Once you arrive, rent a car, because taxis are too expensive and there's no Uber there. If you can, get a mini-convertible. It's the perfect car for the south of France, because it's cute and parking is a pain.
7 p.m.: Check into your seaside hotel 
Drive ten minutes to the Hotel Le Provençal (113 Place Saint Pierre; from $104). This place is really dreamy. It's right on the water, and it's been owned by the same family since it opened in 1951. We have a family house in Hyères, but I love to stay at this hotel even if we have friends coming to visit. You either stay in the main tower or one of the little villas. You wake up and look at the sea. I like it because it's not really fancy, but it's very original feeling; They pay attention to the little details, like putting lavender soap made in the region in the bathrooms. They have a really famous pool built onto the rocks. It feels like you're in a Slim Aarons picture. And they also have a really good restaurant that serves the fish they catch during the day. There's not really a menu; it's based on the sea and local-grown vegetables. Even the wine you drink is from there. Everything empowers the city.
8 a.m.: Explore the nearby islands—start with Île de Port-Cros 
Have breakfast at the hotel early. For me, it's usually a croissant, coffee, and a little orange juice, but they have a huge buffet. Then leave right after to explore some of the little islands that are part of Hyères: Île de Porquerolles and Île de Port-Cros. They're both protected national parks and absolutely stunning. The water is turquoise.
Pack an overnight backpack with a hat, sunscreen (very important!), closed-toed shoes like Converse, a tank top, shorts, a sweater for when it gets windy at night, and water, of course! Check out of your room and leave your other luggage with the front desk.
10 a.m.: Rent a sailboat you can sleep on
You can visit both islands during the same day or spend the night on Île de Port-Cros, which is lesser known and tinier. Stay at Hotel Le Manoir (Parc national de Port-Cros) or on a boat, which is what I recommend. If you stay at Hotel Le Manoir, you have to book months in advance because it's the only hotel there. But I like to go with a group and rent a sailboat with bedrooms through the app Click&Boat — it'll include a captain to take you around the islands, meaning you don't need to know how to sail yourself. If you don't wish to charter a sailboat, you can just head over on the ferry — it leaves hourly, goes to both Porquerolles and Port-Cros, and costs $20.90 round-trip.
12 p.m.: Bike to Plage Notre Dame
Once you dock on to Porquerolles, rent a bike from one of the many vendors at the seaport along Rue de la Douane, and ride it around the island. The bike-rental places will also give you a map of all of the best beaches. I'm not really athletic, so for me, it's a full-day experience, but also because you don't want to rush. I like to buy a beach towel at one of the gift shops by the port — a souvenir for the summer and I keep it with me all season. You want to explore the beaches — like Plage Notre-Dame and Plage D'Argent — they're all along the north side of the island. Spend all day in the blue water, this is why I recommend leaving so early. You can have a picnic on a beach. I usually just buy an organic summery salad at a little shop on the port upon arrival. And I like to stay and have a nice dinner of grilled fish at Le Mas du Langoustier (2588 Chemin du Langoustier).
9 a.m.: Go snorkeling, then do some bird-watching 
On Île de Port-Cros, the smaller island, there are places to snorkel and scuba dive. It's protected, so you can see schools of dolphins and all of these different species of fish, like barracudas, eagle rays, and dusky groupers. In the afternoon, go bird-watching in Port-Cros National Park. Kestrels live there; so do peregrine falcons, yellow-legged gulls, and leggy pink flamingos.
6 p.m.: Eat grilled fish and watch the sunset
On your way back to Hyères, there's a restaurant you can access by boat called Pradeau Plage (1420 Avenue des Arbanais). It's a super-tiny fish restaurant that people come to from Cannes and Saint-Tropez. It's to die for because your table is right by the water, and you'll see the most beautiful sunset. It gets so booked during summer, so you have to make reservations well in advance. Eat whatever they recommend to get for the day and the number of people you're with. It's mostly fish grilled a la plancha. Plan to hang out for the night; they'll start playing music later in the evening. Afterward, check back into the Le Provençal.
7 a.m.: Wake up early to buy fresh-cut peonies
Have coffee at the hotel, but skip breakfast. Drive to the market (Avenue Gambetta) in the old city first thing — it's on Saturdays. You have to be there by 8 a.m. or the market will already be sold out of its rare flowers. Hyères is known for plants like mimosa trees and angel's trumpet. And palm trees. There are about 7,000 of them on the island — they're a very special symbol of the city. Every little merchant will offer you something to eat — fruit and la socca, a specialty of the south; it's a chickpea pastry that you can get freshly made. After you go to the market, you can walk to the Villa Noailles (Montée de Noailles), a modernist villa built by architect Robert Mallet-Stevens for art patrons Charles and Marie-Laure de Noailles in the hills above Hyères. They have exhibitions and artists in residence, and you see the entire city from the roof. In the back, there's a Cubist-inspired garden.
2 p.m.: Kitesurf – or just watch from the shore
I'd recommend walking around the beaches for the afternoon. If you want more of an adventure, go to Almanarre beach, which is really windy and popular for kitesurfing and all kinds of water sports. That's super fun. They have a little school for everything. I'm not really into water sports, to be honest, but my boyfriend is, so I'll grab a book and stay on the beach or go to a little restaurant, Le Robinson (3089 Route de l'Almanarre), which has a private beach, and wait for him with a glass of rosé. That's really lovely. The food is not the best, but you're in Provence, so you have literally the best rosé in the world.
9 p.m.: Order moules-frites 
Since you've had dinner by the beach, eat dinner at the seaport tonight. You go there more for the ambiance than the food — I just read menus and see what stands out to me. I like to shop the little merchants who have pearl necklaces and little Provençal things like tablecloths and napkins. It's really cute. Or you can have dinner in the old part of town where you went to the market in the morning. There's a really cute restaurant in Place Massillon called La Table (3 Place Massillon) that specializes in mussels. You have fresh mussels with French fries and white wine. It's a fun way to spend the night, with a late dinner, catching up with old friends and meeting new ones.
Noon.: Sip your last rosé 
After breakfast at the hotel, go wine tasting! This is the region for rosé, and there's such beautiful wine right all over. Château Malherbe (1 Route du Bout du Monde, 83230 Bormes-les-Mimosas) is owned by the Ferrari family and is right on the water. They take you on trails through the vines, and along the sea on little bikes. The airport is only 30 minutes away, so you can have lunch there and get some organic wine (from $35) to bring back home before catching your flight at the end of the day.
Fanny's
Hyeres'
Packing
List
Espadrille wedges
I always buy black espadrille wedges at the market on the first day. I don't look for a particular brand, just whatever I like. It's my go-to shoe for summers in the South of France. Easy and chic.
A good book
There's nothing I love more during the summer than being under the sun with a good book, rocked by the cicadas' song. I'm currently reading Professional Troublemaker by Luvvie Ajayi Jones, which I highly recommend.
Bikini