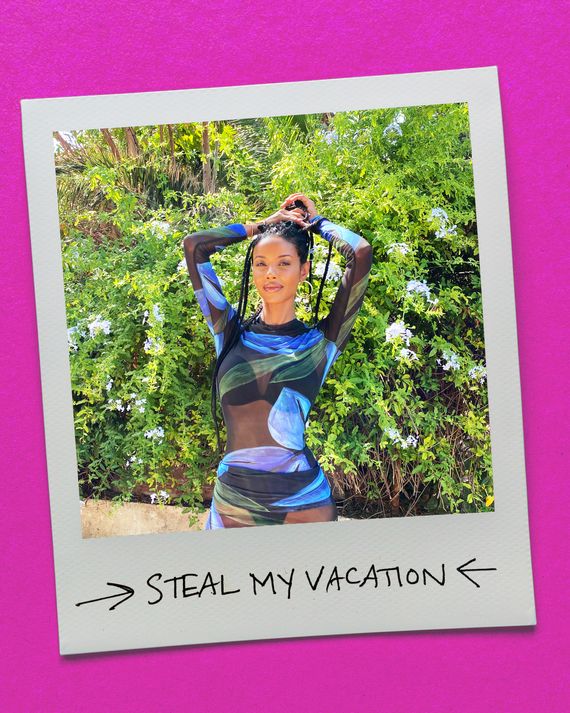 Photo-Illustration: Courtesy
Everyone knows that person who spends weeks sniffing around travel blogs, going deep down into TripAdvisor rabbit holes, collecting Google docs from friends of friends, and creating A Beautiful Mind–style spreadsheets to come up with the best vacations and itineraries possible. In this recurring series, we find those people who've done all the work for you, and have them walk us through a particularly wonderful, especially well-thought-out vacation they took, that you can actually steal.
Fanny Bourdette-Donon's family has a home in Hyères — a quiet seaport town on a peninsula between Marseille and Saint-Tropez. Since she can remember, the Paris-based Dior Beauty international PR and special-projects manager has taken every chance available to sneak down to the French Riviera. In the past, this has meant heading south in the spring as soon as it's warm enough to swim in the Mediterranean, but the pandemic provided the rare opportunity to camp out in her family's home for most of last year. Hyères has been her long-standing favorite destination for its rustic charm and natural beauty, both seemingly unchanged by international travel in a way that makes it feel like a real escape. Here, she shares the hotel she sometimes opts for over her own house, the app she uses to rent sailboats, and the rare flower market where she snacks on chickpea pastries.
6 p.m.: Pick up your convertible
Hyères is not as touristy as other places on the coast. It remains authentic, and because it hosts the International Festival of Fashion, Photography, and Fashion Accessories every year, it's also very cultural. The flight to Hyères from Paris is an hour and a half. EasyJet has flights fairly regularly from Charles de Gaulle, and they're usually around $45–$75 one way. Or take a high-speed train, which is five hours from Gare de Lyon. Once you arrive, rent a car, because taxis are too expensive and there's no Uber there. If you can, get a mini-convertible. It's the perfect car for the south of France, because it's cute and parking is a pain.
7 p.m.: Check into your seaside hotel 
Drive ten minutes to the Hotel Le Provençal (113 Place Saint Pierre; from $104). This place is really dreamy. It's right on the water, and it's been owned by the same family since it opened in 1951. We have a family house in Hyères, but I love to stay at this hotel even if we have friends coming to visit. You either stay in the main tower or one of the little villas. You wake up and look at the sea. I like it because it's not really fancy, but it's very original feeling; They pay attention to the little details, like putting lavender soap made in the region in the bathrooms. They have a really famous pool built onto the rocks. It feels like you're in a Slim Aarons picture. And they also have a really good restaurant that serves the fish they catch during the day. There's not really a menu; it's based on the sea and local-grown vegetables. Even the wine you drink is from there. Everything empowers the city.