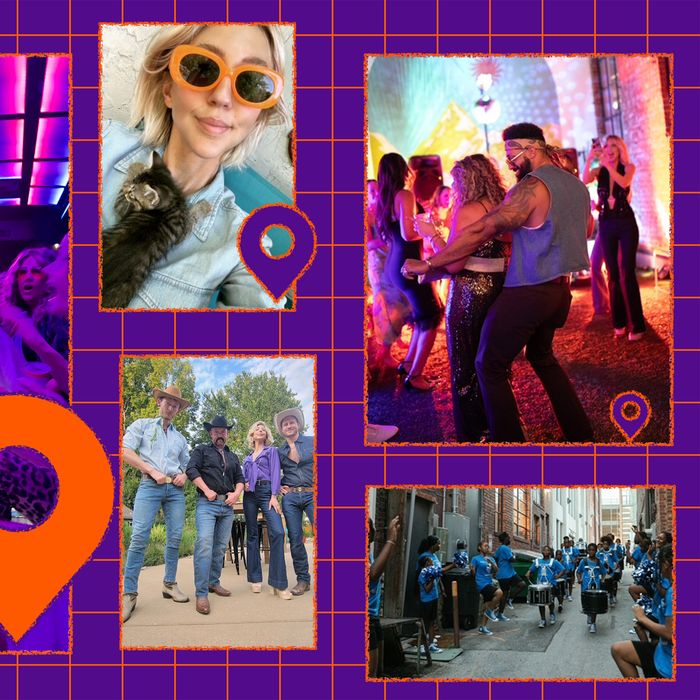 Photo-Illustration: The Strategist; Photos: Heidei Gardner
Everyone knows that person who spends weeks sniffing around travel blogs, going deep into Tripadvisor rabbit holes, collecting Google docs from friends of friends, and creating A Beautiful Mind–style spreadsheets to come up with the best vacations and itineraries possible. In this recurring series, we find those people who've done all the work for you and have them walk us through a particularly wonderful, especially well-thought-out vacation they took that you can actually steal.
Heidi Gardner is, by her own declaration, "the biggest cheerleader for my hometown. I think Kansas City is the best place in the world." This extends from the new spots downtown to the old airport, which "most people would say is the worst airport in the world," Gardner says. "But I had a love for it because it was so small and clean and easy." (Kansas City debuted a shiny new terminal this year, ahead of hosting the NFL draft.) So when it came time for the Saturday Night Live cast member to plan something for her birthday — an event that would include friends from both coasts along with family and friends from the Midwest — she used it as an excuse to gather a group of 25 in her favorite town to eat pizza and barbecue, dance to a local marching band, and take a party bus to a foam party. Once people agreed to fly in, "I was like, it's going to have to be more than just a one-night affair," Gardner says. "So I basically planned a three-day birthday tour of Kansas City. It felt kind of like a wedding."
2 p.m.: Roll out the welcome wagon
Everyone flew in on Thursday. There's a direct Delta flight that leaves New York around 11 a.m. and gets you to Kansas City by 1 p.m., so you still have a full day. We had 13 out-of-towners, so I booked a boutique hotel downtown called No Vacancy (from $92). No Vacancy has eight suites, and I don't want to oversell this, but I will say that this hotel is perfect. Just impeccably designed, warm, and approachable. It's that type of spot where you walk in and everything is aspirational — like, Oh, someone had the competency to hang that tapestry in exactly the right way to pull it off. Before everyone arrived on Thursday, I snuck into the rooms and left welcome bags with my favorite things from Kansas City: the cheese-caramel-cinnamon mix from Topsy's Popcorn (multiple locations), pajamas from Madi Apparel (1659 Summit St.), and for the ladies, horseshoe-shaped rings from Sierra Winter Jewelry (6245 Brookside Blvd.). These were specifically for that evening's event.
7:30 p.m.: Throw a Dallas-themed barbecue
For the first night, I wanted to throw a barbecue, because we're famous for our barbecue. But I made this one Dallas-themed — as in the show — because the Ewings threw a big barbecue every season, and I asked everyone to wear denim, boots, belts, and buckles. We set up at my friend's house, by the pool. I hired Lauren Krum to spin classic country. My friend Amanda, who came in from Ohio, has a bounce-house company called Sunhaus, and she drove down with one in her car.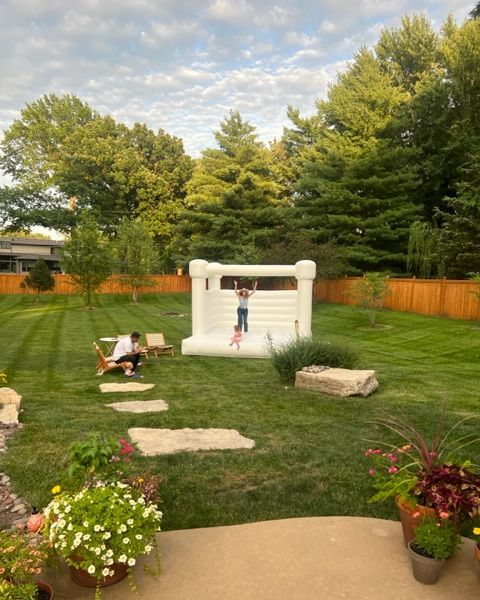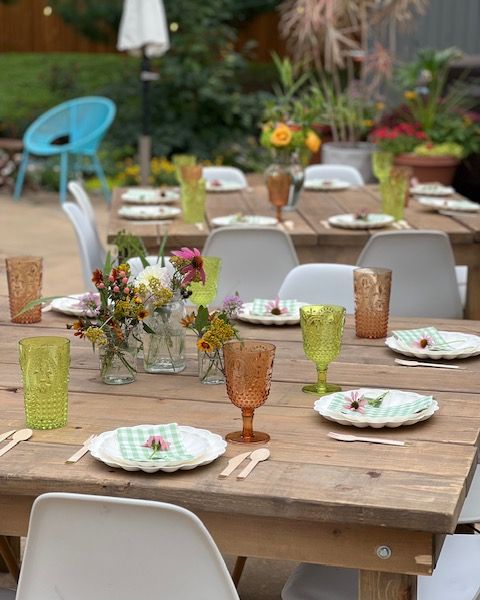 For the actual barbecue, I ordered from Joe's Kansas City (multiple locations), which first opened out of a gas station. I have different favorite dishes at places around town, but Joe's felt like the right one to introduce out-of-towners to because everything is consistently great. We had ribs, brisket, pulled pork, mac 'n' cheese, beans, coleslaw, all of it. After dinner, there was line dancing. I did not grow up line dancing, but I thought it was imperative for us to do it in our Dallas attire, so the week before, my friends and I went on YouTube and learned some moves that we could teach everybody. This was all right around the pool, which in hindsight was probably dangerous for a bunch of beginners wearing cowboy boots and platforms. I actually would have welcomed people falling in, but nobody did.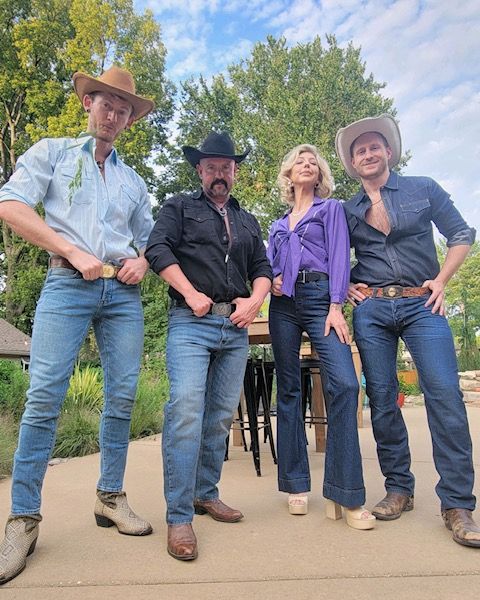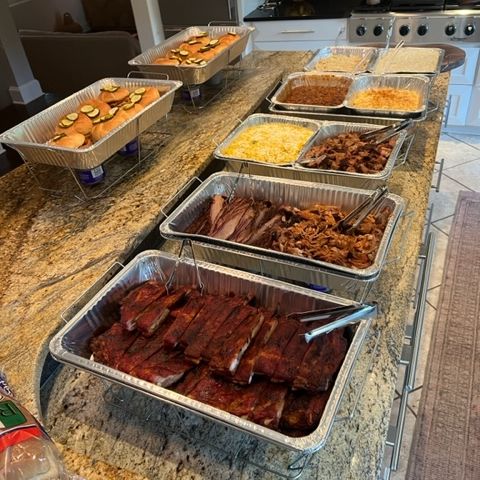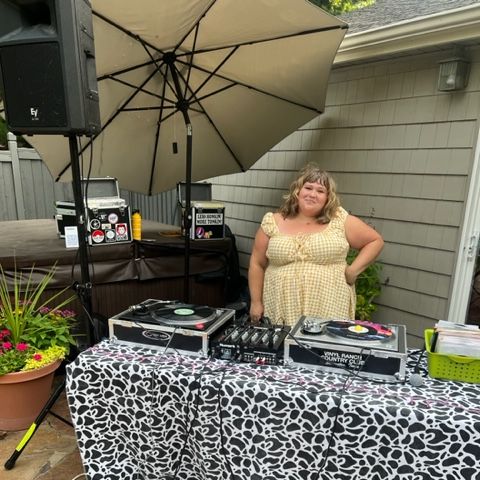 8:30 a.m.: Wake up to a coffee cart
No Vacancy gave me all these great ideas for the weekend, like having a coffee cart come to the hotel in the morning. They recommended a local company called the Wild Way Coffee, which has a little coffee trailer camper that pops up around town. We had our own barista in the lounge area at the hotel, and one after the other, people would slowly make their way out of their rooms to get a coffee. This was one of my dreams for the weekend, just being curled up and having coffee with friends. Plus, everyone was wearing the Madi Apparel pajamas, which sounds corny, but it wasn't — it was a good scene.
Noon: Shop for vintage Chiefs gear
There are a bunch of cute stores right under No Vacancy, and the whole area is very walkable, so the out-of-towners bopped around for a bit. There's a really fun vintage store called Daisy Lee Vintage (122 W 18th St.) that's kind of Y2K themed. I found my favorite sunglasses ever from there, these bright orange plastic oval glasses. People are always asking what brand it is, and I'm like, It's just KC vintage. Occasionally, you can also find a vintage Kansas City Chiefs piece at Daisy Lee, which is cool.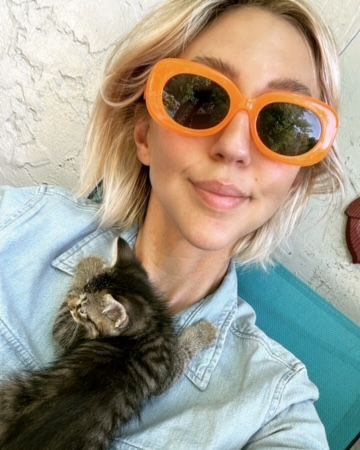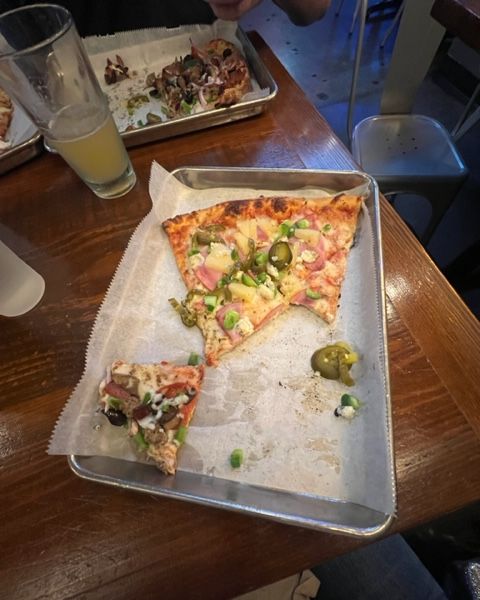 2 p.m.: Eat a shockingly good slice of Hawaiian pizza
I highly recommend Buffalo State Pizza Company (1815 Wyandotte St.), which is also just a few doors down from No Vacancy. Typically, I am not a fan of Hawaiian pizza. I mean, I like it. I think it's novel enough. But Buffalo State has this slice called the Hawaiian Five-O that has just a little bit of blue cheese, Canadian bacon, and jalapenos, and it's just a perfect flavor combo.
5 p.m.: Get dressed for '70s night
Friday night was the big party, which was downstairs at No Vacancy's bar, called Le Lounge. Each night had a different theme, and the second night was "downtown 1970s chic." It's all based off this photo of Anjelica Huston and Jack Nicholson that I just love. And I know, putting "downtown '70s chic" on an invite means people will think of metallics and sequins, but I didn't want a disco party; I wanted people to think just a little past that, to blazers and maroons so that we matched the vibe of the hotel. And it worked: At one point the owner of the hotel was telling me, "I didn't know you had a theme. I just thought everyone matched the space really well."
7 p.m.: Start the party with wood-fired pizza and a marching band
The No Vacancy team helped me find all the vendors for the party. They recommended Dispatch Pizza, which has a mobile wood-fired pizza oven, and they came and parked in the alley outside the hotel. They did six pizzas, two salads, and passed around charcuterie. The birthday cake came from Little Butter Bakery. The Cottage Rose (2016 Baltimore Ave.) did all the flowers. But most important of all, they got me a contact for the Marching Cobras.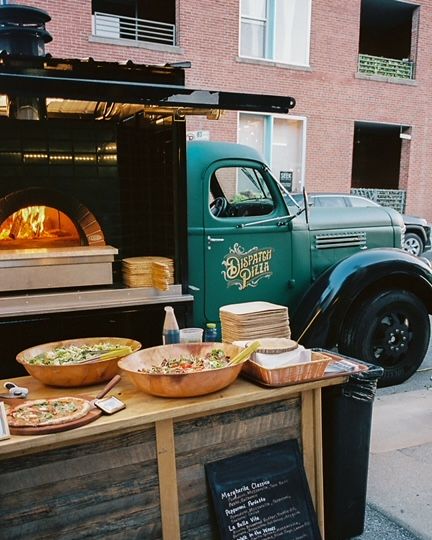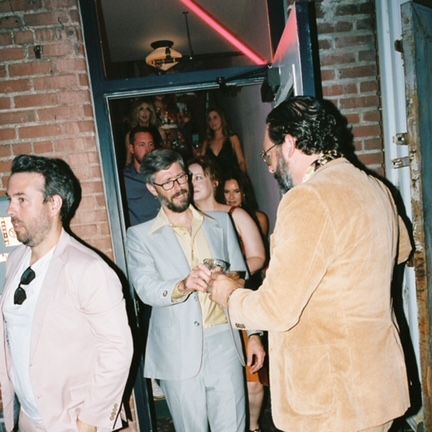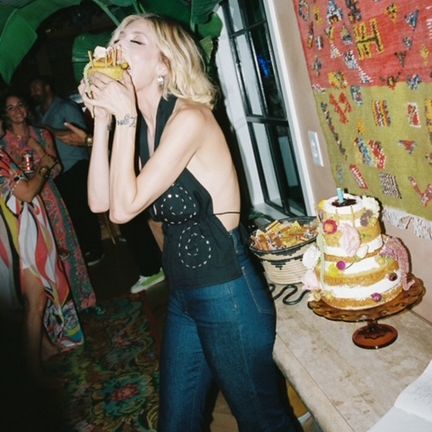 The Marching Cobras are an incredible kid marching band in town, and growing up, if you were out and you heard the drums coming up the street, you would stop what you were doing and rush to wherever they were playing so that you could see the best marching band in the world. So I had them come to the hotel while it was still light outside, and once it was time, I was like, "Oh, I think something is happening outside." Everyone lined up in the alley, and when my Kansas City friends realized what was going on they just started screaming. Everyone kept being like, "Who got them for you?" and I finally had to be like, "No, I got them for you!" This is heartbreaking, but the Marching Cobras actually disbanded this fall after 54 years. I feel so lucky I got in right under the wire. What a legacy! Kansas City's finest!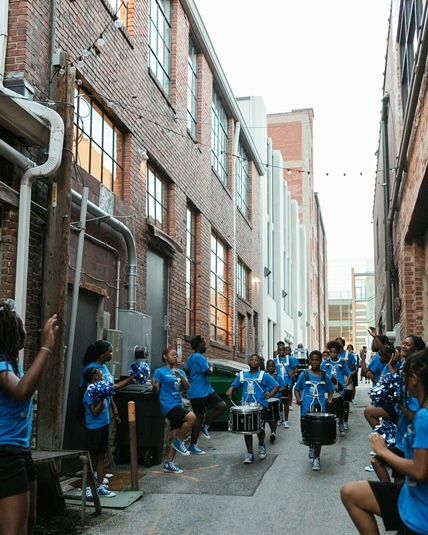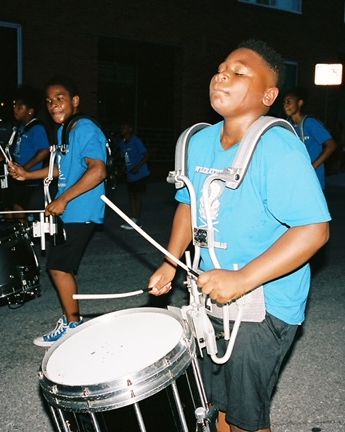 9 p.m.: Boogie to Kansas City's own DJ Sheppa
The best DJ in Kansas City is Sheppa. I worked with him before, and when I told him I was throwing this party, he was like, Absolutely, I'm there. And really, he's a star. Anyone that leaves a dance party with Sheppa is like, That's the best DJ I've ever heard in my life — he's a star, he's a star. He does a show called the Love Boat every month at this place in town called the Ship (1221 Union Ave.), and he crafted his playlist a little bit off that show and a little bit off what he knows about me. But he did ask if there was one song I needed to hear, and because it was '70s night, I was like, "Just play me 'Daddy Cool' by Boney M., and I'll be good." And then the dance floor just never really wrapped up. There was an amaro bar downstairs at the hotel that we were supposed to end up at, but everyone got so caught up in the dancing that the bartender just started bringing the bottles of amaro upstairs and pouring it into people's mouths.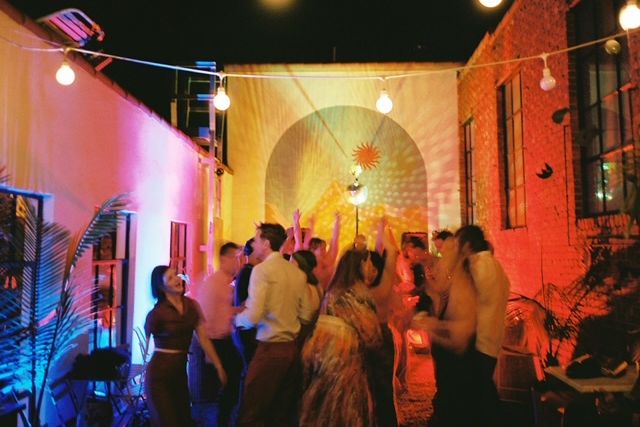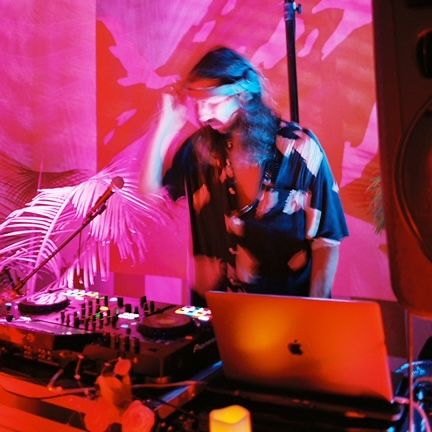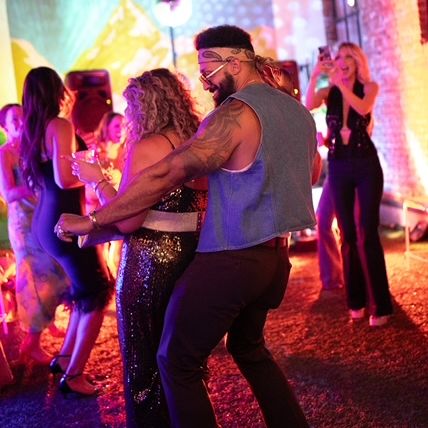 1 a.m.: Carry on at a jazz-and-martini bar
Some people at the party stayed at the hotel for a nightcap, and some other people went to Green Lady Lounge (1809 Grand Blvd.), this old-school jazz club that stays open until 3 a.m. It's kind of like Kansas City's version of the Nines. There's red lighting, it's kind of sexy, there are some lantern moments.
11 a.m.: Sleep in, dig into a Middle Eastern buffet
In the morning, we went down the street to Mildred's (1901 Wyandotte St.) for coffee and then came back to the hotel to eat food from one of my favorite places, Baba's Pantry (1019 E 63rd St.). It's a Palestinian restaurant in town, and the owner, Omar, came over and made us a huge, traditional meal. There was traditional Turkish-style coffee, baba ganoush, labneh, falafel for days, pita. It was the most beautiful spread ever. After that, we tried to go to a hotel pool in town but ended up getting monsoon-level rains. On another day, this would have been the perfect time to go see a movie at Stray Cat Film Center (1662 Broadway Blvd.). It's this really cool movie theater downtown, and the staff there are such movie experts and — I say this with love — movie nerds, which I am too. I saw Married to the Mob there once, which is directed by Jonathan Demme, who directed The Silence of the Lambs. For the preshow entertainment, they played the music video to that famous song that Buffalo Bill dances to in The Silence of the Lambs. If you're a nerd, you love that. That said, instead, we went to Big Mood Natural Wines (2020 Baltimore Ave., Ste. 102) and picked up a bunch of bottles and just hung out at the hotel for the afternoon.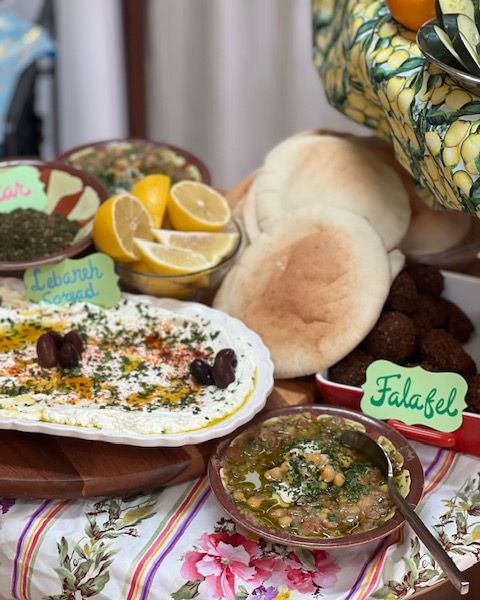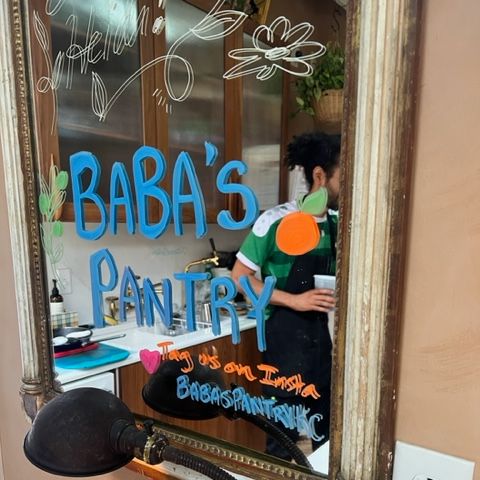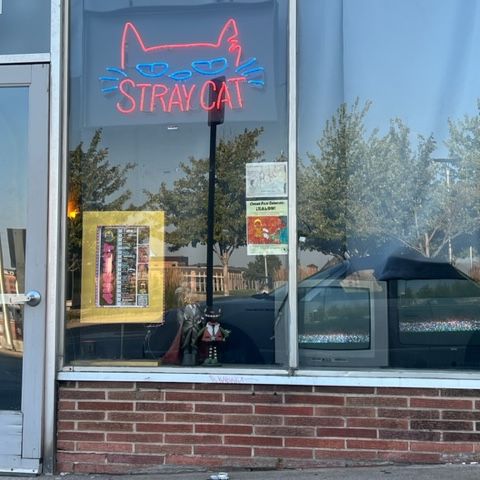 5:30 p.m.: Eat an early-bird dinner at a new-ish Kansas City spot
I made an early dinner reservation at Fox and Pearl (2143 Summit St.) downtown. They serve elevated comfort food like fried green tomatoes, some interesting twists on pickles, good chicken wings, some sort of succotash, and a good pork chop. Fox and Pearl was a new restaurant on my radar. When I was a kid, nothing was going on downtown. In the past 10 or 15 years, it's really come alive, and now there's so many amazing restaurants, bars, breweries, shops, artists. This is definitely one of the new places that's a part of that.
8 p.m.: Board a party bus
The theme for the third night was styled after my mom and how she partied in the 1990s. She was in this girl group that called themselves Girls Night Out Let's Have Fun Club. They were just messy party girls — like my mom wore her sunglasses at night. I got a party bus for my birthday when I turned 21, and it was one of the best nights of my life. So I was like, I've got to try this again. The bus was rented from Showtime Transportation (from $300), and it was like a giant tour bus with seats facing into the middle and a ton of crazy lighting. We brought a bunch of coolers onto the bus, filled with wine, High Noon canned cocktails, and my favorite beer from a local brewery here called Boulevard Brewing Company. My friend Michelle made a party-bus mix by getting everyone on the bus to send in a couple songs, so we had a collection of songs and started partying on the bus. There was a lot of debauchery.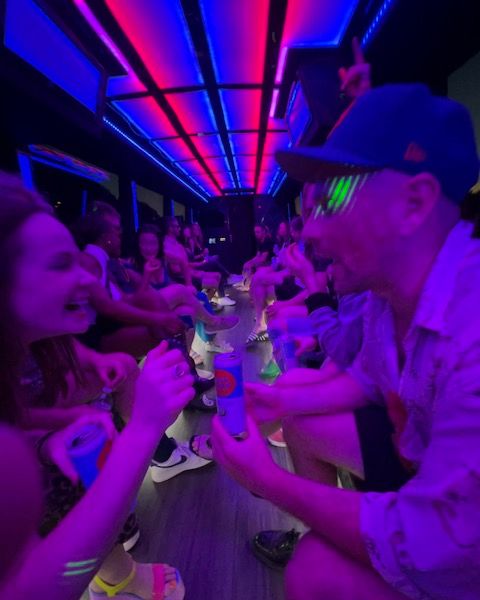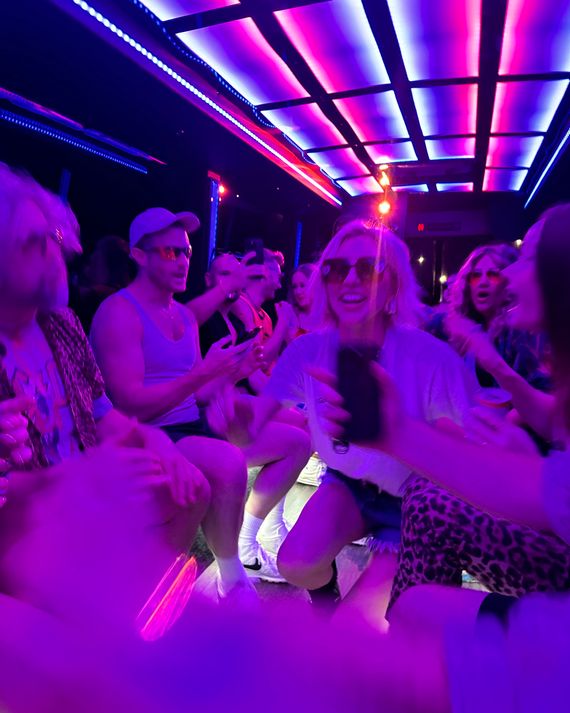 9 p.m. Stop by a foam party, a drag show, and a billiards bar
Our first stop on the bus was at a place called Funky Town (8300 Blue Pkwy.), which is this wacky '70s-themed dance club with black lights, little cages you can dance in, and a full-on car-wash machine that comes down and turns the place into a foam party. We were probably there for about an hour before we got back on the bus and drove to Fountain Haus (401 Westport Rd.) in the Westport neighborhood. Westport is a major bar zone in Kansas City, and I knew it would be fun for dancing. Turns out Fountain Haus also had a drag show going on when we got there, and a couple of my friends then ended up hiring a drag queen to come on the bus to surprise me with a show, so the whole thing was really fun. I planned all of our stops to make sure there was enough time to be on the bus because that's the most fun part. But I also planned Fountain Haus because it's across the street from a Taco Bell Cantina. We sent a couple volunteers in to get everyone food; my friend Teddi ordered, no joke, 100 tacos. We got carried away with the night and didn't make it here, but our last stop would have been the Quaff (1010 Broadway Blvd.). My mom used to cocktail waitress there, and it's a super-fun bar that has games like shuffleboard and pop-a-shot. It's a true Kansas City institution.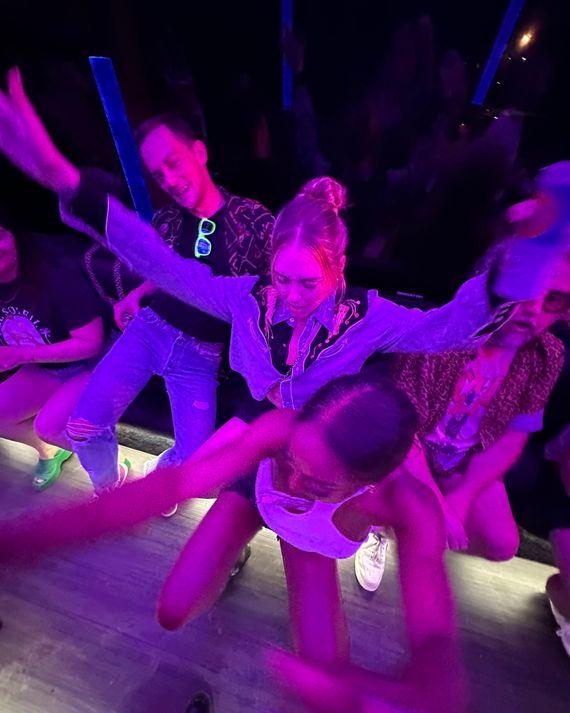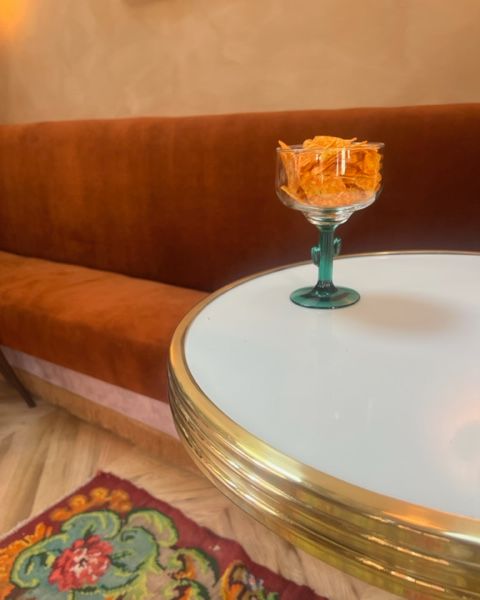 2 a.m.: Snack on late-night pizza 
Finally back at the hotel, we had pizzas delivered from Sarpino's Pizzeria (multiple locations) and congregated in the lounge, winding down and eating Doritos and pizza. People finally went to bed around 2:30 or 3 a.m., and I definitely woke up on Sunday with that feeling of, It's all over, people are leaving. Saying good-bye to everybody felt like leaving summer camp. It was just the most special fun weekend ever.
Heidi's
Kansas
City
Packing
List
I bring a book along for any travel, and this is what I'm reading right now. I love anything about film and nostalgia, and this book is very parallel to my childhood relationship to movies.
Sunscreen is a must, but most of them are so thick. This one feels like a makeup primer in the best way.
I got mine at Daisy Lee Vintage, but these are similar. Cheap sunglasses for the win! Then you're not afraid to lose them. But, oddly, these are now my longest-running pair, so I actually am afraid to lose them.
People sleep on Mentos. Or they don't, and everybody is buying them? I hear nothing of Mentos ever and feel as though I'm the only person on the planet eating them. This is essentially me doing an ad for Mentos: Eat them! They're awesome! A fun indulgence on a flight!
The Strategist is designed to surface the most useful, expert recommendations for things to buy across the vast e-commerce landscape. Some of our latest conquests include the best acne treatments, rolling luggage, pillows for side sleepers, natural anxiety remedies, and bath towels. We update links when possible, but note that deals can expire and all prices are subject to change.