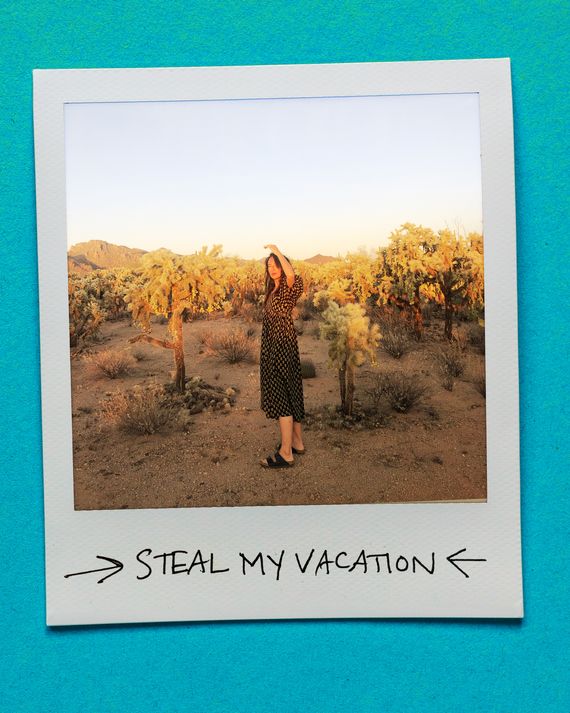 Photo-Illustration: The Strategist: Photo: Lisa Przystup
Everyone knows that person who spends weeks sniffing around travel blogs, going deep down into TripAdvisor rabbit holes, collecting Google docs from friends of friends, and creating A Beautiful Mind–style spreadsheets to come up with the best vacations and itineraries possible. In this recurring series, we find those people who've done all the work for you, and have them walk us through a particularly wonderful, especially well-thought-out vacation they took, that you can actually steal.
This spring, Lisa Przystup, author of Upstate: Living Spaces with Space to Live, hit the road. A year into working from home — Przystup lives in Delhi, New York, with her husband, musician Jonathon Linaberry, and their new puppy Gus — the trio finally had time to take a really big road trip. They drove from upstate New York to Florida to Joshua Tree, before landing in Tucson for three weeks. Przystup is a pseudo-regular in town — she attended the University of Arizona — but COVID-19 provided a rare opportunity for the three of them to settle in for three whole laid-back weeks.
3 p.m.: Book an adobe Airbnb in Barrio Viejo
If you're flying in, as opposed to driving all the way across the country like we did, you'll probably want to rent a car. I don't drive, so I can't speak to the merits of having one kind of car over another, but Tucson isn't like Joshua Tree where you're driving on a lot of unfinished roads. Everything is pretty accessible and paved so it's not like you'd need to rent an all-terrain vehicle or anything like that. We drove cross country in our Subaru, which has all-wheel drive and had zero problems.
As for the Airbnb, it all depends on what kind of experience you want to have. When we go to Tucson, we like to stay in Barrio Viejo, a small neighborhood with beautiful old adobes that's a 20-minute walk to downtown and Fourth Avenue, the main drag, which is full of restaurants and shops you can pop into. If you're going for just a few days, you wouldn't necessarily need a car. For a longer stay, a car definitely comes in handy.
We like renting a house when we travel. It's nice to have a backyard and your own space, and now that we have a puppy we've discovered the merits of a backyard. We ended up renting a house from a friend this time around, but there are a handful of adobe houses in the barrio on Airbnb. It's a really special neighborhood. It's small, quiet, and incredibly charming, plus the light and shadows at golden hour are stunning.
5 p.m.: Pick up mezcal, coffee, and fresh baguette for the house
Once we get in, we make it a point to stock up on essentials for the next couple nights. After a long day of travel, it's really nice to crack open a nice bottle of wine or pour a splash of mezcal to decompress. We usually hit up Time Market (444 E University Blvd.). They have everything: great fresh bread, a reasonably priced menu, and delicious pizza — because the last thing you want to do after a long day of driving is cook. They also stock good stuff like wine, fresh local produce, candles, and coffee (which is a first-thing-in-the-morning need for me — I basically need coffee to go get coffee). We usually keep it pretty low-key on the first night, although, in truth, we keep it low-key every night.
1 p.m.: Order al pastor tacos and guac at Seis
Our first week is all about hitting our favorite spots — like this great open-air market, Mercado San Agustin (100 South Avenida del Convento). I've found that midweek, it's more laid-back, which is always a bonus. There's both food and shopping — you can get flowers from Bloom Maven, and get lunch from this great taco spot, Seis. We go there a lot, so I try to order something different every time, but their guacamole is delicious, and I'm a sucker for a good al pastor taco. After Seis, pop into La Estrella Bakery for delicious pastries and fresh tortillas.
12 p.m.: Make an appointment for vintage shopping
During my first few days, I always make a point to go to Desert Vintage (403 N Sixth Ave. #119), a great vintage shop that's thoughtfully curated with super special pieces. The owners Roberto and Salima are two of the nicest people you'll meet. This time around, I found the most perfect motorcycle jacket, which I've been on the lookout for for forever — this one was perfectly oversized and wonderfully worn in. And to go with it, a pair of not-too-tight vintage Levi's that I don't have to lie down in to zip up. You'll definitely want to budget out more than an hour if you go. When we were in town it was appointment-only because of COVID so be sure to check their website for the most up-to-date info.
7 p.m.: Drive through the saguaros at sunset
When we're in Tucson we like to plan our days around sunset drives. One of our favorite places to go is Gates Pass, which is about 15 minutes from the barrio. You drive past all the beautiful saguaros, and once you're at the overlook, you do a bit of scramble up these rocks and you get this incredible panoramic view of the desert, which turns all golden and beautiful as the sun is setting. After the sun sets, we'll drive down into the valley below and follow the winding road for a bit. The colors after the sun sets are equally as stunning if not more: dusky blues and silvery grays. The other drive we like to go on is the Cactus Forest Drive in the Saguaro National Park Eastern District. It's a really easy loop, maybe six miles around. Both drives are beautiful for different reasons and you really can't go wrong either way.
10 a.m.: Pick up glazed donuts on the way to Bisbee
After settling in for a few days, we took a day to drive to a little town called Bisbee, about an hour and 45 minutes south of Tucson. Before we hit the road, we popped into Five Points (756 S Stone Ave.), a restaurant in the barrio that also has the most amazing baked goods to grab some pastries and coffee. On the way down we stopped at Benson Donuts (in the town of Benson, naturally). It's a no-frills donut shop — kind of in the middle of nowhere. If you go, be sure to grab a glazed donut or one of their apple fritters.
1 p.m.: Try on a custom Panama hat
Bisbee is an old mining town, with old mining houses built into the hills, and the landscape and colors shift subtly as you get away from Tucson. The way the light hits it is beautiful, even on a cloudy day. My friend was born and raised there, and now she works at Optimo Hats (47 Main St.), this beautiful custom hat shop that feels like a museum. They have this crazy, medieval-looking metal device that goes around your head and measures it exactly, and then those measurements create perforations onto a piece of paper in the shape of your head. They do amazing custom work — it's truly hat-making as an art.
3 p.m.: Order pho and limeade at Thuy's
We usually eat at Thuy's Noodle Shop (207 Tombstone Canyon Rd.) when we're in Bisbee — they have great pho and spring rolls and an out-of-this-world limeade that's just so dang good. The day we went, they only had one left, and my husband and I negotiated limeade sips the whole cup through. After you've loaded up on delicious food, hit the main drag and pop into all the fun shops.
10 a.m.: Drive north to Mount Lemmon 
A weekday morning drive up Mount Lemmon is always so nice — it's about an hour and a half north of Tucson in the Santa Catalina Natural Area. The air cools, the scenery changes like crazy, and you start getting into pine trees and other wholly undesert-y things. If you're an avid cyclist you'd be stoked biking up Mount Lemmon, but but we're definitely not that, so we just drive and pull over at overlooks to catch the view and meander here and there.
6 p.m.: Grab a drink in an old mortuary
When you get back from whatever day trip you've gone on, step out and grab a drink at the Owls Club (236 S Scott Ave.). It's housed in an old mortuary, and they've got a really great outdoor space, too. Grab a glass of orange wine or a mezcal gimlet and sip on it under the strings of lights. We always make it a point to go to Arizona Inn (2200 E Elm St.) when we're in town, too — they have a happy hour with a lovely old pianist who's been there forever. He plays classic tunes like "Moon River" that make you want to cry into your martini (in a good way). (The hotel's restaurant was closed because of COVID, but the Inn says it hopes to reopen this summer.)
10 a.m.: Swim under a snowmelt waterfall
Tanque Verde Falls is a great place to go for a hike and a dip — if you go after the spring melt, the lower pools are full of water. Visit the Tanque Verde Falls website ahead of time to check the water level status before you go. The water tends to be the highest in the springtime. If you want a sweet pseudo-private watering hole, avoid going during the middle of the day on the weekends when it tends to be super busy.
5 p.m.: Pick up rolled tacos and orange wine
Our last week looks a lot like our first week. We eat our weight in tacos, from Seis, and we also make sure to hit up another favorite of ours, The Little One (151 N Stone Ave.). They have great tamales and this amazing mole, which is a must-get and everyone who works there is insanely nice. They used to have a sister restaurant called Cafe Poca Cosa that sadly shut down a few years back, but they maintained this little outpost, and it's one of the first and last places we go to for lunch. We tried a few new spots this go-around, too: Rollies Mexican Patio (4573 S 12th Ave.), known for their rolled tacos. There's a new natural-wine store close to the barrio that's really good, called Pearly Baker Fermentables (64 E Broadway Blvd.). It was a short walk from where we were staying, which made it great for getting a few bottles of orange wine or rosé, or just a recommendation from whoever was working there.
12 p.m.: Shop for handmade jewelry and vintage Levi's
During the days, I'll do another sweep at the shops I love in town. There's Mast (100 South Avenida del Convento, Ste. 120), which is like Tucson's version of Love Adorned, it's chock-full of beautiful things. And I got another pair of Levi's from a new spot in town called Con's Closet (170 E 6th St.), which is just around the corner from Desert Vintage (think vintage Levi's and T-shirts). Next to Five Points, there's Bon Boutique (760 S Stone Ave.). The owners, Bonnie and Crystal, are the nicest mother-daughter duo (you'll end up having a 20-minute conversation with them). They have an amazing sense of curation and stock their store full of things you wouldn't find anywhere else. After Bon, you can grab lunch next door at Café Desta (758 S Stone Ave.), this wonderful Ethiopian spot.
1 p.m.: Get one last burrito from Nico's
On nights when we skip a drive, we'll walk around the barrio at sunset when the light is pink and the shadows are long. Or we'll sit outside and have a drink. We have one tradition right before we leave town: There's a no-frills burrito spot called Nico's (1616 E 22nd St.) that sells massive, greasy burritos — the kind you get if you're very drunk or the day after you've been really drunk. They remind me of a good, greasy bacon egg and cheese bodega sandwich, the hangover cure-all. We'll grab one on our way out of town, as our farewell meal.
Lisa's
Tucson
Packing
List
A rooftop cargo box
Instantly double the cargo space of your car (or at least feel like you did). Comes in very handy on a cross-country drive — we stashed all our camping gear plus some souvenirs and little odds and ends that didn't fit into our already packed car.
Overnight oats
So useful for when you don't have time to cook breakfast and need to hit the road. Or when you want a snack. Or when you're bored. Or when nothing's open and you need to eat dinner.
Miscellaneous towels
Super useful for so many reasons, and especially if you have a pup (think: cleaning off dirty paws, carsick, etc.) and even if you don't (think: instant picnic or beach blanket, and obviously, gigantic reusable napkin, etc.).
Instant coffee
I am hyper-particular when it comes to coffee. Perc — a Savannah-based coffee shop that roasts its own beans — makes this amazing, lifesaving, can't-live-without instant coffee that is actually really, for real good, plus each single-serve instant packet is 100 percent biodegradable. They have two kinds (both equally great), plus a decaf option too.
The Strategist is designed to surface the most useful, expert recommendations for things to buy across the vast e-commerce landscape. Some of our latest conquests include the best acne treatments, rolling luggage, pillows for side sleepers, natural anxiety remedies, and bath towels. We update links when possible, but note that deals can expire and all prices are subject to change.