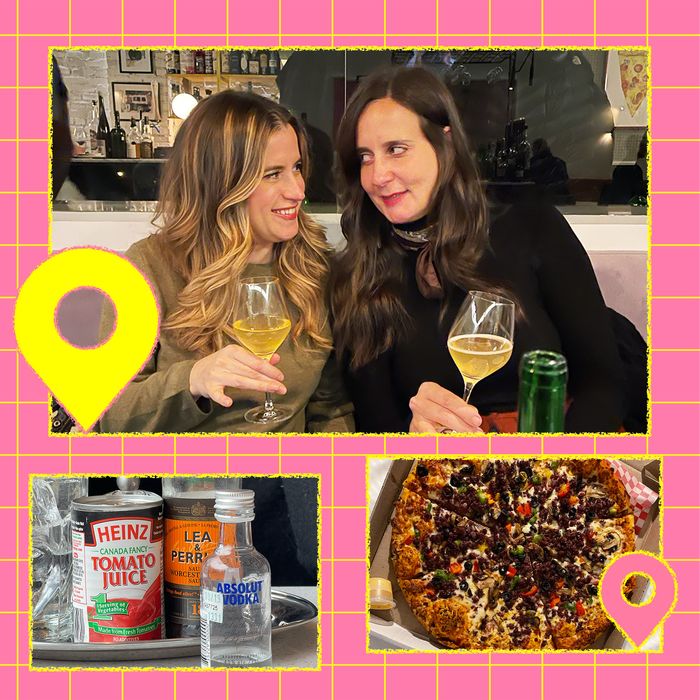 Photo-Illustration: The Strategist; Photos: Colu Henry
Everyone knows that person who spends weeks sniffing around travel blogs, going deep into Tripadvisor rabbit holes, collecting Google docs from friends of friends, and creating A Beautiful Mind–style spreadsheets to come up with the best vacations and itineraries possible. In this recurring series, we find the people who've done all the work for you and have them walk us through a particularly wonderful, especially well-thought-out vacation they took that you can actually steal.
Food writer and recipe developer Colu Henry makes the four-hour drive to Montreal from her Hudson Valley home three or four times a year. Her husband, Chad, is Canadian (he's from Ontario originally), and that's what first lured her to the city. "For a long time he was like, 'I really think you're going to love Montreal,' and we finally went, and he was right," admits Henry. "I'm really crazy about Montreal now. If I can't get to Europe, I feel like I can go to Montreal and get a fix." Besides affording her the opportunity to practice what she says is her terrible French — "You can definitely get by with English, but I always love to commit!" — Henry is particularly fond of the city's vibrant food scene and, specifically, its top-notch hospitality. "The hospitality there is incredible; everyone really cares," she adds.
High praise coming from Henry, someone who knows a thing or two about hospitality; she is a consummate and constant entertainer (and, it should be added, always dresses incredibly for it, red lipstick included), and much of her excellent new cookbook, Colu Cooks: Easy Fancy Food — with chapters such as "Seven Fish, No Feast" and "To Feed a Crowd" — is devoted to making us all into more well-equipped cooks and hosts. On her most recent trip to Montreal, Henry and her husband brought along friends Helen and Dan plus their constant travel companion, their rescue dog, Josh. Here, the details of a trip measured in meals.
Day 1
2 p.m.: Choose the best pet-friendly lodging on HotelTonight.
Montreal is only a four-hour drive from Hudson, where we live, so we can pretty much pick up and go with little notice. We have a 19-year-old rescue dog named Josh who comes with us pretty much everywhere. If you drive, there isn't much street parking, so most people use the underground parking garages, but they can be a maze, and you will have no cell service down there; we've gotten lost in them twice. Montreal is a very accessible city with easy public transport and a great subway, if you're not driving. I'm nearly at level 19 on HotelTonight — that's pretty high up there, if I do say so myself — so we're likely to grab a room at whatever pet-friendly hotel looks the nicest.
Le Saint-Sulpice, Hotel Monville, and Hotel Gault, where we stayed on this visit, are all lovely. The Hotel Gault is industrial and lofty and, most important, pet friendly and in Old Montreal. I like staying in Old Montreal because of the charm factor. It's fun to wander the cobblestone streets and take in the architecture. Our best friends, Helen and Dan, came with us this trip. Helen had never been before, so I was excited to show her all my favorite spots.
4 p.m.: Get to the wine bar early.
We dropped our bags and headed directly to Vin Papillon (2519 Notre-Dame St. W.) to be there right when it opened at five. It gets crazy there, and I need to make sure I get my fix in! It's a wine bar from the Joe Beef team, and it is so very good. For a long time, you couldn't make reservations, and while you can now, we usually go on the early side so we can eat more than we ought to. The menu changes frequently, but it always has the smoked ham with Parmesan and butter, and you must start with that and then order many, many things. We had these insane scallops from New Brunswick, which has these beautiful medium-size scallops that are supersweet and delicate in flavor. They also have really pretty shells. We then let the servers pick all our wines by the glass. In Canada, every province has its own liquor council, and the one for Quebec has the best wine selection. The people working at Vin Papillon are the most friendly, and it's always so fun to let them do their thing and go with the flow.
8 p.m.: Uber to another wine spot — or back to the hotel.
Depending on how tired we are, we might Uber across town to Vin Mon Lapin (150 Rue St.-Zotique E.) or any number of the amazing wine bars near it for more drinks and more nibbles. But on this trip, we went straight back to the hotel because we were so full. Then — I have no idea why — I ordered a terrible pizza to the hotel room. I wasn't even hungry, but we ate it!
Day 2
9 a.m.: Pick up flat whites and walk to the park.
When we stay at the Hotel Gault, I immediately run to Structure Roasters — Structure Torréfacteurs (460 McGill St.) for a flat white to start off the day. We took our coffees over to Mount Royal Park for a quick morning walk. It overlooks the city, and it's so beautiful any time of the year but especially in the fall.
Noon: Settle in for a long Parisian-style lunch.
Then we headed to my favorite restaurant in the world: L'Express (3927 St. Denis St.)! This place is just so magical, and I had the foresight to make a reservation because it gets pretty crazy otherwise. It is the best place to feel as though you're transported to Paris. And I love a long, boozy lunch. When it's just Chad and me, we sit at the bar — I could sit at that bar all day (a mention of it even made it into the introduction of my new book) — but since there are four of us, we get a table. Helen and I love a shrimp cocktail, and it happened to be a special, so we started with that. I always order the steak frites. Pre-pandemic, they kept these epic jars of cornichons and jars of mustard on the table, and they just returned!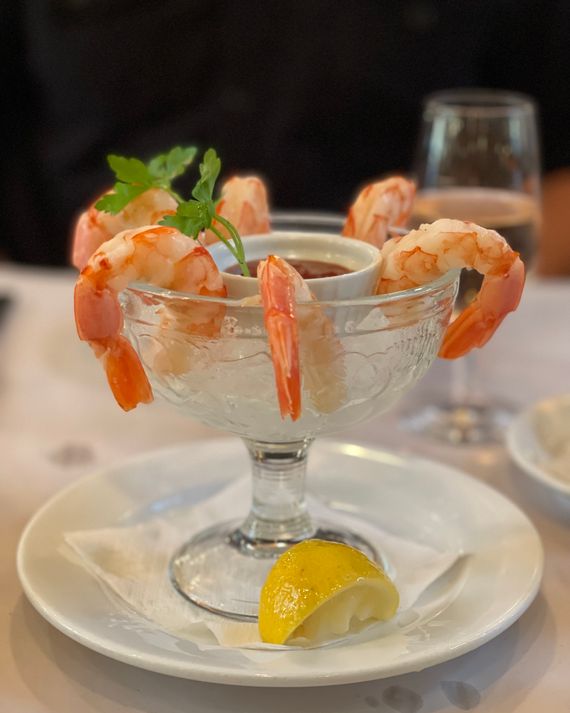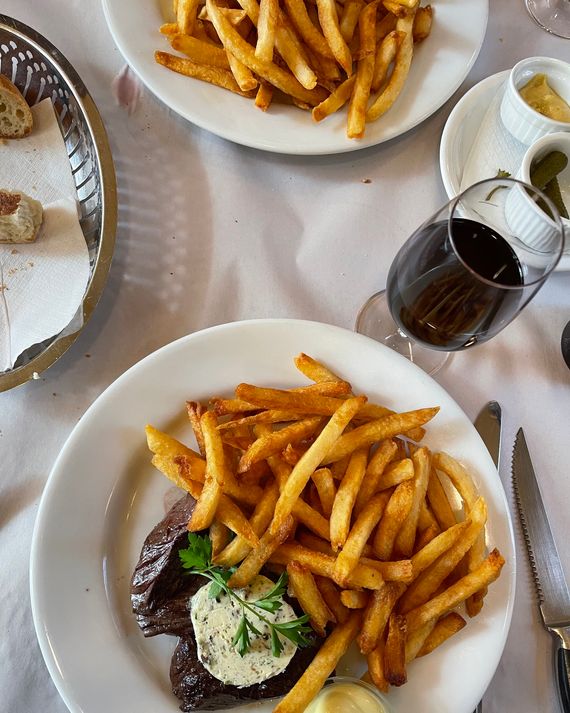 We drank a few bottles of wine, and a server in training spilled wine on Chad. We didn't care and tried to cover for her because we've all been there, but the server in charge would not have it, and it turned into a hilarious back-and-forth that ended with a gratis dessert of île flottante with caramel. There is no messing around with that service! I also had a Spanish coffee, which, for the uninitiated, is coffee with whipped cream and Tía Maria.
3 p.m.: Get a blowout then sip some bubbles.
Helen convinced me to get a blowout post lunch, so we ran to Salon Le Tube (444 Ste. Hélène St.) across from the hotel. The owner, Pal, was incredibly funny and wouldn't give me a blowout unless I agreed to a trim, so I also had an impromptu haircut. He was amazing, and I would go back to see him in a heartbeat. While we primped, the boys got a bottle of Champagne, so we had a glass in our room before heading back out on the town.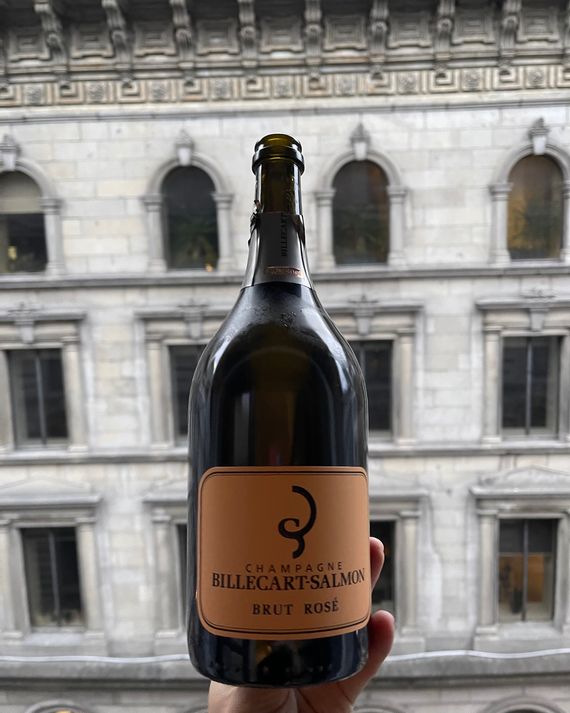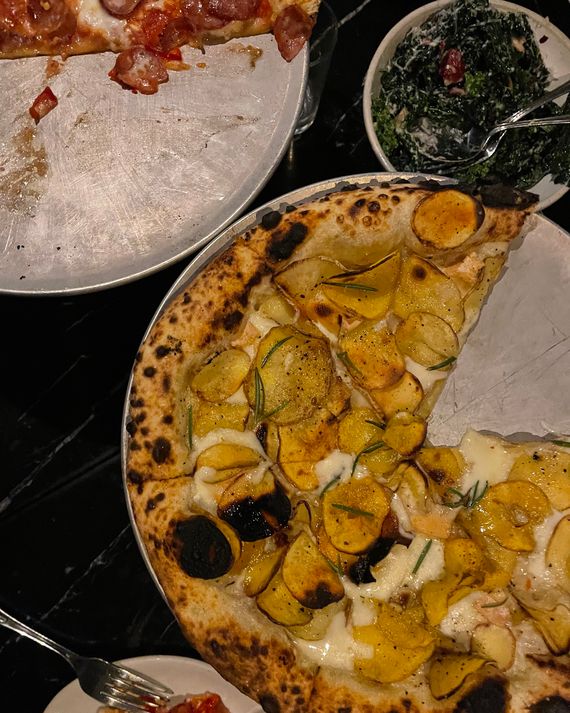 6 p.m. Overorder pizza and pasta and wine.
Because we head to Montreal so often, I've become pals with Lawrence Fiset (Larry), who runs the wine program at Elena and recently opened Gia Vin & Grill (1025 Rue Lenoir), which I haven't been to yet but am dying to go to. Elena is a must-stop for us every visit, so I wanted Dan and Helen to experience it. The pizzas and pastas are just amazing. We certainly overordered, but some standouts were the passion patate with comtomme cheese, garlic and rosemary, the Diavoli 2.0 pizza, which had salami, pepperoni, and buffalo-milk mozzarella, and the mafalda ragu, a beef and pork sugo. Wine-wise, you cannot go wrong. I like to share a price range and put the server in charge of picking what they think is best. It's more fun that way, and you get to try lots of different things. It always feels like coming home here.
Day 3
10 a.m.: Start at the pub then get in some shopping.
Helen is English, and there was a pub near the hotel, so we started the day off at Pub Saint Pierre (410 Rue Saint-Pierre), watching some football. We all had a few beers, and by 11 a.m., it was packed. The weather was pretty rainy, so we spent the rest of the afternoon strolling around town and popping into shops to stay dry. Swell and Ginger (231 Notre-Dame St. W.) has some beautiful items. I had my eye on a few bags in the store (they have a great selection) but, in the end, didn't purchase anything. Helen picked up a very chic Schnayderman's toque, though.
1 p.m.: See a Calder.
We did a short pop into the the Montreal Museum of Fine Arts (1380 Sherbrooke St. W.). There was an incredible Alexander Calder exhibition happening. Then, on the way home, we popped into Pullman (3424 Park Ave.) for a quick glass of afternoon wine and a snack.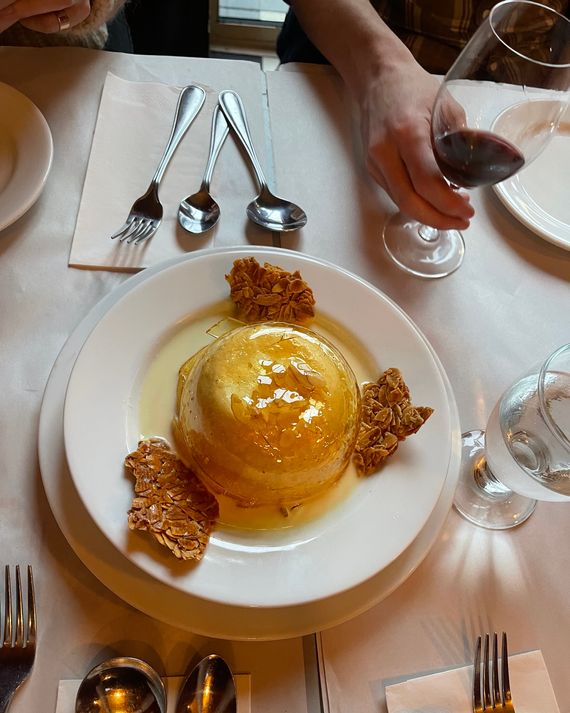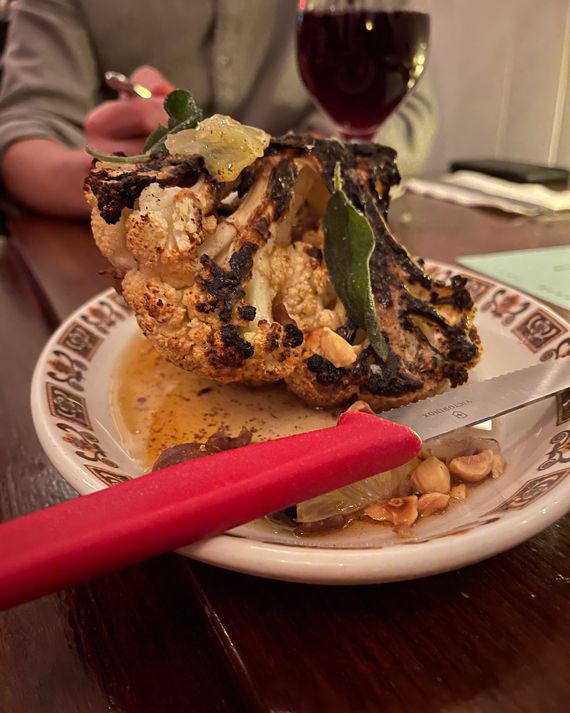 6 p.m. Share a seafood tower and pork filet.
After yesterday's extravaganza, we wanted to stay pretty close to home, and luckily Place Carmin (740 William St.) was a short walk away. It's a newish French brasserie from Mélanie Blanchette and chef François Nadon, the owners of the Quartier des Spectacles stalwarts Bouillon Bilk (1595 St. Laurent Blvd.), and Cadet (1431 St. Laurent Blvd.). It was in this industrial building with superhigh ceilings and was so sleek and beautiful. Helen and I had to order the seafood tower, and we shared the ​​pork filet with rösti, red cabbage, and the cavatelli with pancetta, mushrooms, and Parmesan. Everything was lovely.
Day 4
10 a.m.: Grab one last Bloody Mary before hitting the road.
Sadly, we have to head back to Hudson — but not without a stop at Beauty's Luncheonette (93 Mont-Royal Ave. W.) for a bite before we hit the highway. This old-school diner has been around since 1942! It's amazing. I had a tuna melt and a Bloody Mary, which came with all the accoutrements to make it the way you like it. I like mine with a little bit of horseradish, hot sauce, a good few splashes of tomato juice, and always a squeeze of lemon. Limes are not for me when drinking a Bloody Mary.
Noon: And pick up bagels for back home.
And one last stop! A short drive from Beauty's is St-Viateur Bagel (1127 Mont-Royal Ave. E.), so we pick up wood-oven bagels — everything bagels always — to freeze until our next trip. Montreal-style bagels are crunchier and crispier and not as doughy as a regular bagel, with a better texture and deeper color. They are truly the best bagels in the world.
Colu's Montreal packing list
I have so many different shades and brands in my bag. Putting on a red lip immediately perks me up. Right now, I'm especially into Ilia's True Red.
Most moisturizers are too big and clunky to pack — this oil is the perfect size. I put it on my face after a shower. It makes my skin silky and dewy, which is always needed after traveling.
They are incredibly elegant and don't wrinkle when packed, and they're perfect for dressing up or dressing down. Bonus is their insanely long inseam, which I need!
I feel glamorous every time I put them on. And we've been through a lot together. They have been lost and found so many times I can't even count. I'm grateful we're still together.
The Strategist is designed to surface the most useful, expert recommendations for things to buy across the vast e-commerce landscape. Some of our latest conquests include the best acne treatments, rolling luggage, pillows for side sleepers, natural anxiety remedies, and bath towels. We update links when possible, but note that deals can expire and all prices are subject to change.