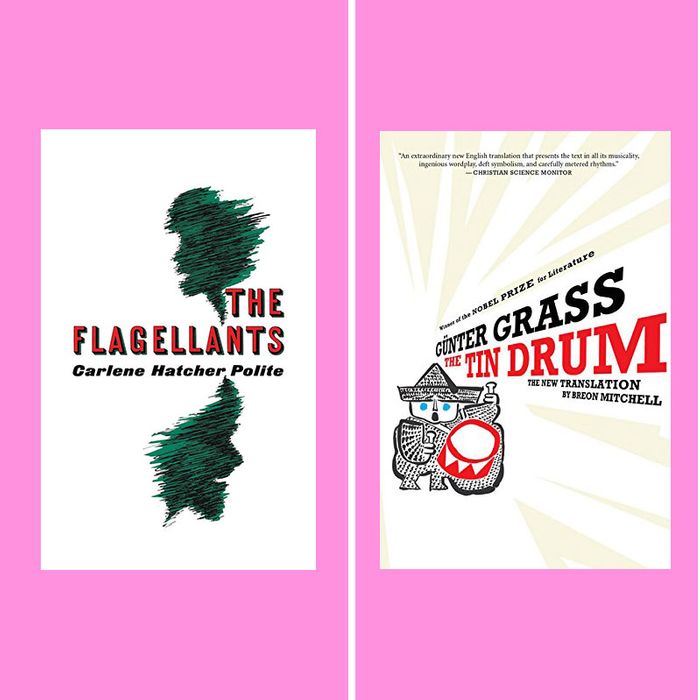 Photo-Illustration: retailers
When I read a book, I always find myself wondering what books the author read while they were writing it. I've long imagined, for instance, that Alice Walker thought fondly of Zora Neale Hurston while writing The Color Purple, or Nicole Dennis-Benn called on Toni Morrison while crafting Here Comes the Sun. Those ruminations led to this series, in which I actually ask the authors of recently released novels, biographies, and nonfiction just that: what books they read while they wrote, and what books they feel their book is in conversation with.
For my fourth installment, I spoke with best-selling author Morgan Jerkins, whose first novel, Caul Baby, debuted in April. The book, set in Harlem, spans four decades to tell the story of the Melancon family, four women who are all "caul-bearers" — meaning they're born with their amniotic sacs intact. En caul births are rare — about 1 in 80,000 babies. In Jerkins' world, the caul itself is precious, coveted for its healing powers. When a baby is born with it, it's kept intact and forms a permanent silvery, second skin.
Cauls have a long history steeped in folklore and superstition. They were largely regarded as a sign of good luck, and possessing a caul was believed to protect the bearer from drowning, making it a hot commodity among sailors in the medieval era. In Caul Baby, even a small piece of caul has both protective and healing properties. Buyers wear it close to their bodies and seemingly dire scenarios — like a traumatic brain injury or cancer — go well.
The Melancons' cauls regenerate until adulthood, giving them a healthy supply. Selling the caul becomes an incredibly lucrative business for the Melancons, who charge a premium price to white people but rarely sell to their Black neighbors, who can't afford their prices. This disparity is the opening point of tension in the novel, and continues to haunt the characters until the last page. But the book does more than add to caul folklore: It tackles the complexities of Black motherhood, the impact of gentrification, and the importance of community, all while maintaining a plot that kept me at the edge of my seat.
Caul Baby was six years in the making, and originally it wasn't a novel at all. Jerkins started writing Caul Baby during her masters program at Bennington College. It started as a short story, but her adviser, Alexander Chee (author of How to Write an Autobiographical Novel: Essays), encouraged her to expand it. "[The original] was still set in Harlem but the world was very closed," she tells me. "It centered on a girl having a baby that has a caul, but she doesn't know that and abandons the child. There was just the bodega, the 2/3 station, her apartment, and Harlem Hospital." Details that are central to the plot, like the Melancon family and their caul-selling business, their ever-crumbling brownstone, doulas, and the evolution of Harlem across generations, developed over time. "There's an earlier iteration of Caul Baby in the Bennington Crossett library. It's a 100-page thesis and it's night and day from what was published."
Below, the books Jerkins read and referenced while writing her own — from a classic German novel with an unreliable narrator to a book about a young Black couple whose story is told through their arguments.
At Bennington, Jerkins came across this book, which was recommended by Chee. The short-story collection, which centers around Black people living in D.C., explores similar themes to Jerkins' book. "It spoke to me because there's a strong motherhood element and taking on a child that isn't biologically yours," she says. It also helped her to think about how to interweave the stories of multiple characters against the backdrop of cities that were historically Black and have since changed.
The next book Jerkins mentioned was
a classic German novel, published in 1959, that's told in the first person by a narrator who is confined to a mental hospital. The book toys with magical realism and has an unreliable narrator who constantly makes you question what's really going on (the narrator supposedly has the mind of an adult moments after being born and decides to never grow up). Jerkins also came across this novel during her master's program and calls it "epic in scope." The book juggles its absurdities with clear political undertones, which Jerkins found helpful.
Toni Morrison's Pulitzer Prize–winning novel, Beloved, tells the story of Sethe (based on the real-life Margaret Garner) and her daughter, Denver, who live in a "spiteful" house referred to as 124. In Jerkins's book, the brownstone the Melancons live in is similarly personified, and at times it seems to be alive. It resists renovations and maintains a dank, stale smell no matter what the Melancon women do. I also thought of Beloved when reading Caul Baby, and the comparisons don't end with the houses. Both books are steeped in magical realism and probe the relationship between a Black mother and daughter while asking bigger questions, like Where does trauma go? and Who's left to contend with it?
Baby of the Family is about a girl who comes of age in rural Georgia and has the power to see ghosts and tell the future. She also has a caul. "This is one of the biggest examples of a caul-bearing Black girl being at the center of a novel," says Jerkins. She references Baby of the Family twice in Caul Baby. It's quoted in the beginning of the book and also makes a brief cameo in the first chapter.
For world building, Jerkins read a little of Toni Morrison's Jazz, which takes place in Harlem and has a bustling cast of characters. Their stories are intertwined, which was helpful for Jerkins when crafting her version of Harlem. "There's various characters moving in and out. I wanted to be able to see how another writer would handle that because there's so many different personalities in this vibrant neighborhood," says Jerkins. "It shows cohesion, but also collision."
Jerkins read Girl, Woman, Other by Bernardine Evaristo while she was revising: "I really wanted to make sure that these characters sounded extra-specific, whether it was their cadences or inflections or quips. That book really helped me to sharpen and lean into that." The book illustrates the lives of a cast of characters who end up being unexpectedly intertwined. "There's so many unforgettable voices," says Jerkins. "It feels lived in, and I wanted my book to emulate that."
Jerkins also mentioned Linden Hills by Gloria Naylor, which explores an affluent Black neighborhood and the price that comes with attempting to live there. The book simultaneously highlights race and class, something Jerkins wanted to emphasize in her novel. The echoes of Linden Hills are clear in Caul Baby. The Melancons enjoy a certain level of affluence thanks to selling their caul, which is in stark contrast to the families who live around them. They are able to hold on to their brownstone in spite of rising property taxes, which creates tension within the community and invites a nuanced discussion about the price of stability in the face of gentrification.
"This book is so passionate," says Jerkins of The Flagellants, an experimental novel that's told through a couple's arguments and illuminates their rage and passion toward each other and the world. Think of it like a turn-of-the-century Malcolm and Marie. "I wanted to channel the same amount of that passion, both intimately and structurally, in Caul Baby."
The Strategist is designed to surface the most useful, expert recommendations for things to buy across the vast e-commerce landscape. Some of our latest conquests include the best acne treatments, rolling luggage, pillows for side sleepers, natural anxiety remedies, and bath towels. We update links when possible, but note that deals can expire and all prices are subject to change.