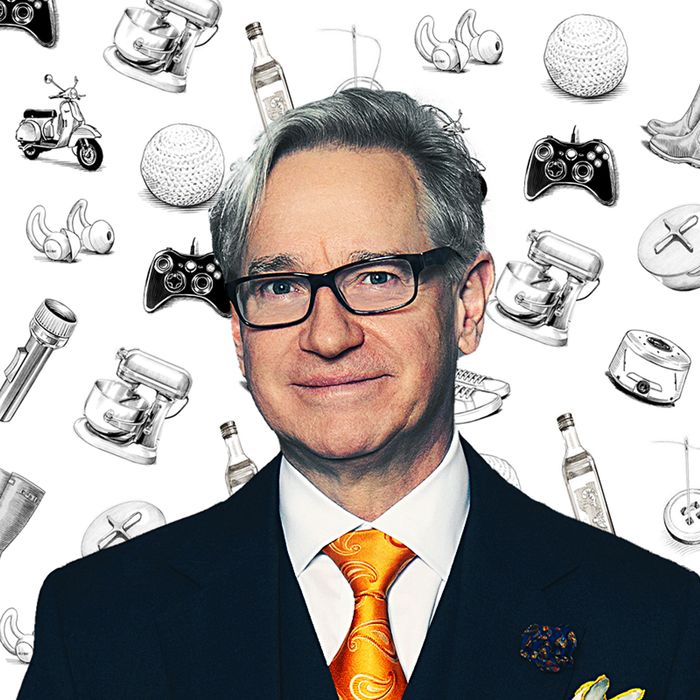 Photo-Illustration: The Strategist; Photo: Frank Micelotta
If you're like us, you've probably wondered what famous people add to their carts. Not the JAR brooch and Louis XV chair but the hair spray and the electric toothbrush. We asked filmmaker Paul Feig — whose new book, Cocktail Time! The Ultimate Guide to Grown-Up Fun, is out now — about his signature scent, go-to hot sauce, and the perfect jeans to pair with cowboy boots.
The hot-sauce game is obnoxious. There are so many hot sauces. And there's this thing in the hot-sauce world of trying to kill the person who's having it. How can we murder your taste buds? And that's not fun. If it's just hot for the sake of pain, I'm not into it. I was working down in North Carolina, shooting Welcome to Flatch, and there's a great local restaurant called the Dixie Café. They'd do true southern cooking, shrimp and grits, and that became my favorite breakfast to have. And they had this Texas Pete's sauce that I'd never heard of. Hot sauces tend to get a little regional sometimes. I put it on, and it was wonderful, really flavorful, and had a nice amount of heat to it but was also just really tasty. Tastier than those other ones that I like. I discovered it right before lockdown and found out you could order it online. I'm so old that I'm always amazed that you can buy stuff online.
I always had a lot of trouble with acne, well into my 20s. I would use various soap products, but as a guy in your 20s, you just grab whatever you can find in the store, and I kept breaking out. When I met my wife, she saw me go through this and was troubled. She got me a Kiehl's cleanser, and it's such a great product. The minute I used it, it was like a miracle because it washes off with no residue whatsoever. It's a real game changer. Sometimes if I forget it while I'm traveling and have to use some other kind — I feel all slippery and sticky on my face. I live in absolute terror that they're going to discontinue it. They burned me once — they had this really good medium-hold hair-styling gel that I was addicted to, and they discontinued it. I've spent years trying to find the perfect replacement but am yet to find it. So Kiehl's, if you're listening, bring it back.
Shoelaces are a pain because they're always coming undone. I wear suits all the time and am pretty finicky about my silhouette, if you will. You work really hard to get the hem laying just right with the top of the shoe and a shoelace just comes in and messes everything up. So I'm just desperate to get all shoelaces out of my life. I'd owned cowboy boots in the past and always liked wearing them, but I would pick them up from second-hand stores and places in Hollywood where they'd have these nicely broken-in boots. Then last year I was in Austin, Texas, for an event, and somebody we were with said we should go to Allen's Boots. It's a big place in Austin where they sell boots and hats and all kinds of western gear. They were showing us around, and when I asked what the best boots were, the sales guy said Luccheses. I tried them on and it was like I'd discovered a new nirvana. They fit perfectly and just look cool. I'd always been on the fence about cowboy boots with suits, as I prefer more classic British styling. But what I've found is that if you have a nice suit and a cowboy boot, it adds just a little flair. I'm now a big proponent of a boot with a suit.
I don't wear a lot of jeans because as an older gentleman you take the risk of looking like you're wearing dad jeans. But I find Levi's bootcut jeans really avoid that because they're a slim fit through the waist and leg but then it flares out slightly. There's something nice about having a little bit of a flare with a cowboy boot. Especially as I'm a size 11.5, so they're bigger shoes, and it's nice not to have a stovepipe with these giant boots sticking out the bottom. I figure it puts things in perspective.
I'd read some article about Franco Zeffirelli and he always wore a Penhaligon scent called Endymion. I went and smelled it and it was very overpowering and pronounced. But then there was this other one next to it, Helfeti, and the minute I smelled that, I got a bottle of it. Everywhere I go, people go, "Oh my God, you smell so good." Which sometimes makes me paranoid because I think I might be wearing too much and that's their nice way of saying it.
What did the world do before Burt's Bees? I'm not sure. I've always had a problem with chapped lips, and no shade to be thrown against Chapstick, but that's really just a wax that goes on your lip. It doesn't do a lot. One day a few years ago, I came across this medicated lip balm and it was like a miracle. I put it on and within a day my lips were getting better. And if I used it every day and all the time, it really healed them very quickly. There's also the moisturizing one, but that's a little too slippery for my tastes. When I find Burt's medicated lip balm, I'll almost buy out the whole store because I like to have one in every single coat and suit I have.
I dress up every day in a suit and tie and always step it up when I'm out in the world, so why should that end when you get home? Why should it be sweatpants and a T-shirt when you're lounging around the house? I always thought silk pajamas sounded so glamorous, but I actually got a pair once, and they were so hot. They just don't breathe. I was fancy, but not comfortable. But I liked the look of them; they're so fun and elegant. And then I discovered New & Lingwood, an older brand in England that started out at Eton College. A couple of years ago, they started doing pajamas, and they looked like silk, but when I asked about it, I discovered it was a silk-cotton blend. And I got them and they fit like a glove — a loose-fitting glove, if you will — and they're just really comfortable. They have the breathability of a cotton pajama but the great look of a silk pajama with these really wild patterns. I think they're the greatest, so I'm always waiting to see what new pattern comes out. I have a stack of pajamas — it's ridiculous.
I'm a decaf drinker because I have Tourette's, so anything that's caffeinated sets all my tics alight. So I can't have it, but I love the taste of coffee and tea. There is a real prejudice against decaf drinkers out there. I can't tell you how many times I go into some cool coffee shop and they don't have it. I guess being completely overcaffeinated is the marker of cool? Herbal teas are lovely, but they're also kind of boring. There's nothing like the taste of real tea or coffee. A good black tea? I want that taste. When I was in London at Fortnum and Mason, which is a great department store that specializes in all things food, they had this Royal Blend decaf tea. I thought that if it was good enough for the royals, it must be good enough for me. It's great. It tastes like really good caffeinated tea with that roundness and fullness that you want. And it holds up to putting milk into it. It's lovely, and you don't get all jacked up.
I love pickles. When I was growing up, my dad had a secret pickle recipe. He'd can pickles every year. So I'm always trying to find the perfect pickle. Just recently I was up in Lake Arrowhead visiting friends, and we went to the local liquor store, and they had all these food items. One was a jar of these gin pickles, and I'm a gin fanatic, so I had to try them. I got them home and they were unbelievable. They had all that flavor, and a bit of gin essence in there, too, and perfectly crunchy with the right amount of snap. I plowed through that jar so fast. I went back and they were out of them. Now I order them online, and anyone I know who likes pickles gets a few jars in the mail.
I didn't go there for a long time. Anything with "Trumper" in the name, I'm staying out. But it's actually an old British brand for fragrances and shaving supplies. It's pretty much aimed at men, but there are scents for everybody. And they have these deodorant sticks. You find stuff in drugstores, and they either have not enough of a scent or just way too much. But when I was in Trumper, they have all these different sticks, and this one was floral with a hint of muskiness in it in a very balanced and pleasant way. Now it's all I use. You feel very protected when you have that on and your Helfeti cologne. You can face the day knowing that, hopefully, you won't smell too bad.
Right at the beginning of the pandemic, I decided I was going to do this daily cocktail show at five o'clock L.A. time, just to help raise money for first responders and give people something fun to watch every day at the same time. I'd never really known how to make cocktails beyond a martini and a negroni, but we had all these old cocktail books, so I thought I'd do the show and dance around and be an idiot like I normally am and teach myself mixology. Out of this, I actually got pretty good at it. People asked me to put the recipes in a book, so I did that, but then it just grew from there. My whole theory on grown-up life and cocktail culture and how to stock your bar and how to throw a grown-up cocktail party. And then every recipe, I started putting a personal embarrassing story with each drink. It just ballooned into this memoir with a lot of recipes and good advice on all things cocktails.
The Strategist is designed to surface the most useful, expert recommendations for things to buy across the vast e-commerce landscape. Some of our latest conquests include the best acne treatments, rolling luggage, pillows for side sleepers, natural anxiety remedies, and bath towels. We update links when possible, but note that deals can expire and all prices are subject to change.