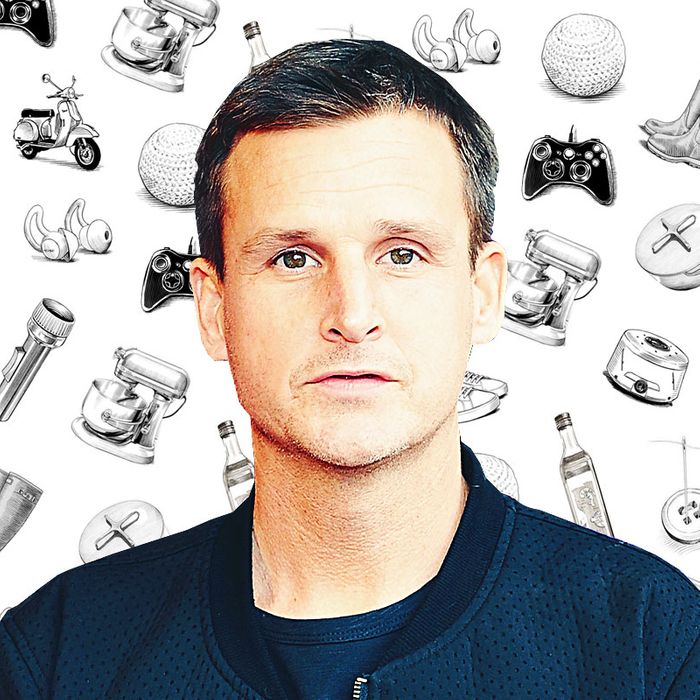 Photo-Illustration: The Strategist; Photo: Donato Sardella/Getty Images for P.S. ARTS; Illustration: Joe McKendry
If you're like us, you've probably wondered what famous people add to their carts. Not the JAR brooch and Louis XV chair but the hair spray and the electric toothbrush. You might remember skateboarder, podcaster, and TV host Rob Dyrdek from MTV's Ridiculousness, but these days, he's perhaps better known as a serial entrepreneur, investing in businesses like popular vegan snack brand Outstanding Foods. He took a break from his busy schedule of manifesting and meditation to chat with us about the self-starting coffee machine that saves him ten minutes every morning, the toothbrush that also cleanses his soul, and the bottled water he calls a "remarkable achievement."
The most important thing I use for my podcast are face wipes. They prevent me from being glossy on-camera. The people that produce my podcasts have done production with maybe 40 different hosts, and the first day we started working together, they provided them for me. And I've used them every episode since. They're really necessary because they keep me from looking greasy by the time I look at my footage. I'm not typically a face sweater, but when I turn on the bright lights and get riled up, I tend to sweat a bit — just enough to look a little shiny. I keep one right under the dash to pat my face down and make sure I'm always looking fresh.
My dentist recommended a more mainstream brand, but a friend of mine told me about this new company Burst. It's stronger and more powerful than some other companies. You just feel like your entire soul gets cleaned when you brush your teeth with this toothbrush. It's honestly almost like your teeth get brushed twice, because if you move it and the motor moves it, your teeth are getting really clean — it's a lot less work and a whole lot better than a manual toothbrush. And it's rechargeable, so I don't have to worry about the battery, and the charge lasts a really long time anyway.
At the end of the day, I have to follow Tom Brady, who founded this brand, because of his great physical achievement. He's mastered the relationship between his muscular and skeletal structures that allows him to have flawlessly operating muscles. The key is making sure he's deeply hydrated, and essentially, the electrolytes are hydrating those muscles. He puts this mixture into all of his waters and drinks it all day long. So I do that, too. The electrolytes come in this small bottle that you squeeze a couple shots of into your water bottle. I put it into my Fiji water and turn it into a super-Fiji, a Tom Brady level of Fiji water, with these electrolytes.
This is a remarkable achievement in water. The rainfall process creates this natural, delightful, minerally taste that doesn't exist in any other water. Evian has a little bit of it, but Fiji has a smoothness that's unbelievable. It's better than any other water that exists. I have Fiji water delivered in big jugs to put into a watercooler for my children. But for some reason, there's a certain satisfaction that comes from drinking out of the actual bottle and finishing a certain amount each day. I put two bottles in the coffee maker at night. And when I get into my sauna, I take three bottles, and I don't get out until I've finished all three bottles. I like being able to measure how much water I'm drinking and I can do that with the actual bottle.
The owner of this brand is the biggest coffee snob in the world. He literally searched the globe and discovered that the very best coffees come from the high-altitude rain forest. The beans give you a ton of energy but keep you balanced. It doesn't cause a coffee crash. I just bought into his passion and commitment to finding the ultimate coffee bean. I notice a difference now between this coffee and coffee I can get elsewhere; the best cup of coffee I can buy is the one I make every morning. Nothing else will ever be as good as this coffee.
I own just a normal Cuisinart coffee machine because it's all about efficiency for me. I could get one of those presses or a fancy espresso machine, but I don't really need an extra level to my coffee. This machine makes great coffee, and I don't need to be there to make it. I set it up every night to go on at four in the morning. By the time I get out of bed and head downstairs, which is never later than 5 a.m., I can already smell my coffee ready to go. When you're as productive as I try to be every day, saving myself five or ten minutes in the morning by putting a timer on my coffee makes a big difference, I'm telling you.
I've been really getting into the different aspects of brain functionality. Through some research, I found Lumosity, and I started doing it every day. I enjoyed doing it and I felt like I saw results, so I added it to my core health routine. It gamified these exercises that test different aspects of your brain function.You have to make decisions quickly and remember sequences. There's a lot of stuff to improve and drive memory. There's math, spelling, and brain-flexibility games. It gets my brain to work in ways that maybe I wouldn't during my normal day-to-day routine. I do it at 6 a.m. I get up at 4:30, have coffee, brain train, meditate, wake up the kid, go to the gym, then work — every single day, seven days a week.
So many successful people have attributed being able to reach the next level in their life and career to meditation. It was always really hard for me to even consider doing it, but then a doctor friend introduced this machine to me. The first time I tried it, I was like, "Okay, this is how I can meditate." My mind just evolved after I started using it. It's this sort of reset that keeps me focused and grounded. I climb in and begin to listen to a guided meditation about manifestation. I visualize all of these outcomes and feelings that I want to happen in my life. Then I pop out after 20 minutes and feel like I just went through this amazing experience of essentially living the things I want to happen in the future. Right now, the machine sits outside my office, but I'm creating a dedicated room for the dome itself behind my bathroom and closet. I'll have this dome forever, so I felt like I needed a full space for it. I use it every single day, and I just can't even imagine any time in my life I would ever stop.
These are vegan, plant-based, low in sodium, everything needed for a really healthy snack. Then, on top of that, it has 21 to 23 grams of protein. You essentially get all the value of a nice protein snack but without any meat. They are the tastiest snack you could ever have. I feel good about eating them. There's something so hearty about the Texas BBQ flavor. You really feel like you just had a nice barbecue meal, but you're just satisfied, not bloated or overstuffed.
The Strategist is designed to surface the most useful, expert recommendations for things to buy across the vast e-commerce landscape. Some of our latest conquests include the best acne treatments, rolling luggage, pillows for side sleepers, natural anxiety remedies, and bath towels. We update links when possible, but note that deals can expire and all prices are subject to change.