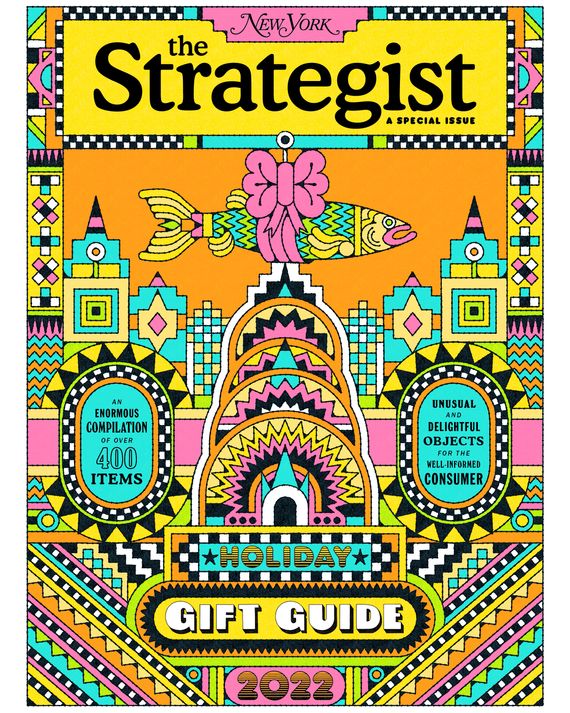 Illustration: Nolan Pelletier
Every product is independently selected by (obsessive) editors. Things you buy through our links may earn us a commission.
Every product is independently selected by (obsessive) editors. Things you buy through our links may earn us a commission.
To find the many hundreds of gifts you're about to encounter, we did not merely scan our favorite websites for new products or even just select some of the nicest things we've written about on the Strategist over the past year.
Of course, we did all that, but then we dug even deeper. A team of dedicated editors worked for months falling down dozens of rabbit holes to find new (or else sufficiently obscure) gifts that you likely won't find recommended anywhere else. Among other nutty tactics, we scanned every single account that a particularly stylish Danish e-commerce site follows on Instagram (then shopped on those stylish Danish sites); slunk around on all manner of sub-Reddits; pored over a year's worth of all the obscure newsletters we subscribe to; begged a long-departed, particularly knowledgeable Grub Street staffer to tell us about his favorite new steaks and amaros; and crept through various shops to sniff their new perfumes and glad-handle their potholders.
And then we started whittling things down and debating among ourselves. Would anyone really pay $430 for that scarf? (No.) Is that pair of pants too specific or just specific enough? (The latter.) Does that napkin feel a little too 2019? (Unfortunately, it does.) Is the shipping from Amsterdam worth it? (Yes, and with the exchange rate for the euro and the pound in our favor, you'll see more international items on this list than in years past.) Are those earrings a little too whimsical? (We dislike whimsical.) Are we checkered out? (Completely.) Grouper or turbot gummies? (Turbot!)
The resulting catalogue has something for really and truly everyone, no matter how exacting they are in their taste — strip steaks from cows raised in Japan's wintry Niigata prefecture, perfume that smells like ballet slippers fresh out of the box, an energy-efficient cold plunge and a prefab greenhouse, a T-shirt with faux moth holes, and some strangely appealing stick-on glitter tears.
Unwilling to stop at just gift suggestions, we've rounded up all manner of advice — asking one very particular person about her newly developed gifting theory, seven New Yorkers known for their truly excellent taste on the things they've given for decades, and our own staff for their best gifting tips. We even put together an easy way to get around spending money altogether (though, of course, nothing is entirely free).
How to Navigate the Gift Guide
For the best viewing experience, we recommend reading the guide on a larger device. When viewing this catalogue on a desktop, use the menu on the left-hand side to zoom in, see an overview of the pages to jump to a specific one, or maximize your view to open in full screen.
On mobile phones or tablet devices, tap the "Open" button on the cover page to view the guide in greater detail. We recommend zooming in for the best view.
Want to learn more about a specific gift recommendation? Tap or click the plus sign on each item for further detail — including how to buy it online.
If you are having issues viewing this gift guide online, reach out to support@nymag.com for assistance.