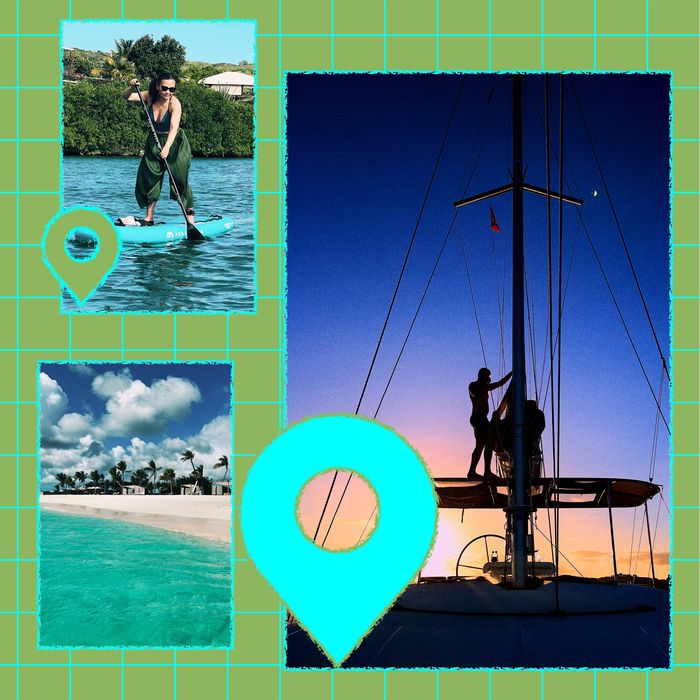 Photo-Illustration: The Strategist; Photos: Windy Chien
Everyone knows that person who spends weeks sniffing around travel blogs, going deep into Tripadvisor rabbit holes, collecting Google docs from friends of friends, and creating A Beautiful Mind–style spreadsheets to come up with the best vacations and itineraries possible. In this recurring series, we find those people who've done all the work for you and have them walk us through a particularly wonderful, especially well-thought-out vacation they took that you can actually steal.
In January, San Francisco fiber artist Windy Chien set off on a sailing trip around the island nation of Antigua and Barbuda, her first time in the Caribbean but her fourth with the Sailing Collective. The Brooklyn-based company has a worldwide fleet of more than 4,000 vessels for weeklong all-inclusive group journeys (from $2,800 per person) to dozens of destinations from French Polynesia's Society Islands to Sardinia and Corsica. For someone obsessed with knots, these maritime vacations allow her to learn the ropes up close (up to 90 percent of knots were invented by sailors). Chien's past sailing trips have included a 2019 pilgrimage to Leonard Cohen's home on Hydra while traveling around the Saronic Islands of Greece and a screening of Jaws on a Cape Cod passage. Here, Chien shares how she spent six days exploring tiny islands, wandering around 18th-century dockyards, and sipping a rum punch at every port.
4:30 p.m.: Land in Antigua, sip rum floats.
After three separate flights from San Francisco, we arrived at V.C. Bird International Airport in St. John's, Antigua's capital, at around 4:30 pm on an American Airlines flight out of Miami. The first thing that hits you when you land in Antigua is the heat and humidity and how wonderful it feels.
We hailed a taxi to Jolly Harbour to meet up with our crew, chef Flannery Klette-Kolton and Captain Jon Bickford, whom we've sailed with before around Nantucket and the Saronic Islands, and our fellow passengers, my friends Marisa Meltzer and Matthew Scarbrough. We did happy hour at West Point Bar & Lounge (3488+6GW, Jolly Harbour), the lone watering hole at Jolly Harbour, where we sat on the open-air deck — in full view of a 52-foot Lagoon catamaran called the Great Scott, our seafaring home for the next week — and drank some very festive piña coladas with rum floats.
7:30 p.m. Order palak paneer and vegan eggplant bharta.
A one-minute walk from West Point Bar was our dinner destination, Curry & Tandoori House (3488+14D, Jolly Harbour). We ordered butter shrimp, palak paneer, chicken tandoori, vegan eggplant bharta, aloo gobi, onion bhaji, garlic naan, and not one but two different types of paratha. The feast set the tone for the food on the rest of the voyage. Flannery told us how she spent the day in St. John's "provisioning" at the Antigua Fisheries (4594+35G, Market St.) for locally caught mahi-mahi, jackfish, red snapper, and grouper, plus local tropical fruits such as papaya, mango, and pineapple from the Public Market Complex (4584+VF4, Valley Rd.). We always eat very well on these trips.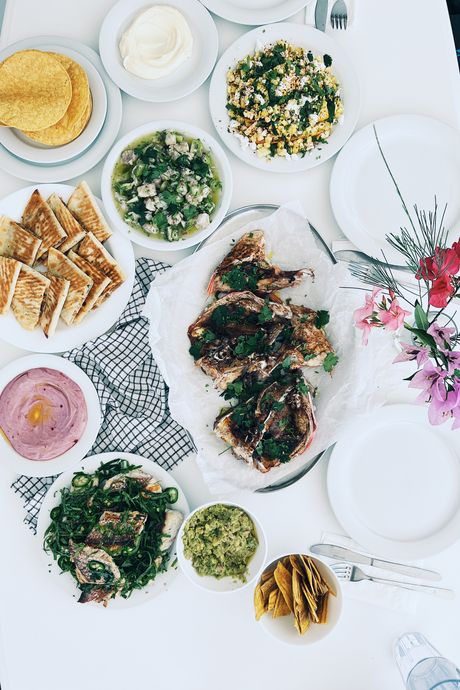 9:30 p.m. Sleep on the boat deck.
Sailing Collective lets you sleep onboard while anchored in the harbor if you arrive the night before. I prefer to sail on catamarans, which have two hulls. They're more stable and have more space above and below deck, plus a fun overwater hammock. The cabins on the Great Scott are comfortable, practical, and low frills with a big platform bed, a shower-over-the-toilet situation as well as operable portholes for fresh air — an important feature particularly because toilet paper can't be flushed down the commode. One of the gritty realities of a sailing vacation is that TP gets tossed in a small garbage pail, which is then discarded at the next port. TMI, but I always bring butt wipes on these trips for extra freshness since boat showers don't exactly have amazing water pressure.
As long as the weather cooperates, I sleep on the deck in one of the cushioned lounge areas. It's like camping but on the water — you get as much fresh air as you want, and the softly lapping waves and gently bobbing boat lull you into the best sleep of your life.
9:30 a.m. Set sail.
The view of Antigua from Jolly Harbour is gorgeous with very lush peaks going right down to the turquoise waters and the Caribbean's trademark colorful architecture along the shore. I'm an early riser but not the earliest, so I usually hear one or two other people in the harbor rolling up their sails or doing other various boat-maintenance tasks. Captain Jon was coiling all the line — in sailing, rope is called "line."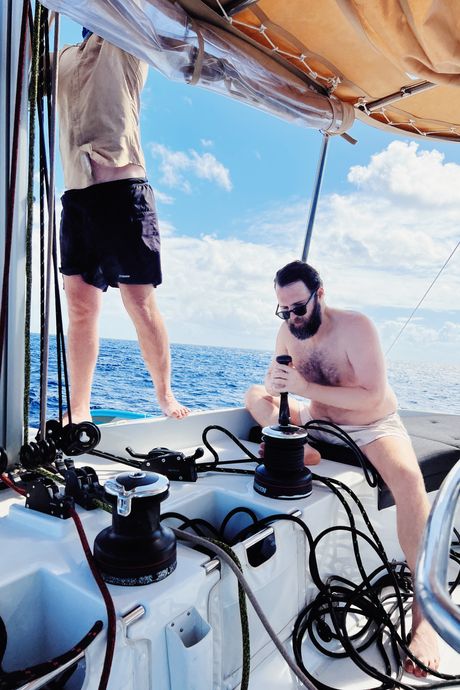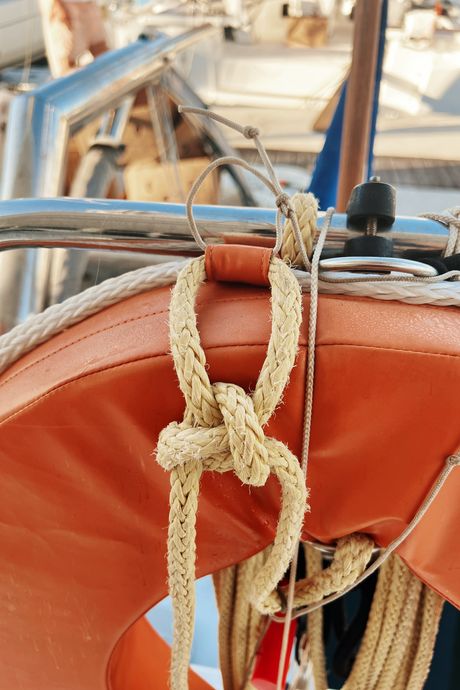 I'm not particularly interested in getting my sailing license, but I love every other maritime-related thing, and of course I want to learn how to tie all the knots. When I get to see knots in their native environment, it's like witnessing design in action. Take the bowline: I never thought it was a particularly pretty knot, but on a boat, it's suddenly elegant, securing absolutely anything — the dinghy to the boat, for instance, or a boat to a piling. Sailing unlocks a whole new dimension for my art.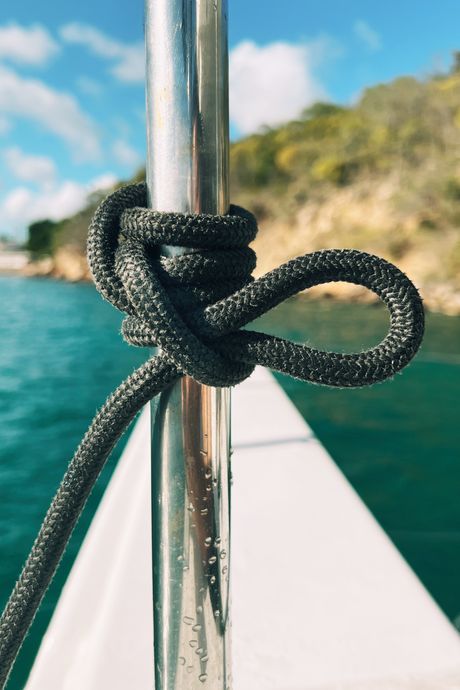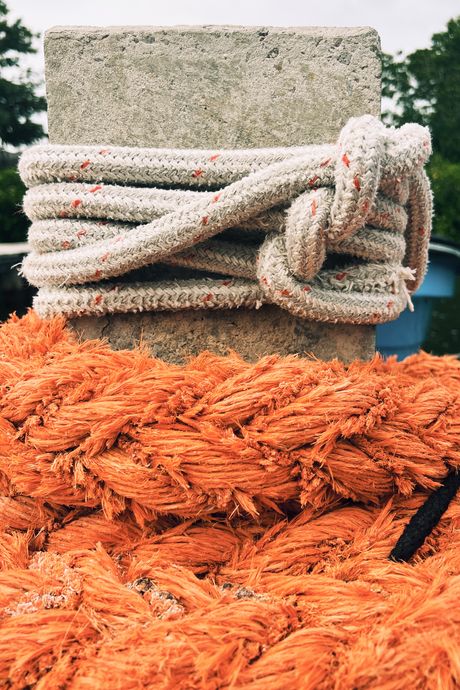 While we ate breakfast (Flannery made us sunny-side-up feta-and-herb eggs with oregano potatoes), Captain Jon motored the boat out of the harbor.
10:15 a.m.: Snorkel around Five Islands.
It was a very brief trip over to the Five Islands, which are these tiny islands that looked more like rocky outcroppings with one-person-size beaches. It's a good snorkeling and swimming spot — we saw our first green sea turtle of the trip, some spiny lobsters, butterfly fish, angelfish, and a few stingrays. I'm the weirdo who goes on sailing vacations on the open ocean but who's afraid of deep water. So hell, no, I will not free swim. I have to be tethered to a line. When we wanted to explore the little islands even more, we circumnavigated our dinghy around them, seeing the bird colony of pelicans, gulls, and ospreys up close.
10:30 a.m.: Explore an 18th-century dockyard.
Waking up in English Harbour, a three-hour sail from the Five Islands, we saw a lot of pretty boats anchored, from mono hulls with nice craftsmanship to beautiful "tall ships" like the ones on Pirates of the Caribbean.
We disembarked to explore Nelson's Dockyard, which is the UNESCO World Heritage Site at English Harbour. It's now a living museum, but in the late 1700s it was set up to maintain the British Royal Navy. There's a little chandlery shop where they made the ropes and fittings for the boats, a blacksmith shop, a naval hospital, a sail loft. Touristy roadside kiosks sell all sorts of things — Marisa picked up a Kelly-green crochet dress that looked very Bottega. A French restaurant and bakery called La Brasserie (Slipway 00000, English Harbour Town) imports butter from France. You can dinghy up for croissants and coffee or, if you're Flannery and you're still provisioning, an armload of baguettes and French pastries.
2 p.m. Brace for high seas along Antigua's eastern seaboard.
I may not like to free swim in the ocean, but I am a hearty sailor — no transdermal nausea patch or ginger tea for me. From English Harbour, we sailed along Antigua's exposed eastern side, which means there are no weather-protective land masses for about 2,500 nautical miles to the east, where Africa's Cape Verde islands are located. We went straight into the wind and over rough seas, bound for a peaceful, secluded anchorage at Ten Pound Bay. I settled in for the two-and-a-half-hour journey with a book from one of my favorite literary genres: disasters at sea. On this trip, I read several accounts of maritime misfortune including 438 Days: An Extraordinary True Tale of Survival at Sea, by Jonathan Franklin, and Adrift: Seventy-Six Days Lost at Sea, by Steven Callahan. By and large (a sailing term), making sure the sail you're currently experiencing matches the calamitous conditions in the book ratchets up the fear factor.
11:30 a.m.: Anchor at Barbuda's Princess Diana Beach.
Sailing to Barbuda is a good, long haul, more than 30 nautical miles, but luckily we had favorable conditions. It's exciting because you can't really see Barbuda since it's flat, unlike Antigua, so you feel as if you're heading into a real adventure without any land in sight. In 2017, Hurricane Irma did an enormous amount of damage on the island, so in some respects many parts of Barbuda are now undeveloped blank slates. There's been political unrest over land rights — historically, native Barbudans have owned the land, per the Barbuda Land Act, but the prime minister wants to repeal that right so outside resort developers such as Robert De Niro can buy up acreage that would help pay for hurricane recovery.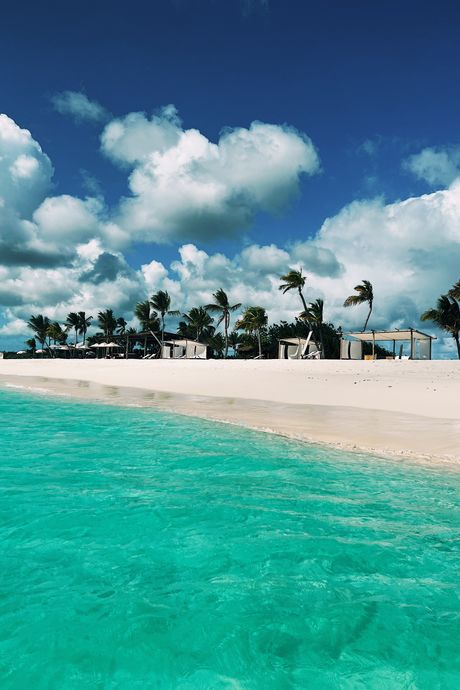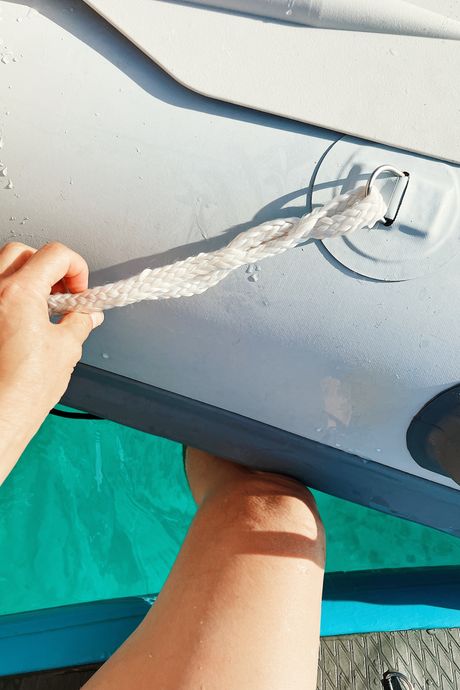 We anchored at Princess Diana Beach, which is a wide, calm, white-sand bay that made it easy for us to dinghy to shore. There's one bar on the beach called Shack-a-Kai (H65J+H7W, Codrington), where we drank rum punch with the owner, a very friendly Barbudan man named Enoch, before our fancy lunch.
1 p.m.: Order rum-roasted pineapple at Nobu.
I'm vaguely amused that there's a Nobu restaurant (H69F+3C5, Codrington) on this island, the only part of De Niro's underconstruction Nobu Beach Inn that's currently open. Given all the political strife around unwanted land grabs here, I don't want to give this place too much air time, but honestly we did really enjoy our meal: black-cod miso, the Nobu burger, rum-roasted pineapple — I love a hot-fruit moment. There's also a gift shop on the premises where I replenished my diminishing supply of Vacation sunscreen with some luxury tubes of Soleil Toujours. (My mother is Chinese, and she's had me on SPF from the womb.) Plus our group eventually reached the point where we'd swim together naked in the ocean, so there was a lot more surface area to protect.
10 a.m.: Walk along an empty pink-sand beach.
Barbuda is home to the Western Hemisphere's largest frigate-bird sanctuary, located inside Codrington Lagoon National Park. But even before you see a single raven-plumed seabird inflate its red-hot throat pouch, an attempt to attract a female circling overhead, you hear the virile collective — more than 5,000 of them — squawking thunderously from their mangrove nests. We arrived right in the middle of mating season and observed a wildlife documentary's worth of feathered fornication from the licensed sea taxi we hired at the jetty in Codrington, Barbuda's only town. Part of the 90-minute sea-taxi tour included a stop at the nearby Pink Sand Beach. Not only is the sand on this practically empty eight-mile-long shoreline actually rosy from broken coral and shells, but it made a pretty sparkling sound to match. Afterward, we headed back to our catamaran, where Flannery had lunch ready: pasta with beans and shishito peppers; salad of fennel, radicchio, nectarine and olives; and jackfish tartare with toasted nuts and Calabrian chiles.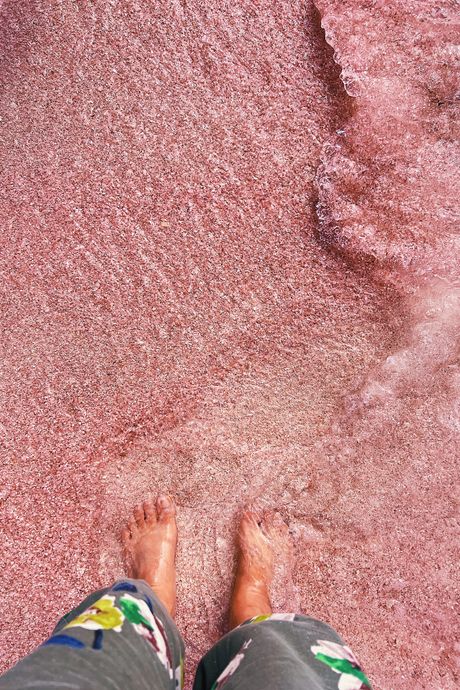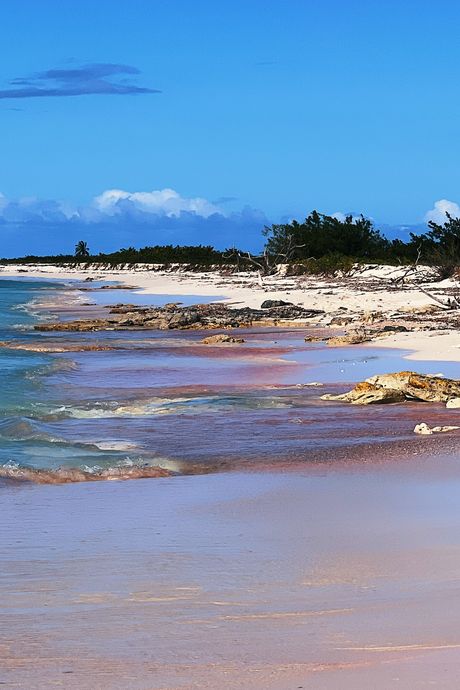 2 p.m.: Get in your last swim.
On the last day, we had another early passage from Barbuda to Rum Bus Beach on Antigua. We sailed the 35-plus nautical miles, a six-hour journey, on Antigua's leeward side this time, which is more protected and has calmer seas. The scenery at Rum Bus looks like the Amalfi Coast — from a little ways offshore, you can see the lush hills and all the houses perched on them in different places. I was suddenly very aware that it was the last day of our boat trip, so I spent a lot of time in the water, floating, swimming, and paddleboarding.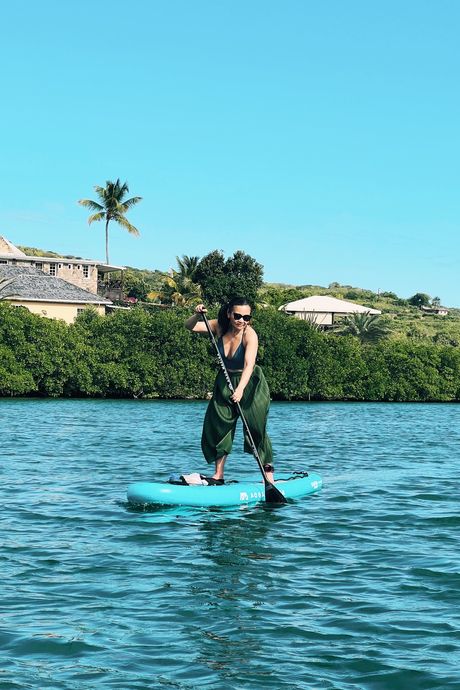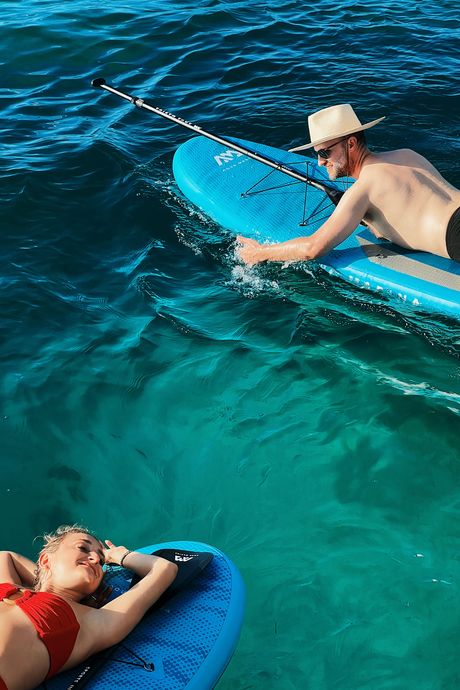 7 p.m.: Lower the masts.
We ravenously tucked into a beautiful last meal on the boat, Flannery's Moroccan-inspired feast of braised lamb with prunes, chickpeas with curry pumpkin, charred red pepper with feta and dill, and a romaine salad with caramelized oranges. The next day, we four passengers were checking into the Hodges Bay Resort (Sandy Lane, Hodges Bay) for one or two more sleeps in paradise before heading back to real life. Highly recommended, if only for the hot shower — I've learned to pack exfoliation gloves on these sailing trips to break up all that sunbaked salt and sand on my skin. The hotel stay also takes the edge off the sadness of leaving the boat and our trusty, two-person crew. I can't remember exactly what Captain Jon's final toast was, but he's a sentimental skipper, so I'm sure it had something to do with the nomadic nature of sailing and how our whole environment on the ocean is blissfully reduced to just two elements: air and water.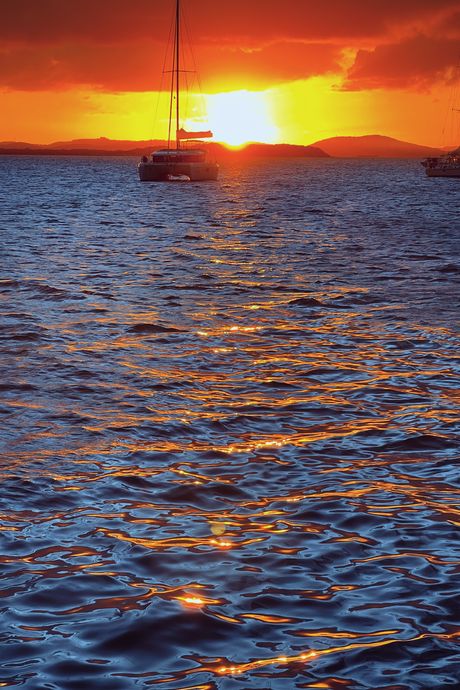 Trust me, these plant-based sheets make staying clean on the boat so much more effective. The jojoba and almond oil keep chafe at bay.
They pack down to nothing, can be laundered in the sink, and you can wear them on the plane, the boat, and if you go somewhere nice for dinner. I also have a pair of these Julia Heuer Jack trousers, which are more avant-garde. Pleats never go out of style.
Since you're constantly toggling between going barefoot on the boat and needing shoes for land exploration, a pair that slips on and off easily makes sailing life easier.
I never leave for a boat trip without a good mixtape. This Caribbean playlist has the requisite yacht rock (Christopher Cross), plus a good portion of Brazilian music and rocksteady.
Some carry-on luggage we've written about
The Strategist is designed to surface the most useful, expert recommendations for things to buy across the vast e-commerce landscape. Some of our latest conquests include the best acne treatments, rolling luggage, pillows for side sleepers, natural anxiety remedies, and bath towels. We update links when possible, but note that deals can expire and all prices are subject to change.