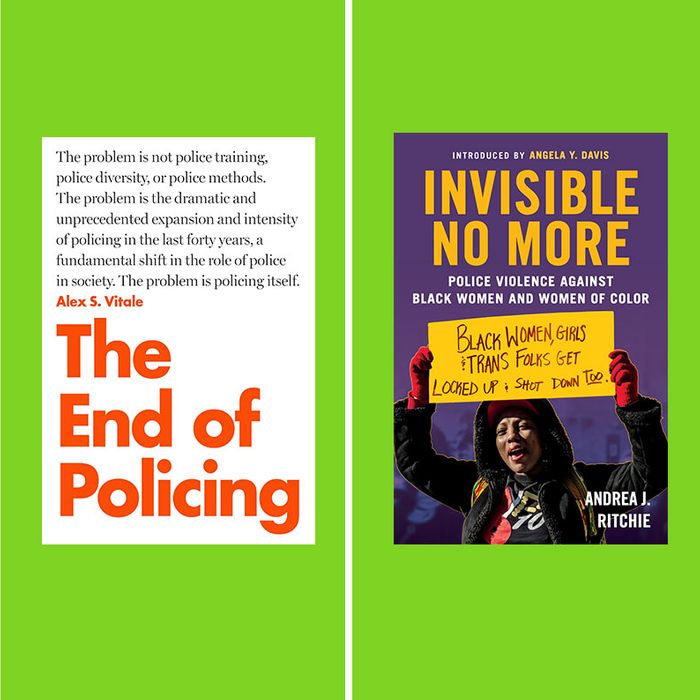 If the current protests against police brutality and the chorus of calls to defund police departments across the country have led you to even scratch the surface of those issues, you may have realized just how little you know — or were taught — about the history of organized police forces in the United States. To help those who want to further understand why so many are calling for radical change to U.S. policing, we asked 13 experts — including professors, activists, authors, editors, Pulitzer Prize finalists, and historians — about the books they'd recommend to anyone who wants to develop a more complete knowledge. Those experts include author and law professor Angela J. Davis; academic, writer, and activist Keeanga-Yamahtta Taylor; author and professor Alex Vitale; historian Simon E. Balto; author and professor Ersula Ore; historian Max Felker-Kantor; journalist and author Jill Leovy; Truthout editor-in-chief Maya Schenwar; historian Carl Suddler; activist, writer, and photographer Victoria Law; author and professor Clarence Taylor; academic and author Stuart Schrader; and professor Melanie Newport.
Like in our other reading lists, the 15 books below come suggested by at least two of our experts, with some titles garnering as many as five (or more) recommendations. A few books were even written by some of the experts we consulted, but no authors recommended their own work. The list leads with the most recommended books, but since all cover different — yet equally important — perspectives on the topic, we've refrained from further categorizing them, because the more you read, the deeper your understanding will be. All of them will likely force readers to confront uncomfortable truths, but according to Leovy, that's the point: "The thing about this topic is that one cannot cut corners — it takes all the research one can do, and then some, and with an open mind, too. Every time I think I know something about policing, I start digging and the truth turns out to be completely different than I thought. The more I learn, the less I know."
More than half of the experts — seven, to be precise — say Ritchie's text about how Black women, indigenous women, and women of color have experienced police violence is essential reading. Felker-Kantor calls the book an "indispensable volume" that reveals how focusing our cultural attention on the policing of Black men has "made the policing of women of color invisible." While it's by no means an entire history of U.S. policing, the book says that anyone wishing to fully understand policing in this country "must also look to its disproportionate impact on women of color." Ore agrees, adding that Ritchie's book "combats the erasure of Black women and women of color from national discussions of violent policing." But it also touches on the resistance to this trend, according to Law, who told us that the book contains information about how female activists of color have successfully "organized to challenge and resist this violence."
Davis and four other experts recommend this book, which argues that America's carceral issues began not with Republican President Reagan's War on Drugs but instead with welfare programs of the Democratic Johnson administration, which supported a massive expansion of policing nationwide. According to Balto, Hinton's book examines how Johnson's Great Society programs marked the beginning of, in Balto's words, a "consensus shared by Republicans and Democrats alike that dumping unprecedented amounts of money into local police forces was good public policy." Keeanga-Yamahtta Taylor adds that the book also details the racist ideas that contributed to the government's policies: "Post-WWII social scientists were conjuring theories of a defective Black culture that was rooted in Black family formations" at the same time they were recommending approaches to the American government. She says it's connections like these that make Hinton's book a must-read about how, "as social welfare failed, a new war on crime was born with violent policing at its center."
Law calls this book an "excellent primer" for those new to the debate about defunding the police. While its title suggests the material looks more to the future than the past, Law and other experts who recommend it say Vitale draws upon a sweeping, detailed history of policing in the United States to make the case that modern policing, in Felker-Kantor's words, "has routinely failed to keep communities safe." According to Schenwar, Vitale's book addresses "the evolution of U.S. police departments with clarity and precision, discussing the origins of policing in slave patrols, colonial military occupations, and colonial vigilante groups, but also documenting more recent histories, including the histories of police reforms and why — again and again — they fail to address violence." Clarence Taylor adds that this is "probably the best book on the dramatic growth of police departments, and why present reform measures will not end police assaults and killing of unarmed Black people."
"If the past few weeks have led you to wonder why police treat ordinary people like the enemy, this is the book to crack open," says Schrader, one of five experts who recommended it. Focusing specifically on the Los Angeles Police Department, it provides insight into life within the agency between 1965 and 1992. Those two years bookend the work because, according to Schrader, they were the years that the LAPD "caused two of the most destructive rebellions in U.S. history." Vitale says this book is particularly relevant to today's protests because it reveals how easily reforms can be ignored after they're passed. "The Rodney King riots of 1992 ushered in a wave of police reforms," he explains, "but Felker-Cantor shows that these did little to reduce the burden of policing on communities of color in Los Angeles and instead served to paper over a long and on-going legacy of racialized abuse."
According to Newport, "if you want to understand why communities explode in frustration," you should read this book. She's one of four experts who recommended Balto's title, which focuses on policing in Chicago from 1919 to the 1970s and specifically chronicles "how the Chicago Police Department tried to destroy and undermine Black neighborhoods from basically the moment Black people arrived in Chicago," according to her. Suddler adds that both this book and Policing Los Angeles demonstrate how "so many well-intended reform efforts regularly fell short and, perhaps not so coincidentally, expanded police power over the course of the 20th century."
Four experts also recommend this book that focuses on how the United States has exported its approach to policing across the world, and how that exportation ultimately led to the global Black Lives Matter movement. Keeanga-Yamahtta Taylor calls it an "astonishing collection of essays and interviews" that is "indispensable for understanding contemporary arguments that fuel the strategies and tactics aimed at ending policing once and for all." According to Felker-Kantor, it's also an informative guide to how the typical police response to protests almost always makes situations worse. In his words, Camp and Heatherton's book "demonstrates the ways that police repression does not lead to the end of resistance, but produces more opposition and motivation for movements."
Using Washington, D.C., as its backdrop, this Pulitzer Prize–winning book considers why, in the 1970s, Black people in positions of power "overwhelmingly supported the very laws, policies, and practices, including harsh police practices, that resulted in the disproportionate incarceration of African-Americans in the United States," according to Davis, who is one of three experts that recommends it. Balto explains that these legislators "almost never asked only for more punishment — their pleas were usually paired with calls for more robust investment into social goods." But he notes that, "sadly, it was only the calls for punishment that policymakers really listened to." One of the most fascinating chapters in the book, according to Davis, takes readers through "the rise of African-American police in the United States."
Keeanga-Yamahtta Taylor says that this "is the most important book ever written on the long process by which criminality in the United States became irrevocably tied to African-Americans." She joins two other experts in recommending it, including Sudder, who hails the book as a "foundational text in the field of carceral studies" because it challenges readers to "rethink the usefulness of crime statistics as evidence." While Balto acknowledges that the book is not as directly about policing, he says it's still a key text to understanding the need for police reform because the book talks a lot about "the ideas that continue to be used to justify racist policing to this day."
Recommended by three experts, LeBrón's book leaves the contiguous 48 states and looks at the affects of U.S. policing across its territories, with a specific focus on Puerto Rico. "Most of the literature on policing and racism analyzes, for very good reason, the African-American experience," according to Schrader. "But the United States' colonial possessions have been as intensively policed as the mainland." This book explains how a number of aggressive policing techniques first used in Puerto Rico as part of Nixon's war on drugs "became models that inspired policymakers in mainland cities, including the majority-Black Washington, D.C.," Schrader says. According to Felker-Kantor, it is essential for "understanding policing within a colonial context."
In this book, Schrader takes readers through how foreign intervention by the United States has led to a more militarized police force back home. It comes recommended by Suddler, Vitale, and Felker-Kantor, who argues that to "truly understand the development of American policing, the transnational networks of police professionals and knowledge production must be unpacked." Felker-Kantor adds that, "although policing is a local matter," Schrader's book shows how "ideas about policing moved back and forth across international borders and were mutually reinforcing."
Both Vitale and Schenwar recommend Williams's critical history of policing in the United States, which, according to Vitale, demonstrates "how American policing has always been a mechanism for reproducing race and class inequality, even when police act according to the law." The text also covers "ties between police and right-wing organizations, and their role in suppressing movements for economic and racial justice," he adds. Schenwar told us that this "intensively researched book makes it clear that the problem is not 'bad apple' police officers, but policing itself: A system that evolved out of slavery and continued to be deployed to uphold white supremacy and capitalism, and repress dissent."
Originally published in 1983, this recently reissued book comes recommended by both Keeanga-Yamahtta Taylor and Schrader. It examines the history of U.S. policing in the context of labor struggles in the Great Lakes region in the late-19th and early-20th centuries. Schrader says Harring's explanation of the ways police units have historically worked in tandem with the ruling classes makes this "the best Marxist analysis of the history of policing in the United States." He adds that examples of the police–ruling class collaboration found in the book are the specific measures that were taken to "prevent the emergence of sympathies between cops and the exploited classes" during the period of time it reflects on.
Those interested in going even further back in history should read this book about Baltimore in the decades surrounding the Civil War. It comes recommended by two experts, including Felker-Kantor, who says it is indispensable as a history of early policing because the author shows "how white men, initially operating as vigilantes, became police with uniforms, badges, and weapons." In showing this, Felker-Kantor says the book "demonstrates the roots of modern policing in the power of white men to police Black life."
The existence of the State Department's Office of Public Safety is not well known, but it should be, according to the two experts who recommend this book. Established by Democratic President Kennedy in the early 1960s, the office was meant to provide police assistance to U.S. allies and did so for more than a decade. Felker-Kantor says that this book, which chronicles the police practices that the U.S. exported in that time, proves that "violence is the central component of police power, and that the police must be seen as violence workers." He adds that the author "pushes us to reconsider the assumptions that police are civilians and not military; that the police are public, not private, actors; and that the police are inherently local."
Clarence Taylor was one of two people to recommend this book to us. It uses history to argue that, in the U.S., police brutality has been "reserved for Black people who are seen as dangerous to the larger white society." After setting out his evidence, the author goes on to argue that "transformation [such as diverting police funding to other social-service agencies] and not reform is the only answer to stopping police violence," according to Taylor.
The Strategist is designed to surface the most useful, expert recommendations for things to buy across the vast e-commerce landscape. Some of our latest conquests include the best acne treatments, rolling luggage, pillows for side sleepers, natural anxiety remedies, and bath towels. We update links when possible, but note that deals can expire and all prices are subject to change.