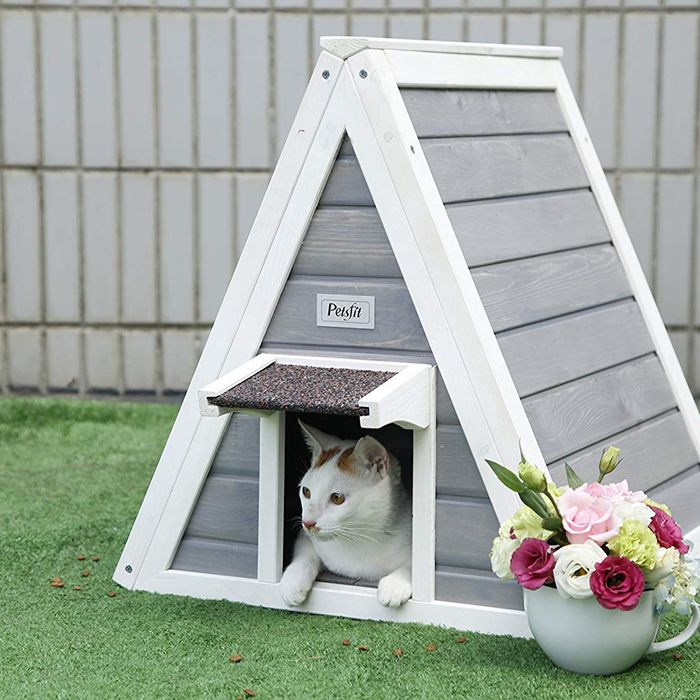 Here at the Strategist, we like to think of ourselves as crazy (in a good way) about the stuff we buy, but as much as we'd like to, we can't try everything. Which is why we have People's Choice, in which we find the best-reviewed products and single out the most convincing ones. (You can learn more about our rating system and how we pick each item here.)
And while we've written about a lot of the stuff you need to take care of your cat, including cat litter, litter boxes, automatic pet feeders, and a bunch of supplies for an adopted cat, here we're going deep on the best cat houses and condos that you can buy on Amazon.
Best-rated cat house
Though there is an unheated version of the K&H outdoor kitty house, the heated option gets more love in the reviews, and with more than 3,100 five-star raves to its credit, this K&H model is "wonderful and quite possibly a lifesaver," as one reviewer describes it. Hundreds of happy reviewers also note that "kitty loves" this cat house. "Bought this for a stray cat that has been hanging around my porch for over a year," one reviewer writes, adding, "Kitty moved right in! This house is excellent — insulated, weather and rainproof. Kitty loves it."
"My cats are very happy and warm," writes one reviewer of the heating functionality, and it's appreciated by both house cats and feral cats. Notes a friend of a feral cat, "He instinctively knew it was his new home and went in without coaxing. Now when we look for him, chances are he can be found sleeping in his secure, heated home." Another grateful reviewer writes, "During the cold snap, [the cat] would be curled up in his warm bed house and snoozing away all day long. He'd be so content and happy that my heart swelled for him." They continue, "This is the best purchase I've ever made for a feral cat … and my own peace of mind."
Best-rated less-expensive cat house
As one owner remembers, "Not even 60 seconds after putting this together (which is so easy, by the way) my cat was already inside the box. After 3 minutes, he was on top of the box, kneading the pillow. After 5 minutes, he was already fast asleep on the top pillow." And plenty of other reviewers attest to the fact that cats love this house, like one who writes, "Got this for my sister's Maine Coon and she went right into it as soon as I set it up. She loves to lay on top of it also when she naps. This is a cat that has had 4 different soft side style cat condos and wouldn't use any of them. Every time we can't find her now first place we look is inside this condo, and there she is sleeping." Another reviewer appreciates that there's no screws or complicated setup involved: "When I found this I thought it was perfect. Within five minutes, my super overweight cat was inside and grooming herself." Overall, "it's good quality, easy to set up or put away, a space saver, easy to clean, and attractive," as one reviewer concludes. Or, as another reviewer simply states, "This bed is a winner for sure."
And now for some micro-picks of every type of cat house or condo you might be looking for.
Best cat condo for large cats
"This cat condo is great for husky kitties; our Bengal is about 13 pounds and our sweet mutt is about 10 pounds. They both seem to approve," one reviwer writes, and plenty of others agree that this cat tree features "houses that are large enough for bigger cats to comfortably go inside," according to one reviewer. "My 17-pound cat fits with room to stretch," another owner attests. Another reviewer, with one 20-pound cat and one 15-pound cat, "was having trouble finding a tree with a bed that was big enough to accommodate them." That is until they found this cat tree. They attest, "Not only do they have plenty of room on their own, they have spent several hours on it together and it seems to be holding them up just fine."
Best cat cube
"This cube is a hit from the moment you pull it out of its plastic wrapper and pop up the sides," writes one reviwer. In fact, one owner says, "I barely got the floor pushed into place when the kitten was inside, batting at the toy balls inside," while another attests, "My cat liked it so much that she ignored the box that it came in and chose to go to the cube instead. That's a rare occurrence." It's also a fairly versatile cat house, according to several reviewers. "The top alone can be a nice pillow-bed with good side bolsters," one states. "The bottom cube can be used as a play tunnel with open top, or flipped for a lidded box." That explains why one reviewer's cat "sleeps inside or lounges on top of it all day long"; this reviewer ultimately recommends it "for cats who like private confined spaces, or just like to lay on something off the ground."
Best heated cat house for indoor cats
"My cat adores this bed. She rarely sleeps anywhere else now," says a satisfied pet parent who purchased this K&H Kitty Sleephouse. It's available in a heated model that one owner describes as providing "just enough warmth for a cat to sleep for a long period of time," which another agrees is "just right on cold nights. Not hot, but so snuggly." Another notes that it took a bit of time for their cat to get onboard: "Kitty acted all pissy when first shoved inside the hole of this but she soon realized she had just crossed the threshold into the Kitty Holy Grail." They continue, "If you tell her it's time to go to bed she runs so fast to it and into the hole you can feel the wind on your legs as she runs past."
Best collapsible cat house
"Buy it now, and your cats will thank you later," says a reviewer of this AmazonBasics cube that "doesn't look overly 'cat furniture-y'" and features what another reviewer describes as "really soft, fuzzy fur on the inside and top bed." Several appreciate that this cat house can pack down easily for travel, like one who writes, "Just wanted you all to know if you are wondering about the quality, it's REALLY good and portable and would store well since it folds down too, not that it's going to be stored at all. However, if the cat joins us camping it'll pack up just fine in a canvas tote." However, another reviewer notes even though it's collapsible, it's "so sturdy that an adult could sit on it."
Best modular cardboard cat house
Commonly referred to as "catty stacks," these modular cardboard cubes get top reviews among those with cats who love to tear up furniture — but several note how surprised they are by how sturdy the cardboard cubes really are. "At first I didn't have much hope for the longevity of the stacks. Our cats like to chew cardboard, wire, etc., etc., and their teeth are like wire-cutters combined with diagonal pliers," one reviewer admits, adding, "Well, I underestimated the industrial strength of these boxes. The cats are all over them, sleeping, playing jack-in-the-box, leaping on and off, and doing a little jaw-exercise where they can. But these cat condos are still pristine!" Another has a cat that's "destroyed my couch, bed, and every chair in my apartment but hasn't destroyed his little kitten condo."
Plus, the fact that these cardboard cubes can be rearranged seems to be fun for both the cats and the owners. They're "attractive, functional, and best of all, made of a cat's favorite thing: cardboard," one reviwer writes, while another says the boxes "can entertain for hours," letting cats "use the bridges and cubes for climbing and hiding, as well as observation from the tower window."
Best hanging cat condo
One reviewer of this hanging cat condo calls it "a great way to keep space relatively open while providing a ton of space for your cats." Its vertical design features multiple levels, which means "even the most timid climber can get in and enjoy herself," as one reviewer explains it, and a reviewer who describes it as "a great alternative to a regular cat condo" notes that "it's so fun to watch cats interact and play through the levels." Its playful design makes it "an amazing gift for an overactive cat," says one reviewer. Another observes, "My cat will run up and down the levels like a nut for at least ten minutes at least once a day." But despite all that use, it "appears to be made of high grade materials that will withstand the thrashings of the herd."
Best outdoor cat house for indoor cats
"I have always wanted a way to bring my indoor cat outside with me, but she can escape any harness. She loves it in this thing," says a satisfied owner. "Now instead of having to watch me through the screen door, she can enjoy the back porch with me." Another reviewer explains, "My indoor apartment cat has calmed down considerably just by being able to sit outside and feel nature firsthand," calling this a "light and easy to carry" contraption. "People always stop to marvel at what a clever idea it is." It doesn't have to be brought outside, though. "My two new cats don't get along, so I can put one of them in this and they can both be in the same room, getting to know each other, without scratching their eyes out," notes one clever owner.
Best heated A-frame cat house for outdoor cats
This "lightweight cat shelter provides plenty of room for multi cat use," says one reviewer. Others agree that this Multi-Kitty model lives up to its name, as "two adult cats can easily fit in this," with another noting that "it can fit at least three smaller cats comfortably" or even "the 23 pound stray cat that I feed." Indeed, many "owners" of feral or outdoor cats attest that "this A-frame kitty house has proven to be an excellent purchase," which a reviewer describes as "always the first and sometimes the only thing that [my feral cats] want to be inside." But domesticated cats also appreciate it, as one happy reviewer concludes: "We have this bed on our front porch and our cat is always in it. It's a purr-fect fit … I would recommend this to anyone who has a pet that just refuses to come in the house."
Best outdoor cat house for cold weather
"I bought this and was immediately impressed by how solid and well made the igloo is. It snapped together easily and quickly and is an excellent product all around," writes an owner of this Petmate product that functions as a "durable home for your cat." The reviewer consensus seems to be that it's built to stand up to the elements. "The structure is so strong. Snow and rain don't get in," a reviewer attests, while another notes that "the shape provides good wind resistance." One Pennsylvania-based reviewer explains, "Our winters can be pretty cold with lots of snow. This is very heavy duty, and keeps cats safe and dry. I left it out throughout the winter and it held up perfectly." Another speaks to the warmth this unheated igloo offers their cat: "Although I've seen [the cat] shiver outside as frost formed on her fur outside of the igloo, I've noticed no signs of cold or discomfort once she is safely tucked inside."
Best A-frame cat house for outdoor cats
"This is awesome," starts one review of this A-frame cat house. "Seriously, I want to buy a dozen and make a little village in my backyard." In addition to "looking nice in the yard," this cat house also garners praise for its simple assembly. "I've put together several dog houses, chicken coops, and rabbit hutches. This was, by far, the easiest," says a reviewer who "will feel better this winter knowing [my cat] has somewhere warm and dry." And another reviewer says her local stray cat loves it: "It's definitely waterproof, and she knows she can escape out the back if another cat or creature tries to get in," a feature that another reviewer describes as "a must-have for an outdoor kitty."
Best weatherproof outdoor cat house
This well-reviewed Petsfit option is "super easy to assemble, adorable, and well worth the purchase," as one reviewer explains. Another describes it as a "well-made, sturdy, rather charming waterproof structure that feral cats will actually use." "The materials and construction make it a must-have," says another reviewer, who adds that "the 'porch' allows dirt or water on paws to be cleaned off before entering." Additionally, "Having the advantage of being just off the ground also helps, as there's no chance of any dampness seeping inside," while another owner adds that "the house has not leaked during quite a bit of rain and light snows."
Best outdoor cat house with scratching pad
"My cat sleeps and eats in this every single night," says a reviewer of this particular Petsfit model. One reviewer adds that cats "fit great in, on top, and all around" this "cleverly designed" structure, which one reviewer notes "should fit even the fattest of cats." But in addition saying that it looks "adorable," one owner likes how this feline home "does a really great job of keeping wind and rain out, along with staying warm in the winter" while allowing cats to "lay on the roof on super warm days." In terms of other features, multiple reviewers note how their cats "like and use" the scratching pad, and the escape hatch "means I can now put [my cat] safely on my porch and out of my house."
Best cat house for feral cats
Reviewers are frequently "impressed with how easy the setup was" for what one describes as "a really nice looking house that doesn't look like an eyesore in your garden." Indeed, one reviewer says it "looks nice in the yard," in part because "it's not too obtrusive or obvious." In addition, owners note that it's "easy to take apart for cleaning." Plus, several reviewers describe this outdoor cat house as truly weatherproof, with one explaining, "They'll be the feral cats' winter houses, but this house makes a stylish summer home to protect them from the rain."
The Strategist is designed to surface the most useful, expert recommendations for things to buy across the vast e-commerce landscape. Some of our latest conquests include the best acne treatments, rolling luggage, pillows for side sleepers, natural anxiety remedies, and bath towels. We update links when possible, but note that deals can expire and all prices are subject to change.