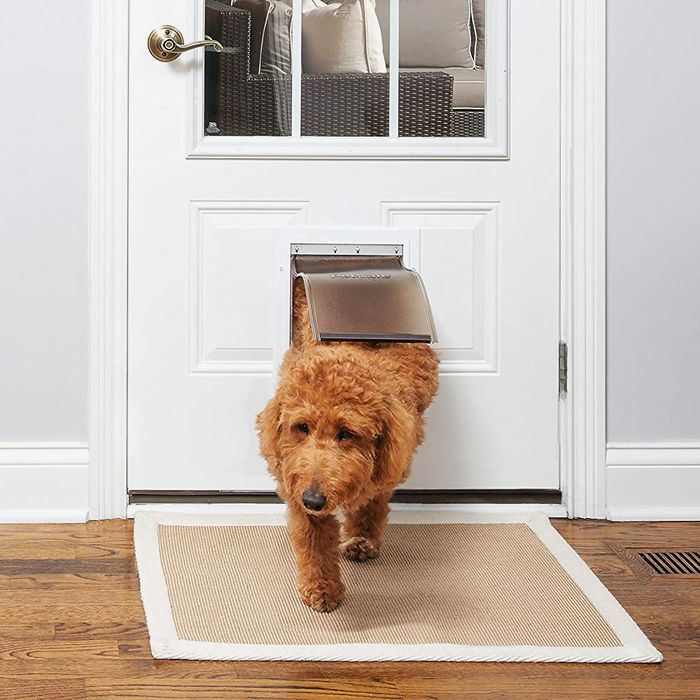 Here at the Strategist, we like to think of ourselves as crazy (in the good way) about the stuff we buy, but as much as we'd like to, we can't try everything. Which is why we have People's Choice, in which we find the best-reviewed products and single out the most convincing ones. (You can learn more about our rating system and how we pick each item here.)
And while we've written about lots of dog accessories before — including the best dog beds, the best dog raincoats and boots, and the best dog harnesses — here, we've rounded up the best dog doors, as praised by the most enthusiastic reviewers on Amazon.
Best-rated dog door
Many reviewers appreciate that installing this dog door from PetSafe doesn't require making permanent alterations to either their walls or doors. "This is really the best option out there if you need a dog door and don't want to destroy your house," writes one Chihuahua owner, who adds, "Installation is really straightforward and I never even looked at the instructions." And many reviewers say that they love the freedom their pets have. "I see why they call it the Freedom pet door," one exclaims, explaining, "Now I don't need to let my two in and out every five minutes. Even our 113-pound Bernese Mountain Dog can get through easily." Another thinks this door "is the best quality you'll get for the money," while one more thinks it's "way less work and hassle than cutting a traditional doggy door." One recommends cleaning your glass windows before installing, however, because "once this is installed you can't get in between the left solid side of your door," like this reviewer says. As one concludes, though, this doggie door, "Fits perfect, my husky loves it and makes my life so much easier."
Best-rated (less expensive) dog door
Dozens love how simple this pet door is to install and use. "I'm a DIY kinda guy," explains one dog-owner, who still calls this, "Pretty straight forward installation. Quite simple to install." Another says her dogs "all learned to use it quickly and it really does keep the wind out of our house. It closes quickly behind them, but they can still nudge it open." One reviewer purchased this for an "aging boxer who cannot hold it longer than 2 hours at a time," and says, "it has been a great save for my floors. Took a while to teach an old dog new tricks so to speak but she is used to it now and goes through with no problems." One note of warning: Several reviewers recommend not using the given template the company provides for cutting the door, since many reviewers note it creates a hole that's slightly too big for the . "One word of advice is that once you trace the cut outline using the given template, make sure you cut inside the trace, not on the line," they write. Another advises, "I had my hubby install it the same day it arrived. He didn't use the template. Instead, he used the actual doggy door to make marks for where to cut. He had no problems."
And now for some micro-picks for every type of dog door you might be looking for.
Best dog door with magnetic closure
The sturdy magnet on this dog door is mentioned in almost 200 five-star reviews. "The magnet for the flap is very strong. We've had other doors where the flap wouldn't automatically stick back to the magnet which was really annoying," writes one reviewer, who also says, "The sliding panel is very easy and convenient to use." Another writes, "What the humans in the house loved was that it had a magnetic strip that held it in place. Important in Florida where we have driven rain." One reviewer attests to its durability: "Two dogs, one 65 pounds, and a very hyper 105-pound Lab use these many times per day, and the 105-pound Lab crashes through them constantly. They hold up great to wear and tear."
Best weatherproof dog door
Reviewers in extreme climates can attest to this "ruff-weather" dog door. "We live in Phoenix, Arizona, where the weather is extreme in the summer. This door has been perfect and we love that it has two doors to keep the heat out and A/C in," writes one happy customer. Another also thinks the two-flap door is genius, explaining, "It really does help keep out the hot and cold weather." One even calls this dog door a "lifesaver" because it's "very large, quiet, and definitely weatherproof" and another thinks he "hit the jackpot," adding, "My dog loves it. It does a great job of keeping out the weather (we live in a windy area with occasional rain) and the provided security door is great for closing off the door when we'd prefer the dog stay inside."
Best plastic wall dog door
"I'll admit, like most of you, I was weary of installing this in my wall. I bought a brand new house that has exquisite brick and interior work," admits one reviwer, who continues, "I could not be happier with the outcome. It is a well made, well-priced door." Many love how durable the plastic is with lots saying it seems like it will last a long time, like one who notes, "the door in this unit is a heavy duty, flexible plastic with a relatively strong magnet." Another loves the "grey plastic closing door that keeps out unwanted critters out of your house." One originally skeptical reviewer eventually came around after seeing the fully installed product: "My husband comes up with some pretty crazy ideas. His latest home project idea was to install a dog door in the family room. In order to accomplish this, he said he needed to cut a hole in my wall. Ok, after a brief freakout, we did the research and chose Petsafe. And I have to say, it looks fantastic."
Best durable wall dog door
"Durable" is a word that comes up in many reviews of this aluminum dog door. "This is a very durable metal dog door," one reviwer states, adding, "Most are plastic and I wanted the metal one to eliminate the risk of it breaking with dogs launching out the dog door." Another installed this door four years ago, admitting his "dogs are pretty rough on it," but says, "it is durable and lasts a long time." One just likes "the fact that the frame is metal and securely screws into the wall." Another agrees that it fits well in any wall, writing, "This door looks very good from the outside and inside. I did not put it in the door, but mounted it in the wall which took a little framing. All parts fit well, making for an easy job." Many think the aluminum construction will hold up longer than plastic doors they've purchased before, like one who concludes, "This has exceeded my expectations. And I'm glad I went with the aluminum instead of the cheaper plastic version. I don't know how well the plastic would have held up, but I can tell this aluminum one will be around forever."
Best aluminum dog door
The durability of this aluminum dog door stood out to customers. "The door seals pretty good for its size and is plenty durable for a large dog," comments one. A Floridian reviewer, who says "heat is tough of plastics," opted for this aluminum option, noting, "Very sturdy, I'm glad I went with the metal instead of the plastic." Another even says it's large enough to work for big dogs, like this Great Dane owner who writes, "This dog door is perfect for our Great Dane to enter and exit. The flap is thick and durable and seems as though it will last a while." One even raves about the outside security panel: "The fact that the security panel not only slides down channels in the aluminum frame but also has a button that you must pull out and up to remove the panel makes it escape proof unless he develops opposable thumbs."
Best dog door for sliding glass doors
Pet owners with sliding glass doors leading out to a patio appreciated this dog door, which was described as easy-to-install and weatherproof. "The screen door aligns with the pet patio door perfectly and I can now close my glass sliding door all the way (for the winter), one reviwer explains, celebrating, "No more having to get up every 10 minutes to let my cat in and out." However, it's large enough for big dogs, according to one reviewer who says it's big enough for his "Siberian Husky and a lab Chow mix" to "fit perfectly." A few complain that they no longer can lock their sliding door the traditional way, but one helpful reviewer advises, "You will have that problem with any of these patio door pet doors, and it's an easy fix. Just get a balcony door stick lock, or cut a small piece of plywood to fit." Overall, it the installation was a breezes, as this reviewer explains, "The door fits right in frame of sliding glass door, you can use the adhesive weather stripping if you want, and then the sliding glass door is simply pressed against the pet door frame. Holds it firmly in place."
Best double flap dog door
"I have installed just about every dog door available, and none are even remotely close to the quality and performance of the Endura Flap," says this reviewer who thinks this door is "worth every penny." Dozens think the dual flap is a game changer with one writing he is "very impressed with the double flaps," adding, "The magnets on the flaps work very well to seal the flaps from being blown open for the wind." This heavy-duty construction also means this pet door is weatherproof. One reviewer attests, "There is a rain and wind storm going on right now with rain being blown sideways straight at the door, and the flaps have not moved at all." Another appreciates how sturdy this dog door is because of the metal frame, writing, "Solid framing, metal tunnel, solid hinges and a quality lock-door for the inside." One also was shocked by the quality and ease of installation, commenting, "Everything fits together so perfectly, I thought I was in the Twilight Zone. I've never had a product work so well right out of the box. The instructions are crystal clear and super easy to follow." Another reviewer admits he "was a bit skeptical about getting a dog door, but adds, "It has been a lifesaver. It's well made and seems to be holding up to all the use my dogs are giving it."
The Strategist is designed to surface the most useful, expert recommendations for things to buy across the vast e-commerce landscape. Some of our latest conquests include the best acne treatments, rolling luggage, pillows for side sleepers, natural anxiety remedies, and bath towels. We update links when possible, but note that deals can expire and all prices are subject to change.