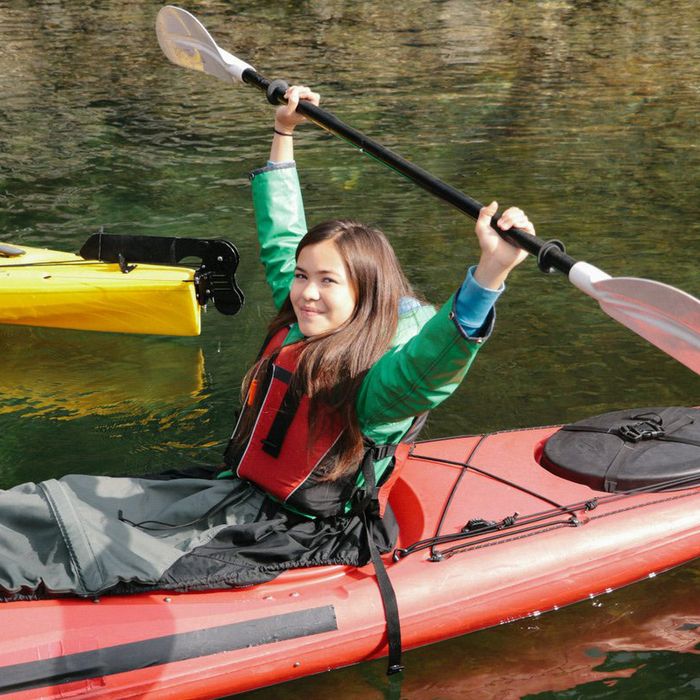 Photo: Courtesy of TriCoast Worldwide
Kayaking is having a moment: Across the country, kayak-rental services have seen a surge in interest, and, according to Eric Stiller, the managing owner of Manhattan Kayak, some kayak suppliers are currently in short supply, or are out entirely. "By mid-season this year, we could not get more from our suppliers, they were sold out," he says. But if you're interested in taking up kayaking, fear not: There are still plenty of boats and various supplies available online. To find out what gear you'll need to get started, we talked to Stiller, along with two other kayaking experts, about their go-to kayaks, life vests, paddles, and more.
Before we get into the gear, a few things to consider: When choosing a kayak, you first need to decide where you'll be using it. "About 90 percent of the paddling that occurs across the world is on lakes or small river areas, which is considered 'protected paddling,'" says Brian Van Drie, president of Paddling.com. "For a beginner paddler, those protected areas are where you're going to be safest." (In other words, avoid paddling in the choppy New York Harbor until you're a bit more advanced.) If you're looking for a beginner-safe place to get started, check out the paddling-locations map on Paddling.com, where you'll find a map with more than 35,000 spots added by real-life paddlers. And one thing to do before you hit the water: "Before you go out, and especially before you go out alone, always tell someone where you're going and when you expect to be back," says Carrie Schlemmer, education and grant coordinator of the American Canoe Association. "We call that a float plan."
Life jackets
"The first thing you need is a nice-fitting, quality life jacket," says Eric Stiller, managing owner of Manhattan Kayak. "Comfort matters so that you'll actually wear it." Stiller and Van Drie note that you should buy a life jacket that's specifically made for paddling. "A paddling jacket should stop short of your navel and fit fairly high on your body so that, when you're sitting in a boat, it won't rub on your legs and hips," says Van Drie. "One jacket manufacturer you can really trust these days is NRS, Northwest River Supplies," says Stiller. Van Drie seconded the NRS recommendation, and says that it's important to look for a life jacket that "fits snugly without being too tight, and won't slide off when you're in water." To get the right fit, it's a good idea to look for a life jacket with adjustability in the mid-torso and shoulder areas so that you'll have a comfortable fit even if you're between sizes. "The NRS Vapor is reasonably priced, has a nice bit of torso adjustment on the sides, shoulder adjustability, and room under the arms." And when it comes to choosing a color, Stiller says that "brighter is better" so that you can easily be spotted by fellow paddlers or in case of an emergency.
"The Ninja is a very popular jacket," says Stiller. "The design allows for a lot of space around the neck, shoulder, and arms, which makes it more comfortable to wear."
For women's life jackets, Van Drie suggests the brand MTI Life Jackets. "They make something called the PFDiva, which is a fully adjustable life jacket that really contours to a woman's body and actually has removable pieces so you can find what fits your body best."
"These days, we see a lot of dogs going out with their owners, and it's important that the dog wears a jacket too," says Stiller. "This is a good one that'll keep your dog safe."
Paddles
"A good paddle can sometimes be quite expensive, but it can go a long way toward making the kayak experience enjoyable," says Stiller. "Some cheap, heavy aluminum paddle is going to be uncomfortable to handle." Stiller told us that the paddles he uses with Manhattan Kayak's fleet are from Werner. "I'd have to say, almost without a doubt, they're the most venerable paddle manufacturer — I dare say the best in the world, or among the top three." They have plastic blades and fiberglass shafts, which Stiller says help to keep the weight of the paddle "reasonable." He also notes that the paddles have "well-designed blades." For your typical recreational kayak, Stiller suggests getting a paddle that's a minimum of 10 cm and says that 20 cm is a "good-size paddle" for most people.
For something less expensive, Stiller suggests looking to Carlisle, a brand which he says is "well known for their recreational paddles," which also have comparatively light fiberglass shafts.
Boats
There are two kinds of kayaks: sit-inside and sit-on-top. Sit-inside kayaks are the more traditional style, where your knees and legs fit inside the boat. Sit-inside kayaks sometimes have a "skirt," which seals your lower body into the boat, and is especially useful for those paddling in colder waters. Sit-on-top kayaks do not enclose your body at all and are a good option for warmer climates because they make it easier for the user to move between the kayak and the water.
Your choice of kayak will depend largely on the type of water you intend to use it on and your level of experience. "Ask yourself: Do you want a plastic recreational kayak that you can drag from your house to a beach nearby? Do you need something that you can to put on top of your car?" says Stiller. For someone who is going to be using their kayak most often on a small lake, paddling short distances, Van Drie suggests looking for something in the 10- to 14-foot-long range. "That size boat works really well for protected waters (lakes), and they are fairly inexpensive and easy to carry," he says. "For beginners, brands like Hobie, Perception, Dagger, and Wilderness Systems are all great options." Van Drie says those brands have "roto-molded" kayaks, which are made of plastic and are very durable. All of these kayaks are under 50 pounds, making them ideal for dragging onto the beach from your house. The Perception and Dagger are each under 40 pounds, meaning they would be lightweight enough to strap on top of your car.
"If you're someone who lives in the city, storage and transport can obviously be an issue," says Van Drie. "If you don't have extra space or a car for transporting your kayak, there are several more easily transportable options." One such kayak is ORU's Beach LT kayak. "It's made of a plastic corrugated material that will actually fold all down and turn into a suitcase — it's a pretty amazing thing," says Van Drie. The 26-pound boat is built to feel stable on smooth, calm water and is meant to be used by beginners.
You could also try an inflatable boat. "Sea Eagle, a New York-based company, makes a series of different inflatable boats that can pack down very small and fit in the trunk of your car." Despite its airy weight (like the Oru, it weighs 26 pounds), the Sea Eagle inflatable kayak is designed to hold up to 500 pounds and can fit two people. If you still think it looks a little iffy, take comfort in the fact that Sea Eagle has been making these since 1968 and has honed the design over decades to ensure the safety of beginner and advanced paddlers alike.
Clothing